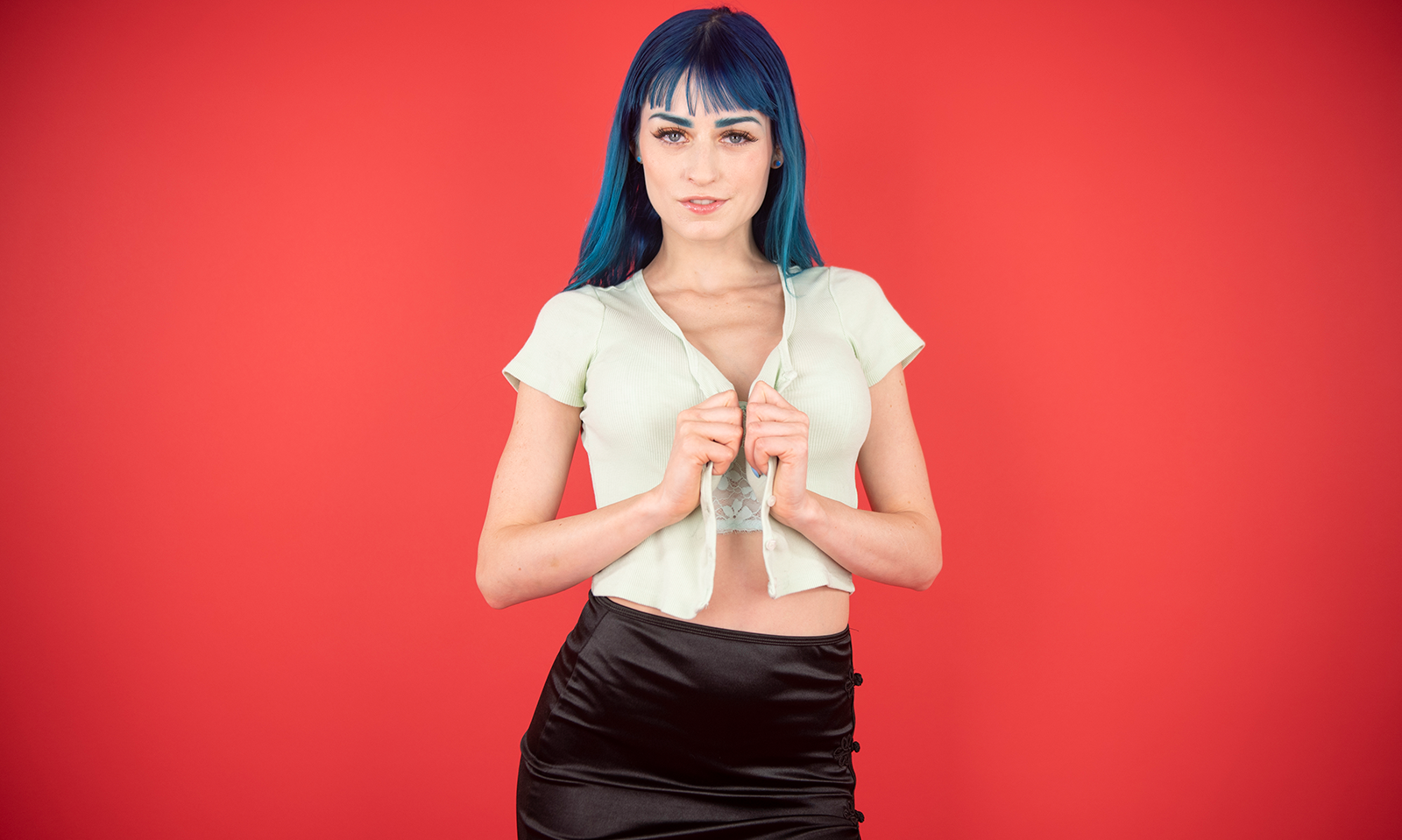 Above, photo of Jewelz Blu by Jeff Koga/@KogaFoto.
Hair, eyes, name. Blue is the trademark for Jewelz Blu, who entered porn independently. "I already make my own content on ManyVids. And I cam. I've been dabbling in that stuff for quite a while. So I thought, well, the next step is to get into porn production if I want to be really successful."
At 24, her ambition is to be not just in the scene but also a part of making the scene. It's what she likes most about the business. "Being part of the scene. And by the scene I mean the dialogue, wardrobe and makeup, all the things that go into bringing the magic to life and being part of the fantasy."
Her favorite fantasy so far was with Tyler Nixon for Team Skeet. "I played his horny stepsister. It was really great. He's super, super hot and I was really excited to shoot with him." She has also shot for Teen Fidelity (with Tommy Pistol), Nubile, Amateur Allure and others.
Her dream scene would be "a threesome, either boy/boy/girl or all girl. Basically I just want to be overtaken. That would really turn me on. That's one of my big fantasies I've yet to live."
One of her "many different hobbies" is fire dancing. "I dance with props or hula hoops, something you'd see in the circus or Burning Man. That's my passion. And I also love hiking, camping, anything outdoors. Being in the sun, getting covered in dirt ... the rave scene and the whole EDM community."
When AVN spoke with Jewelz Blu, she was looking forward to "going to Burning Man this year and then Lightning in a Bottle. You can think of it as similar to Coachella but it's more in the desert. They have yoga, they have workshops, this whole transportive experience."
Book Jewelz Blu through MotleyModels.com. Follow her on Twitter: @jewelz_blu.
For more photos of Jewelz  Blu from AVN's Talent Night, click here.