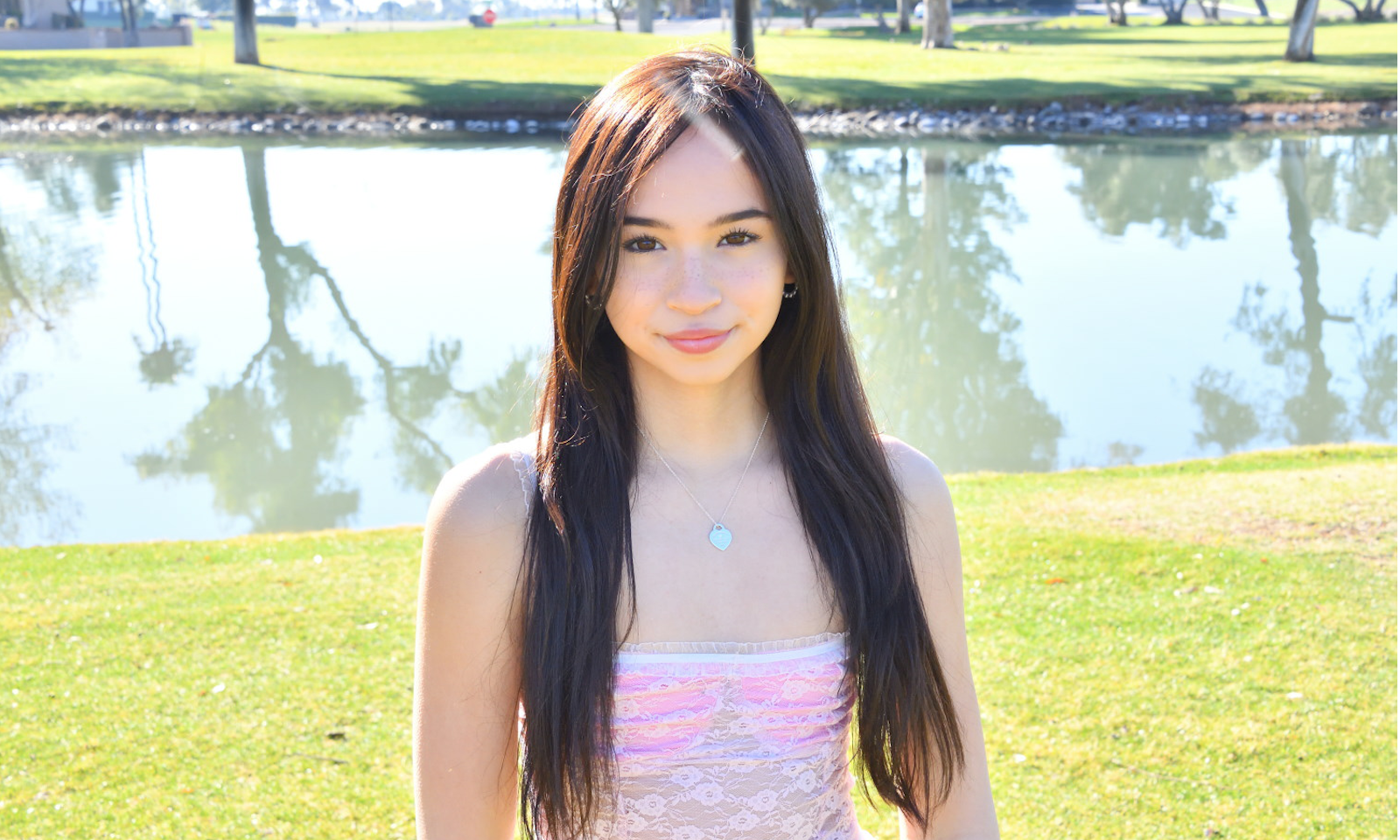 A version of this feature appears in the April issue of AVN magazine. Click here for the digital edition.
LOS ANGELES — Dakota Tyler tells AVN that adult performing is a "freeing feeling."
"I guess doing porn is kind of—some people have their opinions—but doing it is really bold so I'm meeting all these bold, sure of themselves, confident people," Tyler says. "My impressions of it are that it's freeing and liberating."
Fans will be seeing much more of the East Coast native in the coming months as she's already booked into June, according to her agent John Steven from Matrix Models.
"She's simply ridiculously photogenic," Steven tells AVN. "In 22 years I've never come across someone like this. … The amazing thing is she just has such a great attitude. Everyone just loves working with her."
Dakota did her first professional scene for Exploited College Girls on Feb. 19 in Arizona. The next day she celebrated her 19th birthday. At press time she had less than two dozen credits, including multiple outings for ExCogi, PornPros and FTVGirls.
Her scene partner on Day 1 was Tyler Nixon.
"There was no script or anything. It was act more like yourself, really go with the flow of your own personality," Dakota says, adding that Nixon already is "by far one of my favorite male talents."
She even knew of Nixon before the scene.
"I did know who he was, I had seen pictures of him on Reddit," Dakota says. "My guy friends would show me porn and he was the male talent. And then I met him and I was like holy shit, I know you. I've literally seen you on the internet before. I didn't say that—I was too shy to say that."
An all-star cheerleader all through high school, Dakota admits she had the butterflies prior to that first scene.
"I was very nervous, like literally in my video as they kept asking me more and more questions, my face got all red because I was nervous," Dakota says with a laugh. "I was also smiley and giggly at the same time. It was a mix of emotions.
"I was excited. I had never done anything like that. I was also very comfortable with my sexuality and being naked. I wasn't nervous about getting naked and having sex on camera. I don't know why I was so nervous… After it was over I was like that was a piece of cake for me. If I could be naked all the time I would."
Dakota says not many people were surprised she ventured into porn due to her tendency to be promiscuous. Ever since she accidentally found her grandpa's stash of Playboy magazines she had "a fascination with being naked, but making it pretty."
She also discovered Riley Reid's YouTube channel back in the day, making her even more intrigued with adult.
"At first it didn't register that she was a porn star and then in one video she was talking all about porn," Tyler says. "I had considered doing porn but I was nervous about public opinions and stigmas and that always deterred me from considering it being an actual career.
"… But I asked myself, would I do this if there was no public stigma toward porn? That was the only thing stopping me."
Tyler says the way Reid talked about her profession inspired her.
"Everyone has their ideas of what it is and she explained it in this video in a fun and liberating way and I said to myself, that sounds exciting. That sounds like a blast," Dakota recalls.
She says one of her favorite parts about the industry so far is "meeting all the different types of colorful people."
"It boosts my self confidence, too, that I'm able to get naked in front of a bunch of people and they don't judge me," Dakota adds.
According to Matrix's John Steven, Tyler has become a favorite of everyone she's worked with so far.
She has already performed in six scenes for PornPros in Las Vegas, working with the likes of veteran studs Johnny Castle, Will Pounder and Kyle Mason.
"They had a great attitude and were super fun to work with," Dakota tells AVN. "They understood I was new and everything was taken very slowly and explained thoroughly to me, which was really nice. Everyone had a lot of patience which was great."
Her entry into porn happened fast. Tyler recalls filling out her application on SexyJobs, submitting it and receiving a call from Steven before she had even uploaded her profile photo.
Three days later she was on a plane headed to the West Coast.
The 5-foot starlet—whose mother is Brazilian and Swiss and father is Puerto Rican—worked as a waitress at a small Mexican restaurant prior to adult. She often would party with her friends on college campuses during the weekends.
Dakota learned how resilient she was when she broke her arm during a cheerleading stunt while warming up for an away football game in October of her sophomore year. A center flyer who was the focal point for the squad's aerial stunts, Dakota extended her left arm during a fall, causing a break that forced her to miss the rest of her sophomore campaign and the fall season of her junior year.
"Now I don't have any metal in my arm and you don't even notice the scars," she says.  
When Dakota isn't working, she loves reading Stephen King novels. Among her favorites are The Bazaar of Bad Dreams, which is a collection of King's short fiction. She especially enjoys King's short stories, "Graveyard Shift" and "Strawberry Spring."
"'Strawberry Spring' is my favorite Stephen King story," she says. "My brain needs constant something."
The thrill-seeking performer also likes hiking, cliff jumping at abandoned places and "anything to do with water."
"I love being active," Dakota says.
Photography by FTVGirls.com