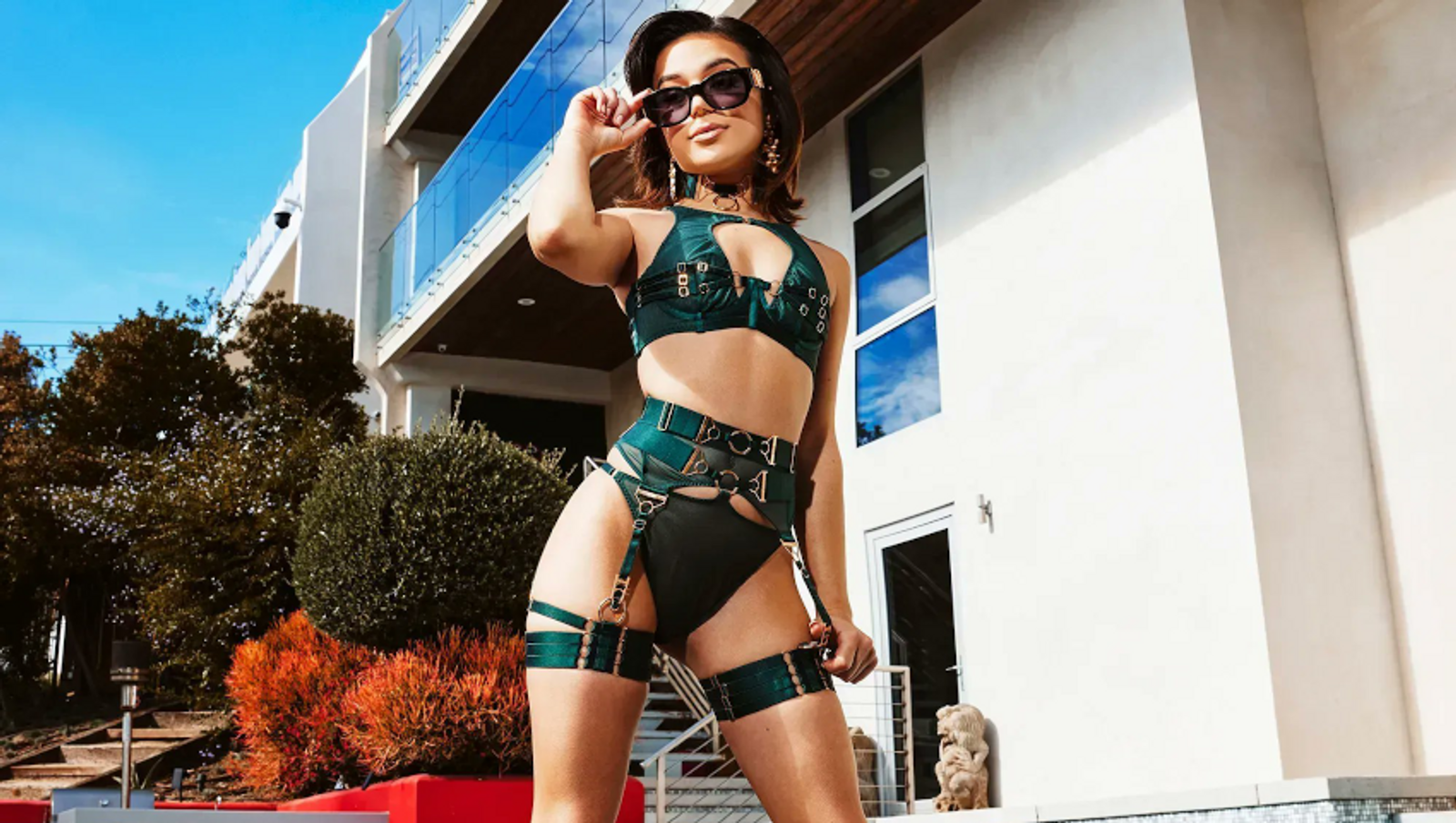 A version of this feature appears in the April issue of AVN magazine. Click here for the digital edition.
Donnie Rock's mind was blown—and not just because of the spine-tingling orgasm he'd just experienced while filming with one of porn's hottest newcomers.
For Aria Valencia, first impressions extend far beyond sex.
Earlier that afternoon, Rock—who directs and stars in Porn Dude Casting—had driven the 5-foot, 94-pound Valencia from Santa Monica to his shoot location in Tarzana. Throughout the 25-minute ride, Rock said, the conversation never ceased. Family, work, travel, food, cars … the industry veteran and his acquaintance of less than an hour chatted as if they were longtime friends.
The vibe only enhanced during their scene—which included a lively, comical interview segment—and it continued later that evening when Valencia accompanied Rock and some colleagues to dinner at a local Mexican restaurant.
At the end of the meal, when Valencia excused herself to freshen up, Rock leaned across the table and whispered to his friend.
"Man," he said, "I cannot believe this girl is only 18."
That's the common refrain these days when it comes to Valencia. Just eight months into her career in adult, the perky Persian is already carrying herself like a seasoned veteran. Her maturity and professionalism—along with a bevy of sizzling scenes—have evoked a sense of wonderment and excitement among producers and directors.
Not just about about what Valencia already is.
But about what she could become.
"Most 18-year-olds can't say 'hello' and open the door at the same time," said longtime director Jim Powers, who has shot Valencia multiple times for Dogfart. "But Aria is different. She's mature beyond her years.
"She's always in a good mood, she gets along great with everyone and, sexually, she's not inhibited whatsoever. She's someone that could thrive in this business for a long, long time."
Valencia—who has already shot for blue-chip companies such as Vixen, Evil Angel and Cherry Pimps—never would've fathomed she'd be in this position a few years ago. She dropped out of high school in the 10th grade and worked at Wal-Mart and TJ Maxx, eventually quitting both jobs to become the primary caretaker for her grandmother in Orange County.
As she struggled to make ends meet financially, Valencia noticed the lavish amounts of money her best friend's older sister was making as a cam girl and a stripper. Each Friday and Saturday night the girl would return from work and empty trash bags full of $1s onto the bed.
"We'd help her count all of it," Valencia says. "The next day she'd go shopping and buy all sorts of nice clothes and other things. I became fascinated with her and her lifestyle."
Still 17, Valencia began to dabble in the findom genre. Men she'd meet on Twitter and SnapChat would pay for pictures of her feet, or for degrading texts and videos.
"I was still underage, so I wasn't sending nudes," Valencia says. "I'd just talk shit to guys and make them do outrageous things."
The hustle helped bridge the financial gap for Valencia until she was old enough to start an OnlyFans page, which she did on her 18th birthday last August.
"I was literally counting down the days," Valencia laughs.
Just weeks after launching her account—she mainly posted nudes and masturbation videos—Valencia was discovered by Matt Morgia of SoCal Models. Morgia offered her a contract and had her speak with SoCal performers Liz Jordan and Luna Mills. Morgia reminded Valencia that joining the porn industry would be a "big step" and to take all the time she needed to make a decision.
Valencia, though, didn't need any time. She told Morgia to book her first shoot.
Immediately.
Valencia's inaugural scene was with Tyler from NetVideoGirls. As she drove to set with the director that day, she revealed that she didn't have much sexual experience. In fact, she hadn't had sex in eight months.
"All of the guys my age … I just didn't like fucking them," Valencia says. "They never pleased me right so I didn't really care for it. I was more into partying and going out with my friends. I wasn't really focused on having sex.
"Don't get me wrong, though. I was good at it. Everyone that I did fuck loved fucking me."
Any nerves Valencia may have had about her first shoot disappeared shortly after she arrived on set. She remembers walking into "a huge mansion" and feeling like a queen sitting in a makeup chair and chatting with the cosmetologist. By the time she stepped in front of the camera, Valencia felt at ease.
"I was like, 'OK, this is how I'm supposed to be fucked!'" Valencia says with a laugh, adding that almost all of her subsequent male partners have satisfied her. "Guys in porn actually try to make me cum. They make it somewhat about me, as opposed to boys my age. Eighteen-year-olds don't care about pleasing the girl at all.
"I just realized, 'I can make some money off of this. I can fuck people who are tested and that aren't weirdos—guys who don't cum in two seconds and can actually please a girl.' It was pretty obvious that I was going to love being in this industry."
Valencia has been on a roll ever since, racking up approximately 40 scenes while working alongside some of the top performers in the industry.
"She's got a great attitude, so everyone loves her," Powers says. "There are too many girls that are total bitches that half the male talent doesn't want to work with. But with Aria … she's developed a reputation where guys will cancel other shoots if there's an opportunity there to work with her. She's becoming 'that' girl.
"She doesn't have to be high to work. A lot of these young girls, you have to pull them away from the vape pin. It's like it's hooked onto them somehow. She's not like that at all."
Powers said Valencia has exhibited an ability to flourish in a variety of roles.
"She can memorize a script like it's nothing," he continued. "It's so easy to her, which is weird, because she's 18 years old. But she has no problem with the acting. I asked her, 'Were you a drama student or something?' And she said, 'No, I dropped out when I was 16.'"
Along with their scene for Porn Dude casting, Rock and Valencia have worked together multiple times for Team Skeet.
"Every time," Rock said, "she brings the same attitude, the same sexual appetite, the same desire to be there. She's a super slut. She admits she loves the work. She's definitely in the right place."
The biggest achievement of Valencia's career thus far occurred in February when she was asked to shoot for Slayed, the new all-girl brand from Vixen. Valencia said that working for the prestigious studio had been a goal since she entered the industry—but she assumed it would be a few years before she was offered the opportunity.
"It's definitely not something I expected when I was still 18," she says.
When Valencia arrived at the three-story house for the shoot, she was taken aback by all of the production assistants, crew members, producers and directors on set. And she was thrilled to learn her scene partner was Vanna Bardot, one of the top performers in all of porn.
"She's such a sweetheart," Valencia said. "She was definitely very dominant. I came at least three times. She made the experience really nice for me."
The scene received loads of positive feedback, and Valencia is hoping it will lead to similar opportunities with big-name companies down the line. As important as it is to deliver on camera, she realizes more and more that her dependability and positive attitude have become equal selling points.
Valencia said her nomadic childhood helped shape her personality and made her a more confident person. After her parents split when she was young, Valencia moved from California to Texas to attend grade school before relocating to Oregon for middle school and a few years of high school. She returned to California at age 17.
"If I wasn't put in those situations, I wouldn't be as outgoing as I am today," Valencia says. "I've always been forced to adapt to new people, new places. I'm very open to change and trying new things. If I'd have stayed in one small place, it would've been scarier to step out of my comfort zone and do things that I don't normally do.
"I feel like I've lived many lives in this lifetime already."
As Valencia surges forward, she'll do so with more swagger and self-assuredness than ever. Her involvement in the adult industry, she said, helped her conquer the lone insecurity she ever had.
Her size.
Valencia said her petite frame often prompted bullying during her grade school years. Even as a 17-year-old, she felt pressure to re-shape her body. Becoming a porn star helped Valencia realize that being small wasn't a weakness, but instead one of her biggest strengths.
"Everything was always about girls with big butts and big boobs," she said. "I was always trying to gain weight or work out to make my ass fatter. Then I got into porn and everyone was like, 'You're body is amazing. You're perfect.' Porn really helped me be secure with my myself."
Valencia laughs.
"It's funny," she says, "because all of the guys who used to make fun of me are the same ones DMing me every day now."
Valencia, though, doesn't have time for them anymore.
The small girl is too busy embarking on a big future.
Photography by Slayed (1 & 5); Scott Hancock (2 & 6); Hustler (3); mni-entertainmentllc.org (4); Dogfart (7); Facials4k (8)