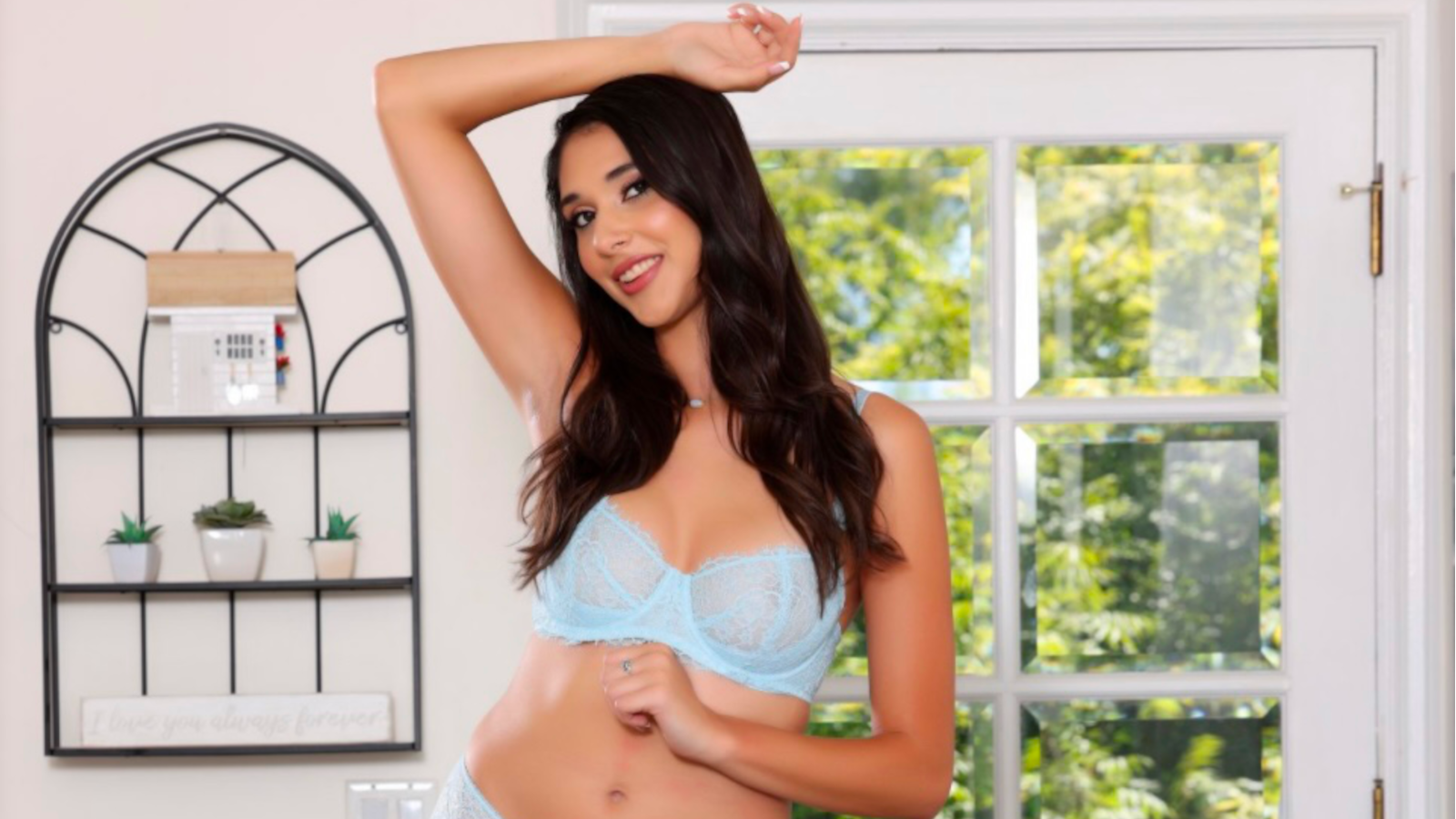 This story appears in the November issue of AVN magazine. Click here for the digital edition.
LOS ANGELES—Aria Sloane came into the porn business armed with the confidence that she could do well.
"I definitely was excited and optimistic," Sloane says. "Obviously, a little nerves are normal because it's just the unknown, but most of it was excitement. I knew I would be good at this.
"This is something I always knew I could see myself doing, but I never had that opportunity or put myself in the right position for this opportunity. So I'm definitely just excited for the future and what is to come."
Represented for bookings by OC Modeling, the personable Sloane performed her first scenes in July for NetVideoGirls, taking on Tyler D and then Jax Slayher.
"I just dove right in," Aria says. "I know what guys like and my body. I knew I always wanted to be a performer and do something in the public eye."
Sloane also knew she had what it takes "in the sex department."
"Anything I do I definitely want to do to the best of my abilities," Sloane continues. "I'm a really hard worker."
Born in Arizona, Sloane grew up mostly in the Bay Area before moving to Sacramento in early 2023. She worked as a server and bartender in the Bay Area before taking a job at Victoria's Secret for two months just prior to making her porn debut.
Aria tells AVN she moved to Sacramento for a fresh start after getting out of a five-year relationship.
"My friends were always talking to me about OnlyFans," she recalls. "And so I ended up talking with someone who knew more about actual porn and this industry and they mentioned OC Modeling and mentioned a couple other agencies that were good. I reached out personally to [Sandra McCarthy] and got her contact and we spoke. I really liked Sandra. I talked to other agencies, too, but I felt like she would be the best fit. She made me feel real comfortable and answered all my questions."
Sloane started her OnlyFans around the same time she started doing scenes and is in the process of creating quality content for it. She was familiar with some of the top porn girls but didn't follow the biz too closely before she got in.
"I watched porn for my own pleasure," she explains. "I wasn't looking around and exploring. So I've definitely been learning a lot and meeting people, learning names."
She estimates she's performed in about 20 scenes so far, including appearances for Dogfart, Blacked Raw, Hustler, Naughty America, FTV Girls and SLR Originals.
Sloane points to her scene for Blacked Raw as one of her favorites.
"I do love [Vixen Media Group] and everything they do," she says. "My Blacked Raw was one of my favorites. That's one of the companies I love."
She worked with Jay Hefner under the direction of Derek Dozer for Blacked Raw; Sloane met Nick Strokes for Hustler; she squared off with Kyle Mason for Naughty America in her first VR scene; and she serviced John Strong in her second VR scene for SLR.
"I like the concept that the viewer can feel more personalized with the video, as if I'm talking to that person," she says. "It's more immersive and there are a ton of different positions. I obviously love my regular scenes but the VR is different. I like them both and just the different audiences I'm reaching."
Sloane tells AVN she's a performer that producers and directors can count on to bring her best.
"I'm definitely a performer that gives everything my all," she says. "I definitely very professional, business oriented and fun. I'm outgoing. I always want to try to have positive good energy. I always want to make a good impression and make everyone feel comfortable. I have a positive mindset going into it."
She continues, "As a performer, I'm nitpicky. I'm very particular about myself. I just think I'm chill, but I really put my all out, especially with dialogue. I try to make the scenes the best for the viewer."
At press time Sloane was planning to do her first three-way with Will Pounder and Strokes for Hustler.
"I am really into it, I think it's really hot, I'm excited," Aria says. "I definitely am going to take it slower with more different kinds of content and not give everything I can do away at first."
Sloane also had a booking coming up with PornPros with Quinton James, adding that she wouldn't mind working with Parker Ambrose and Hollywood Cash in the future.
One of her goals is to be a Penthouse Pet.
When she's not working she loves being outdoors.
"In Sacramento we go to the river and lake a lot," she says.
Aria likes camping, skiing, music, art, painting and singing.
"Anyone who's lived with me can tell you I'm always singing," Sloane says. "I love painting people. Whenever I feel like drawing or painting I just like getting my sketch book out and just drawing."
She also enjoys golfing—Aria grew up playing the sport with her dad and also competed in several youth tournaments.
Sloane, who spent many years in the choir, now likes all different kinds of musical genres, especially country, pop, rock and rap.
"I'm not against any kind of music. I like broadening my horizons with songs," she says, adding that Luke Combs is one of her favorites artists and one of her favorite songs ever is "Don't Stop Me Now."
Photography by OC Modeling, FTV Girls & Tomas Skoloudik