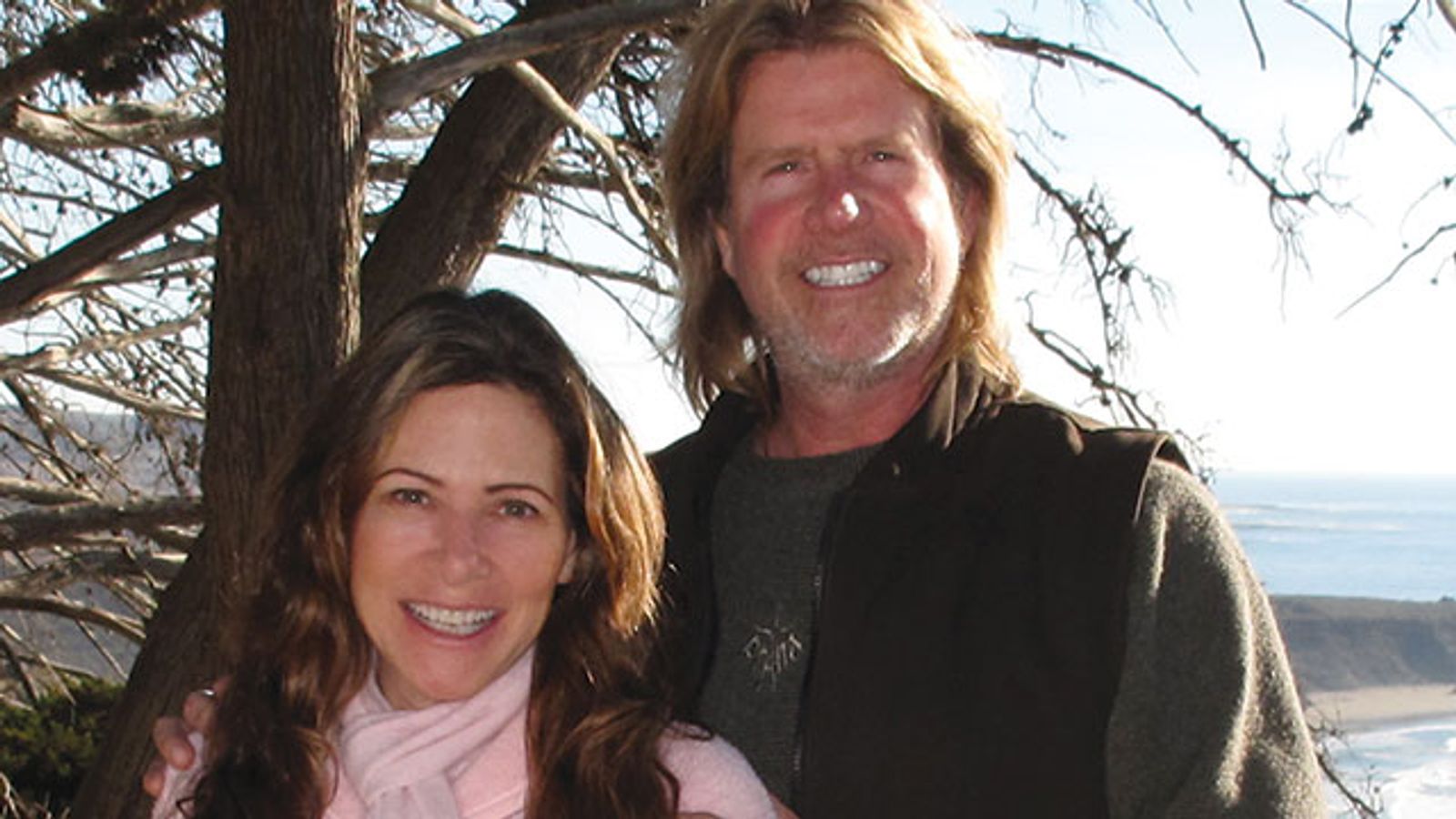 This article originally ran in the June 2016 issue of AVN magazine. Click here for a link to the digital edition, which contains more articles about virtual reality in adult.
Adult video company Fallen Angel passed a major milestone this year, marking two decades since its creation in 1996. Founded and operated by longtime married couple Luc Wylder and Alexandra Silk, the company embraces all aspects of the adult industry: production, post-production and distribution across a wide range of evolving media.
As I spoke with Wylder and Silk about the company's twenty-year run, I expected that we would discuss video production, critical times in the company's history, changing distribution platforms, etc. Which we did. But we also talked about integrity, relationships, family, fun and love. If you think those are trivial concepts next to the hard realities of business, then allow the memories and advice from what Penthouse Forum once called the "First Couple of Porn" to convince you otherwise.
"The world really matters to me," says Fallen Angel CEO Luc Wylder, "and the wake that I leave behind my career is important to me, the impact that it has on other people and on their lives."
"Ethics, integrity, love, kindness, and being technically savvy," says CFO Alexandra Silk about the secret to Fallen Angel's longevity. "You have to be willing to never stop learning. That will sustain you."
Formally incorporated in 1996, Fallen Angel began as both a production and distribution company.
"We had a huge warehouse where we would ship product," says Silk, describing the large stock of VHS tapes Fallen Angel distributed in its early years.
"There were a couple of other 'angel' companies around," says Wylder, explaining the origin of the company's name. "Evil Angel and Elegant Angel—I actually called them both when I named the company and asked them if they minded me incorporating the angel part. They were all very close to me in the early years of my career. I did it on one level to honor them, but on another level to expand upon the work that they had done. So Fallen Angel is an angel coming down to earth from heaven for the right reason, to bring a message to people, to try to change the world one orgasm at a time."
Fallen Angel's early series include The Master's Choice, My Dad's Dirty Movies and Dirty Dancers. While those series would set the groundwork for Fallen Angel's later productions, Fallen Angel's Silk Ties (1999), directed by Silk, marked a turning point in both production quality and exposure for the company. Theresa Flynt, former vice president of LFP, describes the premiere that took place at Hustler Hollywood:
"Alex and Luc were some of the first people I met when opening the very first Hustler Hollywood store on Sunset Boulevard in December 1998. They came in to see me about getting their Fallen Angel VHS/DVDs into the store. We hit it off right away! That was almost 18 years ago and we are still very close friends. Shortly after the store opened we had a Silk Ties event that was epic. Massive fan and industry turnout with all the beautiful ladies. A successful night to be remembered."
Not long after Fallen Angel was founded, the company launched into a partnership with Adam & Eve. Wylder speaks of the honesty and ethics of Adam & Eve as forming a "perfect marriage" with Fallen Angel.
Adam & Eve's Bob Christian makes it clear that the long collaboration is based on deep mutual respect. "They are creative, productive, persistent and great partners to work with," says Christian of Silk and Wylder. "It may sound dull to say they are reliable and our go-to people, but it is very special to find such a great combination of talent and imagination and execution in one place. Through the past decades, Fallen Angel has worked exclusively with Adam & Eve, I believe, but neither of us ever demanded or contracted for that loyalty. We both just want to work together, and that is a great thing."
"Luc and Alex," Christian continues, "have been creative partners for Adam & Eve Pictures with the variety of projects they bring to us and produce with us. They started, and continue to produce, our longest-running series, Amateur Angels, now with twenty-nine different movies. Luc and Alex took us all on tour with Sex Across America, enabling fans to enjoy the sex in twelve major U.S. cities and at the Sturgis Motorcycle Rally. Then they took the world inside the real homes of adult stars like Ron Jeremy, Nina Hartley, Nicole Sheridan and Carmen Luvana in their series Adult Stars at Home. When they found the time, Fallen Angel made some features with Adam & Eve, and last year they introduced us to a serialized insider view (albeit fictionalized) of a different world, Confessions of a Sex Surrogate. I can't stop without also calling out their current strong series they are producing for Adam & Eve, Swingers Wife Swap, now up to No. 4, The Block Party."
Throughout Fallen Angel's existence, Wylder and Silk have followed the age-old maxim of quality over quantity. Silk describes 2003 as pivotal for Fallen Angel as they won AVN's Best Specialty Release "New Genre" Award, even though their winning video, Internal Affairs 5, was the only one the company produced that year.
"I'm so proud of this award because of its meaning," exclaims Silk. "This was in 2003, the heyday of adult, when everybody and his brother had a camera and they were 'a pornographer.' And that year we made one video, and it won an award. And the award itself was what really jazzed me. A new genre! When everybody was doing everything, how can you create a new genre in that era? But we did, and it was just so basic. Real people having real sex."
"I guess that if you ask me what advice would I have for people based on experience," muses Wylder, "it's [to] put out a quality product and put an effort behind marketing and promoting the product. … We've always focused on nurturing each one of our videos, as if it were a hit. So with Amateur Angels, we've been shooting this series for Adam & Eve for a good fifteen years now, and we're still only at number twenty-nine. With Internal Affairs, we shot that series for years. We did six of them."
If nurturing quality is one pillar that upholds Fallen Angel's success, then the other is the positive atmosphere Wylder and Silk actively encourage on set.
"Some of my favorite earliest memories in the industry was for and with them," recalls Katie Morgan. The blond adult star was featured in Fallen Angel's Dirty Dancers: The Movie (one of her first lead roles), Amateur Angels 9 and Sex Across America 12: Virginia Beach.
"Their sets were always so much fun and upbeat," says Morgan. "They seem to genuinely love what they do and genuinely love sex and people, and it's just so nice for people to be so real."
"I think they're really good at judging people and chemistry and they put together really great casts for those movies," continues Morgan. "They make sure they think everybody is going to get along and want to fuck each other and have fun."
Silk draws on her extensive performing experience to assist talent on set.
"With me being in the trenches and knowing what it's really like for a performer, especially if we're shooting a new performer who's a little unaware, I help them along, make them feel comfortable and put them at ease, and help them with all their needs," she says.
Wylder says, "One of the secrets to the magic that we create with people is that we never rush them. So I would rather shoot a movie in five days than two, because I'm going to be able to work with my talent on a level where I'm going to extract the type of a scene that I want to achieve."
Evolving from VHS tapes to DVDs to online distribution, Fallen Angel has successfully surfed the waves of changing media. Fallen Angel currently distributes its VOD content through its own platform, FallenAngel.tv, while Adam & Eve distributes Fallen Angel's DVDs.
But even with the industry's many changes in the past twenty years, the one constant throughout Fallen Angel's history is Silk and Wylder's commitment to each other. They were married at the turn of the new millennium in Las Vegas, on December 31, 1999.
"It's wonderful to marry your best friend," says Silk. "It's important that even though we work together, we play together, we're completely honest with one another, which is lovely to have our business and our relationship in the field of sex, to really embrace it and nurture it, and develop it, parlay it into other things. I can tell him anything and share anything with him. It's a great partnership, business and personal."
"Alex really is my best friend," says Wylder, "and we spend so much time together between our production and our editing that you would think at one point we'd drive each other crazy. But we really do have very separate roles in the company. We concur with one another when we're making a decision, but I'm more on the technical side, and Alex is more on her creative side when it comes to editing. When it comes to ideas, she's more in the financial side and there I'm more often in the creative aspects."
Silk and Wylder's relationship is noticed by others in the industry as well.
"Their consistent positive attitude and zest towards life and business is a true inspiration," says Theresa Flynt. "And the way they love each other is admirable, deep, real and romantic. What a blessing you have if you are one of their friends. Words that come to mind when I think of them: sexy, savvy, loyal, solid, down-to-earth friends."
Katie Morgan recalls, "They've always been such great role models. Any time I was around they always had positive things to say, and they're just such a great example of a happy, open couple. It makes me so happy to see people make it work for real in real life."
Similarly, Silk and Wylder speak of those close to them with gratitude and affection. They list Bruce Seven, Morty Gordon, Freddy Lincoln, Candida Royalle, Hugh Hefner, Bob Christian, Phil Harvey, Paul Fishbein, Eric Mittleman, Theresa Flynt, Wylder's mother, and Silk's brother as some of their greatest influences, past and present.
So as Fallen Angel crosses its twenty-year milestone, Alexandra Silk and Luc Wylder see great promise on the horizon. They are excited about the creative potential of virtual reality. They continue to explore the concept of weaving entertainment and education together in their plot-based Confessions of a Sex Surrogate series with Adam & Eve. And Wylder and Silk have challenged themselves to deeper levels of learning in their personal lives, each having recently earned their doctoral degrees in human sexuality from the Institute of Advanced Study. The industry has in turn rewarded their accomplishments with inductions into three halls of fame: AVN, XRCO, and the Legends of Erotica.
But through it all, their actions are inspired by timeless notions of kindness, integrity and beauty.
"Fallen Angel remains committed to being a pioneering company," Wylder says. "We'll continue to create beautiful erotic media by extracting beauty out of the reality of the world. Woven into all of that is a message of sex positivity and healthy sex being a component of your overall physical well being. We're excited to be part of the sexual evolution and continue to strive for excellence. We'd like to thank AVN, fans, and all the legends of our industry for their continued love and support."
To contact Luc Wylder and Alexandra Silk, email [email protected] and [email protected] or follow on Twitter: @AlexandraSilk and @LucWylder. Their company website is FallenAngel.tv.