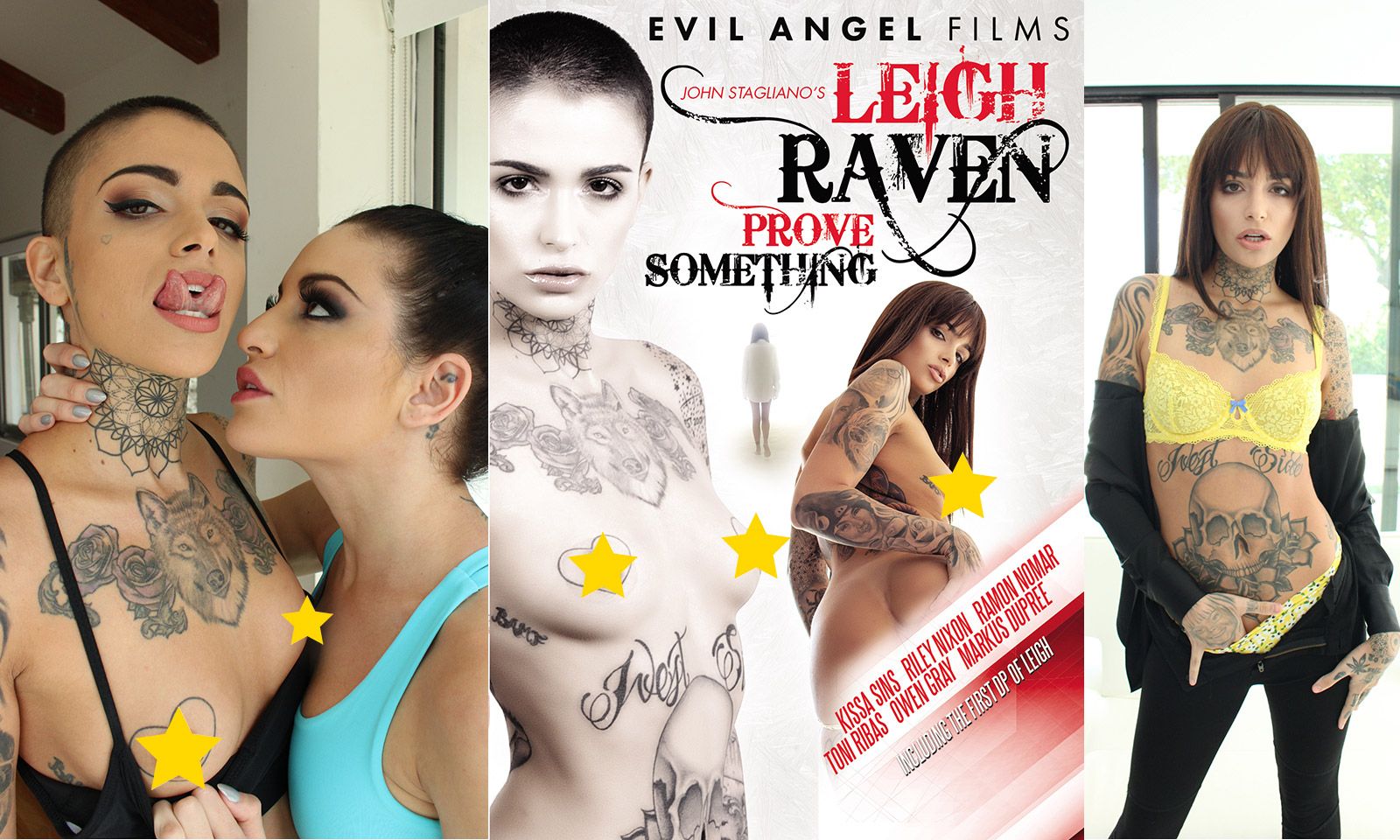 LOS ANGELES—As plenty of folks in the adult industry know, hiding one's true self can make one feel as if in a bad dream, but in director John Stagliano's Leigh Raven Prove Something, this time, a nightmare turns out to be transformative. The filmmaker and the title star have collaborated to create a story in which plot and character development directly inspire hardcore, alternative sex. Evil Angel Films will release the unusual story October 22 on DVD; EvilAngel.com subscribers can access the cinematic scenes starting October 19-22. A trailer at EvilAngelVideo.com shows the beautifully lensed imagery and hard action, including Leigh Raven's first double penetration performance.
"Leigh Raven Prove Something is a feature in which plot, dialogue, conflict and resolution are all intimately related to the sex," explained Stagliano. "The events of the movie inhibit and/or release the characters' sexuality. I think this makes for the most interesting porn."
Leigh demonstrates considerable acting talent portraying an exotic fetish adventurer compelled to conceal her true beauty under conservative hair, makeup, glasses and a business suit. In a disturbing dream sequence, she comes on to her employer, sliding her forked tongue into his nostrils. He rips off her wig and dress, revealing a crew cut and radical tattoos. This sequence establishes Leigh's internal conflict; awakening in anguish, she wonders if she can ever let go and be herself.
At photographer Owen Gray's studio, Leigh proves to be capable of wild, kinky sexuality. Carefree in her own elaborately inked skin, she applies suction devices to curvy, buzz-cut blonde Riley Nixon and floods Riley's face in girl squirt. The shorthaired ladies and Owen share an anal threesome.
Leigh's personal training session with comely yoga instructor Kissa Sins underscores that Leigh needs discipline in her life. Physical/spiritual training gives way to passionate lesbian lovemaking, plus playful cake and whipped cream sploshing.
Though she presents a conservative image to her boss, Leigh surrenders to client Markus Dupree in a scene reflecting her inherent conflicts. Dupree grips her shorn head for a dominant face fuck and lifts her bodily for anal; she deep-throats ass-to-mouth amid torrents of female ejaculation.
All of this builds toward Leigh's confrontation with her boss, played by Ramon Nomar. She challenges him to accept and embrace her radical sexuality. Leigh's status as his employee makes him hesitate, so the newly liberated woman simply quits the job; she's no longer inhibited. Leigh submits to Ramon and Toni Ribas in a manhandling, squirt-soaked threesome that includes actress Leigh's first on-camera DP.
"This isn't a typical feature/showcase, but it definitely highlights my acting and John's directing," Raven said. "We bounced the script back and forth multiple times before we actually started shooting. I thank John for putting so much trust in me."
Leigh Raven Prove Something premiered on VOD in September, making it eligible for 2019 awards consideration. Now DVD customers and EvilAngel.com members can see a very human character and a seemingly surreal performer prove themselves. The epic movie runs over three-and-a-half hours, and the double-disc DVD includes behind-the-scenes footage.
For Domestic DVD Sales & Operations, contact Rick Porras, [email protected] / (818) 787-1414, ext 104.
For Licensing/International Sales, contact Alexandra Kelley, [email protected] / (818) 787.1414 ext 106.
For more information about Evil Angel Wholesale, visit B2B site EvilDistributor.com. The Evil Angel marketing site is at EvilAngelVideo.com.