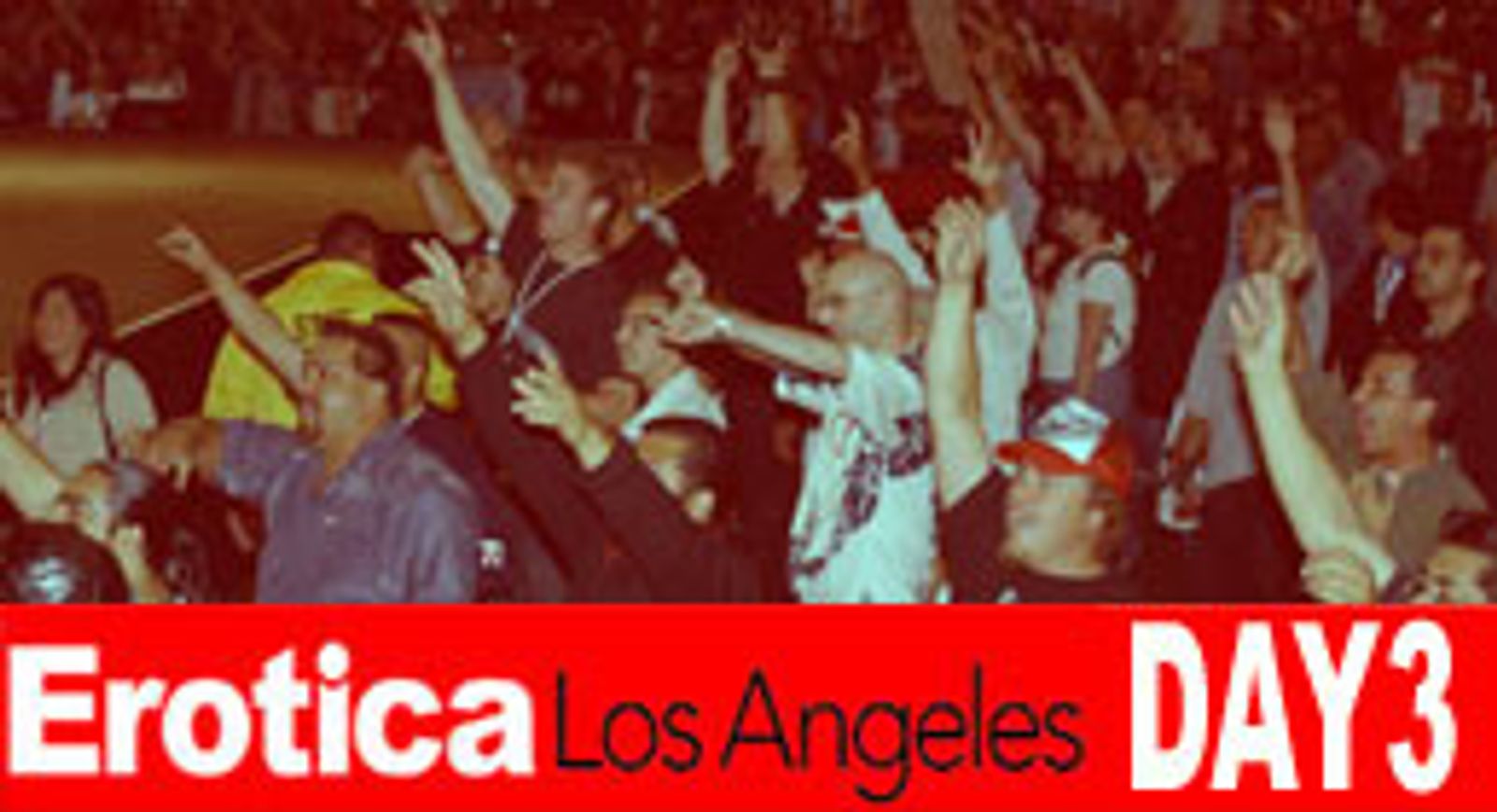 The crowds packed the Los Angeles Convention Center again Sunday, capping off a weekend that saw record-breaking attendance for 2003's Erotica Los Angeles convention.
Click here for gallery.
"Our goal this year was to bring in more couples and females by creating more mainstream programming for the event," Chad Beecher, vice president of marketing for Erotica L.A. said. "Our numbers show that we succeeded in accomplishing this. Both our seminar series and varied stage shows proved to be a convention favorite."
Many conventioneers said they noticed a difference from previous years. 
"We've been absolutely mobbed," Stacey Jewell, co-owner of Lady Bliss. "We've had a lot of couples, a lot of women shopping for themselves and a lot of guys looking for things for their girlfriends. It's going to be a real milestone for us. Our phones have been ringing off the hook since we got here."
One convention attendee, "Just Shantel," said she left her boyfriend at home because she "didn't want to watch him drool over a bunch of naked porn stars. 
"He doesn't know it, but he'll be much happier in the long run," she said, holding up a bag of goodies she had purchased. "And I think he'll be very happy." 
A couple who attended, Linda and John, said they were blown away by the events. 
"This is crazy!" Linda said as John surveyed the booths. "It's the craziest thing I've ever seen. All the toys — John bought me a couple things. To be honest, I was a little nervous when I arrived, now I'm just kind of taking it all in. Mostly I'm just looking — and taking pictures of my boyfriend with the porn stars."
The afternoon also saw plenty of entertainment, with girls performing on Spearmint Rhino's stage and an auction of erotic posters that benefited Adult Industry medical Health Care Foundation.
Zane from Smash Pictures said he was impressed with this year's convention. "It's been a marvelous crowd, very well-behaved, very enthused," he said. "I think it's good they opened it up to a bigger crowd and I'm looking forward to next year." 
Things were a little quieter at the Harley-Davidson booth, where they were still recovering from Tera Patrick's appearance on Saturday. "It's been very busy," Katie McLaughlin said, "Though today hasn't been as busy as we expected." 
Things were quieter outside as well, with the protesting Christians nowhere to be seen under the cloudy Sunday sky. 
Despite the lack of protesters and the gloomy day outside, the convention was increasingly busy all day with many of the porn stars on hand for signings seeing the lines only get longer as the day went on.
"Yesterday it was nonstop all day long," VCA contract star and director Chloe said during a rare quiet moment. "It's been a really good turnout. I like that it's a younger crowd this year, more people in their 20s and 30s instead of a bunch of guys in their 40s and 50s." 
Just a few feet away, also at the VCA booth, Dick Smothers Jr. sat entertaining the occasional fan. "Most people don't recognize my face," the second Smothers said, "but then they see my badge and go, 'Hey, I saw you on Howard Stern!' To be successful you gotta go out there — and I'm out there." 
The line was never-ending for Digital Playground's newest star, Jesse Jane, who was one of the first things people saw as they entered the convention hall — or would have been if they could have seen the dozens-deep line waiting for her autograph.
"It's been fantastic," Digital Playground publicist Adella confirmed. "It's an opportunity to gauge the fans' needs, their wants and what they want to see different. We're taking the pulse of our demographic."
Up and coming photographer Holly Randall saw things similarly. "The girls like it and it's good to meet the fans and get feedback and some criticism," Randall said. "We all have to grow.
"And it's good for Mom [photographer Suze Randall] to come out and remember why the hell she's been doing this all these years."
Amanda Theisgen, who was entertaining and educating customers in the Romantix booth by showing how to wear a ball gag, said this was her first year at Erotica LA. "It's a great opportunity to get to know customers and get them into the store. It's been a great experience."
While video companies and porn stars — including Belladonna, Inari Vachs, Jessica Drake and many more — proved to be biggest draws, the product and novelty booths held their own very well. As the afternoon progressed and the convention center became more and more packed, nearly every booth was filled with potential customers.
"I was here last year and this year was much better — more people, a better variety of booths," Barbara Dombro of Hoss International said. "Last year was good, too, but this year has been great."