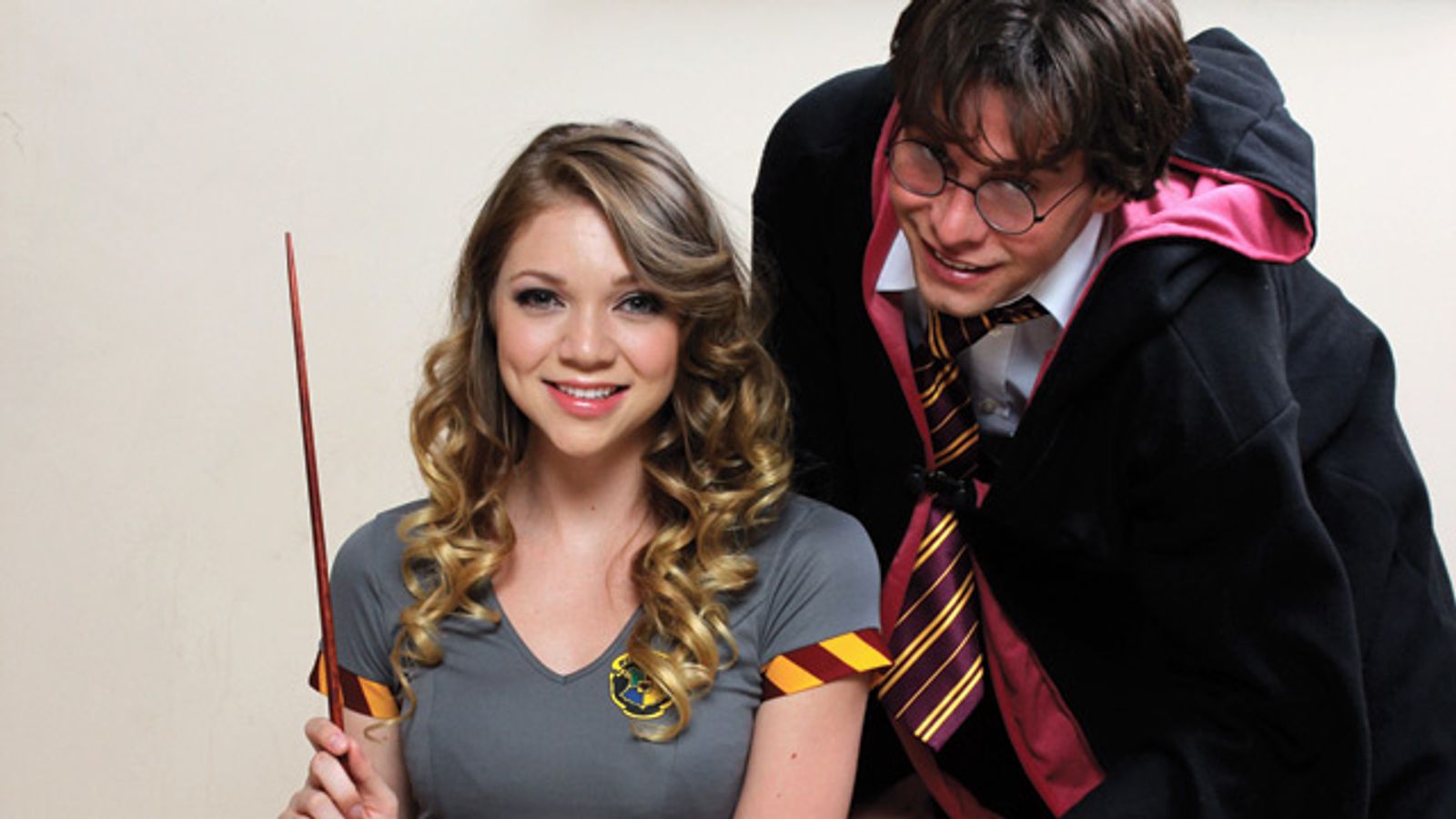 You knew it had to happen: With J.K. Rowling having penned one of the best-selling children's book series in history, it was only a matter of time before an adult company did a hardcore take-off on Harry Potter, so ...
Presenting Hairy Twatter XXX: A DreamZone Parody, shot on slightly less than the multimillion-dollar budgets afforded the mainstream version and without, according to director Jordan Septo, "a real thick plot," the movie delivers pitch-perfect casting of the major roles: Seth Gamble as the spitting image of Harry ("Hairy"?), Jessie Andrews as his best gal-pal "Hormone," and Katie St. Ives and Michael Vegas as villains "Hella Trix" (played by Helena Bonham Carter in the "real movies") and Draco (one of Harry's evil school chums). And it's a showcase for some recent arrivals on the porn scene: Tyler Nixon as Harry's pal Ronald, the little-seen Sammy Grand as "Winey," and newcomer Nora Skyy.
Officially, the plot of the movie is as follows: "There are indeed some magical times at the Whore's Wart's School for Witches & Wizards. But the one thing disturbing the male population is that none of the females have any hair on their twats. Harry, being the most powerful wizard at the school, experiments with dark magic in hopes of big bushes. The results are quite hair-raising."
"It was a fun little movie," Septo said. "We shot it at a little-used location in Encino, a really classy-looking place; we shot part of Zorro there [Zorro XXX, Jama/Pleasure Dynasty]. There's not much of a plot. Harry's best friend convinces Harry that they should give all the girls hairy twats, and Harry goes and dabbles in black magic with some villains to find a spell for that, and succeeds—not only are the girls' pussies now all hairy, but the spell has given everyone the hots for each other. The movie is based on hot sex and pairing good people and comedy more than doing a precise takeoff on Harry Potter."
So, what? No flying broomsticks? No disembodied floating heads? No CGI dragons or elves or whatnot?
"Yeah, we really didn't try to bust the budget with special effects, though there are a few of them," Septo admitted. "I won't say we've gone crazy with them, but when we do use them is, there's a spell that Harry does to make all the girls grow pubic hair; there's a little special effect in there."
Sexually speaking, there are some top-notch matchups, including Harry's best friends Ronald (Tyler) and Hormone (Jessie) getting together for a hot coupling; Harry (Seth) falling under the sexual spell of villainess Hella Trix (Katie); and bad-boy Draco (Michael) getting over on sexy schoolgirl Tara Lynn Foxx.
Hairy Twatter XXX: A DreamZone Parody is now shipping and available from DreamZone. Click here for more information.