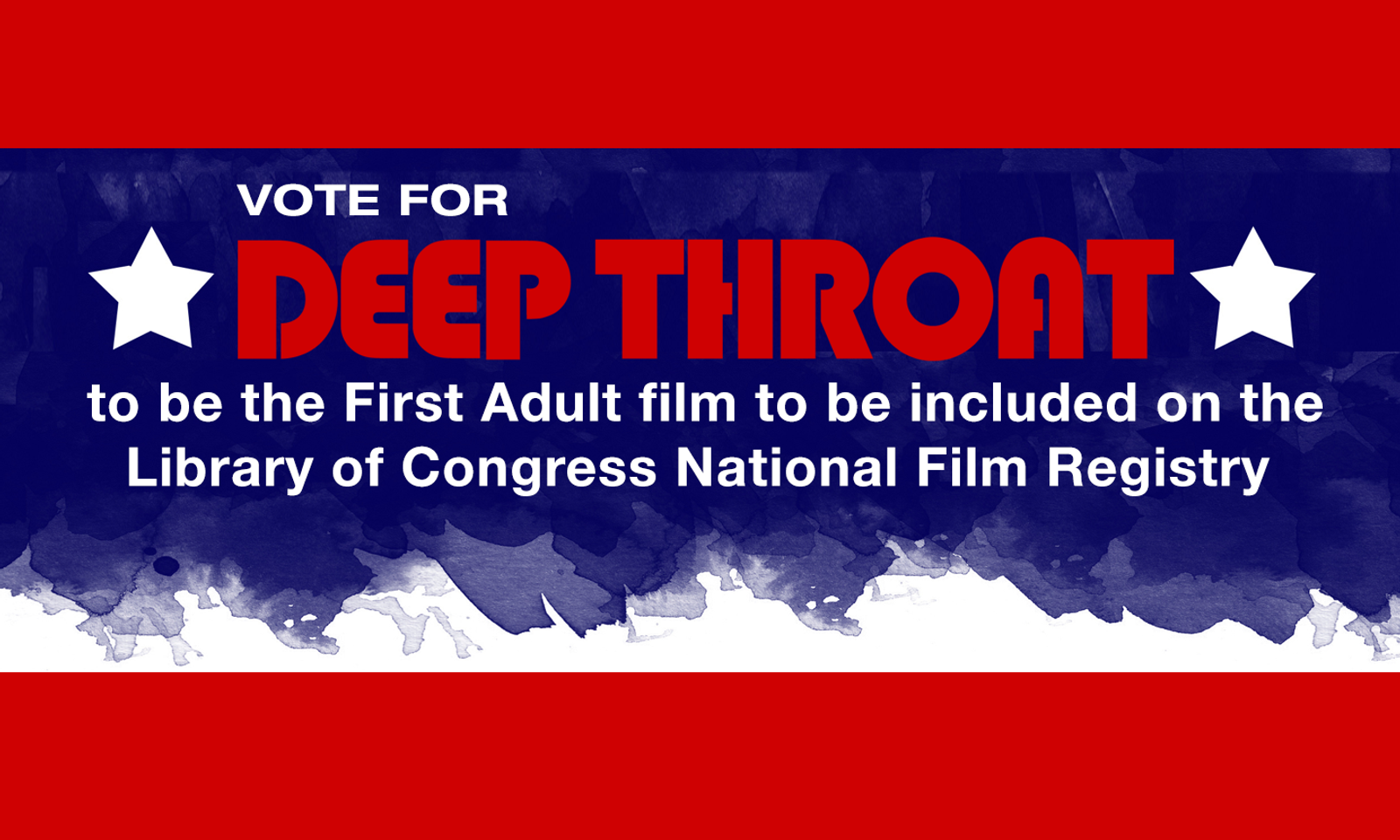 NEW YORK—Each year, the Library of Congress, which oversees the National Film Registry, selects 25 films for preservation based solely on suggestions from the public, and Damiano Films is campaigning to make groundbreaking picture Deep Throat—which the company is currently presenting around the world in a restored UHD version for its 50th anniversary—the very first adult film to be accepted.
To be eligible, a film must be 10+ years old and be "culturally, historically, or aesthetically significant." And though according to the Registry's website, "...We strongly encourage the nomination of the full range of American filmmaking," no adult film has been selected for induction in the organization's 34-year history. 
Deep Throat premiered at the World Theater in Times Square on June 12, 1972 and played there on and off for more than 20 years. It was a bona fide phenomenon, earning $1 million in just the first seven weeks after it opened. By the end of six months it had made another $2 million. Since then, between theatrical and videotape/DVD sales, the film has earned at least $100 million, according to the FBI, though other knowledgeable sources put the figure as high as $600 million (more than $3.8 billion dollars today).
The cultural impact of Deep Throat on American history is indisputable. Celebrities who acknowledge having seen the film include Jacqueline Kennedy Onassis, Martin Scorsese, Jack Nicholson, Johnny Carson, Truman Capote, Barbara Walters, Doris Day, Warren Beatty, Richard Dreyfuss, Spiro Agnew, Nora Ephron, John Waters, Hugh Hefner, Gore Vidal, Dr. Ruth Westheimer, Erica Jong, Dick Cavett, Helen Gurley Brown, Norman Mailer, Bill Maher, Sammy Davis Jr., Frank Sinatra and more. Producer Brian Grazer's grandmother urged him to go, and former governor and presidential candidate John Hickenlooper even took his mom see it.
It also made an indelible mark in the political world by way of its title being chosen as the name for the undercover FBI informant who broke the Watergate scandal.
Damiano Films—operated by Gerard Damiano Jr. and Christar Damiano, the son and daughter of Deep Throat director Gerard Damiano—has a dedicated page for its #VoteThroat campaign set up here. The deadline to submit nominations to the Registry is August 15.
To nominate Deep Throat for induction, simply click on this link and fill out the nomination form.
All U.S. citizens are eligible to vote for up to 50 films, and it's free. To join the campaign, share on social media using the hashtag #VoteThroat.