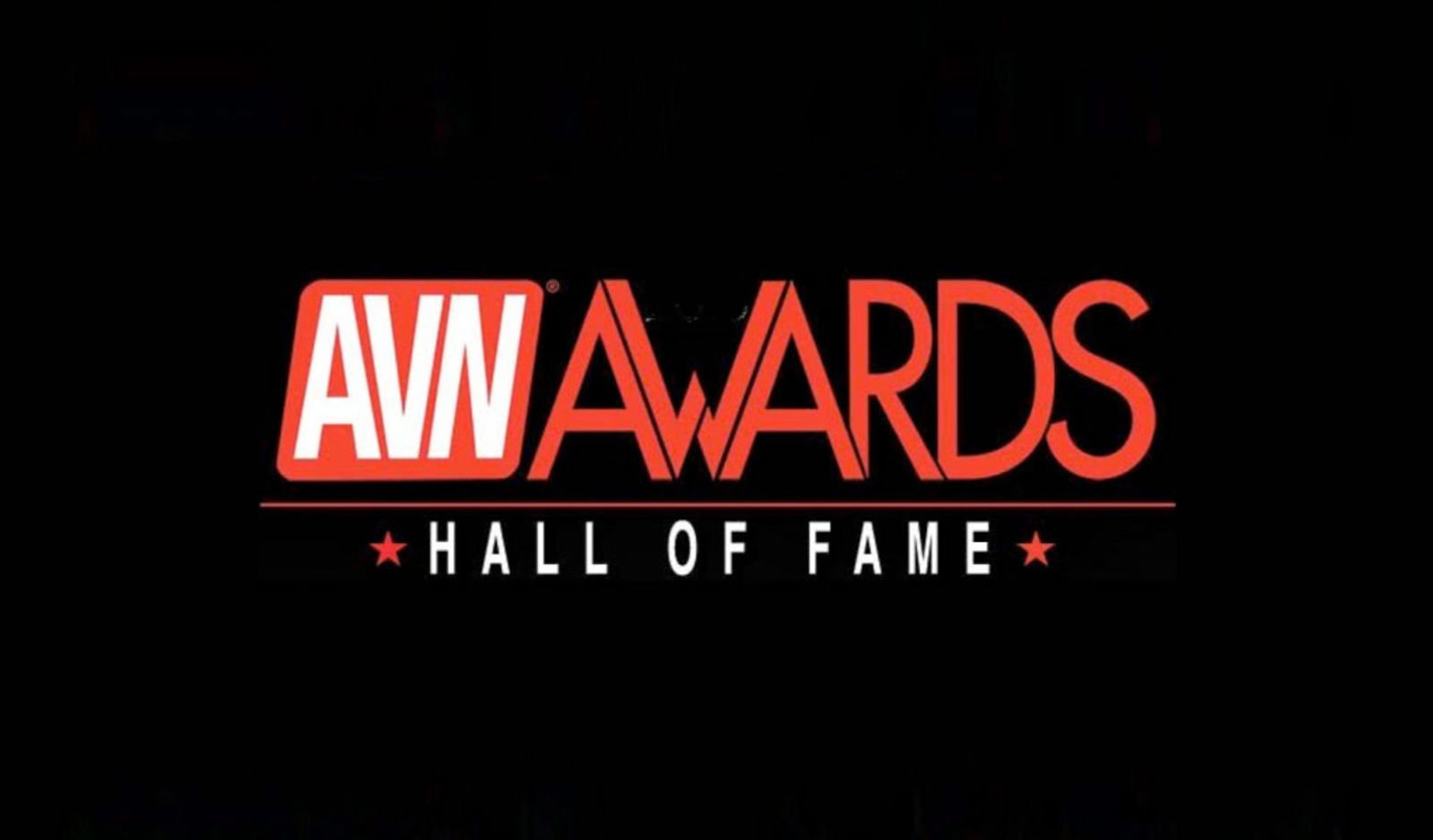 As happens every January, this month AVN Media Network will induct a new group of individuals into the AVN Hall of Fame, celebrating their achievements in the adult industry.
Performers and directors enter AVN's original video-based Hall of Fame, but there are other branches, too. The Founders Branch honors those who founded pioneering companies; the Internet Founders Branch celebrates those who built the online sector; and the Pleasure Products Branch is for manufacturers, distributors and retailers of sex toys. Finally, the Executive Branch is populated by those who work behind the scenes in the C-suite or excel in other capacities—for example, in sales, marketing or education.
In all branches, a minimum of 10 years in the business is required for consideration. And in many cases, the inductees have served much longer.
The AVN Hall of Fame Class of 2018 will be officially inducted at the 2018 AVN Awards Show, which takes place January 27. And they'll also be celebrated at the kickoff event to the AVN Adult Entertainment Expo (AEE), taking place at the Hard Rock Hotel & Casino Las Vegas on Tuesday, January 23, the night before AEE begins. The Welcome Industry Cocktail Party runs 9 p.m. to 2 a.m. at the Center Bar in the main casino area, and is open to all trade attendees of AEE and the AVN Novelty Expo. Drink tickets are available from any AVN staff member.
The 2018 AVN Awards will be hosted by performer/director Angela White and cam star Harli Lotts on January 27. The AVN Awards are presented by MyFreeCams. Fans may purchase 2018 AVN Awards Show general-admission tickets, VIP table seating options, or various special packages. Tickets are available here. For more information, visit AVN.com/awards.
Legitimate talent can fill out an RSVP to attend the show here. 
AVN Hall of Fame – Video Branch
Alexis Amore

"The Peruvian Princess of Porn" appeared in more than 300 adult movies during a colorful career in front of the camera that spanned 14 years. A former nurse at a Catholic hospital who was born in Lima, Peru, and raised in Redondo Beach, Calif., Alexis Amore found herself in demand from the beginning thanks to her exotic looks and fiery performances. She flashed star qualities from a young age—Amore modeled for Nordstrom's when she was 15 and was a dancer on MTV's The Grind—before being discovered on an episode of Playboy TV's Night Calls. She launched her adult modeling career in late 1999 and then had a one-year break in 2001 before taking command of her career upon her return. In early 2003, Amore signed an exclusive performance contact with then juggernaut studio Jill Kelly Productions, where she starred in dozens of titles and built her profile on an international scale. With her reputation as top talent secured, Amore transitioned from JKP to another performing and directing deal with former gonzo heavyweight, Anabolic Video, in 2004. She followed that with a new deal to perform exclusively for Metro's ethnic-themed studio, Video Team, in '05.
But along the way what set Amore apart was her crossover appeal in Spanish-speaking countries. In June 2004, Frecuencia Latina—"the CNN of Peru" at the time, which is now called Latina—filmed a documentary on Amore for the show Reporte Semanal that aired in more than 22 million households in South America, Central America and parts of Europe.
In 2006, Amore appeared on the Spanish-language TV shows No te Duermas and El Poder in Puerto Rico as the Latin community embraced her porn stardom. Vivacious and bilingual, Amore went on to host shows for Playboy TV, Telemundo, Univision and Galavision Channels and is credited with raising awareness about porn and safety in Latin communities. At one point Amore was the most searched person on the internet in Perú next to the president.
Her notoriety also made her a natural for a signature toy line—she teamed with both Las Vegas Novelties and CalExotics for pleasure products. A prolific print model in all the top adult magazines, she also was the first porn star to ever grace the cover of Lowrider in September 2006.
In October 2014, Amore launched a show called That's Amore on Vivid Radio, and today remains a busy feature dancer at gentlemen's clubs across the U.S.  
Eva Angelina
After getting started in adult at the barely-legal age of 18 in 2003, Eva Angelina went on to hit all the benchmarks that define porn stardom. Angelina's filmography reads like a history of modern porn production, with titles from early-2000-era studios such as Anabolic, Video Team and Shane's World (for which she shot her first scene) all the way up to the today's big brands. And in addition to shooting hundreds of scenes, the often-bespectacled star also co-owned a company, was inducted into the elite Fleshlight Girl ranks, and made her mark in feature dancing and live cams.
This native of Huntington Beach, Calif., took a few breaks over the years, including some stretches where she did girl/girl, but she always came back for more. It's hard to name an adult company she hasn't worked with. One company that particularly stands out on her résumé is Adam & Eve Pictures, which released titles from skinworXXX, the production company she co-owned with Teagan Presley and Joshua—including Deviance (2009), which won AVN Awards for Best High-End All-Sex Release and Best All-Girl Group Scene. Another is Elegant Angel; Angelina did her first anal in Big Wet Asses 12, and shot two critically acclaimed star showcases with William H.: Evalutionary and Evalutionary 2. Other standout titles include Se7en Deadly Sins (Wicked Pictures), E for Eva (Jonni Darkko/Evil Angel) and Upload (Sex Z Pictures), for which she won an AVN Award for Best Actress in 2008.
William H.
Originally going by the decidedly more cheeky moniker William H. Nutsack, the impish director from whose unabashedly perverted creative well sprang such celebrated series as Glazed and Confused, Supersquirt, Swallow My Squirt and Screaming Assgasms! dropped his ribald surname once he came into his own in the early 2000s as one of the core helmers at Elegant Angel Productions (though he's kept the Nutsack appendage alive by way of his Twitter handle).
Cutting his teeth behind the camera alongside enigmatic directrix Mason, H. spent 14 long years at Elegant Angel, honing his craft there on scores of productions running the gamut from hardcore gonzo to high-end glamour. A few of the top-shelf EA series for which he was responsible include Swimsuit Calendar Girls, The Bombshells and Performers of the Year. He also lensed many volumes of the perennially revered Big Wet Asses and Big Wet Tits, along with acclaimed star showcases Alexis Texas Is Buttwoman, Lily Carter Is Irresistible and Remy 2, to rattle off but a sampling of his remarkable résumé.
After Elegant underwent a reshuffling of sorts in 2013, H. bounced between stints at Jules Jordan Video and O.L. Entertainment (the former produced the above-mentioned Screaming Assgasms! movies, as well as a number of other highly praised titles) before landing in 2016 at New Sensations/Digital Sin.
His work at his new home has proven as strong as ever, picking up nominations in the 2018 AVN Awards race for, among other notices, Best Oral Movie (My First Blowbang!), Best Orgy/Gangbang Movie (My First Gangbang), Best Ingénue Movie and Best Director - Non-Feature (both for The Dirty Dolls).
Oh, and if you get a chance, be sure to seek out some of the music H. recorded to accompany his earlier directorial efforts … it's every bit the hoot you would expect from someone who dubbed himself William H. Nutsack.
Brandon Iron
Having been a rabid porn fan for years, Brandon Iron broke into the industry the old-fashioned way: by knocking on doors until someone let him in. The native of Alberta, Canada, who holds a degree in English, actually shot his very first porn scene in 1991, opposite Ashley Nicole, in Coast to Coast Video's Bonfire of the Panties. But while he would sporadically pick up scenes here and there over the several years to follow, it wasn't until 1997 that performing became his full-time living.
In 2000, he added directing to his CV, overseeing an array of titles for Extreme Associates, Devil's Film and Premiere Pictures. By 2002, he had parlayed his behind-the-camera experience into several directorial outings for then gonzo powerhouse Red Light District, and the following year became one of the stable of exclusive directors for offshoot label Platinum X Pictures.
Iron parted ways with Platinum X in 2007, and soon launched his own eponymous label Brandon Iron Productions, partnering with JM Productions for distribution. Under this arrangement, he produced the popular series Perverted Planet and She Is Half My Age, among others.
In 2009, following the Bernie Madoff Ponzi scheme scandal, Iron and JM orchestrated the irreverent publicity stunt of offering any victim of Madoff's a free copy of She Is Half My Age 7.
Though he's remained largely inactive during the 2010s, Iron did return behind the camera in 2015 for the interracial title Shade X from Smash Pictures, which earned a 2016 AVN Award nomination for Best Interracial Movie.
Now living in Europe, Iron has moved into the indie clip world of ManyVids and continues to maintain his website, BrandonIron.com.
Jessica Jaymes
Alaska native Jessica Jaymes began her adult career in 2002, essaying girl/girl and non-sex roles for a variety of companies until her boy/girl "coming out" in Hustler Video's The Porn Identity in 2005—not too surprising, since the year before, Jaymes had become Hustler Video's first contract star, not to mention Hustler magazine's Hustler Honey of the Year. In November of that same year, Jaymes won the award as Best American Starlet at the inaugural Delta di Venere/International Erotic Fair in Milan, Italy. In all, Jaymes has appeared in just over 220 adult features and web scenes during her career so far—yes, she's still an active performer—with her work fairly evenly divided between girl/girl and boy/girl.
Jaymes also has some mainstream credits, having appeared in the Showtime series Weeds in 2006 and 2007, not to mention roles in several sexy cable movies such as 2005's Sexy Suspects, in which she starred, and 2009's Busty Cops: Protect and Serve.
But one of Jaymes' greatest achievements has to be her part in the creation, in 2009, of the exclusive content website Spizoo.com and its affiliate program Spizcash.com, both of which continue to operate today.
"Knowing all of the inner workings and what it takes to become a success in this industry is my forte," Jaymes told AVN at the time. "Without proper treatment, respect, and honesty neither the talent nor the company can reach its full potential. I strive to reach that goal and that's why my partners and I have founded Spizcash.com, along with its sister affiliate Spizoo.com, which 100 percent caters to the talent and performers."
Sunny Leone
Sunny Leone, now a Bollywood star, is one of the most famous former adult performers in the world. Born in Ontario, Canada, of Indian descent, Leone made her adult modeling debut in 2001. She rose to prominence as the 2003 Penthouse Pet of the Year and the first performer of Indian heritage to sign an exclusive performance contract with Vivid Entertainment that same year. In addition to gracing the pages of every major adult magazine, Leone has also been featured in mainstream publications such as FHM, Maxim and Jane. While she made only 60-something adult films during a 10-year span, most of which were girl/girl performances, Leone's impact was enormous. Her first boy/girl sex scene became event porn when Vivid released Sunny Loves Matt in March 2008, when she worked with then fiancee Matt Erickson and fellow Vivid Girl Monique Alexander. She transitioned into the role of producer/performer with her studio SunLust Pictures, releasing her first DVD through Vivid in January 2009. It was during her time as a producer and director that Leone's mainstream career began to blossom. But even more than four years after she said she was done with adult in 2013, Leone's movies remained popular. In 2017 alone, she topped Adult Empire's best-selling and most-searched porn star lists in two different months.
Leone's first mainstream appearance was in 2005, when she was a red carpet reporter for the MTV Awards on MTV India. But perhaps her big break came during her appearance on the Indian reality TV series "Bigg Boss" in 2011. During her stay in the "Bigg Boss" house, Sunny was approached by Bollywood filmmaker Mahesh Bhatt who entered the house briefly to offer her the lead role in Jism 2, which was released in 2012 and marked her Bollywood debut.
She later starred in much-anticipated horror film Ragini MMS 2, which proved to be a box-office hit, and Mastizaade. Both films were considered slightly scandalous by the Indian news media, in part because of Leone's background in adult. Leone's notoriety in India led to her being at the top of Google India's 2014 list of most-searched personalities. This month Leone will begin filming for the Hindi remake of the 2012 Punjabi film Jatt & Juliet and in February will also reportedly star in a period war film.
She also had a cameo in the Hollywood feature film The Girl Next Door (2004) and appeared in a prominent role in Ja Rule's 2001 music video "Livin' It Up."  
Nick Orleans
Nick Orleans made his debut as an adult director in 1993 with golden-age studio VCA, making a name for himself with Virtual Sex, a feature starring Kelly O'Dell that can still be obtained on VOD. (It's entertaining to read the copy on the box cover, envisioning the future of sex: "a pair of electronic sunglasses...a hand-held computer...and the human imagination.")
Orleans also worked for a few other studios, but it was with Adam & Eve Pictures that he built his career, directing about 50 titles for the studio.
Among his AVN Award nominations include a nom for Best Director for the 1998 film Search for the Snow Leopard, of which an AVN reviewer wrote, "Dazzling cinematography, exotic locations, and a thrilling soundtrack all create the perfect mood for this Indiana Jones-style adventure."
The director took a brief leave of absence around 2008 but came back to the adult industry in 2012, lured by Adam & Eve exec Bob Christian to helm Perfect Secretary 3. It was a natural re-entry vehicle, given that he directed the original Perfect Secretary, which starred the late Haley Paige. His second round at Adam & Eve yielded more AVN Award notice, starting with five nominations for Perfect Secretary 3, including Best Director - Feature.
"Adam & Eve Pictures has worked with Nick Orleans since our first days of movie making," Christian recalls. "Nick is always full of ideas and energies, and loves a good martini and steak, too! Nick directed a number of our big movies, like The Search for the Snow Leopard, our Perfect Secretary series, Fit to be Tied, Lesbian Fashionistas and The Long Hard Ride. I love that he got Adam & Eve's founder, Phil Harvey, to appear in our movie Tailgunners, in a role reminiscent of FDR. Adam & Eve is proud of the over 60 movies which bear the director/producer credit for Nick Orleans."
Kirsten Price
In the adult industry since 2004 and married to adult star Keiran Lee, Kirsten Price indeed lives up to her Twitter tagline: "Real Housewife of San Fernando Valley." But that's just one aspect to this multifaceted adult star, who got her start with such titles as Wet Teens 7 (Simon Wolf Productions) but within a year had ascended to the ranks of adult stars privileged to work under contract for a major studio. And along the way she's feature danced, hosted radio and TV shows, including Playboy TV's Night Calls, and been featured on the mainstream shows My Bare Lady and Weeds.
At the age of 23, the former Hawaiian Tropic model had done two movies for Wicked Pictures—Between the Sheets and The Visitors—before the studio brought her on as a Wicked Girl. At that time Price was mostly doing girl/girl, except for working with then-husband Barrett Blade, but under Wicked she worked with men and women, making close to 100 titles for the studio over several years.
Not surprisingly, some of her highest-profile career achievements were while she was with Wicked, including a nomination for Best New Starlet and the release of a branded toy collection through CalExotics. Her role in Manhunters earned her a 2007 AVN Award for Best Supporting Actress, and she also garnered AVN Awards for Best Group Sex Scene in Wicked's FUCK and 2040.
While still with the studio, Price was tapped to co-host the 2010 AVN Awards with Kayden Kross. For the two years prior to that, Price had hosted the AVN Awards Red Carpet Show with rocker Dave Navarro.
Mike Ranger
His 11 years in the adult industry were over before the mid-1980s, but performer Mike Ranger is certainly not forgotten. One standout reason: He starred with Kay Parker in director Kirdy Stevens' Taboo (1980, Standard Video), a landmark for its frank exploration of mother-son incest. The wide-eyed, baby-faced Ranger is remembered by fans of Golden-Age porn for his role as Parker's son—and their sizzling scenes of forbidden love.
Though he started in 1974, Ranger really hit his stride in the 1980s. In addition to his scenes with Parker in Taboo, Ranger also performed with Candida Royalle in Ultra Flesh (1980), with Marilyn Chambers in Insatiable (1980), with Serena and Juliet Anderson in Aunt Peg (1980), and with Seka and Angel Ducharme in The Seduction of Seka (1981). But the female performer he was paired with most often was Loni Sanders, his real-life partner.
When Ranger was inducted into the XRCO Hall of Fame in 2010, no less a personage than William Margold praised the adult stud, saying, "As much as we like the girls in this business, a good dick is hard to find ... Mike Ranger was like the Nick Manning of his day—he could fuck cement."
David Stanley
Above all else, David Stanley has always proven himself to be a storyteller of a higher ilk than typically found in the ranks of X-rated cinema. The Minneapolis native has demonstrated this time and time again over his tenure as a writer/director, which began in 1997 with a few titles for Elegant Angel Productions. It was in 1999, however, when he would begin making movies for Vivid Entertainment, where he was able to fully manifest his creative powers, churning out such intricate, edgy and deeply compelling features as Highway 1 & 2, Black Room and Into the Night. (AVN's AAAA review of the latter started out, "David Stanley's grocery lists are better than some people's completed videos.")
Claiming Stanley Kubrick, Terrence Malick, Tobe Hooper and Eli Roth as major influences, Stanley has consistently imbued his work with the rich, cerebral narrative bravura of the best independent filmmakers—perhaps never more brilliantly than with his semi-autobiographical 2004 picture Pretty Girl, of which AVN's Mark Kernes wrote at the time, "After seeing Pretty Girl, the first thing we wanted to do was get on the phone to encourage someone at Vivid to enter [it] in as many film festivals as they could find—it's just that good." The movie would go on to win Stanley trophies at the 2005 AVN Awards for Best Director - Video and Best Screenplay - Video.
Following that double victory, Stanley switched teams and signed a contract with Wicked Pictures, where he delivered a steady stream of well-received features through the spring of 2008, a few standouts including Harlequin, Just Like That, 1000 Words and Sasha Grey vehicle The Last Rose.
Stanley's directorial efforts became sporadic after that—he moved to the northeast and opened a bakery/ice cream shop with his wife—but he's continued to write scripts over the years, primarily for fellow director B. Skow's movies both at Vivid and Girlfriends Films. Two of those scripts would land him additional AVN Awards, the first in 2011 for The Condemned (conferred the Best Screenplay - Original prize) and the second in 2014 for Clerks XXX: A Porn Parody (awarded Best Screenplay - Parody), both from Vivid.
With his induction into the AVN Hall of Fame, Stanley can now round out his collection of AVN trophies to a princely five. We can only hope this provides motivation enough for him to once again hoist his pen and regale Porndom with more of his fantastic tales.
Celeste Star
Having pulled off the nearly unheard of feat of maintaining a steady career as an all-girl performer for 13 years and counting, Celeste Star truly lives up to her surname—one of the few still-active adult entertainers to hold rightful claim to the oft-bandied-about but seldom valid label "porn star."
Having been a Penthouse Pet and appeared before the revered lenses of—to name but a few—Andrew Blake, Michael Ninn and Earl Miller (among her over 500 credits to date), Star has remained a favorite of girl/girl aficionados throughout her time in adult, proving so as recently as this past January, when she won the AVN Award (along with Alix Lynx and Serena Blair) for Best All-Girl Group Sex Scene, as seen in the movie AI: Artificial Intelligence from Girlsway/Girlfriends Films.
That win followed her being crowned Girlsway's Girl of the Month for October 2016, at which time Girlsway head honcho Bree Mills called her "an absolute legend in the all-girl world." She also holds the distinction of being the first of only two all-girl performers around whom celebrated director Mason has crafted an entire star showcase, with 2011's Celeste from Club 59/Elegant Angel Productions (co-directed, it so happens, by Star's fellow 2018 AVN Hall of Fame inductee William H.; and the other all-girl performer Mason showcased, by the by, was Dani Daniels, who shortly thereafter began doing boy/girl work).
Among her numerous other accomplishments, Star served as the backstage host for the 2014 AVN Awards, and has been a repeat nominee since the category's inception that same year for AVN All-Girl Performer of the Year.
Aiden Starr
One open secret is that New Jersey has myriad connections to the adult industry, being home to such companies as Distribpix and IVD, and giving the industry such talents as Joanna Angel and Sharon Mitchell—and then there's Aiden Starr. This tiny (4-foot-11, 90 pounds) blonde beauty arrived on the XXX scene in 2002, and like many of her NJ comrades, BDSM plays an important role in her life. With just a couple of exceptions, between 2002 and 2006, Aiden did exclusively girl/girl and bondage scenes, with Aiden joining Dom Julie Simone in 2006 on a new bondage line, Vicious Vixens.
In all, Aiden has appeared in more than 550 features and web scenes (the latter mostly for Kink.com), and while most of the action has been girl/girl, there doesn't appear to be any fetish that the lithe blonde won't try at least once.
But Aiden's long had the directing bug, and by 2013, she was assisting directors Dee Severe and Jimmy Broadway at Severe Society Films. The following year, she broke out on her own, supplying Evil Angel with nine features for distribution, essaying themes ranging from BBW to foot fetish to all-girl domination. Since then, Evil Angel has distributed more than 40 Starr-directed features, most often based around BBW women, anal and trans action, and she was responsible for the company's first bi title, Bisexual Pick-Ups.
"I'll be making porn that reflects my sexual tendencies, which are very rough," Starr told AVN shortly after debuting with Evil Angel. "I'm a lifestyle fetish player with a walk-in closet full of exotic sex toys. I love submissive girls. There's nothing hotter than watching a pretty girl orgasm-overload while she's getting whipped or fucked."
Beyond that, Aiden's received multiple AVN Award nominations, and in 2017, snagged a TEA nom as Best Scene Producer for her Hot For Transsexuals 2.
Devlin Weed
Straight outta Compton, Devlin Weed has worked in adult entertainment since 1994. Weed had always thought about doing porn, and he got his chance from famed adult performer Ron Hightower—a connection made via another son of Compton: Eazy-E, the N.W.A member known as "the godfather of gangsta rap."
"I grew up with Eazy-E, and his bodyguard knew Ron Hightower. I was on my way to Texas to visit a friend and I got a call from my brother saying that Ron Hightower wanted to meet me," Weed recalled. "[Hightower] said I was a pretty good performer, and he kept calling me back." That was the start of a long career that has seen Weed featured in more than 1,150 movies for a wide range of studios. He also made the leap into directing in 1997 with Black Beach Patrol, which turned into a series. "That was a great movie. We spent days on dialogue," he said. And that was followed up by another series: Weed's Black Gang Bang Patrol.
Another key person in Weed's career was director Jim Powers, "who turned into a very good friend of mine. He used to keep me working constantly." Weed also did many titles for Fat Dog, Heatwave, Video Team and Darkside Entertainment—the studio that released what might be his favorite movie: Tailz from the Darkside, which he directed. "I won an award for Best Ethnic Movie," Weed said. "It turned out great."
Asked which female performers he enjoyed working with most, Weed demurred: "That's a hell of a list. It would have to be all of them."
These days Weed isn't in front of the camera, but he's still very much a part of the business, editing movies for various studios, including Elegant Angel, Dirty Laundry, Darkside and various Juicy Entertainment imprints.
Angela White  

The 2018 AVN Awards co-host Angela White started her adult entertainment career in 2003 at the age of 18. Within her first year she became the first Australian to pose for the Florida-based Score Group. Fifteen years later, White is a multiple AVN Award-winning performer, producer and studio owner who is widely regarded as one of the top adult stars in the world. A girl/girl only performer for the first eight years of her career, White debuted her own production company AGW Entertainment in October 2014, releasing Angela Volume One through her exclusive distribution partner Girlfriends Films. That title featured her first interracial, first anal, first double penetration, and first all-anal threesome. In the Fall of 2017, White released Angela Volume Three in which she performed double anal, double vaginal and triple penetration, her first interracial gangbang and her first creampie among other sexual feats. The momentous title was the 12th movie from AGW, which has already won five AVN Awards. White has steadily distinguished herself as Australia's most well-known and accomplished adult performer.
In addition to appearing on Australian TV and on the front page of the Sydney Morning Herald, she also received national exposure for her bid for the Australian Sex Party Senate seat during the Victorian state election in 2010. During that campaign she publicly fought for the rights of sex workers. That same year White graduated from the University of Melbourne with First Class Honors in Gender Studies.
Angela moved from her native country to the San Fernando Valley in 2016, signing with the vaunted Spiegler Girls agency for bookings. It led to a career year in 2017 as she was named Girlsway Girl of the Month in April and Vixen Angel in June. Then in July White was selected to co-headline the 2018 AVN Awards Show on January 27 with Harli Lotts. In between working for other studios—she did 183 scenes in a 12-month span—White also managed to direct and star in four new showcases for AGW. Meanwhile in 2017, the Fleshlight girl also achieved another milestone—having her first published academic piece appear in the university textbook, The Routledge Companion to Media, Sex and Sexuality.
Angela took home three trophies at the 2016 AVN Awards. Her scene with Alexis Texas and Anikka Albrite in Angela Volume Two won Best All-Girl Group Sex Scene; her first blowbang in Angela Volume Two received the Best Oral Sex Scene award; and Angela Loves Women won the Best All-Girl Movie honor. In 2017, White's Fleshlight won the Fan-Voted AVN Award for Most Amazing Sex Toy.
Michael Zen
Adult feature director Michael Zen entered the adult industry slowly, helming one feature, Falconhead, for VCA's gay imprint HIS in 1976, then the following year, a straight extravaganza, Reflections, for VCX, with an astounding 19 scenes—and then nothing until Filthy Rich in 1981. In fact, it wasn't until 1992 that Zen's career really began to take off, with the highly rated Secret Garden 1 & 2 (Xcitement) and Ice Woman 1 & 2 (Vivid). But the work for which Zen may be best remembered was his 1995 film Blue Movie, starring then up-and-coming performer Jenna Jameson, who'd just been signed to a multi-year contract with Wicked Pictures. The following year, Zen again struck up a relationship with Vivid Entertainment, shooting 32 straight and gay features for them before his retirement in 2009, not to mention helming 12 episodes of the company's cable TV series Stardust—but he still managed to find time to shoot for several other companies including several highly rated features for Wicked, as well as All Worlds, Metro, Odyssey Group, New Sensations, Babylon Entertainment, Jet Set Productions, and finally, in 2009, one more with Jenna for her own production company, titled Jenna's Dirty Secret.
"I first started working with Michael probably in '93," recalled screenwriter Raven Touchstone. "He was an amazing human being. He was, number one, brilliant. He had such an understanding of film. He was a teacher of filmmaking, and he knew every movie, every plot, every star—he was absolutely brilliant. He was kind; he was a very gentle soul. He was generous, he was thoughtful, and just one of the best people I've ever known."
Zen died in June of 2017 of pancreatic cancer.
AVN Hall of Fame – Founders Branch
Mark Kulkis
Holding a degree in English literature from the University of Michigan, Mark Kulkis found his way to Porn Valley in the early '90s after dabbling in law school and public relations in New York City. Originally harboring ambitions of screenwriting, Kulkis soon realized he was much more interested in pursuing a career in the porn business.
In 1995, Kulkis landed a job at AVN, and within a year rose to the position of managing editor. At the same time, he took night classes at UCLA in photography, videography and editing, skills he put to use after leaving AVN in December 1997 by producing his first porn movie, Barefoot Confidential—which would become one of the longest-running adult series in history, with new volumes continuing to appear now 20 years later, and maintaining enough cachet to be in the running for AVN's 2018 Best Niche Series award.
Kulkis meanwhile took a position at LFP to oversee the creation of Hustler Video, through which he was allowed to distribute his own movies under his newly founded banner Kick Ass Pictures—a name he chose both because it captured the fun-natured style he was aiming for, and because it sounded a lot like Kulkis—while retaining ownership.
Finally in 2003, he took Kick Ass independent, and brought his early work in PR full circle by launching one of the most groundbreaking publicity campaigns the industry has ever seen: Entering first-and-only Kick Ass contract girl Mary Carey into the 2003 California gubernatorial recall election. That stunt went on to win him the AVN trophy for Best Overall Marketing Campaign - Individual Project, and he repeated the victory a year later for his headline-grabbing escapade of escorting Carey to a fundraising dinner with then president George W. Bush.
Kulkis gradually transitioned out of adult and into the restaurant business over the past seven years, with Matt and Melissa Campos fully acquiring Kick Ass Pictures last March. The brand, now distributed by Exile Distribution, remains strong, with long-running series Foot Fetish Daily and Cum Eating Cuckolds continuing to pump out impressively selling volumes alongside Barefoot Confidential, and original series Chica Boom recently enjoying a resurrection after more than nine years. Chuck Zane
Chuck Zane has had a storied history in XXX. Originally an adult retailer in upstate New York since 1971, Zane first began releasing adult movies in 1986, beginning with the feature Backside to the Future, and within a year, Zane Entertainment Group was running at full speed, releasing a variety of features using both amateur and seasoned talent, including such familiar names as Erica Boyer, Sharon Mitchell, Stacey Donovan, Randy West, Paul Thomas, Joey Silvera and many more. He also wasn't afraid to challenge the prejudices of the time, releasing several IR tapes as well as a series of bisexual features directed by Gino Colbert. But perhaps the biggest name to be connected with Zane Entertainment was Max Hardcore.
"I'll always appreciate Chuck for giving me an early break in my career," Hardcore told AVN. "It was back around '93 when we started putting out The Anal Adventures of Max Hardcore, and after that Cherry Poppers. He was a hardheaded guy to deal with, kind of a prick, but we worked things out and became pretty good friends. I sold him on the idea of putting out gonzo movies, because up till then, he'd been doing features and all-sex tapes."
But the recession of the early 2000s wasn't kind to adult, so Zane closed Zane Entertainment in 2002 and his European company EFA the following year. He then took some time off, but in 2004 became a manufacturers' representative for American adult product in Europe, in part at conventions such as Shots and Scala, until 2008. Zane also spent a year on the staff of Exquisite Multimedia, reconnected with his New York roots for several years, and in 2014, became a rep for Black Market Novelties until the company folded in 2016. Nowadays, he spends his time relaxing—and driving for Uber about 25 hours per week.
"It keeps me busy; gives me a little spending money," Zane explained. "Before that, I avoided driving on the freeways for 25 years, because I always lived within five miles of my office."
AVN Hall of Fame - Executive Branch
Marc Bruder
On pretty much every count—longevity, impact, breadth of experience—Marc Bruder hits it out of the park as an AVN Hall of Fame candidate. A classic behind-the-scenes player, Bruder has been with CED (Cable Entertainment Distribution) since the 1980s and continues to this day to supply adult programming to broadcast systems around the globe.
Prior to starting CED, the Southern California native worked for the Z Channel, Times Mirror Cable and Time-Warner Cable, among others. Bruder also is the president and founder of BRI (Bruder Releasing, Inc.), a mainstream distribution company handling everything from children's movies to horror flicks.
Bruder ticks off the various achievements of CED. For one thing, the company offered the first pay-per-view exhibition of adult with the original Deep Throat—and it still is the exclusive broadcast distributor for Arrow. And there were other groundbreaking moves by the company, Bruder notes: CED was the first to broadcast parodies on cable channels, the first to air cable-version soft edits on broadcast systems, and the only distributor still licensing to hotels in the United States.
"CED was the first broadcast distributor of adult content in the U.S. and continues to be the leader," Bruder says, noting that the company reps the most significant adult studios and producers. Elsewhere in the world, CED channels in the Europe, Latin America and parts of Asia continue to bring in broadcast revenue for adult studios.
Mara Epstein
Mara Epstein got her start in the adult industry after she answered a Variety ad looking for telemarketers. She initially started at VCA, which is now under the Hustler umbrella. "As a female in a male-dominated business, I could sell lots of videos," she said.
She soon moved on to serve as sales manager for Arrow Film and Video, where she helped create the "sell-through" market with such famous films as Deep Throat and The Devil In Miss Jones. It was a practice the ret of the industry soon followed, and which caught the attention of Billboard magazine. Her career took her not only through the video segment of the industry—as sales manager for Metro Films, sales manager for Laser Disc Entertainment (now known as New Frontier Media), and sales manager for Private USA—but the novelty sector as well. She was instrumental in introducing the LELO brand to the adult market, as well as helped launched the Maia Toys brand in America.
Epstein also served for more than 14 years as a board member on the Free Speech Coalition. In recent years, she has served as a consultant for a number of companies and organizations, and is currently available as a consultant, especially in the novelty market.
Rondee Kamins
When it comes to Founders, few still alive can lay claim to a history in the adult business as long as that of Rondee Kamins, who practically grew up in the industry. Rondee first began working for nationwide adult distributor General Video of America (GVA) in 1982, first as the publisher of its "contact" magazine Connection, whose anonymous "swinger" contributors feared disclosing their identities to the government—so Rondee filed a federal lawsuit against the law that would have required that disclosure, 18 U.S.C. §2257. Sadly, the lawsuit failed at the appeals court level, and the magazine folded, but not before Rondee received AVN's Reuben Sturman Award, named after GVA's founder. After Connection, Rondee became the manager of various areas of GVA and its companion company, Trans World News, both later known as GVA-TWN and owned by her father, who had bought them from Sturman in 1986. Today, Rondee herself is the owner of the company and its 40 retail stores, located in five states in the Midwest, having purchased it all from her dad in 2003.
"While I don't really consider myself a founder, I do consider myself a recipient or benefactor of its true founders: my father, Mel Kamins; Reuben Sturman; Phil Harvey, and Larry Flynt to name a few, and I have spent my career being an advocate or champion of this industry," Rondee told AVN. "At my annual retail meeting, I always show a 15-minute movie I personally made about the history of GVA and our retail stores. I want everyone to know that there were freedom fighters before us that enable us to do what we do today. I am honored to be a member of the adult industry/community, and while we haven't always seen eye-to-eye, I have done my best to honor the old days of unity and cohesion.
"GVA connected 30 years ago by being an integral part of the industry and one of its major players. Everyone was in it together and met regularly about business, trends, products, and sales etc.. It was a team effort to make money and everyone worked together and did well," she added. "Today at GVA, we concentrate on things that we can control, we are very loyal to our customers both wholesale and retail, we arm all of our sales people with training of product and we have also learned to grow and change quickly as business dictates."

AVN Hall of Fame – Internet Founders
Brad Mitchell 
Now in his 18th year, Brad Mitchell is the founder and CEO of MojoHost, a world leader in web hosting and one of the adult industry's most respected companies. MojoHost owns and operates a global network and IP Space, peering and exchanging internet traffic directly with dozens of networks at various exchanges, while boasting a direct connection to the world's top four networks. With more than 250 Gigabit of connectivity, MojoHost is synonymous with fast website hosting. A multiple winner of GFY's Web Host of the Year Award, MojoHost has its flagship data center in Miami and another in Amsterdam, Netherlands, offering dedicated hosting, managed virtual hosting, colocation, bandwidth and content delivery network services. The company services more than 1200 clients domestically and abroad, including many of the industry's largest and most-reputable brands. But Mitchell and his team pride themselves on personalized service of clients of all sizes, from startups to recognized heavyweights. A former medical billing executive in the healthcare industry, Mitchell got into adult in 1999, learning the digital sector as a webmaster, pay-site owner, affiliate program operator, domain seller, alternative biller and live phone sex marketer prior to launching MojoHost. Last May Mitchell moved his corporate headquarters to a new office in Bingham Farms, Mich., where he leads an advanced network operations center that touches the globe. Over the years Mitchell has become a sought-after expert who regularly speaks on educational seminars about industry trends and best practices.
One of the most affable and approachable CEOs in adult, Mitchell is also known for his unique sense of style, often sporting funky blazers and vibrant shirts when he steps onto the show floor.