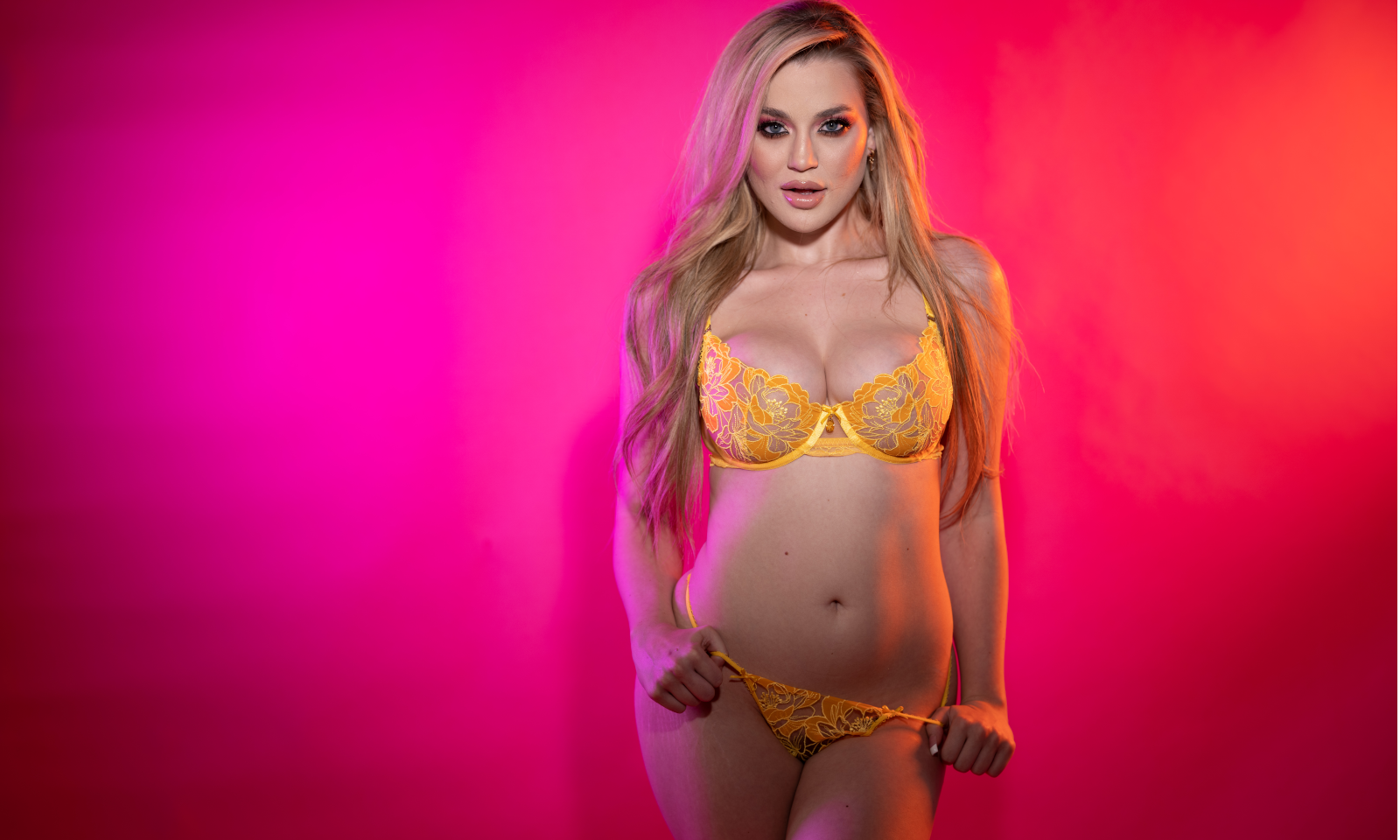 This is the cover story of the April issue of AVN magazine. Click here for the digital edition.
LOS ANGELES — Blake Blossom knew from the start that adult performing would change her life, so she wanted to be sure.
She first met her prospective agent, Ryan from Hussie Models, in March 2020.
"I talked to him three days in a row," Blossom recalls. "We met up for three nights and I grilled him. I asked him every question I could think of."
Ryan tells AVN the then 20-year-old Blake "wanted to know every single detail possible" as they chatted in his AirBnB during the first wave of the pandemic.
"I don't like to hide anything and I give it to everyone straight," Ryan says. "I remember her sitting down in those three days and she said, 'Look Ryan, I have a goal. I have a vision in my mind. I want to do this kind of filming… And I'm gonna work my fucking ass off and prove to everybody I can do this.'"
Call it mission accomplished.
Blossom on January 22 captured the adult industry's highest honor for a new female performer, winning Best New Starlet at the all-digital 39th annual AVN Awards in a field of finalists that included more than a dozen of the top new girls in adult. She also claimed the Fan-Voted AVN Award for Hottest Newcomer on a Saturday night that she'll never forget.
"I try to be very humble and chill about everything," Blossom, who turned 22 in February, tells AVN. "I didn't really do anything to celebrate it, honestly. But it was just like a major win for me personally because it's what I wanted for two years."
Blossom accepted the Best New Starlet award at home during the all-digital broadcast, expressing shock and jubilation during her brief speech live on Zoom.
"I really think that I've honestly spent the last two years doing nothing but porn and building my brand," she said the day after the show. "I've spent all of my free time trying to do content, trying to get my name out there, trying to be an amazing young woman that's trying to show the good sides of porn performing and not slip into drugs and alcohol like a lot of people do. These last two years, I've really, really tried my best. It's just amazing that a lot of other people can see that, as well."
Without question, she was among the busiest, most in-demand performers in the business since doing her first scene on March 26, 2020, with the late Jake Adams for Exploited College Girls.
"It's kind of sad my first scene was with Jake Adams. He was a wonderful person and I'm so glad it was him," Blossom says. "Out of everyone in the industry that I could've done my first scene with, I'm glad it was him."
The all-natural blonde racked up more than 200 credits during her first 18 months—she estimates she's done about 300 overall—working for every major studio brand in adult entertainment and several on multiple occasions.
"I try to make every single scene fun," Blossom says.
According to industry insiders, it shows.
"I really enjoy being on set with Blake," AVN Hall of Fame producer/director Jonni Darkko tells AVN. "She brings a vivaciousness and exhilarating energy to set. She's a very positive and happy person and it's joyful to be around and a pleasure to have on set. I feel like we are always in the zone at the same time."
Darkko and Blossom found that sweet spot again in March when the seasoned shooter, whose movie Slam Piece from Evil Angel stars Blake opposite Rob Piper, photographed her exclusively for the April cover of AVN magazine. She went super glam for him in one set and in the other she embodied the dreamy "girl next door."
It's that kind of versatility and camera presence that has endeared the enterprising former nanny to industry producers and fans alike. It's no wonder why at press time Blossom had rocketed all the way to second in the world on Adult Empire's Most Popular Pornstars ranking.
A 14-time AVN winner of Best Retail Website, AdultEmpire.com stocks a library of 93,000-plus DVD and Blu-ray titles and more than 82,000 videos-on-demand, tracking the market value of top performers at any given time based on key metrics such as sales data, rentals, downloads and searches.
"Blake began to trend significantly on our site in May 2021, when her performance in Brickzilla 2 [for Hussie Pass] debuted," an Adult Empire rep told AVN. "Since then, she's been associated with numerous high-profile releases that have kept her firmly in the minds of porn consumers.
"Her strong social media presence and AVN Best New Starlet win further solidified her position. Blake's trajectory is tremendously impressive for a star who joined the industry just two years ago. She hasn't surpassed veterans like Angela White, but she's come amazingly close."
The Pittsburgh, Pennsylvania-based retail authority pointed to one of Blake's first "big moments" — her December 2020 Penthouse Pet of the Month spread.
"She's a cover girl in the purest sense, the sort of performer who makes you walk across a room, pick up a magazine, and buy it," the Adult Empire rep continued. "Print publications no longer drive the industry, of course, but Blake retains some of that classic aura. She scores the kind of bookings that lead to scenes that end up on box covers or as key art for major studios. If you look through her Adult Empire profile, you'll be astonished how many times she is the featured cover performer.
"In fact, the very first Blake Blossom movie to appear on Adult Empire was Big Naturals, a solo cover for Hard X. In that movie's wake, we spotlighted Blake as part of our porn trend predictions in 2021. What we said then still applies: 'The title [Big Naturals] underscores the traits that we think may well be her path to stardom: enviable physical gifts combined with natural on-screen charms.'"
Blossom, who was born in California and raised in Arizona, says no matter what the job may be, once she commits, she always gives maximum effort. Her porn career is no exception.
"I feel like I've been a try hard at everything. I think it just really started when I was making the decision to do porn in the first place," Blossom explains. "I didn't want anyone to look at me and say she's lesser than me because she does porn and she has an OnlyFans and she's doing all this inappropriate stuff.
"I could counter that I've made this much so far. This is what I've gained since I started in the industry… the DVDs, the sponsorships, the articles—all this. … Maybe it's a defense mechanism, that if I work really, really hard I can prove to everyone else that I deserve to have a seat at the table, instead of being pushed to the back because I'm a little slut."
If her first two years are any indication, Blake better get used to being in the front.
It could already be argued that she has nothing left to prove with the way she has built a brand that is synonymous with quality hardcore. She says she has studied iconic stars such as Angela White and Jenna Jameson and strived to model herself after them and the way they handle their business.
"Especially Angela," Blake says. "She's definitely given me a lot of words of encouragement in different areas. She's like, 'If you want to be a director, girl, go do it. You don't have to be a performer forever.' I had told her that I wanted to start doing my own scripts and storylines. She's like, 'Don't ever let anyone tell you no. I you have an idea, go do it.' I love her."
The feeling is mutual, White says.
The three-time AVN Female Performer of the Year tangled with Blossom and three-time AVN Male Performer of the Year Mick Blue for Angela Loves Threesomes 3, which White produced and directed for her own studio, AGW Entertainment.
"It was a pleasure shooting with and directing Blake Blossom for Angela Loves Threesomes 3," White tells AVN. "Blake has all the characteristics of a top performer: a passion for sex; a strong work ethic; and a beautiful physique. I was incredibly impressed with her professionalism. Blake has a clear understanding of her brand and what she wants to achieve in the industry."
Indeed, Blossom says she's never followed the crowd. When all her friends were getting tattoos, she considered doing it, too, but ultimately didn't feel like it was her true self to get one. She grew up in a conservative Mormon community, but she wasn't Mormon and "wasn't part of the same clique." In what she jokes was a "Lindsay Lohan-Britney moment," she shaved her head during her junior year of high school.
"My parents didn't care. It was like, 'Oh my god, what the fuck, you look like you're going to boot camp!'…  I like having shock value to things," Blake says with a laugh. "It was just another level of the theatrics that I like in my life."
But Blossom says "being in adult has helped me become the person I really am on the inside."
"I'm glad I made the decision to be a business woman and really be a beacon of female empowerment," Blake says. "... I'm glad that I was never really someone who liked to blend in. I've always liked being different. I like standing out. I like doing things my own way."
Blossom became curious about adult in the latter part of 2019, when she was seeing a guy who was a bouncer at a local nightclub.
"He said, 'We should make some videos, I have a Pornhub channel that I put stuff on and I get money from it and it helps me pay my rent.' He said, 'You should do porn.' I was like, 'Shut the fuck up. I would never,'" she recalls.
"I was still a goody two-shoes nanny. I didn't even drink alcohol."
A couple months later, the day after her 20th birthday in February 2020, she made an OnlyFans. It wasn't long after that her friend introduced her to his buddy, who happened to be Ryan Hussie.
"Blake is amazing," Ryan says, adding that he saw her potential as soon as he met her. "She knows what she wanted and she never stopped at anything. I'm just proud of everything she's accomplished."
Ryan, who works closely with Florida-based Hussie Models owner, Riley Reynolds, says Blossom was booked solid for seven months straight as soon as they put the word out she was available for scenes. Now Ryan keeps a "waiting list" for Blossom in his Notes on his phone.
"I'm trying to stay grounded and live in the real world," Blake says. "I think when people do what's it called—it's called ego death—a lot of people do different shrooms and things to kill their ego and be more grounded. I think I never had an ego.
"I see my value and importance in certain situations and see my worth but it's taken me a long time to do that. As far as an ego, just because I have this many followers or I'm on these websites or I've had this scene partner, it doesn't mean that I'm better than anyone else."
It's that kind of attitude that makes directors such as Vixen Media Group's Derek Dozer want to keep bringing Blake back.
"I have a great relationship with Blake, she's one of my favorite performers," says Dozer, a 19-year veteran behind the camera who was inducted into the AVN Hall of Fame in 2021. "She's a fan of pornography, so that makes her a great person to have on set. She always has lots of ideas for which I like because I'm a fan of collaborations on set.
"What makes her stand out to me for obvious reasons is her look. She's got it all. One of the best bodies in the biz. Plus she's always smiling and having fun, which I just love on my sets. Porn should always be fun.
"Plus her energy she gives for every scene is amazing. She never phones it in."
Just ask fellow AVN Hall of Fame shot-caller Axel Braun, the four-time Director of the Year who cast Blossom as Gwen Stacy in his biggest production of 2022, Spideypool XXX: An Axel Braun Parody. Whether it was the multiple costume fittings, the way she handled her dialogue or the sex scene she did with Tyler Cruise, Blossom was on top of her game, Braun says.
"What makes an adult film superstar? It's a combination of sexual prowess, charisma, beauty, sensuality, enthusiasm, consistency and professionalism. We call that 'it.' And while over my 32-year career as a director and producer I have seen quite a few girls who had 'it', they're not nearly as many as my longevity in the industry would suggest," Braun tells AVN. "Why? Because performers who fit that mold simply don't come across that often, and Blake Blossom is one of them.
"Her disarming smile and girl-next-door appeal, paired with the explosiveness of her sexual performances, create a dangerously addictive mix that will make you dizzy and leave you wanting more.
"I was lucky to have her play Gwen Stacy in my biggest production of the year, Spideypool XXX: An Axel Braun Parody, and her commitment to every aspect of the production was incredible. She went above and beyond, meticulously preparing for the role and enduring countless costume fittings. She was an absolute pleasure to be around and delivered a phenomenal performance.
"Winning the AVN Best New Starlet award was quite an accomplishment, but make no mistake: she's just getting started."
Kayden Kross agrees.
The three-time Director of the Year, AVN Hall of Famer and creative force behind Vixen Media Group's Deeper shot Blossom last year in a scene called "Skirt Scale" with Troy Francisco.
"The biggest thing that stood out for me with Blake is how naturally she was able to carry and lead the scene as the more dominant role, given how young she is and how new to the industry," Kross tells AVN. "It really blew me away. I don't think I've ever seen such mastery in seductive dominance from someone so fresh.
"Performers can be in this industry for a decade and never get the hang of it but it's clearly something that she's very at ease with and in control of. The way she's starting out with such an advanced ability to perform speaks volumes about the sort of career she can have long term."
Speaking of being in control, it's safe to say Blossom has become a go-to girl for virtual reality sex scenes that often require extra precision and extended periods in  unconventional positions.
Blossom at press time had almost a dozen VR credits, including two for WankzVR, two for VRBangers, two for POVR, two for Naughty America and scenes for VRHush, WetVR and VRConk.
"I shoot a lot of VR and that's really stressful and really hard to film, but all the male talent I've had lately have been pretty awesome," Blossom says. "… I'm a workaholic but I feel like it's kind of necessary at this point."
One of Blossom's VR scene partners was Russian stud Alex Mack, the 2021 AVN Best Male Newcomer who worked at an IT firm prior to adult. They hooked up for Naughty America's RealPornStarsVR site last fall and before that in a 2021 Valentine's Day-themed scene for the studio's PerfectFuckingStrangers.com.
"Blake Blossom is an incredible performer," Mack tells AVN. "She gives 100 percent every single time, and it comes out very natural, because she enjoys it. I value and admire her high standards and views, which she held onto from the very beginning of her career. I'm very happy that Blake won the AVN Award for Best New Starlet."
Mack continues, "If I see Blake Blossom on the call sheet, then I know it's going to be a wonderful day. It's way more difficult to connect with another performer when there is a camera in between. However, Blake makes sure to do an extra step to make you feel special. She cares, and makes the shoot very pleasant."
Alex says the first time he met Blake "she was fun and bubbly from the start to the end."
"She kept the same level energy level through the entire scene, and the long day just flew by for the entire crew," Mack adds. "I've been blessed to work with Blake, and I'm very positive that it is just one of many awards Blake is going to win over the years."
Austin King contributed to this story.
Photography by Jonni Darkko; Makeup by Marine Muradyan