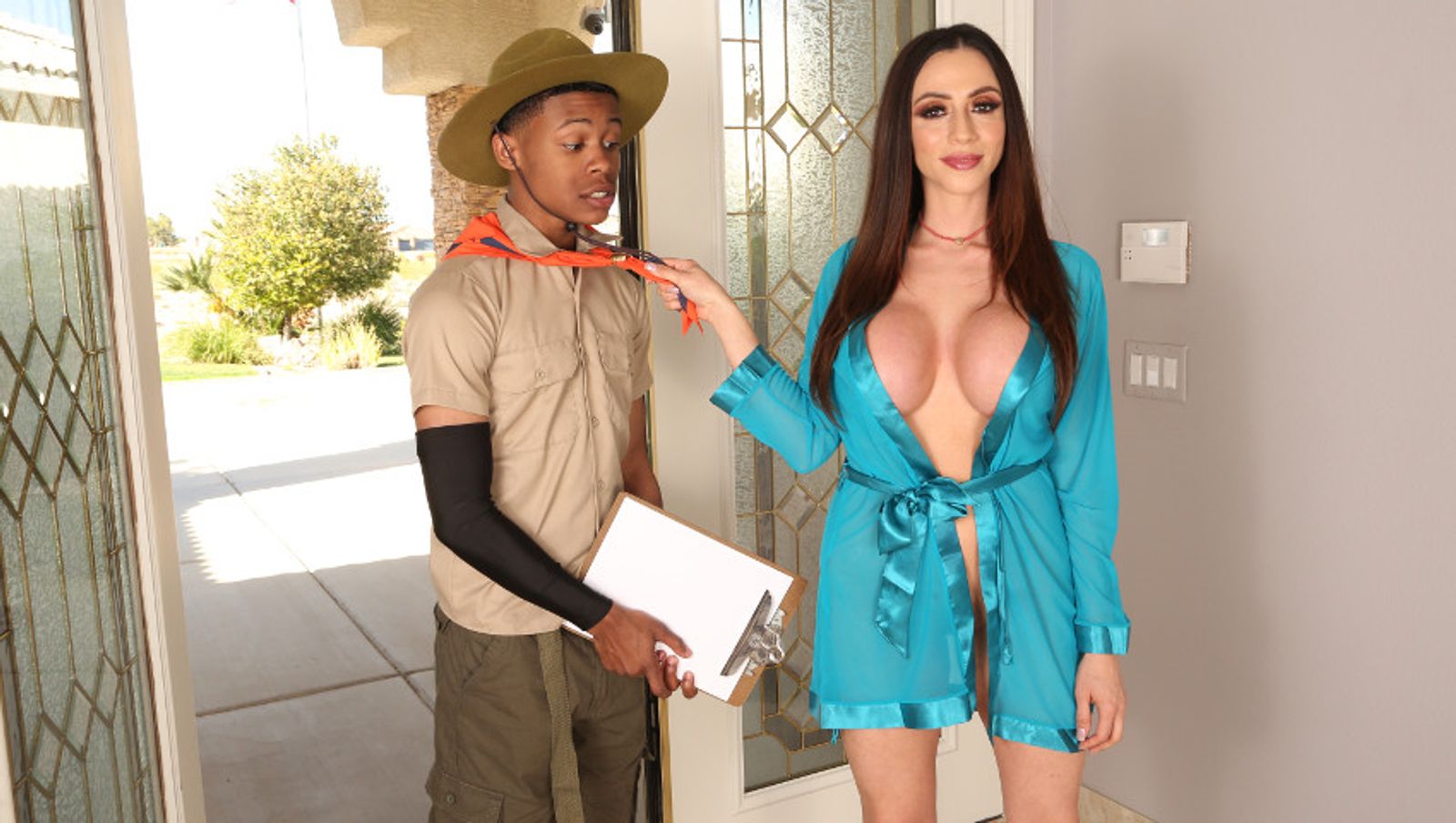 LOS ANGELES—When the guy known as LiL D first emailed BangBros about doing porn he wasn't expecting to hear from anyone.
"I sent them my pictures and they hit me back and I ain't gonna lie, I thought it was fake," LiL D jokes.
"They were like, 'Hello, send your ID for verification of your age.' I was like, 'What? Who is this, yo?' And I sent it anyway. Then they just hit me back and said they wanted to send me out to Miami for an audition to see how I did. I thought, 'This is crazy right now, yo.'"
The 18-year-old high school senior traveled from his home in North Carolina to South Florida in early March, trying out for BangBros in sex scenes with Julz Gotti and Aidra Fox.
"I rocked it," he says.
BangBros liked what they saw, too, and not long after the heavyweight studio signed him to an exclusive deal.
"My contract is for six months and they have the option to re-sign me," LiL D tells AVN. "I'm still in school right now. The way we're working on it is every other week I'm flying out to Cali, Vegas or Miami so I can shoot Saturday and Sunday. I graduate June 8th and then once I graduate I can be shooting every week."
BangBros Executive Producer Colin Rae, who discovered Juan El Caballo Loco in 2017 and helped guide him to the 2018 AVN Award for Best Male Newcomer, says he sees similar promise with LiL D.
"What we liked most about LiL D was his attitude, charisma, and energy," Rae tells AVN. "He's a very smart kid with the looks of an R&B singer. BangBros thinks he has the potential to be the next big star in adult entertainment.
"We believe he has the right personality to appeal to a wide audience." 
LiL D estimates he's done eight sex scenes so far—none of which have been released but are coming soon.
"Everyone at my school knows. My teachers know and I didn't even tell them," LiL D says. "I don't care what anybody's saying. I ain't even worried about all that."
The 5-foot-8, 150-pound performer, who was born in Harlem, says he watched his share of porn before breaking into the business.
"I would just go on Pornhub and see if I can find a busty-ass Latina, and if I couldn't find one there I'd go to BangBros. That's how I would get it done," LiL D says. "That's my go-to; I love Latinas."
LiL D says even though he recognizes some of his co-stars when he arrives on set from his numerous late nights watching porn, he keeps his cool.
"I'm not all thirsty when I meet them. I give them space. I already know we gonna work together. I just say 'what's up' and go outside and chill and wait until it's time to do the scene," he explains.
The former rugby and football player admits during those two tryout scenes he was more interested in earning a paycheck—securing an exclusive performance contract was not even a thought.
"I wanted the money," he recalls. "I had mixed emotions. Everything was happening all at once. I didn't know what to expect. I had a little butterflies but I was mostly excited. I wanted to show them what I could do."
LiL D actually shot a homemade hardcore video with an ex-girlfriend before porn.
"I look alright," he says. "I get girls. The ex-girlfriend and me, we had made a video and I thought maybe I could be a porn star one day." 
His next shoot is scheduled for May 5 in Los Angeles.
"My favorite shoot so far gotta be Adriana Maya or Richelle Ryan—those scenes were lit," says LiL D, who has also worked with Alycia Starr, Alura Jenson and Ariella Ferrera, among a handful of others.
Richelle Ryan tells AVN she bonded with LiL D before their scene in Vegas, when they were discussing some changes they wanted to make with the script. The scenario called for Ryan to act like she was LiL D's adopted mother making him dinner.
"He was really cool," Ryan says. "What was funny is I had that shoot booked for a month and a half. Then that day on set I found out he's still in high school and he was on Spring Break, so that's why it was booked so far in advance.
"For the past couple years I've been shooting a lot of MILF scenes. I'm only 32, but in porn you could be 25 and play a MILF. But I've been having sex with young guys off camera. I recently took a 23-year-old guy's virginity. I kind of have a way with the young guys."
No argument from LiL D, who says he now would love to work with Moriah Mills and Julie Kay if the stars align.
"Moriah Mills, that's my baby right there," he says. "I was literally watching her videos two weeks before I went to audition and she already knows I want to do a scene with her. It's up to the producers at BangBros to get that done. Julie Kay, she's beautiful. She ain't Latina but I like the [dreadlocks]."
When LiL D isn't on set or doing homework, he likes to "chill and listen to music" such as G Herbo, A$AP Rocky, Meek Mill, Migos, Tee Grizzley and Drake.
He says he wanted to use "G Silky" for his stage name but BangBros steered him toward LiL D.
"They gonna remember it," LiL D says.
BangBros producer Colin Rae agrees.
"BangBros has several new projects in store for 2018 and believes LiL D is only the tipping point of what fans can expect from us this year," Rae says.