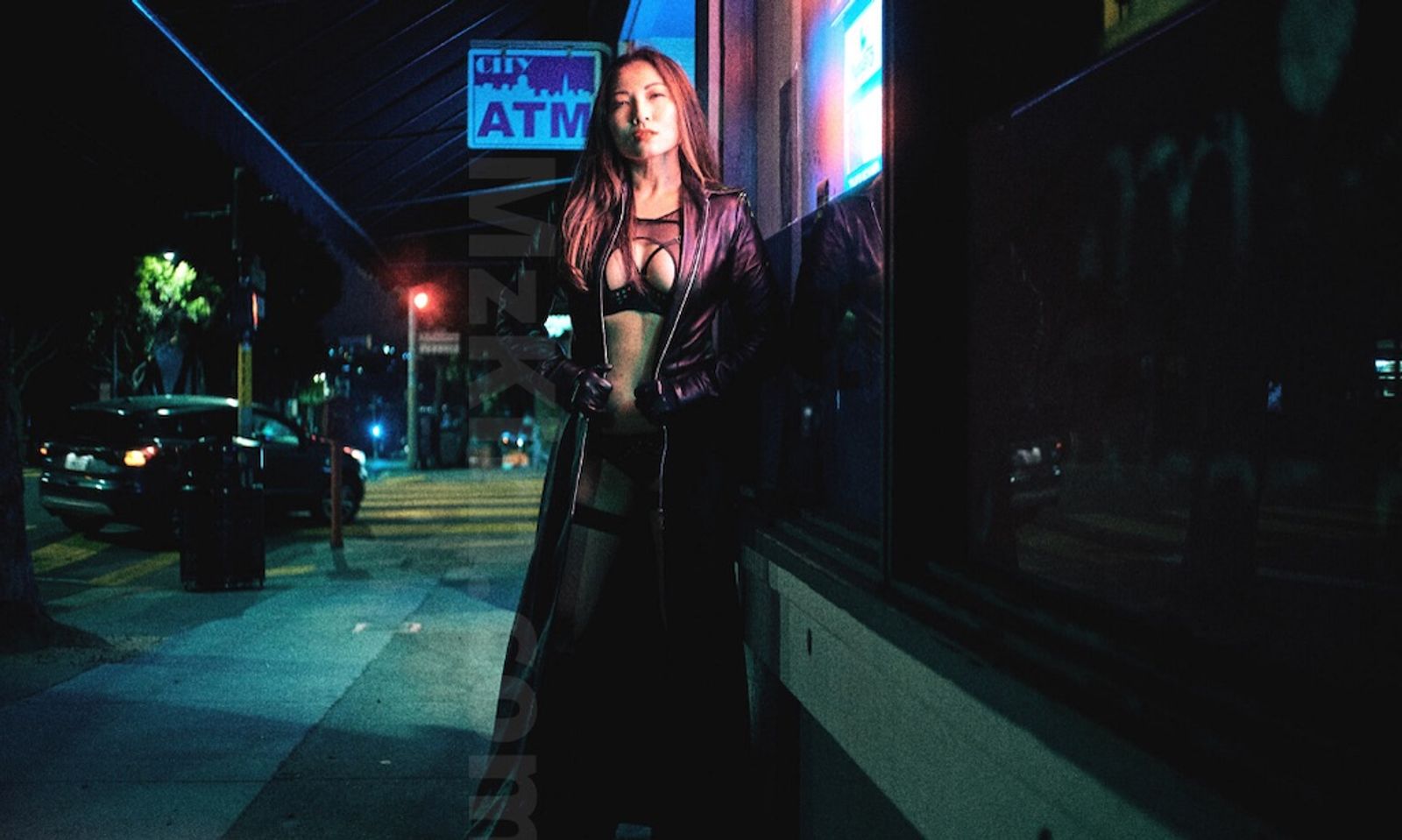 LOS ANGELES—"It started with wanting to meet women online back when online dating was filled with men pretending to be women, and no one trusting that anyone was real online," says online dominatrix Mz. Kim, recounting how she entered the business of virtual sex work 15 years ago. Her dating quest took her to iFriends, an early camming site that at the time presented itself as a digital dating platform — with the benefit of allowing prospective "daters" to see their prospective partners.
But Mz. Kim, almost immediately, saw that what was then the primitive (by today's standards) video format could open up an entirely new profession for her, and change the trajectory of her life.
"When I signed up for it, I quickly realized that I had stumbled upon something that was a possibility in making money," she told AVN. "It took a couple of years before I got the hang of making a real living online."
Now, a decade-and-a-half later, Mz. Kim, who describes her persona as "Asian provocateur, Femdom, Financial Dominatrix," has taken her career to a new platform — AVN Stars, where she is building a new outlet to connect with fans.
"The well-developed features on this platform was what drew me to it," she said. "My audience currently is small, because I am just starting to add content and develop a following. I love that AVN Stars allows for great interaction between fans, followers, and content producers."  
If her career so far is any indication, she's likely to succeed on AVN Stars as well as she has on other platforms. She was quoted by the New York Times two weeks ago stating that she earns between $18,000 and $22,000 per month — and once sold a pair of her used socks to a fan for $850, as well as a pair of pantyhose for $1,500.
But even though she described those sorts of transactions as "silly," she also sees a deeply serious aspect to her work as a "connoisseur, so to speak," of erotic fetishes. 
"As an online dominatrix, I am able to reach through my screen and touch the lives of so many people around the world," she told AVN. "I've done so for a long time, and what my clients have come to expect from me are deep understanding of unusual and erotic fetishes and real interest in them as people."
Role-playing games form a significant element of her relationship with her online clients, "as well as therapist-style sessions in which I manipulate men into doing some awful, dirty things. I wear beautiful business suits and do lots of CEI and chastity games," she said. "They are just so much fun."
But as she has built her business, she has also seen online sex work evolve, both in the technology available to perform the work, and in public attitudes toward the profession.
"Online sex work is much more developed now and I think recognized as legitimate work. Many people still have no idea that it's a 'thing,' that you can work from home, have your own business, and make real money," she said. "Articles like the New York Times cover story in which I was just featured really help to legitimize my industry and remove stigma."
The 2020 coronavirus pandemic has brought more changes to the online sex work industry, with a new influx of both veteran and rookie performers looking to online platforms as a way to bring in revenue as health-related economic shutdowns have closed off other sources of income. For Mz. Kim, however, the pandemic has been a boon. 
"There has been increase in my business both as an online dominatrix and as an educator for sex work. The pandemic has simply made my life busier," she said. "I have worked steadily online for years, but the main change is seeing the influx of newer sex workers enter this industry and sort of looking around and wondering what it really is, or how to go about it."
Because her business has always centered on working out of her own home, her daily routine has "changed little," she wrote in a recent post on the blogging site Medium. "I have worked from home, been my own boss, run my own business, paid my taxes, and produced my own fetish content for so long, this shelter-in-place routine has me busier than ever because of reasons one wouldn't suspect."
She cited nine income streams that she says are all going strong for her during the pandemic — but the crisis has brought her a 10th. In addition to he work as an online dominatrix, she has now become a teacher, offering virtual courses for women newly entering the world of internet sex work, as well as for more experienced performers.
"I believe that sex work can elevate and change women's lives. Any woman who is interested in domination or online sex work should take my courses because I really believe in empowering them with the correct information and giving them a good education," she told AVN. "The basic message is this. Sex work is real work, but I want to teach you how to put your time and energy to good use with the right kind of education."
The first step is teaching her students that building a successful online sex work career is considerably more complex that it may at first appear. A recent academic study of cam performers published in the Journal of Women and Culture in Society was titled, "I Get Paid To Have Orgasms." But Mz. Kim's courses go far beyond that relatively simple sounding premise.
"There are so many skills involved in this work. Content production, marketing, the art of conversation, modeling, acting, human psychology, sexuality. The list goes on," she wrote in her Medium post. "But we all have to start somewhere, and as the old adage goes, and I wish that someone had shown me all of this information when I started."
She has also used her educational activities to support other sex workers, financially. According to her Medium post, proceeds from her April course "So You Want To Make Money Online Through SW - Level 1" went to Nightshade Sanctuary, a BDSM studio in San Francisco that, like so many businesses, faced potential ruin due to the pandemic shutdowns. And she created a document detailing "best practices" for the platform SextPanther, and donated her proceeds from that project to another BDSM space, SubRosa, in Portland, Oregon.
Sex workers also face challenges from new legislation — such as the multiple attempts from both Republicans and Democrats to roll back the "First Amendment of the Internet," Section 230 — that could put their livelihoods, and even safety at risk. But Mz. Kim says that her online activities continue undaunted.
"Political efforts that curtail online freedoms don't change my approach to work. I think professionalism, consistency, awareness and empathy are always cornerstones to my approach," she said. "My support and actions always lean toward decriminalization and strengthening the First Amendment. My concerns are that the more women are silenced and not involved in the conversation, the worse society as a whole fares."   
Photography by @2ndlifephotography (1), I. Mays (4), Andrea Rosu (5), Freshie Juice (6), Mz. Kim (8)