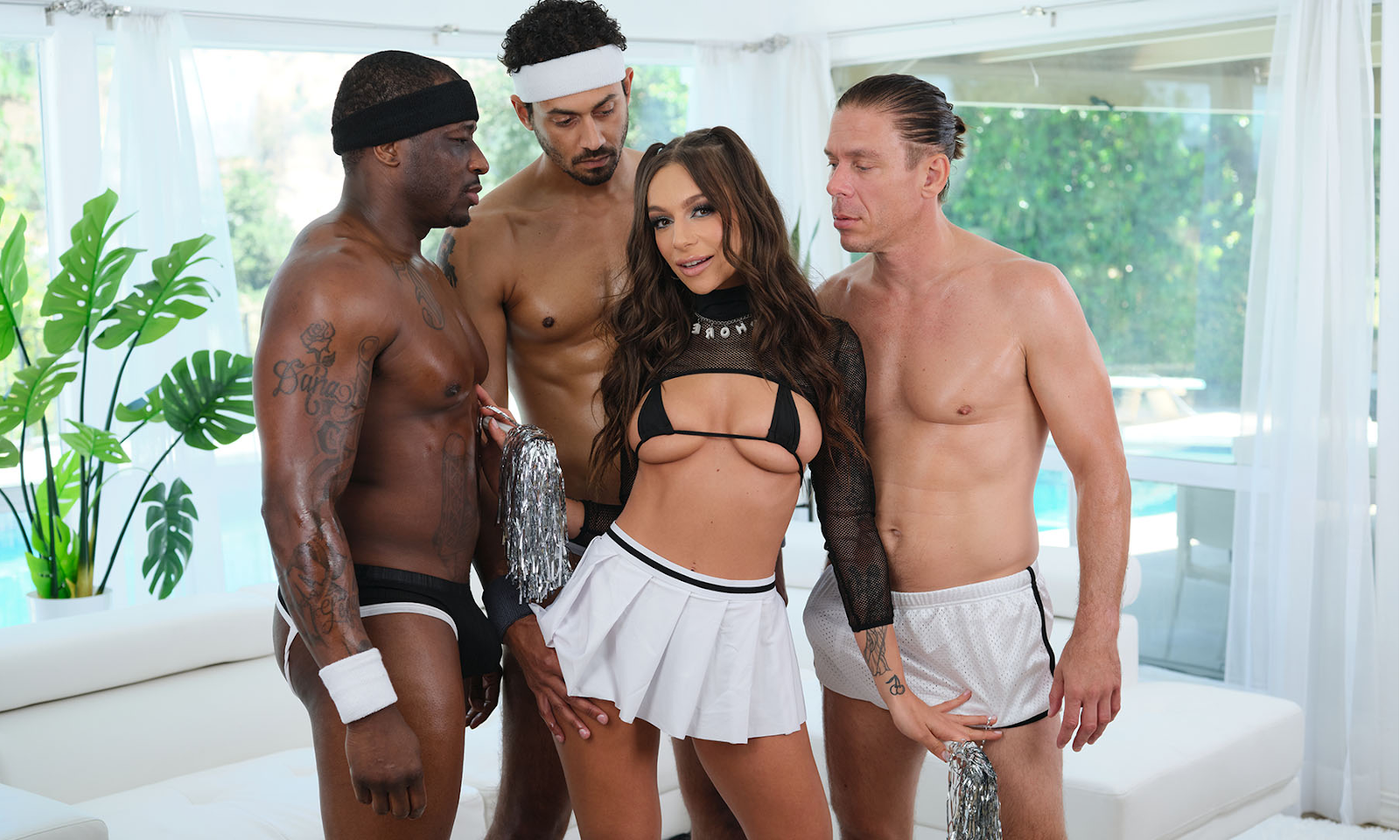 A version of this feature appears in the September issue of AVN magazine. Click here for the digital edition.
LOS ANGELES — April Olsen wants her co-stars to wear the outfits she bought for today's shoot.
Black-and-white jock-straps. Headbands. Tight gym shorts and matching tube socks.
Olsen prepared for the first airtight scene of her career—which will be directed by Hall of Fame shot-caller Jonni Darkko—by planning not only her own wardrobe, but also what Mick Blue, Rob Piper and Alex Jones would be wearing before they get an all-access pass to her orifices.
The ambitious performer, who was a Trophy Girl at the 2022 AVN Awards Show in January as well as a finalist for Best New Starlet, reveals that Darkko is allowing her to place her personal stamp on each scene of the biggest project of her career.
"Jonni's giving me free rein," April tells me with a smile.
We're still an hour from showtime at the immaculate house on a cozy cul-de-sac in the San Fernando Valley, where Olsen already is commanding attention in her tiny white cheerleader skirt, black string bikini, matching fishnet crop-top and stockings.
The white letters on her silver necklace spell W-H-O-R-E.
"I've let her do pretty much whatever she wanted to do because she has such good style," Darkko says.
Back to school never looked quite like this.
That's where Olsen is taking her fans this September in April Knows Best, a four-scene star showcase for Darkko Productions and Evil Angel in which she also does her first DP and double-anal scenes in addition to today's airtight—the porn vernacular for vaginal, anal and oral penetration at the same time.
The trio of deal closers en route to the set got the call because they know how to handle a high-stakes boff.
"We're gonna skip photos today because Mick's got a hard out," Darkko tells April.
Blue, the three-time AVN Male Performer of the Year from Austria, has a photoshoot in downtown LA after the scene and must leave by 3 p.m.
"Plus, this might be your cover," Darkko continues. "The point is that we'll do photos and tease on a different day. We'll do your box on that day. I don't want to sacrifice sex for photos, plus I love that look on you—looks really cute. It makes me want to go back to school."
He adds, "The guys are coming at noon. We'll do the intro tease and go right into it. Everyone we got today is a fucking superhero."
The industrial metal sounds of Ministry blast through the living room, where a white leather sectional couch is the centerpiece—and also where Olsen will put on her clinic in hard balling.
The former nanny who grew up in New Jersey sips a bottle of Pedialyte that she picked up at Whole Foods while telling me that she's well rested and mentally prepared.
"I slept a good six hours," she says. "I actually quit all substances just to see if I could try—weed alcohol, caffeine, nicotine—so like one week off everything. So I feel like I'm kind of resetting my body a little bit. I also gave up gluten… the bread and the pasta. I'm real skinny right now, too."
Today marks the third scene of her showcase that started shooting more than a month ago—her fourth and final encounter, the double-A, is scheduled for later this week. Principal photography for April Knows Best started with Olsen strapping on a dildo to bang Vanessa Sky before the DP with Rob Piper and Jax Slayher.
It turns out Olsen created a mood board for her showcase on her iPad—suggesting everything from sex acts, wardrobe, accessories, number of performers, the theme of each scene and potential co-stars.
"She had a vision and that's what I liked right off the bat," Darkko says. "She wanted to put it all together in her way and for me I don't have that happen too much. That and just her amazing performances.
"Like her scenes are incredible. Like that fucking DP."
It's a strong statement by Darkko, the Chicago native who has directed more than 750 adult movies since 2003, becoming a master of the star showcase genre.
"I don't believe in rushing showcases," he says. "I wanted her to take her time. There's no hurry. I hate being hurried. Porn in general is like that. And everyone takes it so goddamn serious. Dude, it's not. We're making fuck movies. Get real. This isn't the seventies. We're not doing a bunch of coke. Everyone puts on this air. We nurture this. It's going to be amazing."
Jonni continues, "I don't feel stressed. If all three guys didn't show up I'd be a little stressed. We're trying to get this out for the fucking awards. But that's what spreading it out is to me—no stress. I wanted her to feel great. And that's why she spent the time to do all these [outfits] which I appreciate because it's usually on me."
As the sexual anticipation builds, Olsen admits that double-penetration scenes are "really the only porn that I watch."
"I like the camaraderie between the gentlemen and sometimes their dicks touch," Olsen says. "I just like to see the lady getting absolutely…"
"For me it's the reaction," Darkko says. "I'm always looking for the facial expressions. I can just tell what's happening."
Each of the guys has gone balls deep in Olsen before today—April serviced Alex Jones in a virtual reality scene and she collided with Mick Blue several times, especially early in her career. Piper formed one half of her DP last month.
Jones is a former mainstream model from Rancho Cucamonga, Calif., who also worked at Home Depot, Party City and Ez Take Out Burger before adult. He made his porn debut in 2012 but took a couple extended breaks. He spent most of the past two years of the pandemic out of action in Seattle—but in the past two months, Jones has worked every single day.
"So now I'm finally back," Alex, who moved to Las Vegas this summer, tells me. "I'm single and I'm doing my thing… Coming to shoot with Jonni and different sites has kind of showcased that I'm versatile.
"I want to get more acting roles. I want to do a full-on thing."
The multiple AVN Award-winner Rob Piper says he was a military brat who was born in Germany and raised in New Orleans. The athletic stud played elite-level football in high school, where he was among the top wide receivers in the nation, leading to him being recruited by Division I universities.
But a knee injury prevented Piper from pursuing the sport he loved, so he got his culinary degree and worked in restaurants such as Flemings, Bonefish, Carrara's and Del Frisco.
"I love cooking, I always did," says Piper, who also did his first scene in 2012.
Olsen asks Darkko, "Should I go ahead and stretch and stuff now?"
Darkko replies, "While you're doing that, think about how you're going to interact with all the guys to start."
Then the director pulls out his shoot whites.
"This is my outfit for the day. If you had an extra jock strap, I'd wear it," Darkko jokes. "I always wear white. Black soaks up color, soaks up light.… I don't wear any colors. I've been doing that for years."
Darkko and Olsen discuss the intro and decide that April will say, "I'm ready to take one for the team."
"I actually played basketball in high school," April says. "I wasn't very good by any means but I had a lot of hustle. But I think they would put me in during games to teach the other girls a lesson. If you don't have hustle, then put in April. … They put me as a post because I would block out."
No one is getting blocked out today—just some naked 3-on-1 with facials at the end.
Darkko asks April, "What would be the name of the male entertainment club if you owned it?"
"Cabooses," she replies.
Game time is approaching.
"If you want to oil up guys, we want to go full-on physical," Darkko says. "The whole gist of this is you guys just killed it in some sports."
"She was a cheerleader and she's going to take care of you guys because you just won," Darkko continues. "The whole thing is she's gonna take it for the team. Alright guys I want some serious faces. You guys just won some sport… You just won the championship."
Like the head coach, Darkko maps out the game plan.
First, it's to nail the opening dialogue—which will be ad-libbed—and then they will take another break so everyone can get lubed up.
"I'm going to try and go five groups of five," he tells them. "So if we're in cowgirl we're gonna do that for five minutes—give me the best of the best. And then we switch and go in reverse. I don't want to be all over the place.
"All we're basically gonna be doing is vacillating between cowgirl and reverse cowgirl and letting everyone enjoy a hole kind of thing.
"My only request is if she's sucking your dick make sure she's facing in. Like figure it out, turn her face, turn your body."
Darkko wants to dispense with the typical blowjob opening and "smash cut into hard fucking."
"Like I'm the opposite of everything else that's going on," he says with a laugh.
Darkko says there are breath mints on the mantle if anyone needs one.
He calls "action."
April emerges from behind the couch and says, "You got me all hot and bothered to see you sweat. You think it's my turn to take one for the team now?"
Ten minutes later, they're well on their way to achieving an airtight.
"Oh that's so much dick, oh fuck," April says. "Oh my god, so much fucking cock!"
"That's teamwork right there," says Alex Jones.
When it's over, Olsen tells me, "It was fulfilling to say the least."
She says today's scene was about professionalism.
"I trusted these guys right off the bat," she says. "I knew they were going to give me a great scene."
Born in New Jersey, Olsen spent her early years there before attending middle school, high school and college—where she studied Psychology—in Missouri. She started camming on MFC after graduation, saving up 10 grand for a move to New York City.
"And I had an amazing time. I loved it. I wish there was more of an industry out there. I spent like a year-and-a-half in New York," she says. "And I've been here since two February's ago."
In addition to being a nanny, she also waited tables at Outback Steakhouse for six years.
She tells me it's flattering that Darkko decided to invest in her.
"I'm pretty new. I think he's really taking a chance on me and I'm very honored," April says. "I used to watch Jonni's porn. I don't know if I told him that… he was always hardcore."
She reveals her double-anal scene will be with Mick Blue and John Strong—and then they'll have a BBQ.
"I wanted two salt-and-pepper daddies because they're going to be the teachers and I'm going to be the student," April reasons.
Today's scene could not have been scripted any better, according to Olsen.
"And they wore my outfit," April says. "They were good sports."