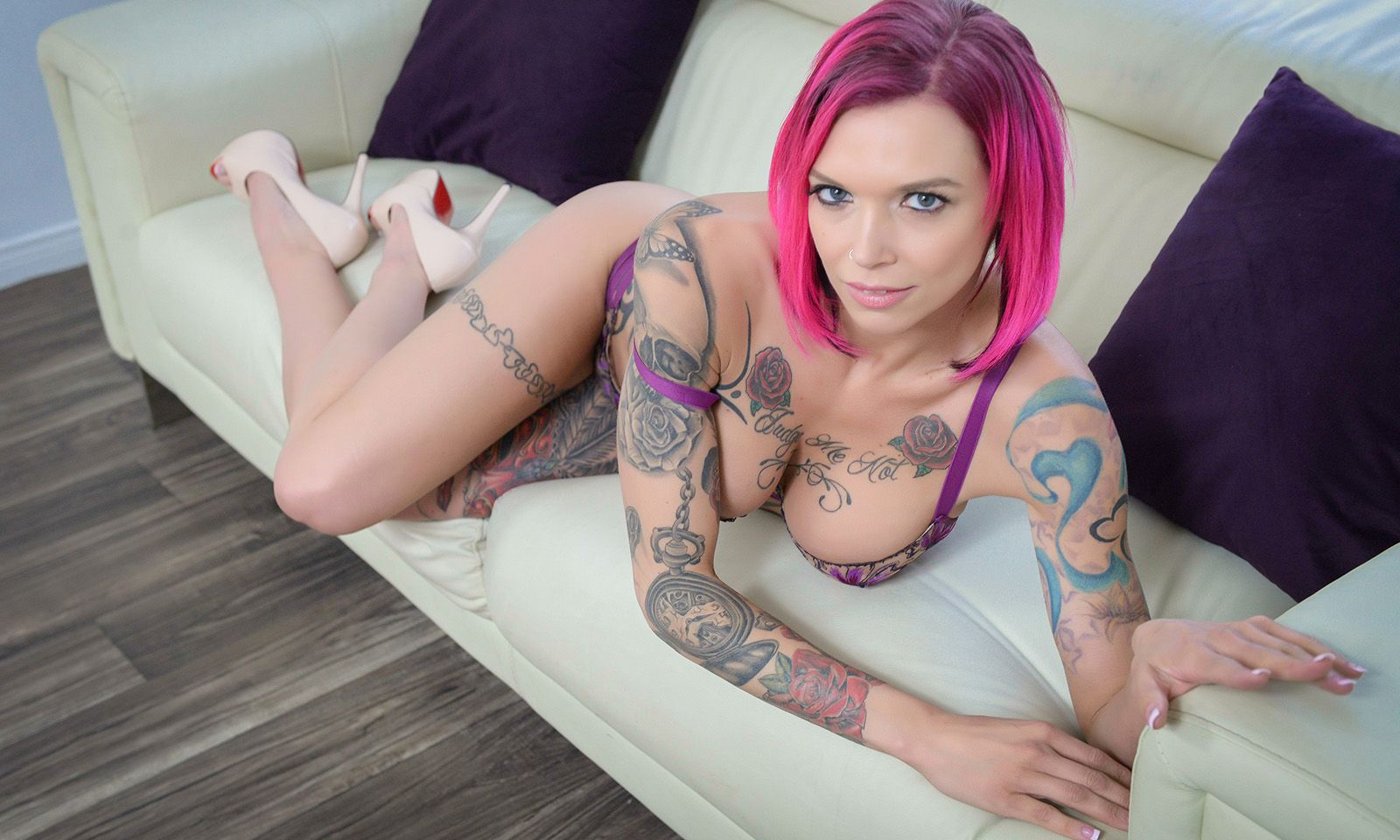 LOS ANGELES—Take a cursory glance at Anna Bell Peaks and the earmarks of porn stardom are all present: bright pink hair, lavish tattoos, provocatively placed piercings and a bustline designed to make men sit up and take notice. Scratch the surface and you'll find a home-loving Midwesterner with a wide and friendly smile. And delve just a little deeper to meet a hard-working woman who loves her job but also knows how to make it pay.
This month she's adding a new stream to her revenue: a self-named line of DVDs distributed by Juicy Entertainment. The first title, A Is for Anna, begins shipping on June 12 with a street date of June 19. The DVD will offer fans new scenes shot for Peaks' own company—including an anal sex scene.
The DVD line is an offshoot of Peaks' official site. "I started my website and it's really taken off. I've wanted my own Anna Bell Peaks DVDs for a while now," she said. "And my fans want that."
At first the ambitious Peaks thought she might produce DVDs on her own. "I started to do it myself … but it was too much for me to handle," Peaks said. "Plus, I don't have the reach. I would never hit the big stores."
So in January at the AVN Adult Entertainment Expo, Peaks struck a deal with Juicy Entertainment to release one DVD a month. And Juicy will also handle licensing.
"I would eventually like to get it to two a month once it starts taking off," Juicy sales head Danny Gorman said. "That will build even more momentum."
Peaks and Gorman stopped by the AVN office to talk about the new venture, and along the way Peaks shared a lot about her background, how she got into the business and what she still hopes to accomplish.
"I came from a business background. I went to college, I got a master's degree in accounting, I got my CPA license and I practiced accounting for seven years," Peaks said. From 9 to 5, she put on a three-piece suit and covered up the tattoos—though not the bright red hair with pink accents. "I was edgy—but I was professional."
So, why did this certified public accountant go into porn? "I've always been a hard worker, and I wanted to pay off my student loans because I couldn't stand 'em," Peaks said. She tried bartending, because of the good money from tips. "But I hated being away from home and so I started webcamming. I was always a little freaky."
Starting out on ImLive.com, Peaks "made really good money at it because I've always been a really good dirty talker, and I think that's what people liked. And I love to please. I'm a pleaser."
Her first brush with porn happened when she went to a professional photographer for some "boudoir style" shots for her cam page. "The photographer was listening to my story while we took photos and he said, 'You should do porn.' And I said, 'No, that's the silliest thing I've ever heard.'" But she did give the shooter her number—and then, she said, "Three days later my phone was ringing off the hook."
Before jumping in, she took about a month to talk to her family and weigh the pros and cons. "How lucrative is it? If I'm going to do this, I'm going to be a businesswoman," Peaks recalled. "What can I do to make sure I succeed? How hard do I need to work? What kind of social media do I need to have?"
After that came trips to Florida and Los Angeles. In the Sunshine State she shot for some smaller producers as well as for Reality Kings and Bang. And her first scene in Los Angeles was particularly memorable: a shoot with Lexington Steele for Lex's Tattooed Vixens (Evil Angel).
"Every other person on the DVD did anal except for me—because I didn't do anal," Peaks said. "I look back on it now and I think they were just testing me to see how big I could take, how well I could do, and they were gong to spit me out if I didn't do well. But Lex was freaking fantastic, so it was wonderful."
But it was one of her later scenes that ejected Peaks out of the porn closet. "By June my first Brazzers scene hit, and it was 'In the Navy Now' [with Xander Corvus]. That's the one. It blew up everywhere. All of a sudden you're recognized."
The next year, Peaks started her website, AnnaBellPeaks.xxx, because she knew that she needed to supplement her active income—i.e., webcamming, shooting movies, feature dancing, appearances. "What are the forms of passive income?" she asked rhetorically. "We've got Clips4Sale, we've got ManyVids, we've got my website. All the cam sites have video upload streams so … when you're not on the cam site you can still sell stuff. And I have my own store website where I can sell T-shirts and calendars and prints and my panties and things like that."
And she keeps that active income up by webcamming every day—even when she travels to L.A. to shoot. "I try to get girls when I'm in L.A.—'Hey, are you free tonight? Let's do a girl/girl show.' Then they make some money and I make some money, and we record it. I record almost every one of my live shows because then I can stick it on my website as an archived webcam show, so I always have fresh content."
Asked whether she held off on doing anal in order to keep that exclusive to her website, Peaks said it was more than just a business decision. "Everything I do on camera is what I want to do. … I love every moment. I have amazing orgasms. It's a really fun job. But I will tell you I've never had butt sex in my private life," she said. So it took some practice.
When Peaks decided to go for it, she started out working with toys in her cam shows. So far she's only done anal three times, and she's growing more confident. "With toys I can have an anal orgasm. I can't with a dude yet."
So, who were the dudes? So far she's worked with Mick Blue, Mark White of Spizoo, and Mike Adriano, and she gives all three experiences the thumbs up.
But there still are some things she doesn't like: "I have a no list. I don't like to be slapped in the face. I don't want to be called a whore. I don't want to be degraded. I honestly think there's way too much of that in porn. And I think it's degrading and disrespectful to a woman."
Being able to say no is easier, she said, because she got into the business when she was 33. "I feel a lot of girls get in way too young. They're not educated and they don't know maybe even their own bodies, and I think that's why they do too much too fast. Somebody says, 'Here's some money,' and they're like, 'OK, I guess I'll do it.' And they do things that maybe they weren't super happy to do, but at the time they don't necessarily know it. But later it makes them feel bad about themselves."
Peaks believes in making people feel good about themselves. "You can have really great porn that respects women," she said. "'Holy shit, you sexy motherfucker, let's have sex.' That's the kind of almost uplifting and positive feeling toward a woman that I want to display in all my scenes. … And my fans, the ones who see me on webcam day in and day out, they know that's what I am. And they're super respectful and they're like, 'You're the kind of wife I want. Because I want you to be a five-star-restaurant kind of girl and then let's get a little freaky in the sheets when we're done. Every guy wants that—well, let's say every older guy wants that. But the 18-year-olds who don't want that, they're free porn anyway. They're not the ones that are buying stuff. I know my market."
"If you're going to build a fan base … you don't want the one-and-done guy that degrades you and uses you and just watches you and jerks off and is done, and then moves on to the next girl. You want the guy who likes you as a person."
Fans who like Peaks now have another way to support this busy performer. The DVD line is also "one more way to advertise your name," Peaks said. "I try to expand my audience wherever I can."
Peaks believes she's got a lot more to explore in her porn career, and she's looking forward to new challenges. But ever the savvy businesswoman, she's also got an exit strategy. "When I hit the top and I'm starting to feel the decline, I think that's when you bow out gracefully and you say, 'You know what, that was a really fun run. You guys rock. I'll go put my CPA hat back on.'"
Wholesalers can order A Is for Anna from Danny Gorman at Juicy. Email [email protected], call (818) 280-3700 or fax (818) 280-3704.