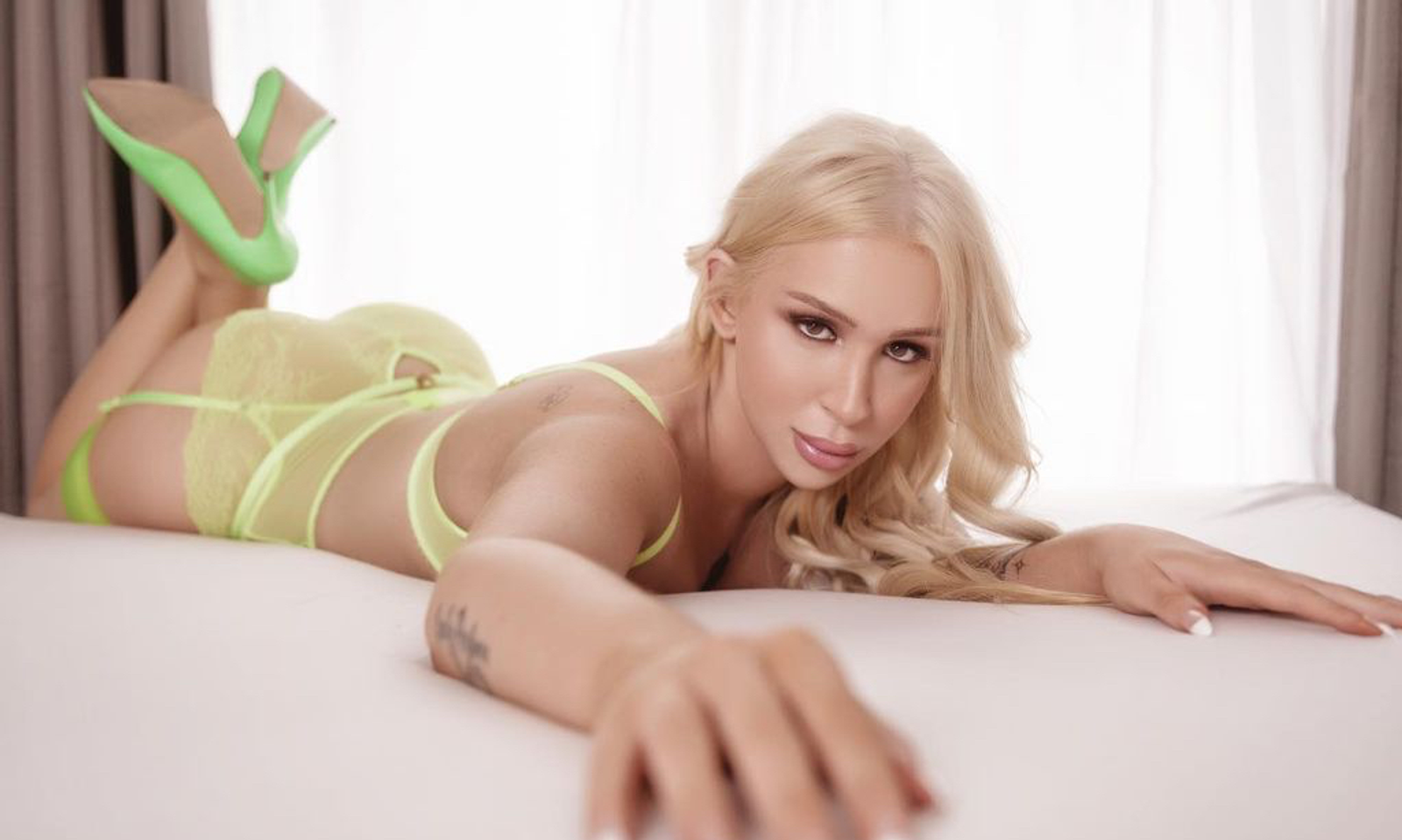 LAS VEGAS—Trans performer Angelina Please—a multiple AVN Award nominee—was found dead in her Las Vegas apartment Monday, multiple sources have confirmed to AVN. She was 24.
A police report was not available at press time, but a tweet from fellow performer Aspen Brooks—who was Please's neighbor—indicates that police were called to Please's locked residence after she hadn't been heard from in nearly five days. Her body was found inside, and a source indicated that authorities detected no signs of violence or foul play.
"I'm at a loss for words," Brooks tweeted. "Went to go check on my friend after she had been missing, only to find out we lost an amazing person. One of my best friends. My neighbor. The person I would gossip with about everything. She was just 24 years old. RIP baby girl."
Grooby owner Steven Grooby told AVN, "It's just the most awful news to hear. I heard she was missing when her friend, Aspen, posted about it, but hearing that she'd passed is devastating. Angelina was 24 and in the prime of her life, a popular and professional performer. I want to pass on my love and respect to her family and friends. It's difficult to have the words." 
Added veteran Grooby producer/director Buddy Wood, "I was literally just working with her two weeks ago and she was great, and super excited to go to the TEA awards this weekend. I'm shocked to hear this. She was great, a really fun, nice girl and very professional. So sorry to hear it."
Reigning AVN Trans Performer of the Year and budding director Casey Kisses was having a difficult time processing the news of Please's death Tuesday evening. It was only two weeks ago, Kisses told AVN, that she directed a scene for TransAngels involving Please, Jade Venus and Cloudy Vi.
"Angelina offered to come by early and help us set everything up," Kisses said. "That's the type of person she was. She seemed fine that day. She was her normal, cheery self."
Kisses said the scene was the best thing she's shot for TransAngels thus far.
"She pulled the scene together," Kisses said, "and she took these stunning photos. We had three head dresses and one was different. We gave it to her and put her in the middle. She was wearing white and she had Cloudy Vi and Jade Venus on either side of her, in the middle of this fairy wonderland, with all of this smoke coming up. She was this goddess in the middle of it. I just can't stop thinking about those photos we took. She was the highlight of the scene."
Kisses believes Please was on the cusp of taking her career to another level.
"I kept telling her, 'You're going to win awards this year," Kisses recalled. "She was so well-prepared for all of her scenes. And she was a gorgeous, phenomenal performer. She just glowed. She made the days go by so easy. She knew what to do. She was a good friend. She was my favorite trans person in the industry; she was someone I really loved being around.
"I'm just having a tough time accepting that this is happening. I just can't believe it."
A Chicago native, Please entered the industry in 2019. She was one of the 15 nominees for Trans Performer of the Year at the at the 2022 AVN Awards, and her threesome with Ariel Demure and Jenna Creed for Devil's Film was nominated for Best Trans Group Scene.
Photo of Angelina Please taken from her Instagram feed.