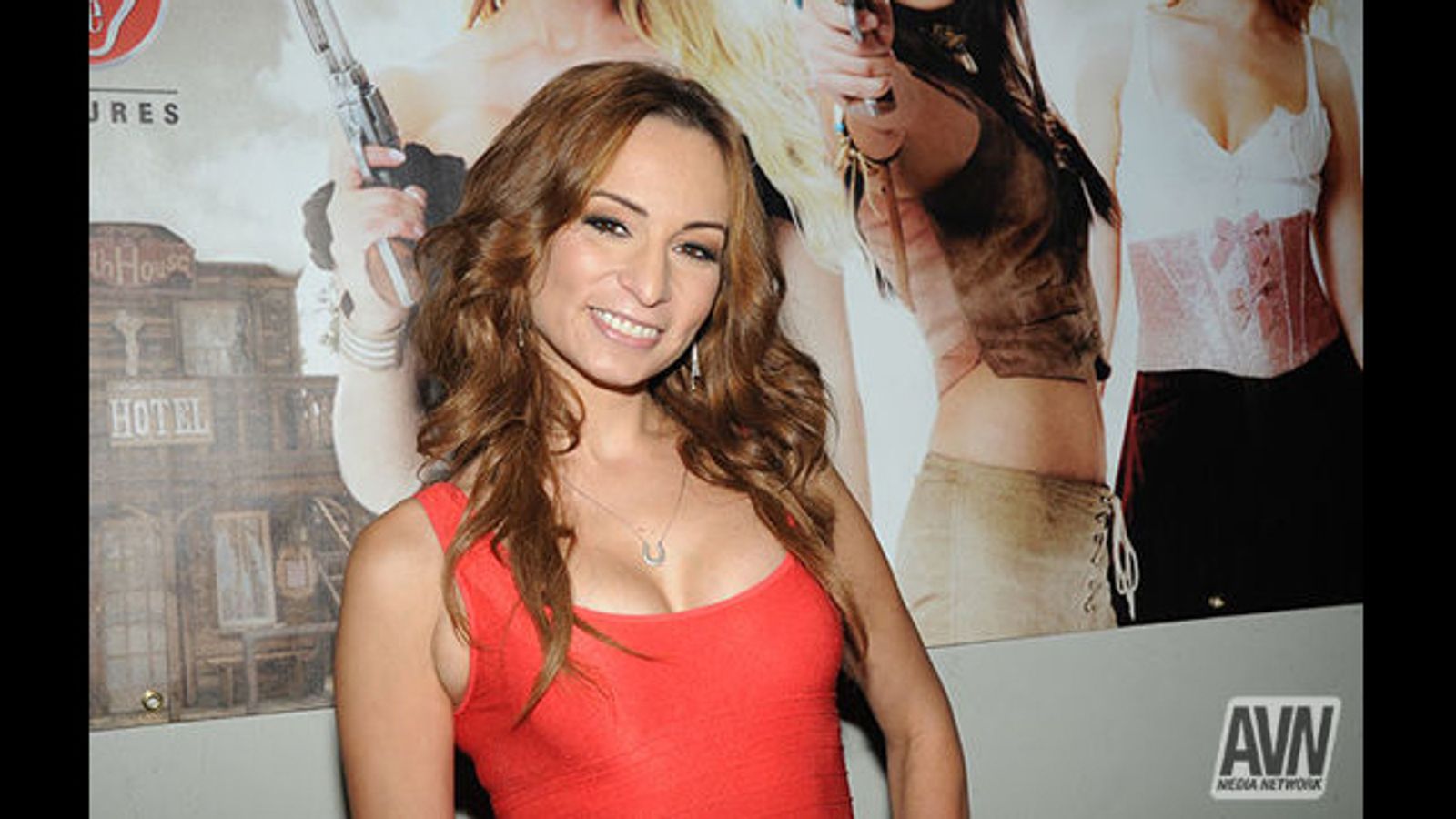 LOS ANGELES—AVN has confirmed that adult performer Amber Rayne, an industry veteran of more than 10 years, has died.
Sources close to Rayne told AVN that she passed away peacefully in her sleep at home either late Saturday night or early Sunday morning, though the exact cause of death will not be known until autopsy reports are completed at the end of next week. She was 31.
Rayne entered the industry in 2005, and racked up close to 500 credits over the course of her career. She was known for both her wild, no-holds-barred sexual performances and her commanding acting chops. In fact, the Detroit native had a background in professional acting before turning to adult, and those skills paid off, earning her immense acclaim and multiple AVN Award nominations, most notably for her supporting roles in 2009's The 8th Day from Adam & Eve Pictures and 2015's Wanted from Adam & Eve and Wicked Pictures. Also in 2009, she was was crowned AVN's Unsung Starlet of the Year.
Wanted director Stormy Daniels, who was one of Rayne's dearest industry comrades, told AVN, "She was a really good friend, and one of the best actresses and performers that I've ever had the pleasure to work with, and I'm just glad that I had the opportunity to work with her and call her a friend."
Daniels added that she will be handling the care of the beloved horse Rayne left behind.
Described as kind, funny and genuine by all who knew her, Rayne's passing sent shockwaves through the industry Sunday. A continuing flood of devastated comments from industry heavyweights has appeared on Twitter, including the following:
Wood Rocket (@Wood_Rocket): "Our hearts are broken. Our friend Amber Rayne passed away. She was one of the sweetest people our industry & the world has ever seen."
Christian XXX (@ChristianXXX1): "RIP @Amber_Raynexxx - I knew you for a long time. This is truly a sad day."
Nicki Hunter (@NickiHunter): "My heart is breaking. Just found out that @Amber_Raynexxx has just passed away. May God hold you close now with your angel wings."
Ryan Driller (@RyanDriller): "Completely heartbroken to hear @Amber_Raynexxx passed away. She was a sweetheart and friend, through and through."
Kayden Kross (@Kayden_Kross): "Sad to hear about Amber Rayne passing. She always had a positive attitude and was a credit to our industry."
MimeFreak (@MimeFreak): "You were kind, generous and pure. I will miss your smile. [Your] huge laugh will always be in my heart. [You're] at peace now."
Phoenix Marie (@PMarizzle): "I'm speechless at the thought that @Amber_Raynexxx has [passed]... She's always been an idol of mine... Fun-Loving, Happy, Beautiful..."
David Lord (@DavidLordxxx): "It's a sad day when I must say goodbye to a friend. My thoughts and prayers are with your family. Love ya kiddo!"
Dee Severe (@SevereSociety): "Heartbroken to hear @Amber_Raynexxx died, she was amazing, a friend n 1 of my favorite ppl 2 work with."
Jonni Darkko (@JonniDarkko): "[News] of Amber Rayne has me destroyed. One of the nicest and sweetest people I have ever met. Very sad day"
Prince Yahshua (@PrinceYahshua): "My heart is bleeding & my soul is crushed. There will never be another u, never! @Amber_Raynexxx enjoy heaven as we all enjoyed u on earth"
Tim Woodman (@ProVillain): "Amber Rayne was one of the BEST people I knew, in or out of the industry. I'm beyond devastated I'm fucking shattered"
Ashley Fires (@AshelyFires): "@Amber_Raynexxx will be missed. As an authentic human being. As a friend. My hear goes to her family and her horse."
Veronica Rodriguez (@LilveronicaR): "@Amber_Raynexxx was an amazing girl with a heart of gold she helped me so much in the past I just appreciated her so much"
Rayne recently appeared on both the "Porn Director Podcast" and JacktheZipper's "Faster Babylon." Hear those interviews at the following links:
Faster Babylon Podcast (Episode 7 The AVN Awards Pt 1)
Photo of Amber Rayne from Wanted release party by Gordon/EMMreport.com