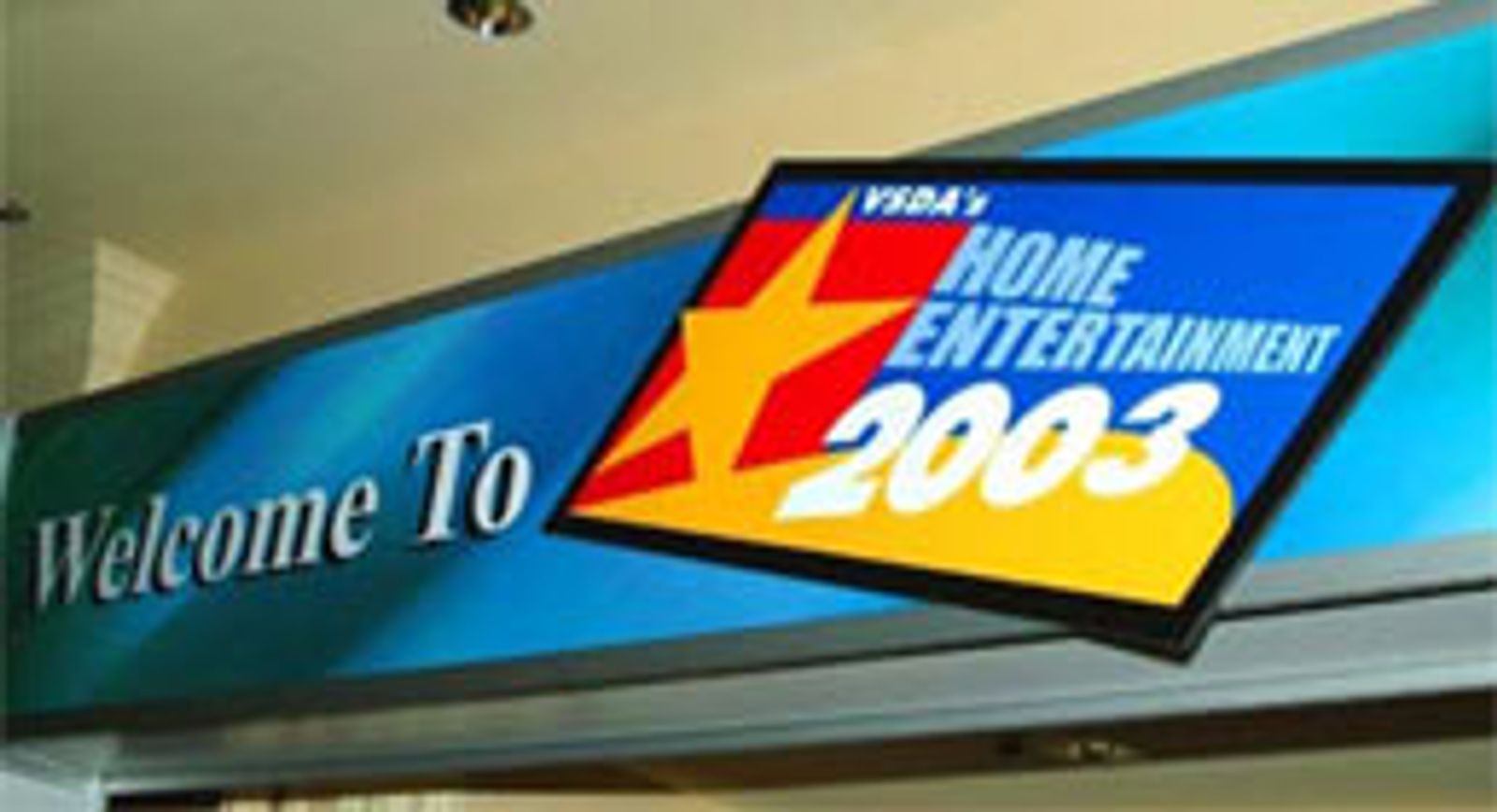 Video producers – adult included – breathed a sigh of relief on the second day of the Video Software Dealers Association's (VSDA) Home Entertainment 2003 Expo, as still more attendees flocked to the open suites on two upper floors of the Venetian Hotel & Casino here.
<?PHP print Create_Archive_Image_Tag('<% Content_ID %>', "Sunset21.JPG", "", " "); ?>
Sunrise Adams and Sunset Thomas
But while attendance figures were not available at press time, the overall number of exhibitors at this year's show had decreased from the previous year, though the adult industry presence was slightly greater. In all, 11 hardcore manufacturers took suites on the 33rd floor of the hotel, occupying most of one of the floor's three wings, with mainstream companies dominating the remaining halls as well as the entire 32nd floor, while Hustler and Vivid split a gigantic suite at the end of the hall on the 35th floor.
But with the show competing against Internext, some companies had a dearth of porn stars signing autographs, if they had any at all. 
"Half of our people went to Internext!" complained Adam & Eve's Jason Hoke, although the lovely Carmen Luvana was on hand to promote her biggest feature for the company, Rawhide, due out in late September (though fans can check out trailers and other material from the feature at rawhidexxx.com.) Luvana's first starring role for Adam & Eve, however, was in Stripped, which releases in the first week of August. 
But -- "We've got a lot of things going on," Hoke assured, "not the least of which is Candida Royalle's first new movie in five years, Studhunters. It's on a two-disc DVD format, released last month. Everything with her is a labor of love. She shot it just over a year ago but a lot of work and time went into the DVD."
The DVD has a director's commentary, bonus scenes, bloopers, behind the scenes, ads for her Natural Contours line of personal massagers, and more.
Arrow Productions was also on hand, sharing a suite with Bizarre Video. 
"Mainly, we're pushing the DVD classics that we have: Deep Throat, Devil In Miss Jones, Debbie Does Dallas, Candy Stripers, as well as the Goddaughter series," noted sales manager Vince Miller "We have stayed away in the last year or so from new releases, because they're not cost effective, but we are going into production on Deep Throat 7, and we are now looking for the ideal fellatrix to star in it."
Veteran actress Anna Malle was across the room signing for Bizarre, but she didn't figure into the company's biggest news.
"We're doing a fetish hardcore line, which we never did before, and Playboy picked it up, so we're getting it in the cable market as well," announced company owner Keith Gordon. "We were doing a feature line with High Society, and they stopped shooting for a little while, but we developed such a large audience for sex products – but I didn't want to do the normal sex products, so I said, 'Let me do something that's fetish-y,' and people have been very receptive to it.
"We've come out with Ribbons Of Desire, Kinky Couples Sex Games, Horny House Calls – I could go on and on," Gordon said. "What we're doing is taking the fetish concept – no bondage, no tying up – but we're taking the latex and the leather and the fetish concept and putting it into a sex movie, and that's been doing extremely well for us. They're selling really well." 
But that's not all.
"The newest thing for Bizarre Video is, we are opening up an operation in Europe, which is a pretty big move for us. We're going to have our own operation out of Europe, distributing to all the distributors and retail stores, which we never did before, so this is a pretty big move for us. We've always done well in Europe, but when you're not there, whatever you sold there was just gravy. Now, we're fully going in and taking control of the market." 
Bizarre's offices will be in Amsterdam. 
Caballero Video also had a presence at the convention, mostly to promote its Blue Pictures division. 
"Blue Pictures is our new release division," noted sales manager Dick Lane. "We come out with eight to 10 new movies every month; a little bit of everything. And then, of course, there's Caballero, which has all the classics featuring John Holmes, Seka, Andrew Blake, and we have our two-hour and four-hour VHS and DVD." 
Besides some immensely popular gay titles such as new release Daniel And Me, and a five-hour gay comp series, Balls, look for Blue Pictures' latest features, Carnival 2003 – "Four hours of orgies in Brazil with the Mardi Gras; it's fantastic." – and Sex Machine, starring the beautiful Brazilian babe Dyane (pronounced "Diana"). 
The best food to be found among the adult group had to be at the Hustler/Vivid suite, which featured roast beef sandwiches and tiramisu, among other delicacies. But for the sales staff of both companies, it was work, work, WORK! 
"The acquisition of VCA has been a priority of ours for some time, and we finally got that accomplished," noted Jimmy Flynt II, Hustler's national marketing director. "This is a year after our acquisition of the distribution of the Vivid titles, and we're strengthening our distribution base. Hustler Video is expanding; we're expanding our lines and changing around some things, taking some titles out and replacing them. 
"Barely Legal, of course, is not one of them; that's been one of our best sellers right along, and we're also doing very well with Young Sluts, Inc," Flynt II said. "In fact, I was the one who brought Kat Slater on board, after I met her through some of my mainstream contacts. She's a very good director. And we're just up here with the stuff we love, that I think really says what Hustler Video is all about, and that's hardcore, and we're here talking with our New York retailers and distributors and seeing what we can do for them." 
"Things are really going well," he continued. "Our retail operations are dynamite and we're rolling new locations out. I can tell you that the next location we open will be Ft. Lauderdale. Our apparel lines have really taken off; it's been a bout three years, and we're really doing phenomenal business in all the malls across the United States now. Things at LFP just couldn't be better." 
Vivid's Howard Levine was equally upbeat, and with even more news. 
"Big things are happening at Vivid," Levine announced. "The biggest news is that we are doing a reality TV show. The cameras are following around the Vivid girls in their daily lives, very much like the Osbournes thing. We really, truly believe that it will catapult some of the girls into a super-stardom type of things, and will make some girls household names. It's going to be gigantic, and a lot of [network] people are battling for it. We are in negotiations right now, and we really think it will knock sales through the roof."
"We're going to be day-and-date on VHS and DVD on August 11 on all our features, and we're already day-and-date on our four-hours and six-hours as well, and that's what we're kicking off at the show," he added. "We're pushing our features in a big way; they're getting great reviews all over the place. We're here to tell retailers that there are still features being made that are well done, that they should sell in their stores, and that the girls are still selling." 
But video was only part of Vivid's activities. 
"We're in the middle of a licensing frenzy right now, with the Vivid Virility and the Vivid Condoms," Levine noted. "Vivid Virility is like an herbal Viagra, and it's doing really well, and the packaging is absolutely gorgeous; same thing with the condoms. They just ordered another million pieces. 
Levine reports that Paradise Marketing, the makers of both Vivid Condoms and Vivid Virility, are pursuing retailers that don't normally carry adult products. According to Levine, Virgin Megastores was considering placing a kiosk of Vivid Virility in their stores. 
Other new Vivid branded products on the horizon include a line of comic books featuring the Vivid girls and even a real book, Sex Tips From The Vivid Girls, that will be published later this year. 
"So there are a lot of things going on, and we hope that retailers will take advantage of the mainstreaming of Vivid," Levine said. 
Also look for sex toys from Doc Johnson, featuring the pussies of, among others, Sunrise Adams and Kira Kener, both of whom were signing autographs in the suite. 
Speaking of porn stars, we followed the lovely Gauge into the Metro Interactive suite, and as she prepared for the rush of fans, sales and distribution director Rick Williams filled us in on the company's new direction. 
"Our theme right now is, we're turning up the heat. We're introducing our new line, Fusion, which will feature new directors, new talent, and really hot product. We're revamping the company and coming out with new and exciting things." 
Among those would be Michael Raven's Sex In The Studio, featuring Money B and Cletus Mack, members of the band Digital Underground. 
Also, Williams noted, "We're in final negotiations to have Bridgette Kerkove come on board as both a director and a contract star." 
Across the hall, Pleasure Productions was experiencing another dearth of autograph signers, with contract stars Gina Lynn, Nikki Benz and Krystal Steal also on the road, though one of Steal's stops would be Internext. However, the company's newest babe, Trinity, was promised to be present later. 
But company president Frank Kay was excited by their latest DVD innovation: P.O.D. – Popshot On Demand. 
"What it does is show you a little icon on the screen, and if you click it, it takes you to five or six seconds before the cumshot, so you can see the popshot right away." 
That feature will be showing up on the company's latest discs, all of which will be going day & date as of the Labor Day holiday, starting with Something Wicked, starring Krystal Steal, directed by Cash Markman. 
"DVD is 50 percent of our sales, so we've got to get those DVDs out there," said sales manager Andy Green.
Look for Gina Lynn Interactive from the company by the end of the year, as soon as their technicians work out some operational bugs. 
Directly across the hall from the Pleasure conglomerate – they have nine imprints altogether, including the recently acquired Matt Zane Productions, Armageddon Entertainment and Bedtime Productions – was Smash Pictures, though catching national sales manager Stuart Wall without a retailer in tow was no easy task. 
But Wall had his own announcement to make. 
"We got our Penthouse store open last week," he noted, "which we're partners in with Bob Guccione. We can't sell anything yet, thanks to the local mayor, but Tera Patrick was there, and we were very well received."
"Our Legal Skin series is stronger than ever," he added, switching gears, "and we're taking lot of orders for it here. A new International Booty is coming out, Vol. 6, and we just released our second interactive DVD title, starring Kaylynn and Nicole Sheridan, and in a few weeks, we'll have a new amateur series, Test Drive, that we're releasing, so things are doing great. We've only been around for a year and a half, and Smash has really taken off.  Also in August, we'll be releasing Stocking Secrets, a new softcore series which stars some Penthouse Pets, Jana Cova and Maliya Madison." 
One of the companies present that was less than forthcoming, however, was VCA, in part because of the several recent management changes announced last week, as well as the fact that their recently promoted head of sales, Alan Gold, had quit just the day before the VSDA show started. Sunset Thomas was there to sign autographs and promote her latest feature, Truck Stop Trixie, and posters from several productions adorned the room, but the activity was mostly to assure retailers that even with the personnel changes, VCA would still be there to service their needs. 
Exhibiting for the first time in many years was Video Team, whose "fort" was ably held down by sales VP Joannie Lee. 
"With the way the market has turned, we've had a lot of strength on our new releases, and we're going to move forward with that," Lee said. "The market seems to be breaking off and separating so deeply between the lower-end and higher-end product, and we're really pushing our higher-end productions, and we're doing it successfully. Our My Baby Got Back series is as strong as ever, and our No Man's Land Asian and Latin versions that we've brought out have done very well. We have uplifted our condom-only policy so that we're condom-optional now, and that has made a big difference in our new release sales. One of the ones that we expect to do well with is Chocolate Cream Pie, a fresh new line from this year which has just gone through the roof."
Finally, bringing up the alphabetical rear, was Wicked Pictures, which had one of the more beautiful room displays – and some of the more beautiful stars signing: Sydnee Steele and Stormy. 
"We're getting ready to release our first Jenna comp," announced VP Joy King, "but I hate to even call it that; it's completely and totally unlike anything anyone else has done. We've created almost a documentary of her career with us. We've included interviews, footage of her accepting awards at the AVN show and lots more. Wicked doesn't do compilations, and I hate to refer to this as one, but we chose to do this one because we felt it was appropriate. It's an overview of her career, and it'll be called the Jenna Jameson Anthology, releasing day-and-date August 25." 
Speaking of day-and-date, King almost apologized for Wicked's lagging behind some of the other major companies in getting its VHS and DVD releases coordinated, but promised that by winter, the company would be up to speed, with Wicked's DVD production staff working overtime to catch up to its video releases.