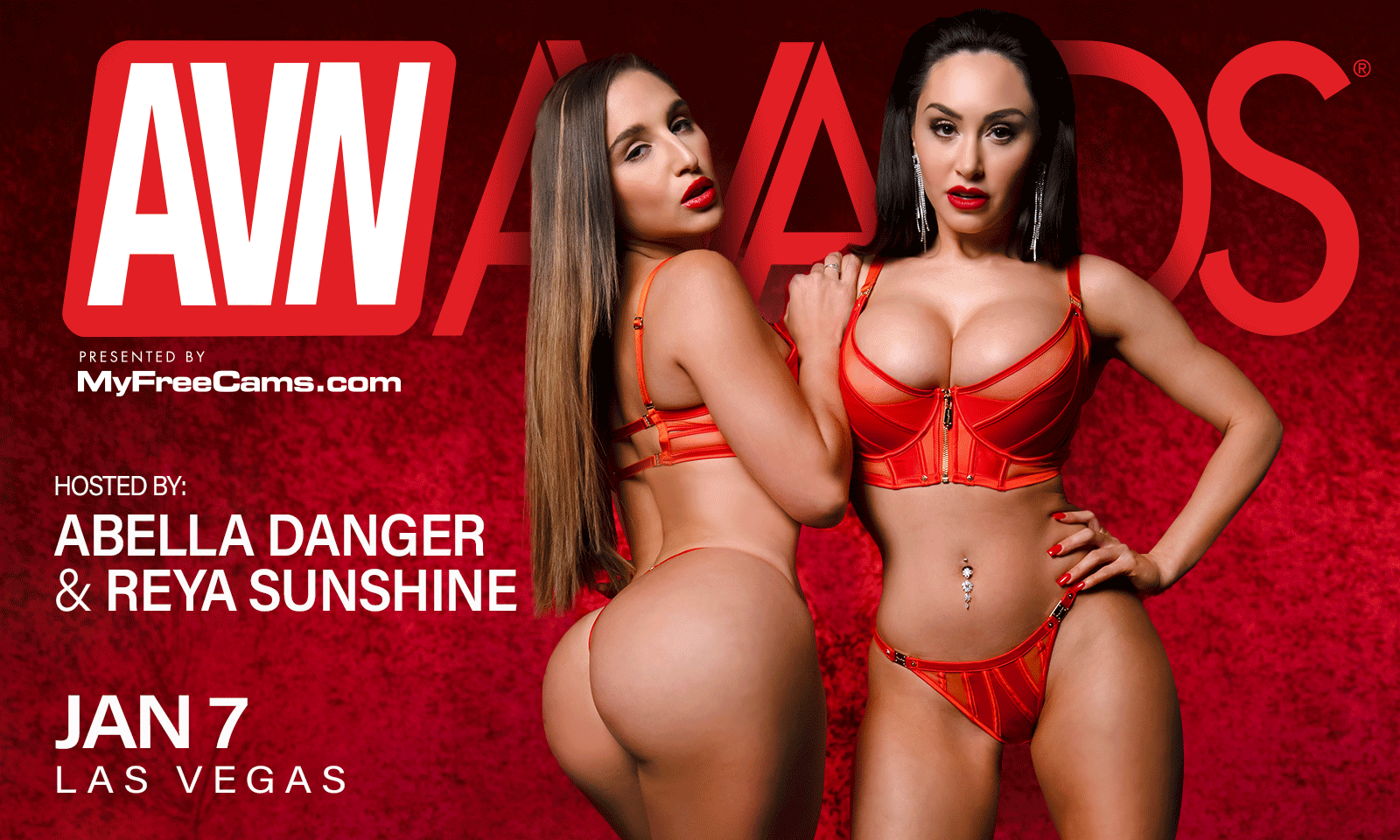 LOS ANGELES — AVN Media Network is pleased to announce that adult superstars Abella Danger and Reya Sunshine will co-host the 2023 AVN Awards Show, presented by MyFreeCams, on January 7 in Las Vegas.
Abella and Reya will be the mistresses of ceremonies at an all-new venue for the historic 40th edition of the AVN Awards.
In continuing the adult industry's most iconic tradition, the AVN Awards Show will recognize outstanding achievements in areas of content production, retail and pleasure product innovations in the past year during the red-carpet event that will be streamed live for fans of adult entertainment around the world.
"We think Abella Danger and Reya Sunshine represent the best of the best in the adult industry today and we couldn't be more excited to have them usher in the next era of the AVN Awards Show in Las Vegas," said Tony Rios, CEO of AVN Media Network.
"Abella and Reya exemplify all the traits that make icons in our business. They've become shining examples of what's possible when talent meets opportunity."
For the Brazzers contract girl, Danger, the occasion will mark a homecoming of sorts as the excitable native of Miami won adult's highest honor for a new female performer in January 2016, when she was crowned AVN Best New Starlet.
Abella's meteoric rise started in 2014, when she became a sought-after newcomer whose first 18 months in adult were as good as anyone's in two decades.
Today she is widely regarded as one of the most recognizable and influential stars in industry history with millions of followers on social media and billions of video views across the top streaming platforms in adult.
"It means the world to me to finally have the opportunity to be the AVN Awards Show host," Abella said. "I have wanted to be the host for as long as I can remember and I'm so honored that I get to do the first in-person awards show in three years.
"They really could've chosen any of the hundreds of girls and they chose me. So I'm really excited and I'm going to give 100 percent to make this one of the best shows ever."
Reya Sunshine knows all about about rapid rises herself. The native of Northern California burst onto the adult scene in January 2016, lighting up MyFreeCams with her upbeat shows in Reya's Room and creating a versatile brand for herself in the process.
Now six-and-a-half years later, the talented pole dancer has become one of the biggest draws in the country on the feature dance circuit, graced the cover of the April 2021 issue of AVN CAMStar and become an established independent content creator and adult performer.
She said receiving the call about the 2023 AVN's was something she'll never forget.
"It's always been a dream as far as things I wanted to do but it's not something I ever counted on by any means," Reya admits. "It was nothing I ever expected to happen, so it's awesome.
"It's definitely iconic and it's a career highlight for sure."
Sunshine—who graduated magna cum laude with a degree in Psychology from the University of California—not only streams live once a week, she also has incorporated hardcore porn performing into her repertoire, producing and starring in about two scenes every month with A-list male talent for her OnlyFans.
She pointed to the world-class production value of the AVN Awards Show being comparable to any large-scale production anywhere.
"It's really high quality," Reya continued. "Of course it's an adult industry show but it doesn't look like an adult industry show in that sense."
A savvy marketer, Sunshine also has built an entertaining YouTube channel with ReyaSunshineTV, where she shares her life behind the scenes on and off camera with the flair of a seasoned TV personality.
"I'm very comfortable on camera—there's no hiding me," Reya joked. "Once you're going live online and showing yourself more and more—and meeting your fans at the conventions or at strip clubs for features—your personality just comes out. You get what you get and I am who I am.
"You see the whole package, so over time I've become really comfortable with that. Showcasing my body came naturally just because I was always open to that part."
Danger, a pre-law major who is juggling courses while also doing content creation and building her mainstream entertainment profile, said the opportunity to host the AVN's is "definitely in my top 3 of my biggest accomplishments."
"I have wanted this for so long and to see it come to fruition is such a blessing," Abella said. "I just don't want to let anyone down."
Abella revealed her first AVN Awards Show memory was watching Carter Cruise win the 2015 Best New Starlet award from the audience.
"I was four months into the industry at that time and all I could think about was how much I would love to be in her position the following year," Abella recalled. "And then the following year I did win Best New Starlet, so I literally manifested that. It was literally a dream come true."
To purchase tickets to the 2023 AVN Awards, click here.