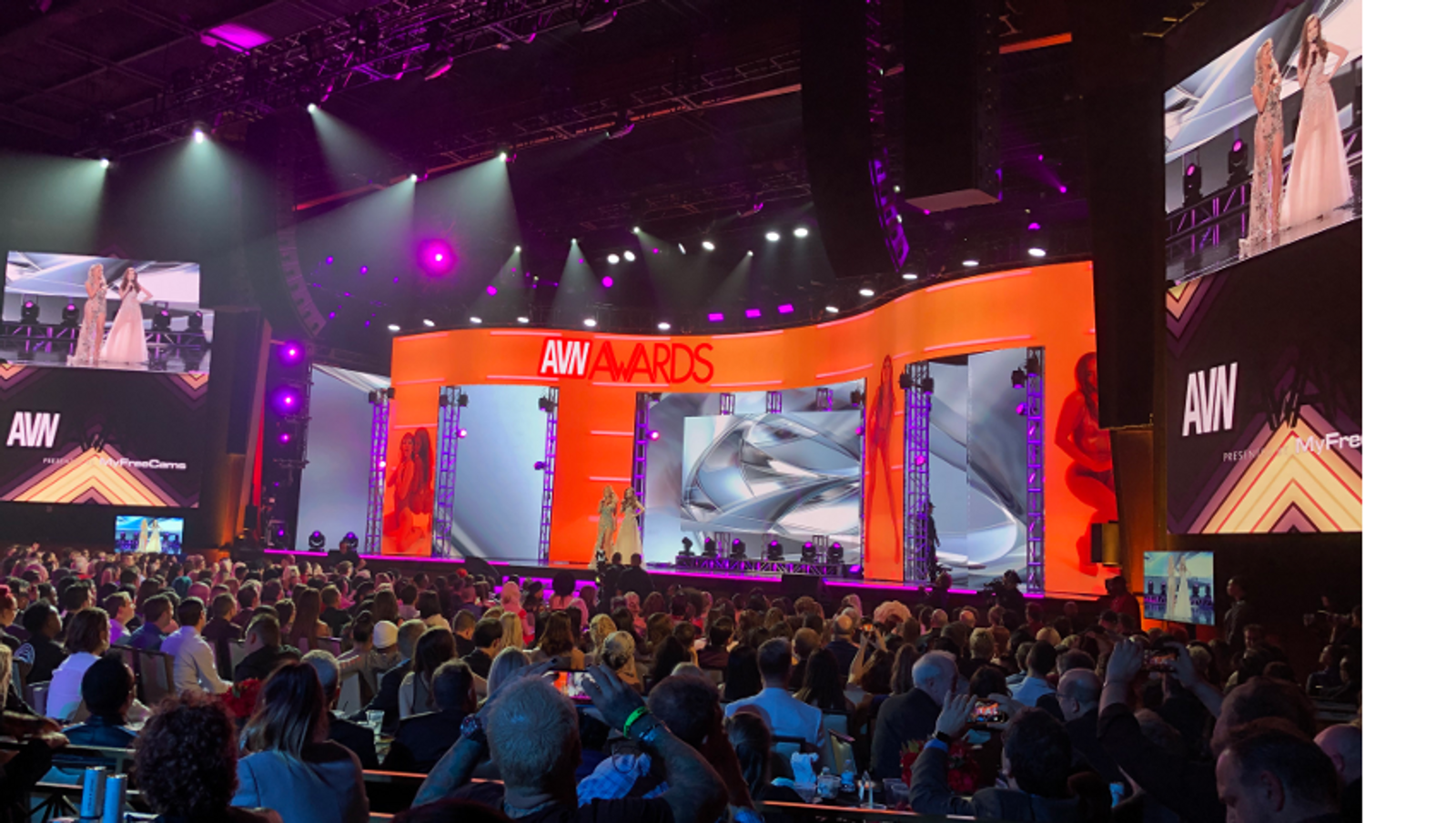 Above, The Joint, all lit up for the 2020 AVN Awards Show. Photo by Dan Miller
LAS VEGAS—Angela White walked into the 37th AVN Awards Show on Saturday night with more accolades than any female performer in the past decade.
Then she made history again.
The Australian superstar captured her third consecutive AVN Female Performer of the Year award—an unprecedented feat—en route to winning 11 trophies in front of a sold-out crowd of 3,500-plus at The Joint at Hard Rock Hotel & Casino Las Vegas.
"I do feel this is very surreal," White said. "I recognize how much of an immense privilege and honor this is."
The native of Sydney also won Best Leading Actress for Perspective (Adult Time) and Best Star Showcase for Angela White: Dark Side (Jules Jordan Video); Best Blowbang Scene, Best Gangbang Scene and Best Solo/Tease Performance for Dark Side; Best Group Sex Scene for Drive (Deeper/Pulse); Best All-Girl Group Scene for I Am Riley; and three fan-voted awards—Favorite Female Porn Star, Most Spectacular Boobs and Social Media Star, giving her 35 AVN statuettes since 2018 and increasing her total to 41 in her Hall of Fame career.
"One of the things that makes me so proud about this moment is that I hope that I am breaking a certain glass ceiling for winning. Because men win multiple Male Performer of the Year awards and two was the most that a female performer could ever win," White continued, referencing the previous record of two that she held with Tori Black, who won Female Performer of the Year in 2010-11.
"And I think there's this assumption that a female performer's career can only last so long. You hear that statistic that a female performer's career can only be six to 12 months and this is my 17th year in porn. And I'm just so grateful that I could be in this position after so long in the industry."
White secured the three-peat on what turned into a triumphant evening for several industry luminaries on adult entertainment's biggest stage.
Angela White became AVN's first three-time Female Performer of the Year winner. Photos by Rick Garcia.
The all-girl Teenage Lesbian, an Adult Time production directed by chief creative officer Bree Mills, won Movie of the Year, marking the first time a feature without a single boy/girl sex scene received the highest honor for an adult film.
Mills also wrote the coming-of-age drama based on her own life story of coming out as gay. Starring Kristen Scott as Sam in the finest performance of her four-year career, Teenage Lesbian also earned awards for Best All-Girl Narrative Production and Best Girl/Girl Sex Scene—for the opening encounter with Scott and Aidra Fox.
"To me this was a movie I've always wanted to make," Mills told AVN backstage. "It was a movie I wish I could've watched when I was a teen, when I was desperately searching for representation. And as a community, we have the ability to talk about these subjects in a way our mainstream counterparts can't.
"You can't tell a story about coming out without talking about sexuality, without showing sexuality. And that's just what I wanted to do; and I wanted to primarily make a film that could be enjoyed as an uncensored version, but, even more importantly could be watched by anybody.
"And that's why we made it as the independent film first. And to have it recognized means so much. Because it means you guys really recognize that what we can do can go far beyond what people think we can do. So I'm really honored."
With tears in her eyes and the entire Teenage Lesbian cast and crew surrounding her on stage, the San Diego native Scott shared what the award meant to her.
"I'm so fucking grateful," Scott said, her voice shaking. "This is incredible. Thank you so much, Bree, for trusting me with this story. It was so special to be a part of…"
Director Bree Mills with the cast and crew of Teenage Lesbian. Photo by Jeff Koga.
It was that kind of celebration at the legendary music venue, The Joint, as the AVN's became the final event before the 25-year-old Hard Rock Hotel is closed for remodeling in February and rebranded under new ownership as Virgin Hotel.
Co-hosted by Hall of Fame performer Nikki Benz and MyFreeCams star Emily Bloom—who won the fan-voted AVN Award for Favorite Cam Girl—with comedian Aries Spears, the two-hour ceremony presented by MyFreeCams drew tens of thousands of fans from around the world watching the live stream on AVN.com.
Executive produced by Gary Miller and AVN CEO Tony Rios, the red-carpet gala will make its world premiere in the spring.
Grammy-winning DJ and producer Diplo, sporting a pink custom Western-themed getup and matching cowboy hat, threw down a dazzling opening EDM set complete with a laser light show worthy of an arena, while up-and-coming rap artist Doja Cat got the crowd moving again midway through the program with a delightfully dirty rap medley.
Top, trophy girl Scarlit Scandal, co-hosts Emily Bloom and Nikki Benz and trophy girl Aliya Brynn; photo by Jeff Koga. Middle, photos of Diplo on stage by Dan Miller; photos of Doja Cat by Rick Garcia.
In one of the night's most anticipated categories, Gianna Dior, the 22-year-old native of Andalusia, Alabama, a small town about two hours south of Auburn, claimed the coveted Best New Starlet crown.
Represented by venerable talent agent Mark Spiegler, Dior waited tables at a sushi restaurant and was a receptionist at an eye doctor's office before starting her porn career in May 2018 in Miami.
"I'm gonna cry," Dior told AVN backstage, adding that getting into the porn business "has completely changed my life."
"This was like my biggest goal since I started my career and I did it, so … I'm just like blown away. I don't even know what to say," she added.
Dior said before her name was called out by 2019 Best New Starlet Ivy Wolfe, "I was trying not to piss myself or pass out."
"Oh my god, I hope I thanked everybody that needed to be thanked. Wow, I'm so just amazed," Dior continued. "I was holding onto [agent Mark] Spiegler probably hard enough to hurt him, and Luna Star was on my left and I was grabbing them. I don't even remember them saying my name. I just remember going up there … it was very overwhelming."
Best New Starlet winner Gianna Dior; photo by Rick Garcia.
An exotic mix of Italian and Native American, the 2019 AVN Awards Trophy Girl performed in more than 200 titles during the past 18 months and collected just about every available tribute. Her résumé includes 2019 Penthouse Pet of the Year, Girlsway Girl of the Month, Cherry Pimps Cherry of the Month, Bang! Ambassador of the Month and Mofos Girl of the Month. And just a week ago she was anointed a Vixen Angel.
"Like I said when I got the trophy I worked my ass off," Dior said. "When I got in the industry I told myself I'm either going to do it big and do it all the fucking way or I'm not going to do it at all. So here I am. … [The] Best New Starlet curse is not going to happen because I have too much shit planned for 2020. So I'm not going anywhere. You guys are stuck with me."
Dior revealed that she designed her emerald green evening gown herself.
"A Gianna Dior original," she said. "I designed it and had somebody make it for me. I was like I really want something specific for this AVN because I might have a chance of winning, so I did it."
2019 Best New Starlet winner Ivy Wolfe passes on the trophy to Gianna Dior. Photo by Jeff Koga.
The charismatic, tattooed ladies man known as Small Hands captured the Male Performer of the Year trophy, making one of the night's most heartfelt acceptance speeches in the process.
The former bartender and musician from San Diego, who has more than 600 credits since 2013, has proven to be as versatile as performers get, gliding between feature and all-sex performances with equal precision.
He performed in more than 150 sex scenes in 2019 alone—including 15 appearances on Deeper and multiple scenes for studios such as Wicked Pictures, Adam & Eve, Brazzers, Kink, Sweet Sinner, Pure Taboo, Burning Angel and Cherry Pimps.
And no one would argue that Small Hands possesses stage presence after Saturday night.
"So it's like that, huh? Holy shit!" he shouted after climbing the neon-lit stairs to the microphone. "Thank you AVN—everyone at the Awards Show, the convention, the Expo behind the scenes. Thank you guys so much to all the men in this category. We've all earned this. I respect you guys. I love you guys…"
Then Small Hands asked, "Just for something selfish. If you're a woman and I've worked with you, please stand up." And then he took a knee, bowing with gratitude.
"I don't even need to say anything. Thank you, thank you, thank you to every girl I've worked with," Small Hands continued. "And that leads us to one, one, one more thing.
"…My wife Joanna Angel. She always said to me, 'Aaron, the only reason I want you to go on stage and win an award is so you can fucking talk about me.' And if you know her, you know I am not lying. So Joanna—it's my party, I'll cry if I want to—you are my partner in crime. You are my savior. I owe you my life. None of this matters without you, Joanna! Please … please be good to each other."
A singer and bass player in various bands before porn, Small Hands reflected on the lean years in his early 20s, when he was on tour but struggling and sometimes had to sleep on the floor.
"I was trying to make it. I was trying to be a rock star. I never ever thought that I'd become a rock star in porn. I thought it'd be something else," Small Hands said backstage. "This is insane. It's just surpassed everything I could've thought. It's actually better than being a rock star in a band."
Joanna Angel, the AVN Hall of Fame performer/director, called her husband's speech "incredible."
"I mean … I expected him to win because I knew he was the Male Performer of the Year and I don't know, I love him so much," she said while tearing up near the winner's circle. "I'm kind of speechless. I don't really know what to say. He's an amazing human being and I feel lucky every day that I get to be with him."
Male Performer of the Year winner Small Hands gave a moving speech. Photos by Rick Garcia.
Kayden Kross tasted AVN gold, too, winning Director of the Year for the second time in a row and also taking home Best Director - Dramatic Production for Drive, the dark, stylish story of illicit gratification that won Best Drama, in addition to five other awards, making it one of the year's most decorated movies. 
Starring Angela White and high-profile newcomer Maitland Ward—who won Best Supporting Actress as White's fearless alter-ego—Drive was the first feature produced by Kross's terrific new brand, Deeper.com, which received the award for Best New Production Banner.
The critically acclaimed title also received Best Group Sex Scene for the steamy throw-down with Autumn Falls, Alina Lopez, Lena Paul, Angela White and Manuel Ferrara; Best Three-Way Sex Scene - Girl/Girl Boy for Maitland Ward, Ivy Labelle and Ferrara; Best Cinematography (Winston Henry & Set Walker) and Best Editing (Gabrielle Anex).
Kross, a Hall of Fame performer who debuted in 2006, told AVN in the past year she has grown as a director "almost in every way."
"Last year making Abigail and After Dark—that was such a crash course," Kross said. "And when I came at Deeper I realized in making both of those movies there was a seed that was sort of the important theory behind everything. So rather than let it rest in the back I brought it to the forefront on Drive, which I think to me was the most arresting part of the story."
Kross continued, "I learned a lot about casting … I learned a lot about writing for the cast that I had. I learned a lot about doing more subtle things that weren't so showy and expensive but extremely important to creating that quality and detail; and I learned how to move faster.
"Because I always wanted quality and I think with Trenchcoatx I was thinking quality but it took a lot longer for not quite the same result. And it's just this repetitive experience. And so in all ways I feel like I'm just constantly learning."
Director of the Year winner Kayden Kross on stage (photo by Rick Garcia) and backstage (photo by Jeff Koga).
Kross directed Gianna Dior and three-time AVN Male Performer of the Year Mick Blue in "Unlocked," a Deeper.com production that received the Best Boy/Girl Sex Scene trophy.
In the scene Blue seduces his friend's girlfriend (Dior)—after overhearing his friend say something he shouldn't—in a superb build-up that sees Dior playing hard to get and even includes some slow dancing in the dark. 
Upon winning, Dior said Blue caused her to have a wardrobe malfunction.
"Mick broke my dress because he hugged me so hard my tit came out on stage," Dior confessed. "We safety-pinned it. We came back here and I was like, 'I need a safety-pin, stat,' and we fixed it."
It turns out it took them more than two hours to get their romantic dance to Kross's liking.
"I swear I was getting so frustrated. I was like, 'I don't know how to dance. I don't know how to do this.' We danced to fucking 'Bohemian Rhapsody.' Like the music that was actually in the background was 'Bohemian Rhapsody,'" Dior joked.
Blue added, "We pretended to know what we are doing but in the end we did not. … Like Gianna said, it took us like three hours to get the dancing right. We knew it was a key element to the scene because you know if you have the right lead-in everything can be hotter. But do you know what kind of cock-blocker that is? You start dancing and you get close and all that kind of stuff and then it's like, 'OK, stop.'"
"We just kept laughing," Dior recalled. "It was like, 'I can't do this with Mick. I can't take Mick seriously.'"
Blue complimented Kross's nuanced direction for the scene.
"Besides being phenomenal in writing scripts, she also knows when to step back and when to stop directing. And that's what you saw in the scene," said the Austrian pipe-layer.
"She wrote the script; she gave us the ingredients; she directed us in the lead-in with all the dancing and all the build-up. But then once we started the sex, it was, 'Go ahead, do what you do best.' And that's what we did."
Best Boy/Girl Sex Scene winners Mick Blue and Gianna Dior. Photo by Rick Garcia.
Speaking of Kross, her protege Maitland Ward, the former mainstream actress from the Disney series Boy Meets World, collected the Best Supporting Actress for her powerful turn as a badass mystic/Dom in Drive.
In the feature Ward demonstrated her range—with plenty of dialogue, voice acting and sex—and displayed her magnetism opposite the leading lady, White.
A native of Long Beach who became known for her sexy cosplay, Ward also won the fan-voted award for Favorite Camming Cosplayer.
From acting in a soap opera when she was 17 to ascending to the No. 1 Patreon page in 2018, where she was posting nudes, there has been nothing ordinary about Ward's rapid rise since making her professional sex scene debut last summer.
"I'm so humbled and grateful," Ward said. "This is the best acting award in my life, winning for this with Drive. … I feel like this is an acting piece that I've never had the opportunity to do before. To work with such deeper, dark material and such hot, sexual material—it's just been a dream of mine."
Ward realizes some may think with her prior celebrity status that she went hardcore just to "get attention," but it's quite the contrary. She told AVN she has fallen in love with adult and it has become "truly my art."
"I'm not somebody who's just coming lightly into it. I love this and I love what we created together," added Ward, who is a Deeper contract girl and was wearing a gold lock pendant with the word engraved on it.
Mainstream actress turned adult star Maitland Ward won Best Supporting Actress for her role in Drive (Deeper). Photo by Rick Garcia.
Emily Willis and Ramon Nomar won the Best Anal Sex Scene award for their scalding session in the LeWood/Evil Angel showcase Emily Willis: The Anal Awakening.
It was the first AVN Award for Willis, the 21-year-old performer from St. George, Utah, who is widely regarded as one of porn's fastest rising stars.
"I know that Ramon has been fucking my butt since—oh my god, since I first started enjoying anal," Willis, who did door-to-door sales for DirecTV before porn, said in the winner's circle. "Actually, he was my first scene for Hard X—that was the first time that I knew that I loved anal and it was Ramon's dick.
"So I specifically chose Ramon for that scene for that showcase because we have great chemistry. He knows what to do with me. He tosses me around. He just takes control. And I knew it was going to be great scene because it was him and it was me. So yeah it was perfect."
The Spanish heartthrob Nomar, who debuted 25 years ago and has performed in more than 2,500 scenes, is an AVN Hall of Fame member who knows how to navigate an anal shift.
Still, he finds himself in a state of enchantment when Willis is on set.
"It's like a mystery," Nomar said. "When you are working with a professional like Emily there is something extra in the scene. That something extra is the chemistry.
"We are a good team. We have really good work. Am I am so glad. Every time I work with her is something marvelous."
Willis, who signed with Motley Models in May 2018, added, "When you trust each other and you know you trust each other in the scene it's so important. I trust Ramon. There's so many performers that I trust but I really trust him. He just makes me let go and let loose in the scene."
Emily Willis and Ramon Nomar shared a win for Best Anal Sex Scene, from the star showcase Emily Willis: The Anal Awakening (LeWood/Evil Angel). Photo by Jeff Koga.
Seth Gamble, now in his 13th year in adult, won his second straight AVN Best Leading Actor award for his role as Daniel, the murderous, psychopathic husband of Angela White's lead character Jennifer in Bree Mills' Perspective (Adult Time).
The popular stud had to demonstrate uncontrollable rage and be reserved—sometimes in the same hour—in order to bring his character to life. He thanked his agency OC Modeling, his publicist Brian Gross and Perspective producers Bree Mills and Craven Moorehead, among others during his gracious remarks on stage.
"I would say that playing the character itself didn't feel challenging; it was challenging to prep for it," Gamble told AVN. "So when I got into the character it felt normal to feel my heart rate at that rate all the time. So literally throughout this movie—even five, six months after—I had an elevated heart rate on a regular basis because I reconditioned my mind for this guy's characteristics.
"Because I was like the only one that I felt could give this role justice. So it was a very healing and painful experience playing this role and I wouldn't have done it any other way. And I'm like over the moon right now."
Gamble's first Best Actor award came from playing the superhuman title character in Axel Braun's Deadpool XXX (Wicked Comix). He also lauded his co-star White.
"We prepped together three months prior. She's so engaged. Without an actress like her I couldn't have done what I did. Without Angela White the award literally does not exist," Gamble said. "I needed her as my running partner. She supported me throughout it. We both were putting ourselves through a lot of mental anguish. And I think we were able to make something amazing."
Seth Gamble followed up this year with his second Best Actor win, earning the trophy for his work in Perspective (Adult Time). Photos by Rick Garcia (stage) and Jeff Koga (backstage).
Natalie Mars won Transgender Performer of the Year and Transfixed: Natalie Mars Showcase, produced by Adult Time, received Best Trangender Production. Mars also won Favorite Trans Porn Star and Favorite Trans Cam Star in the fan vote.
She called going on the stage "really, really nerve-wracking."
"I thought I might win, but actually winning it was very like … I don't know. I didn't expect to feel the way I feel right now," Mars said.
She made her porn debut about four-and-a-half years ago and had been nominated for Performer of the Year for the past three years.
"I didn't really expect to win the first year I was nominated. Last year I thought maybe and I was a little disappointed that I didn't. This was the year," said Mars, who was born in Florida and lived for several years in Arkansas while moving all over the U.S. as a kid.
Mars worked at a mortgage company before porn "in a little office cubicle answering emails."
"Things are much different now. It's insane. I can't believe it!" she said.
Natalie Mars nabbed Transgender Performer of the Year honors at this year's AVN Awards. Photo by Rick Garcia.
Violet Doll, who spent most of 2019 as the No. 1 ranked model on the new social media platform AVN Stars and this month graces the cover of AVN magazine, took the stage to accept the fan-voted Favorite Domme award.
"I can hardly think but I've gone through some rough times in the industry but this month has proven that … it's all been worth it," Doll said, wiping away tears in the winner's circle.
"I just feel like I've reached the highest point possible with my career and I couldn't be more thrilled."
Doll, who is from the Midwest, added, "I love being a Domme. A lot of balls were sacrificed for me to get here and I guess I gotta thank those testicles, too."
Violet Doll dominated the voting in the Fan Awards, winning Favorite Domme. Photo by Rick Garcia.
The 2019 AVN Best New Starlet Ivy Wolfe won the award for Best Actress - Featurette for her irresistible turn as a sexually aggressive step-sister to Zac Wild in the two-part "If It Feels Right" for MissaX/Girlfriends Films.
Wolfe, who managed a Jersey Mike's sandwich shop in Portland, Ore., before porn, comes onto Wild's character even though he's married in a seduction that carries two episodes and ends with her getting what she wants.
Wolfe called her chemistry with Wild "absolutely electrifying."
"You could feel every single hair on our bodies moving," Wolfe said backstage. "You could feel every single goosebump as it erupted out of our flesh."
She added, "I felt beyond grateful" to be back on stage as a winner.
"I feel truly recognized for how much effort and how much artistic effort I put towards this," Wolfe said.
Ivy Wolfe was recognized for her work in "It Just Feels Right" (MissaX/Girlfriends). Photo by Rick Garcia.
The first award of the broadcast—Best Girl/Girl Sex Scene—went to Kristen Scott and Aidra Fox for their blazing performance in Movie of the Year winner Teenage Lesbian. Scott's character had to pretend as if she had never done anything with another girl in the scene when her classmate Nicole (Fox) turns a study session into mutual fingering and pussy-eating.
Speaking together backstage, both performers admitted they had to stay in character despite wanting to do all kinds of naughty things to each other.
"I think the ending part was the hardest where I had to yell at you and kick you out of my house when all I want to do is keep her in my closet forever," Fox said to Scott, referencing a confrontation that comes later in the movie when Sam kisses Nicole, but Nicole shuns her.
Scott, who won Best Supporting Actress in 2018 for Bree Mills' Half His Age: A Teenage Tragedy, said once she was in character finding the right tone for the sex was like second nature to her.
"Being so submerged in Sam, it was not hard to be able to empathize with her position just experiencing all of this for the first time," Scott explained. "But it was hard pretending that I didn't know how to have sex when I just wanted to do everything to Aidra Fox.
"It was so beautifully shot. I think the tension itself is what helped the scene because there was a lot of build-up to that and there wasn't a lot to come out of the build-up."
Kristen Scott and Aidra Fox won Best Girl/Girl Sex Scene for their work in Teenage Lesbian. Photos by Rick Garcia.
The Best Oral Sex Scene award went to Adriana Chechik, the 2017 AVN Female Performer of the Year, for her BJ on Alex Jones in Swallowed 29 in "The Adriana Chechik Experience." Mike Adriano's Stepped Up Media produced the title that was distributed by Evil Angel.
Chechik, the native of Philadelphia who also won Best Oral Sex Scene in 2017, now has nine AVN Awards in her career.
In the winner's circle, Chechik shared her preparation for blowjob scenes.
"Honestly, you just hydrate very well and you don't eat anything beforehand," Chechik explained. "And people laugh at me but I really do say if you sing—like in the car—it opens and relaxes your muscles. No, I'm serious.
"And then after giving a blowjob if you sing it sounds fucking amazing. It's the weirdest thing. I always say that singers must suck a mean dick before they go on and do their concert."
Chechik made a fashion statement, wearing a gold dress made out of metal and covered in chrome. "It's very hard to breathe, but it's so worth it," she said with a grin.
Dressed appropriately in a golden gown, Adriana Chechik took the gold for Best Oral Sex Scene from presenters Scarlett Sage and Alina Lopez. Photos by Rick Garcia.
Speaking of fashion statements, Angela White wore a custom black sequined gown by Alexandre Gauthier, with a matching clutch and heels by Tom Ford.
It was another massive year for White, who starred in two features that were nominated for Best Drama and finished the night with three-peats in five categories—Female Performer of the Year, Best Star Showcase, Best Group Sex Scene, Favorite Female Porn Star and Most Spectacular Boobs. White entered the evening with an industry-leading 14 nominations, including three as a producer/director and not including the fan-voted categories.
"I really just wanted to grow and I wanted to do things I hadn't done before. I really hadn't focused much on acting so I got two different acting coaches for those big movies for Kayden Kross and Bree Mills so that I could grow as an actor. And then with Jules, just bringing out a different side to me and challenging myself as a performer. So challenge and growth," White reasoned.
White's remarkable ascent came in many phases, but a few key moments include when she decided to build her website AngelaWhite.com, produce a line of DVDs and became a Fleshlight Girl. She won her first AVN Awards in 2016—two for performing and one for AGW Entertainment.
In August 2016, she relocated to U.S. for the second phase of her climb, signing with Mark Spiegler's agency for representation.
A 2018 inductee into the AVN Hall of Fame, White had a phenomenal .470 AVN winning percentage (30 wins, 67 nominations) going into Saturday night.
The security guards at White's L.A. apartment building now call her "the Michael Jordan of porn."
"I think this era is the era of the performer," White said. "They're more empowered now than ever before and I am so grateful for the opportunity to win this award three times to hopefully inspire other female performers to not take note of what the media or what other people say about how long a career is going to be. If you are truly passionate about what you do, then you can smash all those stereotypes."
Jules Jordan, the Hall of Fame director who called the shots for Angela White: Dark Side, told AVN working closely with White last year fueled his creativity.
"Last night was an all-time epic night," Jordan told AVN Sunday. "Dark Side won the most awards I've ever won for a single project, and collectively for Jules Jordan Video as a studio I think we had a record between my directed titles with the assist from Manuel Ferrara-directed titles.
"Dark Side was honestly the best movie I've shot. After many years I'm able to stay relevant thanks to talent such as Angela White. She inspired me to get more creative, while she brought the best performances I've ever seen."
Angela White celebrates her third AVN Female Performer fo the Year win. Photo by Jeff Koga.
Brazzers contract star Abella Danger, the 2016 AVN Best New Starlet, won the fan-voted award for Most Epic Ass for the second straight year, thanking her agent Mark Spiegler and his right-hand man George on stage, not to mention shouting out Epic Ass OG Alexis Texas.
Backstage, Danger admitted, "It feels so good because I had some pretty epic competition."
"Like Alexis Texas has like the biggest butt I've ever seen in my life," Danger said. "So I was like, damn this is so cool. My fans really go hard for me. And I've never even once been like, 'Vote for me!' If it's meant to be it'll happen. So that was cool."
***
Meanwhile the show's co-host Emily Bloom left with a gold statue herself, winning Favorite Cam Girl in a field of more than 50 finalist nominees. The May 2019 AVN CAMStar has a master's degree in film, is fluent in three languages and sometimes makes her own sushi.
"I just can't believe what a journey it's been because when I started out I knew nothing about it," the 26-year-old Bloom said when the show was over. "I knew no one. I was just a 20-year-old in my little room in Ukraine and now I'm here hosting the biggest awards show and winning the award on top of that I'm just over the moon."
Bloom continued, "And it would not happen without my very dedicated online friends who have been supporting me from Day One and really kept me going. So it's amazing."
Bloom created her own awards show—The Bloom Awards—as a way to show her appreciation for her loyal members. The third annual edition will be in February live on Bloom's MyFreeCams feed.
"I'm delaying them because I've been busy with the AVN so it's not going to happen the same day as the Oscars but it will happen in February," Bloom said, adding that once she overcame the pre-show jitters that she loved her hosting duties.
"It was really great. Before you go on stage you're nervous and you're like, 'Oh my god, how's this going to go?' You're just kind of all in your head. And then the second you hit the stage you just get this rush of positivity and happiness and you just want to keep going. And like honestly I would keep going still. I'm like, 'Oh this is over? How about another two hours?'
"But it has been a great experience. The AVN team has been amazing. Everybody was just so spot on and made my job super easy and I was also blessed to host with Nikki. It couldn't be more perfect."
Hall of Fame director Axel Braun continued his mastery of the parody genre, winning Best Parody for Captain Marvel XXX: An Axel Braun Parody (Wicked Comix), extending his own record with his 10th consecutive victory in the category.
Braun's latest superhero epic also received awards for Best Transgender One-on-One Sex Scene (Aubrey Kate and Kenzie Taylor), Best Soundtrack, Best Special Effects and Best Makeup (Dusty Lynn). In the soundtrack, performer Lacy Lennon, who is also a trained singer, belted out a hilarious original song.
Fellow Hall of Fame shooter Will Ryder swept the Best Comedy category for his original feature Love Emergency. Ryder also took home AVN Awards for Best Director - Comedic Production and Best Comedic Screenplay. He previously received Best Comedy honors in 2016 for Love, Sex & TV News (Adam & Eve) and in 2010 for Flight Attendants (X-Play/Adam & Eve)—both were original stories. Hall of Fame performer Misty Stone snagged Best Non-Sex Performance for Love Emergency in a tie with Wolf Hudson, who aced his non-sex role in Teenage Lesbian.
Charlotte Stokely won All-Girl Performer of the Year for the second straight year, while also being inducted into the 2020 AVN Hall of Fame. British star Danny D. captured his second Foreign Male Performer of the Year award; Little Caprice won Foreign Female Performer of the Year; Alexis Fawx emerged victorious in the MILF Performer of the Year category; and Will Pounder took home the Best Male Newcomer award, among dozens of other winners in categories that were not announced on stage. Autumn Falls was named the fan-voted winner of Hottest Newcomer, while Johnny Sins won Favorite Male Porn Star for the third straight year.
Meanwhile, Diplo returned to close the show with a special guest appearance by platinum rap artist Lil Pump as the AVN Awards wrapped up an era for the Hard Rock that will forever be part of Las Vegas lore.
The AVN Awards Show and Adult Entertainment Expo are signed through 2023 at the Virgin Hotel.
For a complete list of winners, click here.
Aries Spears with trophy girls Aliya Brynn and Scarlit Scandal. Photo by Rick Garcia.
Abella Danger celebrates her Fan Award win for Epic Ass with AVN CEO Tony Rios and Diplo. Photo by Jeff Koga.
Scarlit Scandal, Nikki Benz, comedian Aries Spears, Emily Bloom and Aliya Brynn. Photo by Jeff Koga.