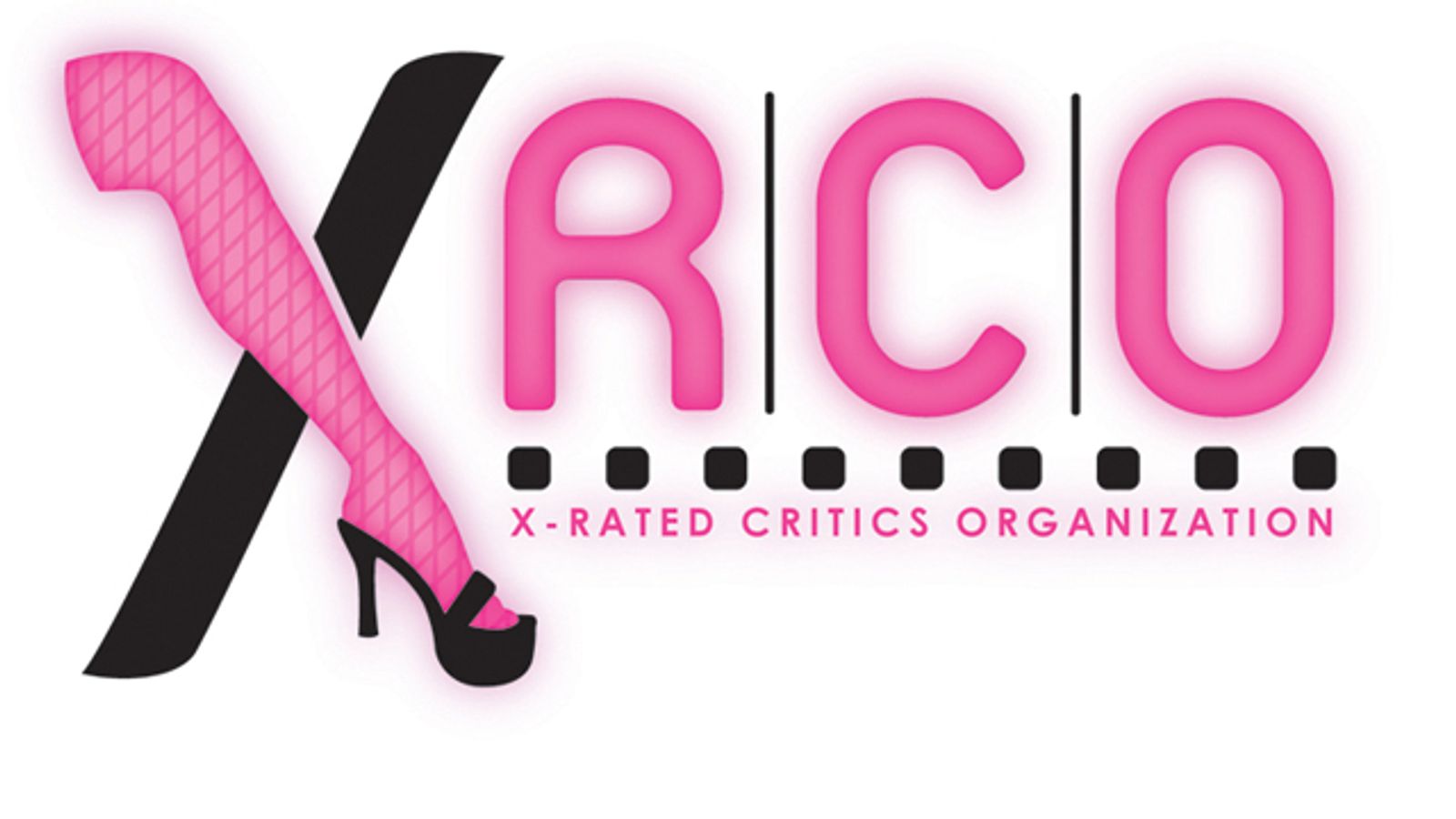 HOLLYWOOD, Calif.—The X-Rated Critics Organization (XRCO) held its 27th annual awards ceremony Wednesday night, naming the best of the best in adult entertainment from nominees in 28 different categories.
Turnout for the event was good, if a tad more sparse than in years past. As many of adult's biggest stars filtered in to the Highlands nightclub, co-host Tom Byron asked aloud, "This isn't the crowd, right? There's more people coming? I can't play to an empty room."
His worries proved unfounded, as the room was plenty full by the time the ceremony got underway at around 9:45 p.m. And its grand tradition of chaotic cacocophony was upheld to the fullest, with Byron and fellow host Inari Vachs doing their best to maintain some semblance of order, rolling along merrily when the audience refused to have any such thing.
Joanna Angel discovered at the top of the show that her nominated movie, Joanna Angel & James Deen's European Vacation, somehow got left off the nominee list under its category, Best Gonzo Movie, in the program. Moments later, her date, Jenna Haze, realized that her entire category, Orgasmic Oralist, was missing. In Haze's case, at least, the error was made up for when she won the award ... making her one of the few winners of the evening to actually be on hand to accept. And in typical Jenna Haze fashion, she did so with the eminently quotable line, "I've already told you how much I love sucking cock. In fact, I sucked a cock last night. I swallowed ... I was a good girl."
Sadly for Joanna Angel, but to nobody's surprise, the Best Gonzo Movie trophy went to Elegant Angel Productions' Tori Black Is Pretty Filthy 2, and Elegant contract director William H. accepted on behalf of colleague Mason—one of four times he would take the stage over the course of the evening. His other trips up were to collect his own prizes for Best Director - Non-Features, Best Gonzo Series (Big Wet Asses), and the night's biggest honor, Best Release, for the ambitious Pornstar Superheroes, co-directed by Elegant general manager Graham Travis, who joined him at the podium.
Tori Black continued her unstoppable streak by winning Female Performer of the Year for the second time in a row, as she did at this year's AVN Awards. And while she, along with many of the night's other big victors, was out of town (several, Black included, are currently in Australia for the Adultex convention), both winners in a rare tie for the New Starlet title were present to receive their "Heart-On" plaques. Those winners were Allie Haze and Chanel Preston, and Haze did most of the talking, noting at one point (to Preston's nodding agreement) that "even though we haven't eaten each other's snatch, we love each other, and hopefully we'll work together soon."
Dale DaBone, who was presenting the award with Euro-fox Eva Karera, remarked as Preston and Haze shuffled back to the photo area, "They're gonna go back there and lick it out now."
DaBone himself had earlier won Best Cumback, though he appeared to have no idea what award he was being given at the time. Apparently he was too focused on preparing to beat the skins in the mid-show musical performance (another XRCO rarity) by Gang Bang, his band with fellow porn studs Barrett Blade and Evan Stone, and director Mark Stone. The group's set included covers of Stone Temple Pilots' "Unglued," Buckcherry's "Crazy Bitch" and the Rolling Stones' "Sympathy for the Devil."
The most significant portion of the ceremony, for which the audience at least kept its commotion to a dull roar, came when Hall of Famer and porn historian Bill Margold took the stage to induct this year's new members into the Hall. Ironically, most of the recipients in this sector were present, and came up to have their moment in the sun.
First, Margold presented belated trophies to Vachs and Nikki Charm, who were inducted last year but didn't attent the show. "When you get one of these, you know you've made an impression," Margold bellowed to them and anyone else whose attention he could manage to commandeer. "Most of you will never get near one of these!"
Dave Cummings headed up the new class of inductees, and was presented his trophy by Byron, who Margold said was the youngest man to ever be inducted. After Cummings noted that he'd been in the industry 17 years, which was the opposite of his age, 71, Byron cracked, "Ah, you're a kid!" Cummings proceeded to reveal that the one and only time he'd ever smoked pot was at Byron's goading.
Next up, RayVeness was inducted, and she revealed that she'd decided in February to officially retire. "I've been in the business for 20 years and nine months, and I thought, 'Well I'm never going to win anything,' so I retired," she joked, adding, "I thank you guys very much for finally acknowledging that I did something right."
Lynn LeMay was the next recipient, and she echoed RayVeness' speech, saying, "I too have almost never won an award, except for 1989 XRCO, I won the best girl/girl award. So keep fucking on!"
Charm presented the HOF trophy to Aurora Snow, who with her usual humble grace, said simply, "I didn't realize I've been in the industry this long, but it's been an amazing time, and I still love what I do."
For the last two (of those there to accept in person), Margold called upon their significant others to make the presentations, saying it represented the former tradition of the XRCO Awards being held on Valentine's Day. And so Brad Armstrong presented the honor to Jessica Drake, and John Stagliano to Tricia Devereaux.
Stagliano reflected that the first time he'd laid eyes on Devereaux was in a video by Joey Silvera he'd checked out in a adult bookstore viewing booth in 1998. Devereaux, when she came to the podium, corrected him that it had been 1996. She then went on to thank Silvera, who she said was "the very first person to hire me, the very first person to fuck me, and he introduced me to my husband." She also offered special thanks to Jim South, who was her agent when she was active talent, and fellow agent Mark Spiegler, who she said always served her exceptionally well in her producing efforts.
Margold next paid tribute to those who've passed in the last year: John Leslie, who he called "the epitome of what a legend is all about," Lee Garland, David F. Friedman ("the first X in triple-X") and Viper.
When Vachs and Byron came back up to carry on with the rest of the show, Vachs complimented Stagliano on his earlier anecdote, saying, "I love that someone so distinguished would still go to a peep booth."
Later, Armstrong returned to the stage to accept the trophy for Best Epic, for his motorbike actioner Speed. He took the opportunity to poke fun at himself for the infamous blunder he made during the first of his acceptance speeches at this year's AVN Awards, when he thanked "the Vivid Girls."
The ceremony wrapped up just before midnight, and many moved into the back bar area for celebratory drinks while others headed home. A lot of the winners may have been absent, but if they hadn't been, the crowd wouldn't have gotten treated to priceless surrogate acceptance speeches like the one Dana DeArmond gave for Bobbi Starr when she won Orgasmic Analist: "I'm sure she would thank all the people who fucked her in the ass, and maybe me for accepting it."
The complete list of winners is as follows:
BEST RELEASE: Pornstar Superheroes (Elegant Angel Productions)
BEST EPIC: Speed (Wicked Pictures)
BEST PARODY - COMEDY: The Big Lebowski: A XXX Parody (New Sensations)
BEST PARODY - DRAMA: The Sex Files 2: A Dark XXX Parody (Revolution X/Digital Sin)
BEST GONZO MOVIE: Tori Black Is Pretty Filthy 2 (Elegant Angel Productions)
BEST GONZO SERIES: Big Wet Asses (Elegant Angel Productions)
BEST DIRECTOR - FEATURES: Brad Armstrong
BEST DIRECTOR - NON-FEATURES: William H.
BEST DIRECTOR - PARODY: Axel Braun
BEST ACTRESS: Kimberly Kane
BEST ACTOR: Evan Stone
BEST GIRL/GIRL SERIES: Women Seeking Women (Girlfriends Films)
BEST POV SERIES: POV Pervert (Mike John Productions/Jules Jordan Video)
BEST ETHNIC SERIES: Asian Fucking Nation (Darkko Productions/Evil Angel)
NEW STARLET: (TIE) Allie Haze & Chanel Preston
NEW STUD: Xander Corvus
UNSUNG SIREN: Charley Chase
UNSUNG SWORDSMAN: Mark Ashley
FEMALE PERFORMER OF THE YEAR: Tori Black
MALE PERFORMER OF THE YEAR: Manuel Ferrara
CREAM DREAM: Tara Lynn Foxx
SUPERSLUT: Kristina Rose
ORGASMIC ORALIST: Jenna Haze
ORGASMIC ANALIST: Bobbi Starr
MILF OF THE YEAR: Julia Ann
BEST CUMBACK: Dale DaBone
MOST OUTRAGEOUS DVD EXTRAS: Speed (Wicked Pictures)
MAINSTREAM ADULT MEDIA FAVORITE: Riley Steele
HALL OF FAME: RayVeness, Tricia Devereaux, Jessica Drake, Lynn LeMay, Juli Ashton, Aurora Snow, Dave Cummings, Manuel Ferrara, Peter Van Aarle (Special Award)