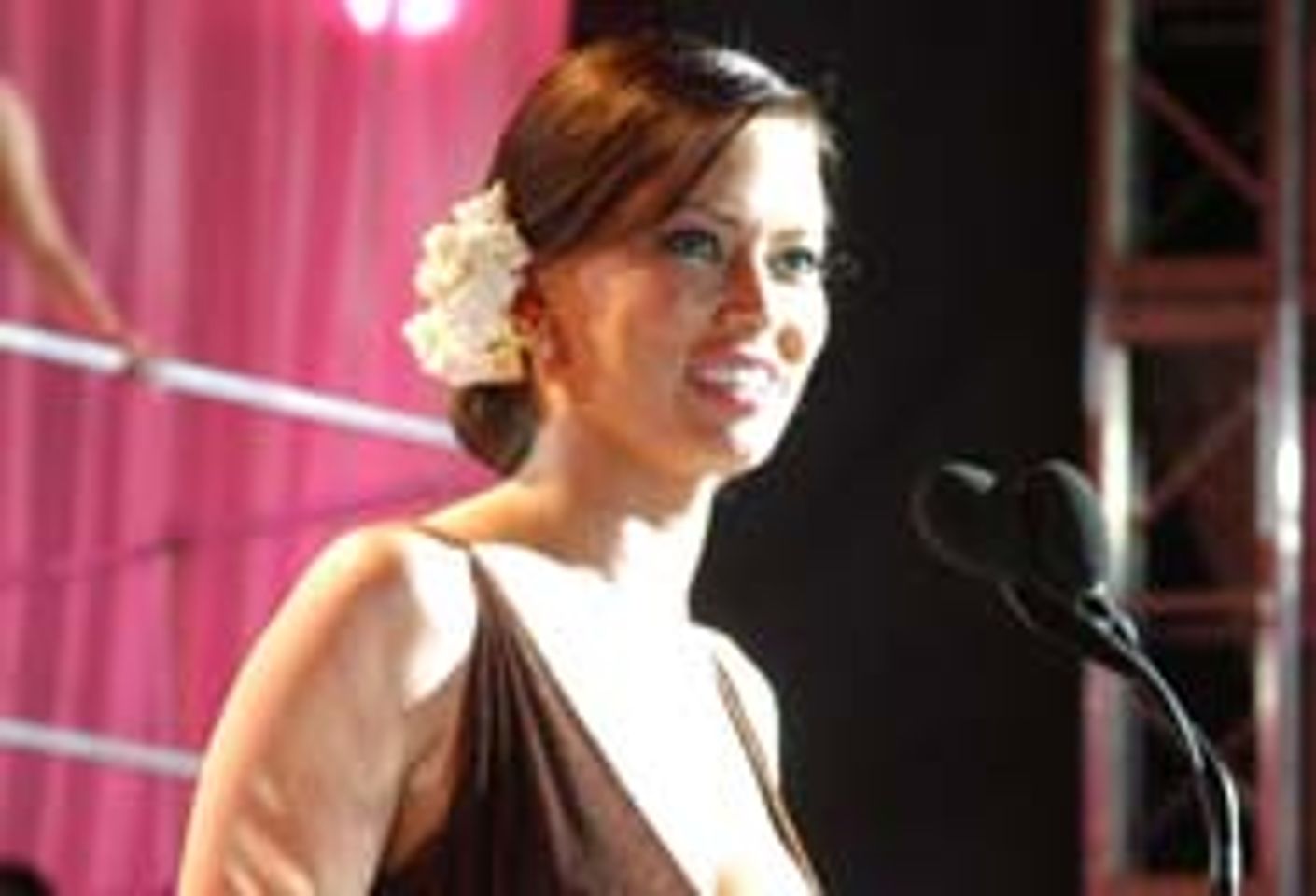 Jenna Jameson starred in both the video and the film that that took top feature honors in their respective categories at the 2005 AVN Awards Show last night.
Club Jenna's Bella Loves Jenna won the 2005 AVN Award for Best Video Feature, while Vivid Entertainment Group's The Masseuse won in the Best Film category.
Cytherea was named Best New Starlet and Lauren Phoenix was named Female Performer of the Year.
Smashmout, Lit, and Chingy each performed a song at the show, which was hosted by Savanna Samson and comic Thea Vidale.
Below is a list of the 2005 AVN Award winners. With multiple winners, the production company is listed first, followed by the distributor.
Production Awards
Best Video Feature- Bella Loves Jenna, Club Jenna/Vivid Entertainment Group
Best Film- The Masseuse, Vivid Entertainment Group
Best DVD- Fetish: Circus, Ninn Worx/Pure Play Media
Best Gonzo Release- Gina Lynn's Darkside, Jules Jordan/Evil Angel
Best Gonzo Series- Jack's Playground, Digital Playground
Best Sex Comedy- Misty Beethoven: The Musical, VCA Pictures
Best Vignette Release- Tales From the Crack, Evil Angel Productions
Best Vignette Series- Sodomania, Elegant Angel Productions
Best All-Sex Release- Stuntgirl, Clockwork productions/Hustler Video
Best Continuing Video Series- Girlvert, JM Productions
Best High-Definition Production- Island Fever 3, Digital Playground
Best Interactive DVD- Groupie Love, Digital Sin
Best Classic DVD- Deep Throat: Re-mastered, Arrow Productions
Best Foreign Feature- Hot Rats, IFG/Smash Pictures
Best Foreign All-Sex Release- Lost Angels: Katsumi, Ninn Worx/Pure Play
Best Foreign All-Sex Series- Pleasures of the Flesh, New Sensations
Best Anal-Themed Feature- Big Wet Asses 3, Elegant Angel Productions
Best Anal-Themed Series- Ass Worship, Jules Jordan/Evil Angel
Best All-Girl Feature- The Connasseur, Belladonna Entertainment/Evil Angel
Best All-Girl Series- The Violation of…., JM Productions
Best Ethnic-Themed Video, Asian- Dress-Up Doll Asuka, Oriental Dream Pictures
Best Ethnic-Themed Video, Black- Pimpfomation XXX, Onyxxx Films
Best Ethnic-Themed Video, Latin- Spanish Fly Pussy Search 14, Evasive Angels
Best Interracial Release- Once You Go Black 3, Jules Jordan/Evil Angel
Best Ethnic-Themed Series- Black Reign, Mercenary Pictures
Best P.O.V. Release- P.O.V. Pervert 3, Red Light District
Best Oral-Themed Feature- Cum Swallowing Whores 3, Le Wood Productions/JM Productions
Best Oral-Themed Series- Blow Me Sandwich, Zero Tolerance Entertainment
Best Amateur Release- Adventure Sex, Hustler Video
Best Amateur Series- Homegrown Video, Xplor Media Group
Best Pro-Am Release- The Luv Generation, Black Mirror Productions
Best Pro-Am Series- Breakin' 'Em In, Red Light District
Best Alternative Video- Family Business: the Complete First Season, Showtime Entertainment
Performer Awards
Best New Starlet- Cytherea
Best Male Newcomer- Tommy Gunn
Female Performer of the Year- Lauren Phoenix
Male Performer of the Year- Manuel Ferrara
Female Foreign Performer of the Year- Katsumi
Male Foreign Performer of the Year- Steve Holmes
Transsexual Performer of the Year- Vicky Richter
Best Actress, Film- Jenna Jameson, The Masseuse, Vivid Entertainment Group
Best Actress, Video- Jessica Drake, Fluff and Fold, Wicked Pictures
Best Actor, Film- Justin Sterling, The Masseuse, Vivid Entertainment Group
Best Actor, Video- Barrett Blade, Loaded, Digital Playground
Best Supporting Actress, Film- Lesley Zen, Bare Stage, Vivid Entertainment Group
Best Supporting Actress, Video- Ashley Blue, Adore, Vivid Entertainment Group
Best Supporting Actor, Film- Rod Fontana, The 8th Sin, Vivid Entertainment Group
Best Supporting Actor, Video- Randy Spears, Fluff and Fold, Wicked Pictures
Best Non-Sex Performance- Mike Horner, The Collector, Wicked Pictures
Best Tease Performance- Vicky Vette, Metropolis, Nectar Entertainment
Director Awards
Best Director, Film- Paul Thomas, The Masseuse, Vivid Entertainment Group
Best Director, Video- David Stanley, Pretty Girl, Vivid Entertainment Group
Best Director, Non-Feature- Jack the Zipper, Stuntgirl, Clockwork Productions/Hustler
Best Director, Foreign Release- Narcis Bosch, Hot Rats, IFG/Smash Pictures
Sex Scene Awards
Best All-Girl Sex Scene, Video- The Violation of Audrey Hollander, Audrey Hollander, Gia Paloma, Ashley Blue, Tyla Wynn, Brodi & Kelly Kline, JM Productions
Best All-Girl Sex Scene, Film- The Masseuse, Jenna Jameson & Savannah Samson, Vivid Entertainment Group
Best Anal Sex Scene - Lex Steele XXX 3, Katsumi & Lexington Steele, Mercenary Pictures
Best Oral Sex Scene, Film- The Collector, Jessica Drake, Chris Cannon & Cheyne Collins, Wicked Pictures
Best Oral Sex Scene, Video- Cum Swallowing Whores 2, Ava Devine, Francesca Le, Guy DiSilva, Rod Fontana, Steven French, Scott Lyons, Mario Rossi & Arnold Schwarzenpecker, LeWood/JM Productions
Best Couples Sex Scene, Film- The Masseuse, Jenna Jameson & Justin Sterling, Vivid Entertainment Group
Best Couples Sex Scene, Video- Stuntgirl, Venus & Manuel Ferrara, Clockwork Productions/Hustler Video
Best Group Sex Scene, Film- Dual Identity, Katsumi, Savannah Samson & Alec Metro, Vivid Entertainment Group
Best Group Sex Scene, Video- Orgy World 7, Venus, Ariana Jolleee, Staci Thorn, Zena, Louisa, Trinity, Jasmine, Nike, Melanie X, others, Evasive Angles
Best Three-Way Sex Scene, Video- Erotic Stories: Lovers and Cheaters, Dani Woodward, Barrett Blade & Kurt Lockwood, New Sensations
Best Sex Scene in a Foreign-Shot Production, Rocco Ravishes Russia, Rocco Siffredi's 10-Girl Reverse Gang Bang, Rocco Siffredi/Evil Angel
Best Solo Sex Scene- Penny Flame, Repo Girl, Digital Playground
Most Outrageous Sex Scene- Misty Beethoven: The Musical, Chloe, Ava Vincent & Randy Spears in "Randy's Singing Penis," VCA Pictures
Technical Awards
Best Screenplay, Film- The Collector, Brad Armstrong, Wicked Pictures
Best Screenplay, Video- Pretty Girl, David Stanley, Vivid Entertainment Group
Best Art Direction, Film- The Collector, Wicked Pictures
Best Art Direction, Video- In the Garden of Shadows, Ninn Worx/Pure Play
Best Cinematography- Flirts, Andrew Blake, Studio A Entertainment
Best Videography- In the Garden of Shadows, Chris Hall, Ninn Worx/Pure Play
Best Editing, Film- The Masseuse, Sonny Malone, Vivid Entertainment Group
Best Editing, Video- Bella Loves Jenna, Justin Sterling, Club Jenna/Vivid Entertainment Group
Best Special Effects- Bella Loves Jenna, Club Jenna/Vivid Entertainment Group
Best Music- Groupie Love, Lloyd Banks, Bank Shot Productions, Digital Sin
Best DVD Extras- Millionaire, Private North America/Pure Play
Best DVD Menus- In the Garden of Shadows, Chris Hall, Ninn Worx/Pure Play
Specialty Awards
Best Specialty Francesca's Juggies, Le Wood Productions/JM Productions
Best Specialty BD & SM Release- Nina Hartley's Private Sessions 13, Bizarre Video
Best Specialty Spanking Release- Nina Hartley's Guide to Spanking, Adam & Eve
Best Foot Fetish Release- Leg Affair 7, H2 Video/LFP Video
Best Specialty Release, Other Genre- Cytherea Iz Squirtwoman, Elegant Angel Productions
Best Transsexual Release- She-Male Strokers 6, Mancini Productions/Exquisite Multimedia
Marketing Awards
Best DVD Packaging- Millionaire, Private North America/Pure Play
Best VHS Packaging- Island Fever 3, Digital Playground
Best Box Cover Concept- The Chunky Whisperer, Skintight Productions/Legend
Best Overall Marketing Campaign, Company Image- Club Jenna
Best Overall Marketing Campaign, Individual Project- 1 Night in Paris, Red Light District
Best Marketing Website- Evil Angel.com
Best Retail Website- (TIE) Adult DVD Empire.com, Wanted List.com
Best Renting Title of the Year- 1 Night in Paris, Red Light District
Best Selling Title of the Year- 1 Night in Paris, Red Light District
Hall of Fame
James Avalon
Seymore Butts
Rod Fontana
Kylie Ireland
C.J. Lang
Francesca Le
Mai Lin
Jim Powers
Serenity
Shane
Steven St. Croix
Taylor Wane
The Reuben Sturman Award
Harry Mohney, Déjà vu Showgirls