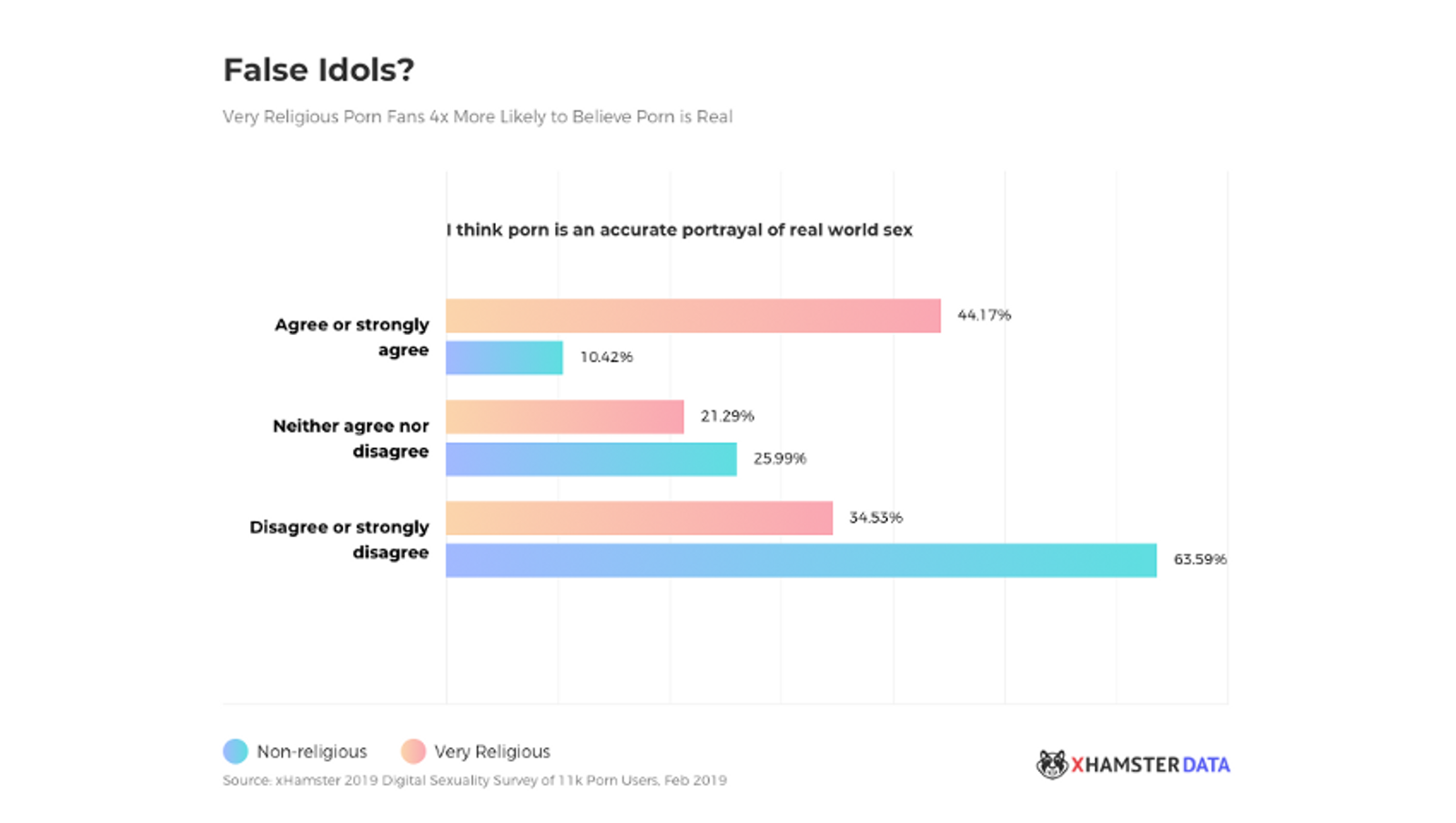 LOS ANGELES—xHamster Data Center has released the second installment of its 2019 Report on Digital Sexuality, focusing on the adult viewing habits of fans who self-identify as 'very religious.' The study was conducted over a three-day period in early 2019, and compiles over 11K responses from visitors to xHamster on issues ranging from age to political affiliation.

Nearly 65% of of the 11,000 respondents identified as religious or spiritual in some capacity, with 8.85% describing themselves as 'very religious.'

Those who identified as very religious experienced significantly more anxiety from the content they viewed and were four times more likely than non-religious people to believe porn was "an accurate depiction of real world sex," rather than fantasy. They were twice as likely as the general population to have gotten their sex education at home.
"The study suggests that viewers from very religious backgrounds may not have the appropriate context for understanding adult material, and suffer as a result" says Alex Hawkins, Vice President of xHamster. "While we've recently seen legislators arguing that adult material is a public health crisis, non-religious populations have much less anxiety and shame from their consumption of adult content."
According to the study, 'very religious' viewers were:
•Twice as likely to have spent $1000 or more in the past year on adult material
•44% more likely to watch VR and 40% more likely to watch live cams
•Significantly less likely to watch gay (-27%), transgender (-28%) or bisexual content (-31%)
•Prefer "story-based" content to amateur
"Conventional wisdom had held that religious viewers were secretly heavy consumers of gay and trans content," says Hawkins. "This turns out not to be true. Religious viewers are not necessarily hypocrites in what they consume. But their personal conflicts over even vanilla content, and their high spending habits, could explain why politicians in heavily religious regions attack adult material as dangerous and harmful. Their users are suffering, but the cause is narrow-minded moralism—not porn itself."
The full xHamster Report on Digital Sexuality: Religion can be viewed or downloaded here.