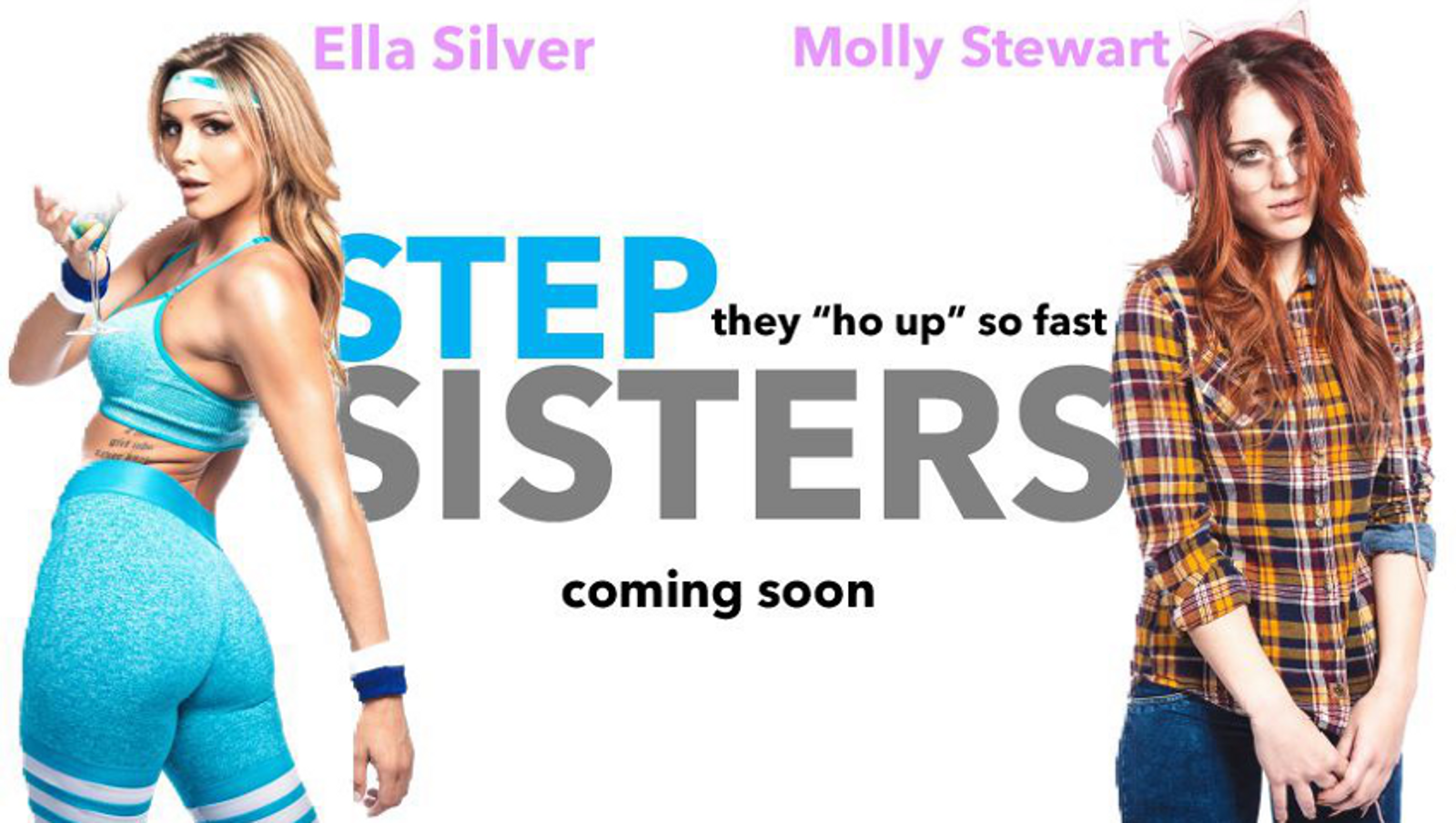 LOS ANGELES—Molly Stewart wrote the script for her upcoming porn comedy, Step Sisters, in just three days.
"I had the initial concept in my head and then once I get going I don't stop," Stewart tells AVN. "It's something I really like doing."
Stewart, who had been waiting to shoot her idea for about a year, recently wrapped on the two-day production with plans to release the finished product in mid-September. The seasoned cam girl and rising girl/girl porn star not only wrote the screenplay, she also was the executive producer, director and co-star of the movie that mixes humor with all-girl hardcore.
She hand-picked her close friend and fellow cam model, Ella Silver, to co-star in the parody of the 2008 box-office hit, Step Brothers.
"There's a lot of dialogue in it and it's something I think people will watch for more than just the sex," Stewart says. "I think everyone involved did a great job."
Step Sisters also features non-sex roles by Eva Long and Brad Stein and videography by industry go-to photographer Marcos Rivera.
Not unlike the mainstream film, Stewart says the plot of Step Sisters entails "my mother and her father move us in together and we're both forced to go out and find jobs."
There are two sex scenes involving Stewart and Silver—one hardcore and one soft—and Stewart also performs a solo.
"It's not really a traditional porn," Stewart says. "There is almost more story than there is sex but that's the kind of quality content I like to make and it's something my fans have enjoyed."
Stewart says choosing Silver as her co-star was a no-brainer. 
"She's not only my best friend, she's beautiful, too. We're both 6 feet tall; we weigh the exact same. She's a really good counter to me. She also brings her large fan base into this. People have enjoyed when we've cammed together," Stewart says.
Silver, who was the January 2019 CAMStar and November 2018 Penthouse Pet, was born in Orlando, Fla., and raised in the U.K., where she still resides. They shot Step Sisters in Las Vegas, where Stewart has lived since March 2018.
"Ella is just gorgeous and at ease with everything—and Marcos makes everyone feel comfortable and the productions he does are top tier," Stewart says, adding that she wanted to work with Rivera on Step Sisters.
"I met him in September or October of last year when I first started my contract [with Twistys/Mindgeek]. We just really jive well together. We have a really good rapport and his photography is amazing."
She hired Rivera in February to shoot "Gotham Girls" that features her along with Maitland Ward and Jayden Cole.
"He helped me make that," she says. "That was the first script that I wrote that involved an actual production team. I've written some scripts for Brazzers as well. It's something I'm really passionate about and something I would hope to do when I'm no longer performing. It's really fun for me to explore that creatively."
Stewart, who edits video as a hobby, will be culling through three hours of footage to get to about 90 minutes for Step Sisters. She says the working plan is to release the movie simultaneously on Modelhub, MFCShare and ManyVids.
A Twistys/Mindgeek contract girl since last September, Stewart has performed in about 50 girl/girl scenes in the past year—and even a couple scenes where she was on screen with a male performer but didn't have sex with him. She says there are no plans for her to do boy/girl scenes.
"It's not something I'm considering for myself. There are a lot of beautiful and talented performers and most of my fans like me exactly where I am," Stewart says. "But I'm also not opposed to being in a scene with male performers."
The September 2017 Penthouse Pet, July 2017 Playboy Cyber Girl and February 2018 CAMStar, lived in seven different states growing up, but spent the most time in Michigan. She started camming in late 2012.
Stewart says doing professional sex scenes has been a positive experience and that she's looking to re-sign her third contract with Mindgeek; it was already renewed for six months in March.
"I really enjoy it. It's been a fun experience for me. It takes a little bit of time away from cam, but it's nice to be able to interact with people face to face. I've made a lot of good friends from it," she says.