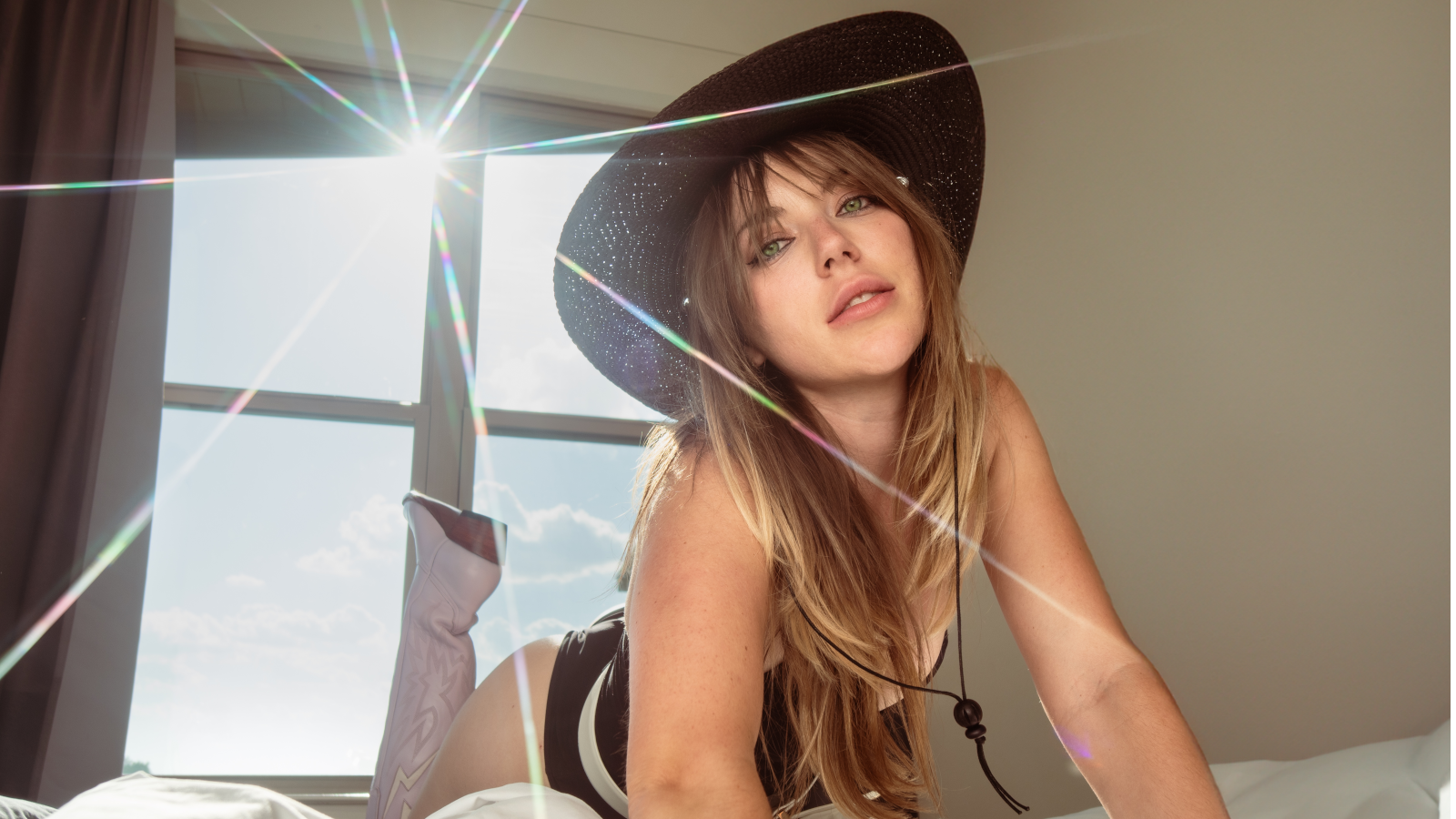 LOS ANGELES—Emma Starseed loves a good surprise.
The MyFreeCams sweetheart has managed to keep her plans for the 2023 edition of Camp Emma under wraps despite her growing excitement to show her members what she's been working on.
The festivities get underway today in Emma's room on MFC.
"I love to sprinkle in clues, teasers, and 'Easter eggs,' so I've been toying and teasing my fans with what's to come all summer," Starseed says. "Each year has a sub-theme within Camp. And since this year is my first Camp in the south… 2023 will be a Cosmic Rodeo! You know what they say… Everything's bigger in Texas."
Starseed tells AVN her annual "summer camp for adults" has been her passion project since 2020.
"Doing Camp Emma in September feels like the perfect way to celebrate 'summer's end' and enter autumn," she says. "It's traditionally the season of harvest, which makes a lot of sense for me, because I am harvesting all my work.
"It's a beautiful way to be in gratitude and abundance. The end of Camp Emma each September really does feel like the end of summer camp, so it's bittersweet! You begin reflecting on all the memories made, feeling grateful for a fun adventure, and eager for next year's reunion."
In this exclusive interview, Starseed gets candid about some personal challenges she's overcome, the joy of storytelling, living on a hobby farm and her plans for the future, plus much more.
Click here for the digital issue.
For bonus questions, see below.
CS: What was your "Wolfpack Magical Trio Ring Goal" about?
ES: Aw. Tears! This is a ring I'm having custom made that contains the ashes of my beloved three dogs that I spent my adulthood with up until each of their passings in 2021 and 2022. My dog Bella was my soulmate and her death brought on a lot of growth and honestly—communication beyond 'death of body.' They have continued to bring me strength even after each of their passings—which I was able to be present for and help assist as a death doula. This process also helped me prepare to do the same for my grandmother in 2022. I wanted something physical I could wear that would keep them close to me and remind me of their love and teachings. My room cleared this goal very fast. 

What kind of cosplay do you like to do? What have been some of your most popular cosplay characters and why?
I love to bring elements of cosplay into my streams and creations because it allows me to shape-shift into different energies that I find fun to embody. I would say some of my most popular would be: Penny Lane from Almost Famous, Stevie Nicks, Suzy from Moonrise Kingdom, Daenerys (during peak Game of Thrones days), Wendy Peffercorn from The Sandlot, and Taylor Swift. Though to be honest, I'm pretty sure I am Taylor Swift in an alternate universe, haha.
The most niche cosplay was my rendition of Guy Fieri (aka Girl Fieri) in 2019, and it was honestly one of the most unhinged things I've ever done. As much as I try to forget it happened, the joke will live on forever in my cam room.
I think my most popular cosplays end up being whatever I feel I can bring my own personality into, which just creates a really fun place for play on stream. I do regular movie nights for my community, and I'll introduce them to different characters they may otherwise not know, and then do a stream based on elements within that movie or character later in the year. This Camp we can look forward to the Love Witch. 
What did it mean to you to win Miss MFC in September 2022—for a Camp Emma month?
2022 was the hardest year of my life, so I wasn't even sure how I was going to pull off Camp last September. Last year, I moved across the country, became a caregiver for family members, experienced a lot of death, and managed the build of my cottage home on a farm. Cam life took a backseat, and I was depleted and uninspired because of this period of intense responsibility and darkness. But I knew Camp Emma was something worth committing to, so I decided to go all in last year! And so did my room. It landed me a very hard-fought #1 that proved to me just how capable and deserving I am of what I desire. I remember I logged off at #1 on September 1st and had a vision that showed me I'd teeter in ranks until the very end, but that I'd finish at #1. I didn't just see myself, but I felt that moment of finishing the month and just swimming in gratitude and love.
To believe it fully was honestly very scary! It took a lot of faith and an incredible amount of confidence to proclaim that #1 was my goal. But I knew I had to believe it for it to be possible. I thought, okay, so what if I'm wrong? What if this little time travel vision isn't true? Worst case, this would be an experiment in manifestation. Turns out my vision was true. It all went down just as I had felt it would, and by September 30th, I finished my first #1!
I worked so hard for it, but my room… they got me there. They came together as a team and gave me all they could to help me reach this goal. I'll never forget those last 10 minutes waiting for midnight. No anxiety. No doubt. Just experiencing the victory and celebration with my community. 
What is something you're grateful for and why?

I'm grateful for an incredibly supportive community inside and outside of the Emma Starseed universe. To thrive you need a few things: talent and skill, resources, and the support of others. I've been able to display my talents in unique ways that have garnered me some of the most incredible relationships I could ever hope for.
Name three things that you love…

My animals, my people, and myself. 
Name two or three of your best strengths. What are you truly great at?

I think my greatest strength is just being unapologetically me. That tends to open up doors and opportunities! I'm also wickedly good at seducing and entrancing. 
Photography by @bhdircut