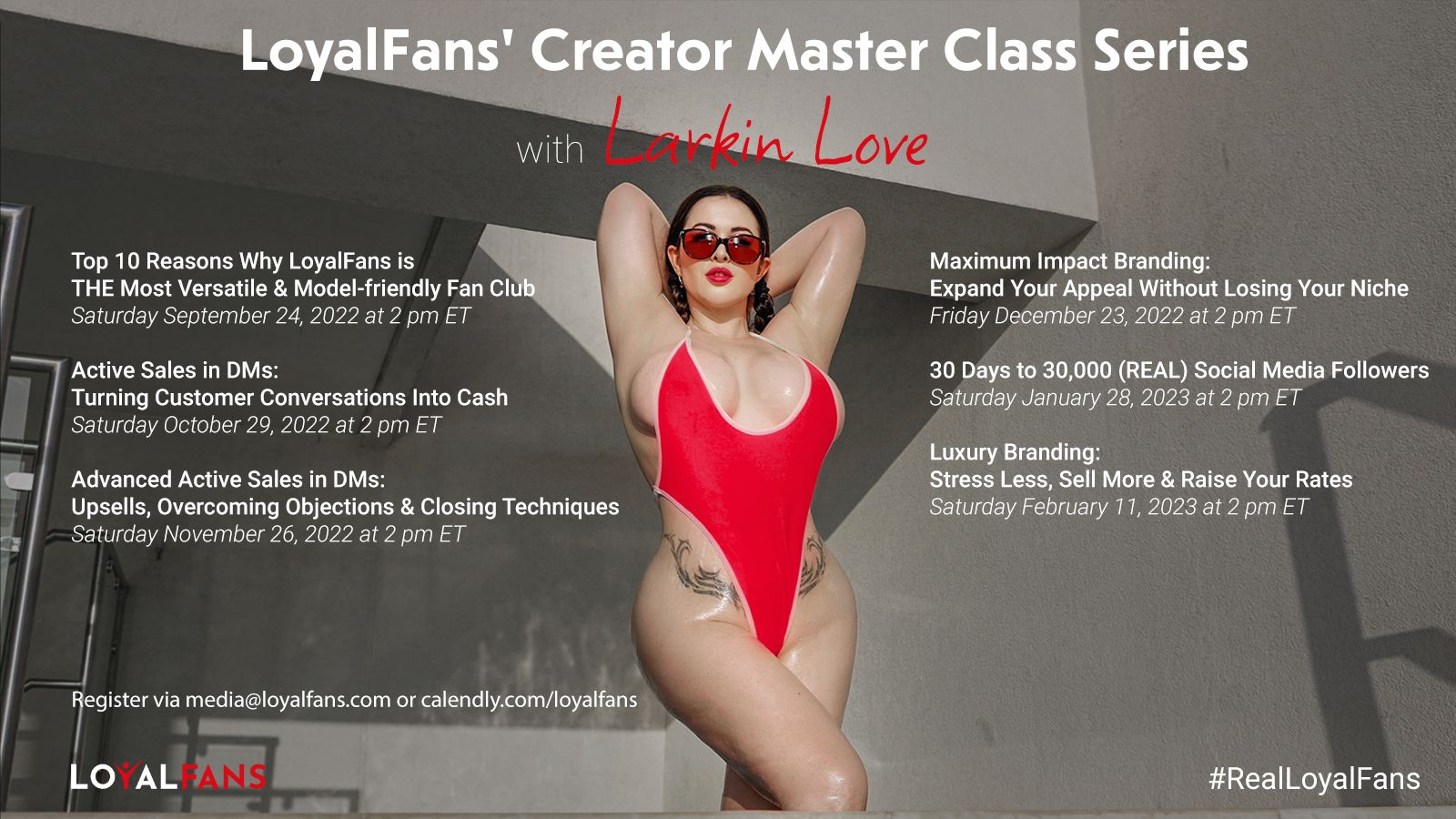 LOS ANGELES — LoyalFans.com on Tuesday announced its "LoyalFans' Creator Master Class Series, with Larkin Love." The monthly, six-part educational series event begin at 2 p.m. ET. on Saturday, September 24th.
Register for "LoyalFans' Creator Master Class Series, with Larkin Love" via Calendly here: calendly.com/loyalfans.
In today's online adult industry, it's not content that creators are struggling with, according to LoyalFans. It's managing and maintaining the half-dozen websites a full-time model typically has. Creators who attend LoyalFans' Master Class courses will learn how to leverage the platform effectively and creatively, while also receiving coaching from a leading model.
"If you're not giving LoyalFans your attention, you're leaving money on the table," Love said. "Let me show you my techniques for turning your profile on this powerful site into a major asset for your brand."
Love continued, "Efficiency is the name of the game. Couple that with a company ethos that is sex-work friendly from day one, and you have a winning combination." 
LoyalFans' Master Class Series events are scheduled for the following dates & times:
– Top 10 Reasons Why LoyalFans is THE Most Versatile & Model-friendly Fan Club 
Saturday, September 24, 2022 at 2 p.m. ET
– Active Sales in DMs: Turning Customer Conversations Into Cash
Saturday, October 29, 2022 at 2 p.m. ET
– Advanced Active Sales in DMs: Upsells, Overcoming Objections & Closing Techniques
Saturday, November 26, 2022 at 2 p.m. ET
– Maximum Impact Branding: Expand Your Appeal Without Losing Your Niche
Friday, December 23, 2022 at 2 p.m. ET
– 30 Days to 30,000 (REAL) Social Media Followers
Saturday, January 28, 2023 at 2 p.m. ET
– Luxury Branding: Stress Less, Sell More & Raise Your Rates
Saturday, February 11, 2023 at 2 p.m. ET
These live events are for LoyalFans creators only.
"The digital sex work community has seen many VIP fan club platforms come and go in the last several years," Love said. "Choosing a fanclub platform can be daunting. I am excited to share my experiences as a LoyalFans creator and make a strong case that LoyalFans is the BEST place to interact with fans and distribute your VIP content."  
"Whether you're a seasoned LoyalFans veteran or an absolute newbie, I guarantee you will benefit from my blueprint for success," Love added. "I will be taking questions during the seminar, and I'm happy to help."
For more information about LoyalFans, contact [email protected] or go to LoyalFans.com to start a creator account.