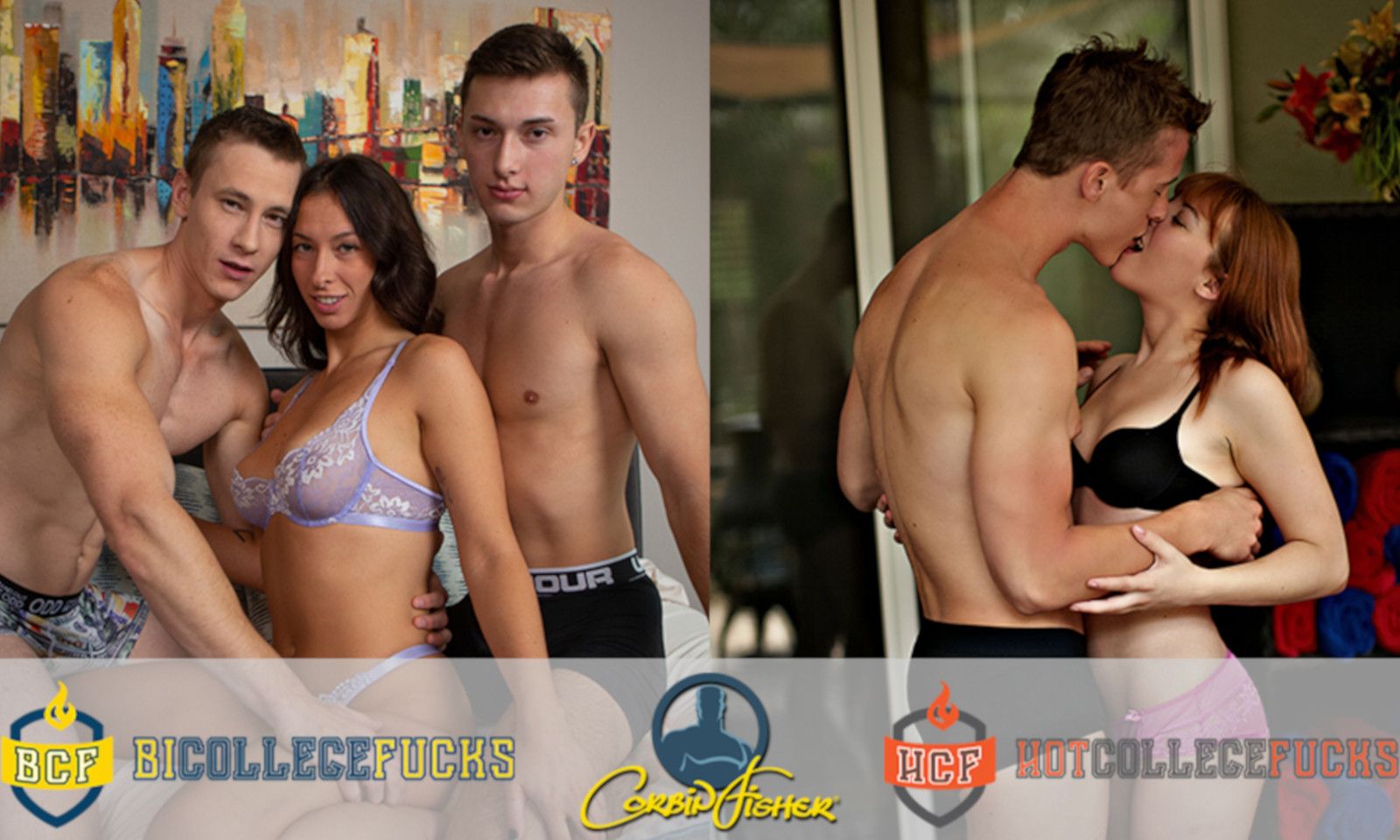 LOS ANGELES—CorbinFisher.com, the indie studio known for its unique gay content featuring college-age men, has launched BiCollegeFucks.com and HotCollegeFucks.com, two new paysite properties focused on MMF bisexual and MF straight content.
In a message to affiliates announcing the launch of BiCollegeFucks.com and HotCollegeFucks.com, Corbin Fisher, owner of the namesake studio, said that flagship property CorbinFisher.com has long featured bisexual content within the catalog of material available with a subscription. "Bisexual content (and the bisexual orientation, for that matter) is by no means a simple sub-genre of gay or all-male content," the announcement to affiliates pointed out. It continued, "Consumers (including those who identify as bisexual, are straight, but curious, are gay, but like bi content, are female and like bi male content, are straight, but like females with bi males, and so on) are incredibly interested in high quality, hardcore bi content featuring hot guys and hot girls and desire standalone properties catering to them."
The studio's focus on good-looking, athletic, college-aged performers carries over to the content featured on HotCollegeFucks.com—male/female couples (with occasional threesomes and groups) in full-length action episodes with no plot, premise or pretense beyond attractive young men and women hooking up with one another in front of the studio's cameras.
The launch of BiCollegeFucks.com and HotCollegeFucks.com brings with it the re-launch of CorbinPays.com, the studio's affiliate program. Affiliates will be able to promote the two new sites and eventually CorbinFisher.com once it has migrated over to the new program, through a single affiliate account. "BCF and HCF bring with them the launch of our new affiliate program—robust and advanced and enabling us to provide our affiliates with features, functionality and support we've never been able to offer before," the studio said in inviting existing CorbinFisher.com affiliates to sign up for the new program. Fisher added that signing up for the new CorbinPays.com would enable them to immediately start promoting the new sites and get a headstart on promoting the flagship property once it has migrated over to the new platform.
For more information, visit BiCollegeFucks.com or HotCollegeFucks.com. To learn more about the new affiliate program, visit CorbinPays.com.