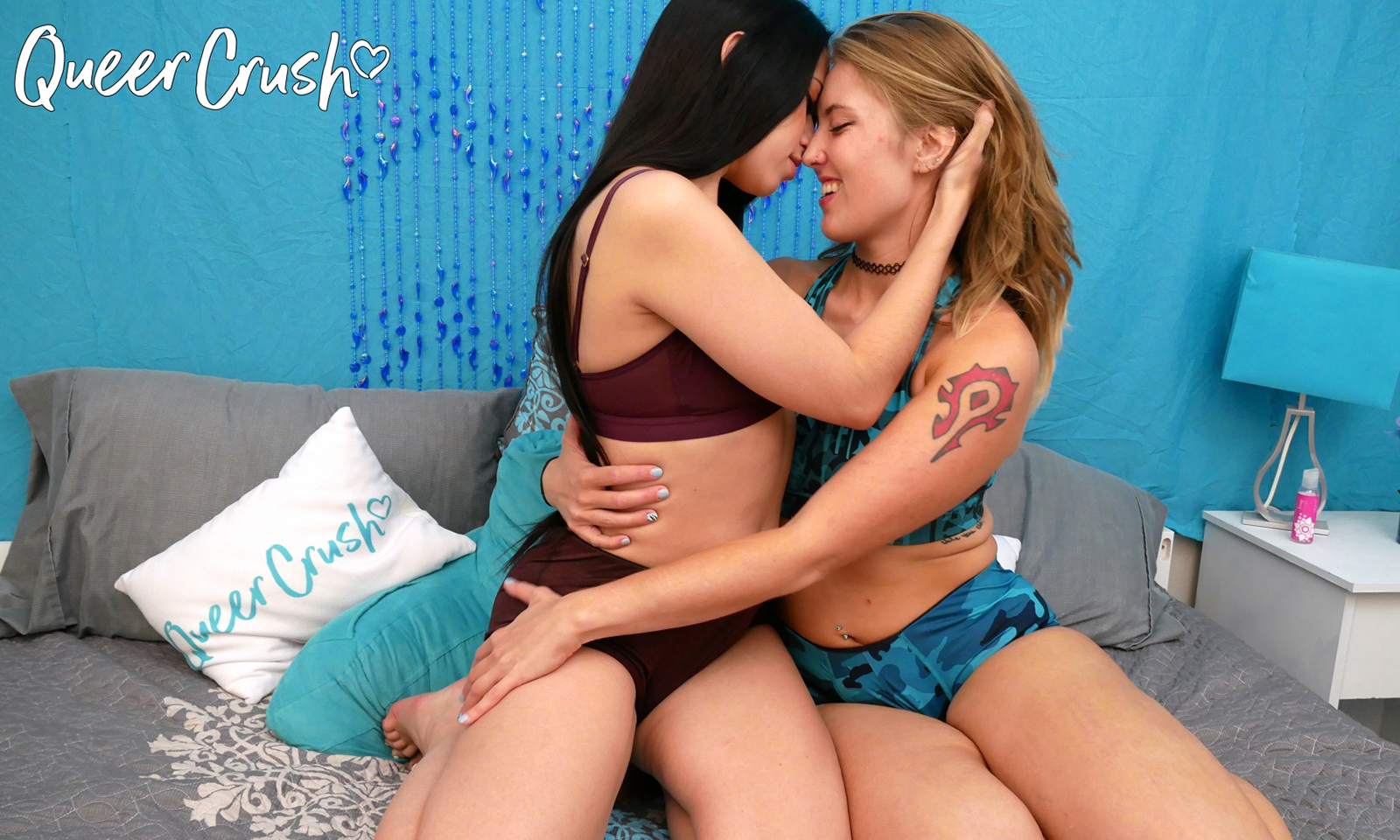 LAS VEGAS—Performer Electra Rayne today officially launches new lesbian website QueerCrush.com. Sponsored by Sliquid Lube, all scenes are directed by Rayne and shot in HD by videographer and performer Dahlia Von Knight.
The aim of QueerCrush, according to promo materials, is "to showcase inclusive, authentic sex between real queer women, showcasing a variety of toys and gear. QueerCrush gives performers a level of control not often seen in the industry, including picking their partners, wardrobe and makeup, and the action and toys used in the scenes. With the intent of showing real sex between women, any bloopers or silliness are left in each scene, providing an authentic experience for both the performers and viewers."
The site launches with the following five brand new scenes:
• "A Year in the Making" with Erin Everheart and Olive Glass
• "Formalwear" with Autumn Rain and Sydney Screams
• "Role Reversal" with Chrissy LeBlanc and Jenna Noelle
• "Tell Me When You're Close" with Celeste Sin and Krystal Davis
• "Thank You for Cumming" with Alex Coal and Rayne
In addition, there are five bonus scenes available:
• "First Time" with Rayne and Nikki Zee
• "Dominate Me" with Rayne and Alex de la Flor
• "The Reunion" with Rayne and Nikki Sweet
• "Paddles & Pussy" with Von Knight and Rebecca Vanguard
• "Lesbian Strap-On Extravaganza" with Roxxie Moth, Kyla Keys, Rayne, Chloe Kreams, Taylor Nicole and Luna Sapphire
"I set out on this project to make porn that resembled the sex I had in my personal life," Rayne said. "I wanted to make content that I could be proud of, and that my partner, who is not involved in the industry, could enjoy. As it turns out, I love directing, and this project has quickly become my all-time favorite. I am so grateful to all of the performers who have dedicated their time, energy and love to make this a success, and I can't wait for everyone to see just how beautiful real queer love can be!"
Added Von Knight, "I am so stoked and honored to be working on this project with Electra Rayne. Seeing how passionate she is about this new site is so motivating. I'm excited for the world to see what we've been working on, the talent that has joined us, and of course the raw and real take on adult film. The concept of the site is much needed and I can't believe I get to be the one to capture it."
Membership options to QueerCrush.com begin at $24.99 for one month, which includes both streaming and downloadable video and photo sets, and go up to $48.99 for a three month subscription.
Follow QueerCrush on Twitter and Instagram at @QueerCrushX.
Visit Sliquid.com and use code "QueerCrush" to save 10 percent off your purchase.
Pictured (l, r): Alex Coal, Electra Rayne