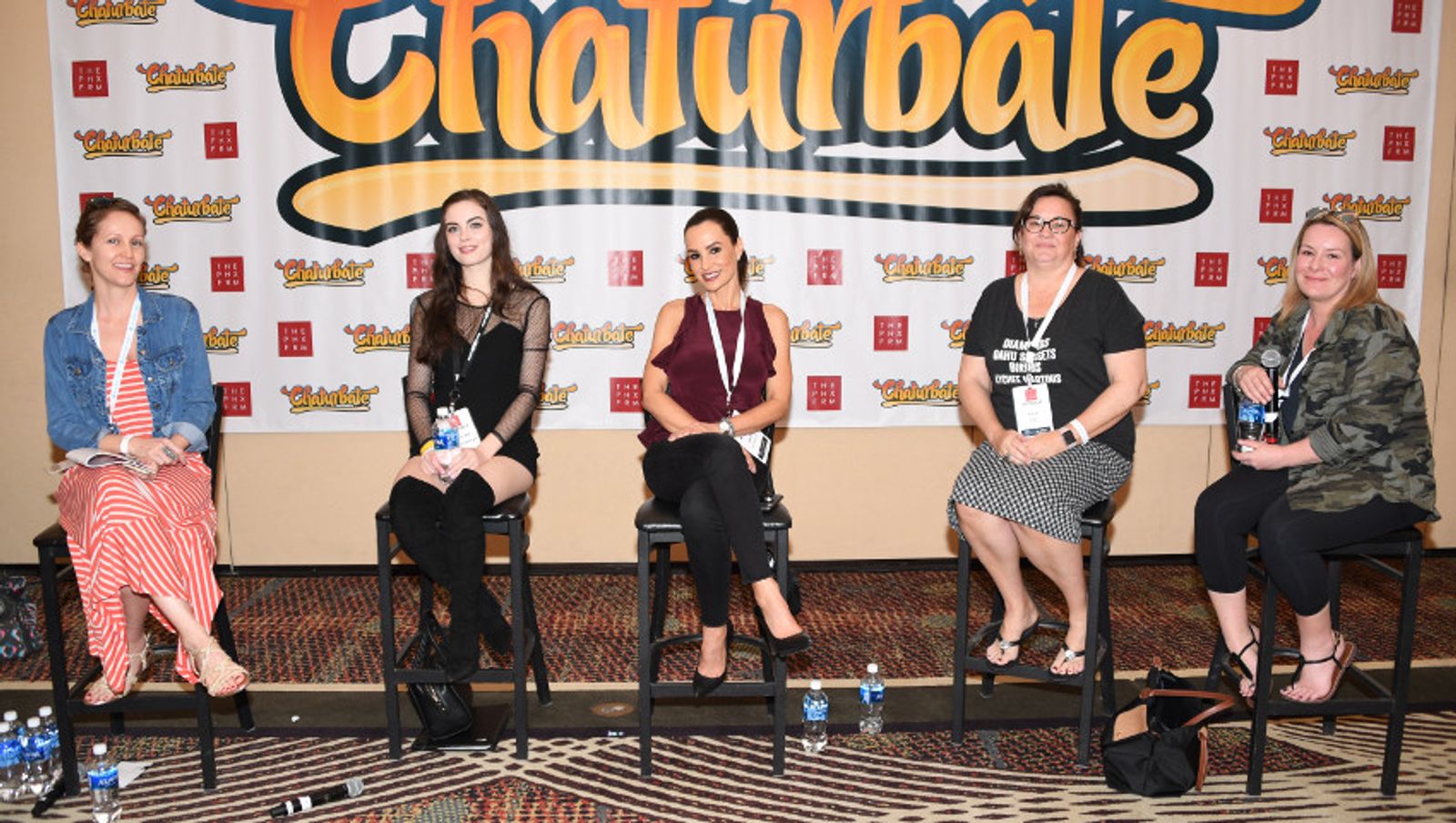 TEMPE, Ariz.—The #MeToo movement received a spotlight Friday as part of the "Cam U" program at The Phoenix Forum.
The anticipated session featured a special guest from the mainstream porn biz—AVN Hall of Fame performer Lisa Ann.
"I think #MeToo has flown into our business in a non-responsible way on some levels and this is where I think conversation needs to be started and we need to all agree on how we're going to diffuse this effect," Lisa Ann said from the seminar stage at the Tempe Mission Palms on Day 2 of the 18th annual adult tech conference.
The superstar performer, who recently came out of retirement to sign an exclusive performance and production deal with Evil Angel, shared the microphone with PrincessCamryn (iWantEmpire), GG Terra (Cam4), Jamie Rodriguez (Flirt4Free), Liz R. (Streamate) and attorney Karen Tynan.
Dr. Chauntelle Tibbals moderated the session that highlighted the first-ever "Cam U" track in Phoenix, presented by YNOT Cam and sponsored by Chaturbate, that packed the Palm F meeting room.
The #MeToo hashtag went viral on social media last Fall—on the heels of numerous allegations against Hollywood film mogul Harvey Weinstein—as a universal symbol of the prevalence of sexual assault and harassment, especially in the workplace.
"I feel like we're in a storm around it," said Tynan, a seasoned defense attorney.
Flirt4Free's Director of Product Jamie Rodriguez said from her standpoint "any hint of something, we don't want to be a part of it."
"It's not something that's worth the risk," she said.
PrincessCamryn, one of iWantEmpire's popular models, said the adult industry would benefit from being more vocal about protecting models as well as positive experiences that most of them are having.
"Not to silence victims, but it's also very important for the industry to make loud statements that we are here for the models, so that the rest of the world can see the industry as a safe and supportive environment," Camryn reasoned, adding it would negate the public perception that models are in danger while doing sex work.
Lisa Ann said the adult biz tends to be its own worst enemy on social media—Twitter in particular has become a "weapon," she suggested.
"We now have this uneducated, desperate, fearful mindset that's just out there polluting social media. I don't engage and if I see something happening I'll try hit somebody in DMs and say, 'Let's get on the phone and talk about this.' Let's get you to delete those tweets. Believe it or not, it's our industry itself and those girls doing that are creating more fear with society than we've had for the past 20 years," Lisa Ann said.
Lisa Ann said that as a producer she will not hire certain performers, regardless how hot they may be, if they're too much of a "loose cannon" on Twitter.
"I'll go back on her timeline three days and see she hasn't promoted one scene because she's too busy arguing with people. Not a good look," Lisa Ann told the audience.
As an exotic dancer for more than 20 years, Lisa Ann said, "I was touched less than these smart, educated women [in mainstream entertainment] that could've known better to say 'no,' or that could've known better to walk away."
"I was never afraid to walk off the set," Lisa Ann continued. "I never let porn be my only income. Every day I walked on set I knew at any minute I could leave. When I read that now girls say, 'I needed the money,' that means your lack of planning constitutes an emergency that you can blame on somebody else.
"You can shame the industry and create a new media frenzy of another negative story when you should've probably just planned better. You can always go on Streamate; you can go on OnlyFans; you can go on Chaturbate. These girls have so many ways to sit on their fucking cell phones and make thousands of dollars selling their items of clothing they wore. … There's so many options."
Lisa Ann added, "And then when they have a horrible scene and they bring up 'I needed the money,' I'm just like, but that's nobody's fault but your own. You took the scene and guess what, you cashed the check. And as a producer and as talent my rule of thumb is if I cash the check or my talent cashes the check, we're good. Case closed. Everybody walks away fucking happy. Let's be done with it.
"So I'm saddened that these young girls are coming in and they're wanting to take more than they're willing to give. They want to take the check; they want to take the job; and then they want to take the fame on the way out of it, 'Oh my gosh, the business was so horrible to me.'
"I got [into porn] in the early '90s and I gotta tell you, none of this shit happened to me."
Lisa Ann, who also owned her own talent agency for a span in the mid-2000s, said agents should take more responsibility for their models as "the first point of contact."
Cam4 model GG Terra said every model runs her own business and has the ultimate say.
"If we're not managing our own business then who's fault is it. The bottom line is it all falls on us," Terra said.

The topic of "Expanding the Cam Market in 2018" featured remarks from Marissa Ataliotis (ImLive), Jeff Wilson (Flirt4Free), Dave Scott (Sex.cam) and Christophe Peyras (Streamate).
Moderator Jay Kopita, co-founder of YNOT, asked the group what the state of the cam industry was to kick off the talk.
"Live cam is becoming more accessible," said Wilson, the director of business development for Flirt4Free who runs the traffic team. "There are so many more ways to get your site out there and get people to come use it. The market of cam users has shot up like crazy."
Increasing conversions remains an ever-present challenge for every cam site, according to the panel.
"The advertisers are getting smarter, the publishers are getting smarter, the cam models are getting smarter, the studios—everybody is becoming a little bit more independent which makes things more challenging and easier in some ways," said ImLive's Media Buyer Marissa Ataliotis.
"But for converting traditionally non-paying porn users to paying porn users for cam, in particular, we've made some changes in terms of our payment process. So for example, we traditionally did pre-paid … We just started doing a post-paid option.
"If you're advertising on a free site it obviously makes more sense to give them a few minutes free and give them free credits to start, something like that. And then from another angle, having the affiliate or white-label have the option to do post-pay, where they put in their credit-card details for age verification and then they get charged after each show. So that's a good newer angle that we are using to convert free users to paying users."
Flirt4Free's Wilson said his company has found success with various promotions and contests, engaging users with merit-based activities.
"Hyper-gamified," Wilson said, noting that a Flirt4Free member can achieve "Hall of Fame" status with the longest paid show.
"Two years ago we launched our Flirt Rewards system for customers, creating user levels and badges for customers."
Once a top tipper achieves a certain status and has a badge attached to his name, when they enter a chat room it signals to the model that "oh, this guy can spend some money," he noted.
"That whole gamification process has really engaged our community," Wilson continued. "Over a billion Flirt Rewards points are redeemed every month."
ImLive's Marissa said her company does its fair share of mainstream advertising with native ads on mega-sites such as Buzzfeed.
Wilson said that "Pornhub taught us the demographic is really everybody."
He added that Flirt4Free has been working with a strip club in South Carolina on a way to integrate live-cam style tipping in real time at the club. Still in the testing stage, a Flirt4Free user could potentially watch and tip a stripper online and also shower her with money with a cash cannon.
"We're still in the process of crossing t's and dotting i's," Wilson revealed.
The "What Cam Models Want" panel got the program off to a strong start as Lindsey Banks (Flirt4Free), Catherine Taylor (Streamate), Carole Wood (ImLive), Becky LeSabre and moderator Chauntelle Tibbals discussed what the most important needs of models are in 2018.
"The ability to block zip codes is very important for some models," noted LeSabre, who has been doing modeling and clip production for 17 years.
Taylor reminded that not unlike porn, once you make the decision to cam, "you can't take it back."
Wood, a 15-year veteran who who works closely with models at ImLive, said "what works for you on one site doesn't necessarily work for you on another site because it's the style of the way you want to perform."
"As long as you're picking one of the well-established companies you're safe," Wood said.
LeSabre said there are resources such as the AmberCutie and WeCamGirls forums that help models find their way.
"The resources are out there for models and it's typically provided by other webcam girls," LeSabre said.
Lindsey Banks, a Flirt4Free model for more than five years from Texas who wore a unicorn hair band at the panel, said, "We should all be in it to help each other, to make it better, not to copy but to make it your own."
"Social media is super duper important," the model also known as Banksie added. "The way we manage our business is going through our phones."
The "Proven Tactics for Cam Affiliates" panel, moderated by YNOT's Connor Young, who spearheaded the Cam U program, provided key insights into the state of affiliate marketing.
Young fired questions at Shay Efron (ImLive/Pussycash), Yuval Kijel (Streamate/Cambuilder), Courtney Rudolph (Cams.com), Dave Scott (Sex.cam) and independent consultant Thomas Skavhallen.
Just about the whole panel agreed that affiliates should avoid buying traffic.
"That is the last thing you should do," said Cambulder's Yuval Kijel. "If you want to be a cam affiliate, have your own traffic. Sell cams, sell dating… Starting from zero and going into the cams market, that would be a tough cookie."
"It's always a gamble buying traffic as an affiliate," Rudolph said. "We recommend they don't."
Kijel said "patience" is of the utmost importance.
"Traffic doesn't come in a day. If you have a good product eventually you'll get people coming back."
Skavhallen said one of the "smartest" things he has seen is creating an engaging quiz with a prize at the end.
The panel also all agreed that white-label cam sites are effective—in fact Streamate built its empire around white labels.
"Over the long term sending traffic to a white label the ROI will be better," Kijel said. "… This is where the industry is going."
The Phoenix Forum, orchestrated by the Tempe-based payment services heavyweight CCBill, will continue through Saturday.
Pictured from left: Chauntelle Tibbals, PrincessCamryn, Lisa Ann, Karen Tynan & Liz R. (Photo courtesy of JFK/FUBARWebmasters)