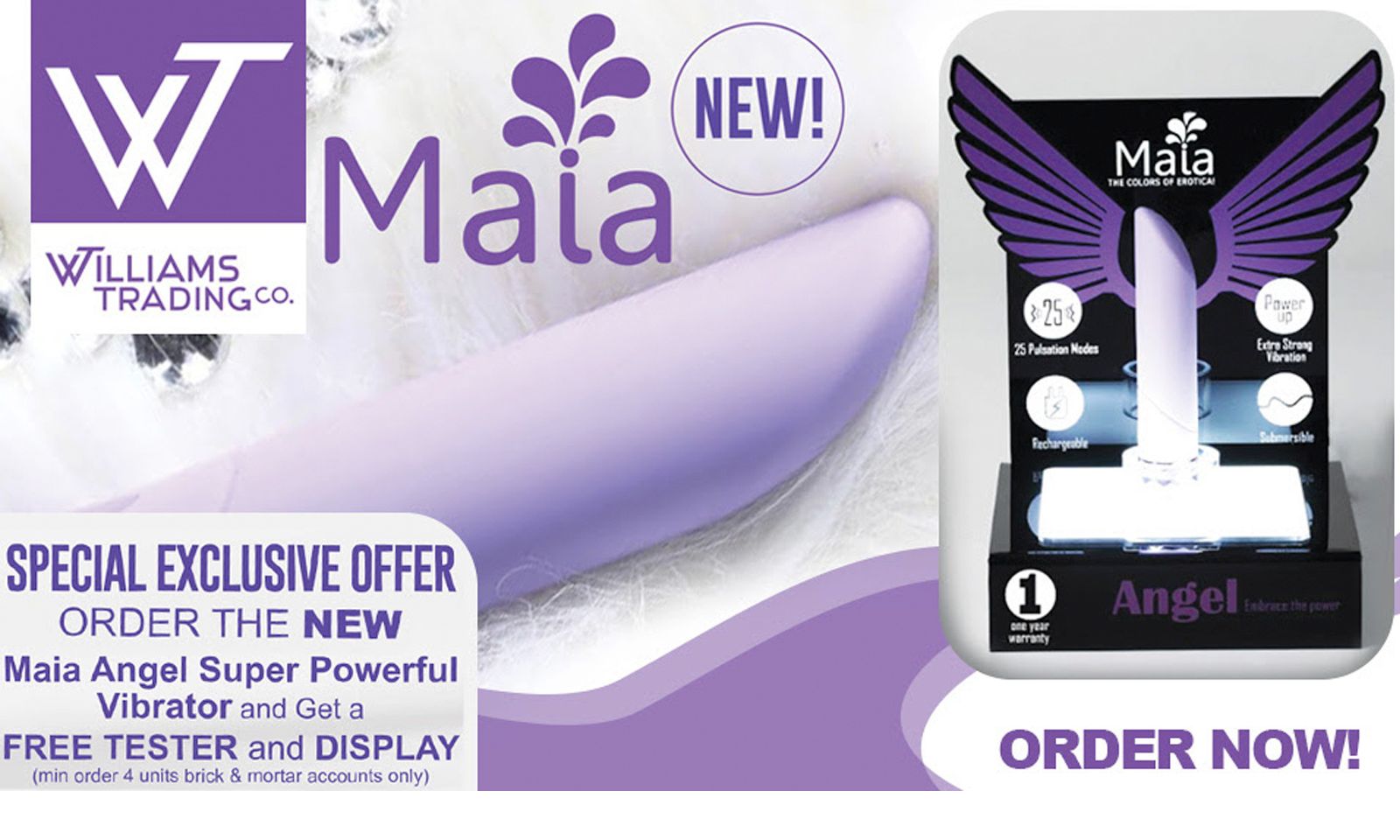 PENNSAUKEN, N.J.—Williams Trading Co. launched the new Maia Angel Vibrator with a custom display offer just in time for the holiday sales period. 
The veteran adult distributor is supporting the launch with a custom Angel Retail display program for all brick-and-mortar retailers.
"Maia Toys has done a great job on offering a comprehensive display package for the retailer.  We are pleased to collaborate on the launch of this product as we will be exclusively launching this retail product package within the east coast to our customer base," said Scott D., director of sales for Williams Trading Co.  
The new Angel Vibrating 25-Function Bullet is a tiny powerhouse of heavenly pleasure. Crafted in medical grade silicone for a truly angelic glide,  the Angel graces you with 25 functions of speed and pulsations. Her sparkly base shimmers with gorgeous purple twinkles for a luxurious accent to your toy collection.  The ANGEL's slender design delivers precise stimulation with an extra strong motor.
"This Crystal Gem powerful vibrator is sure to be a success at retail and I look forward to supporting this in store for the holiday sell period," said Charlotte Lopez of Love Stuff and More.  
Established in Los Angeles in 2010, Maia Toys has quickly gained recognition as a leader in the adult accessories and pleasure products market all over the world.  Maia Toys has become a household name for the fashion forward styles that recognize the colors of eroticism with the selection of their personal pleasure objects. Each massager and accessory is thoughtfully  designed to suit the mood and comfort with functionality in mind.
"We took a considerable amount of time to determine our distribution channels and felt that Williams was our obvious choice for a East  Coast distributor," says Lisa Hanna, Maia's president of sales.
Retailers can purchase  the new Angel product with a custom retail display and tester with a minimum order of four units. This high-end display stand showcases the product with bottom lighted display stand to draw consumer attention to this unique product. 
Product is now in stock now for immediate shipment. For product ordering and shipping information, contact a Williams Trading sales representative at (800) 423-8587 or visit WilliamsTradingCo.com.