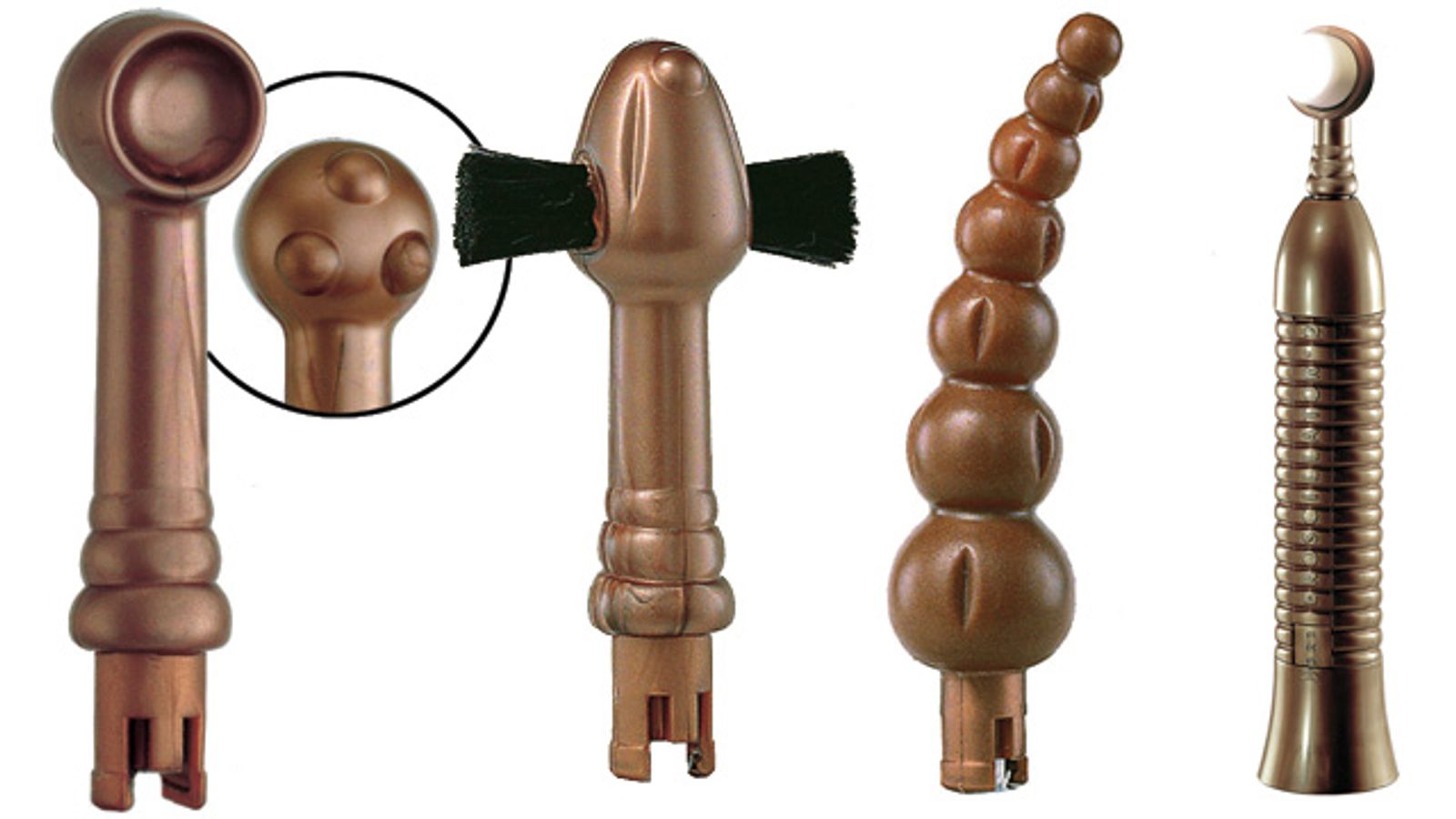 It may seem like a big leap to go from motorized toothbrushes to electric-powered sex toys, but for the creator of the Eroscillator, it made perfect sense. After inventing the first electric toothbrush more than 60 years ago, Philippe Wood turned his attention to something completely different: putting his creation's oscillating motor to use in a way that would revolutionize vibrator design.
"At the time, there were only two types of vibrators," explained the inventor's son, Lionel Wood, of Advanced Response Corp., which distributes the Eroscillator. "One was the magic-wand type, which was far too powerful and required padding, all sorts of things, or it would just desensitize women. The other type works on the same type of motor and requires batteries, giving it far too little power. [So] you have vibes that are either numbing women with the way they move, or they don't have enough power.
"While everyone else was seeing vibrators as toys, we weren't," Wood continued. "Somewhere around 20 percent of women have never achieved an orgasm, and with the current vibrators they were either getting numb before they got close, or they had a nice feeling but never quite got there. It was time for a better vibrator, so we created it."
The Eroscillator was like no other vibrator when it was invented in 1996, and even today very few vibes take on the oscillating motor concept. The Eroscillator's distinctive attachments are anchored directly to the motor, which allows only that part to vibrate, as opposed to the entire device.
Rather than hope that the unique design would be enough to get the Eroscillator accepted right off, Lionel Wood went straight to an expert to get her endorsement. "We actually asked Dr. Ruth to endorse it. She said, 'No way, I'm not endorsing any one vibrator.' " That didn't deter Wood; he persisted in getting Dr. Ruth to test it. She eventually relented and was amazed.
"The Eroscillator really can make your sex life better. To my way of thinking, anything that accomplishes that goal is worth its weight in gold," Dr. Ruth said.
According to Dr. Sue Johanson, another well-known doctor dealing with sexuality issues, "It is just about impossible not to have an orgasm with this toy."
"This is the only toy that Dr. Ruth had endorsed in her life," Wood said. "I still find it incredible that we're the only vibrator that has focused on the stimulation first and foremost, as opposed to the shape or color. It's not like the LELO or the Rabbit or anything else. It's powerful and gentle. And while other vibrators work, they're nowhere close to what the Eroscillator can do. Anyone that has tested it has emptied their drawers of all other vibrators."
A study conducted by Louis Lieberman, Ph.D., and Mary Cuadrado, M.P.A., compared the Eroscillator to the Hitachi Wand and the Prelude. A total of 73 percent of the women involved in that study selected the Eroscillator over the other choices. The study showed that the Eroscillator helped with multiple orgasms and provided the most intense orgasms out of the three types of sex toys.
Another study put the Eroscillator to the test with 27 women who had never had an orgasm. Out of those women, 87 percent were able to reach orgasm within three weeks. "The toys are good if you're into playing, but they do not work if you're not ready to play," Wood said.
The decision to go with a plug-in model as opposed to battery-powered was simple. "The battery power, it doesn't give constant stimulation. For some women it can take them a long time to achieve orgasm, and the last thing they're going to want to do is stop to switch out batteries in the middle of it. Even if you have the perfect batteries, you still won't have the perfect motion. The entire concept of the Eroscillator is to provide superior stimulation."
The early success of the Eroscillator was helped by the Dr. Ruth endorsement, but the company didn't rest on its laurels. As technology has advanced, the vibrator and its attachments both have been improved. Originally the attachments were made out of PVC, but instead of just switching to a phthalate-free material as a marketing point, the company looked for the perfect material. Currently that is a thermoplastic elastomer coated with medical-grade silicone.
The Eroscillator's popularity has been growing, which Wood said is attributable to great word of mouth, overwhelmingly positive customer testimonials and targeted advertising in publications such as AVN. This success has sparked a few similar competitors, but the Eroscillator sets itself apart with a top-of-the-line motor and focus on quality.
One benefit of using top-quality components is an increase in durability. "Our vibrator can last for 10 years, making it one of the cheapest vibrators over time," Wood said. "We actually had a customer write in that he calculated his wife's cost per orgasm to be somewhere around seven cents."
Though the Eroscillator has been around for more than 10 years at this point, it still remains one of the most fascinating vibrator designs around. Its quiet yet powerful oscillations have not been matched by any of the competitors that have ventured into the oscillating vibrator field.
"The whole design hadn't changed in the last 100 years for the vibrator," Wood said. "They hadn't thought of creating a better product—that didn't happen until us."

For details, visit Eroscillator.com, or call (888) 460-8106.
This article originally appeared in the September 2009 issue of AVN.