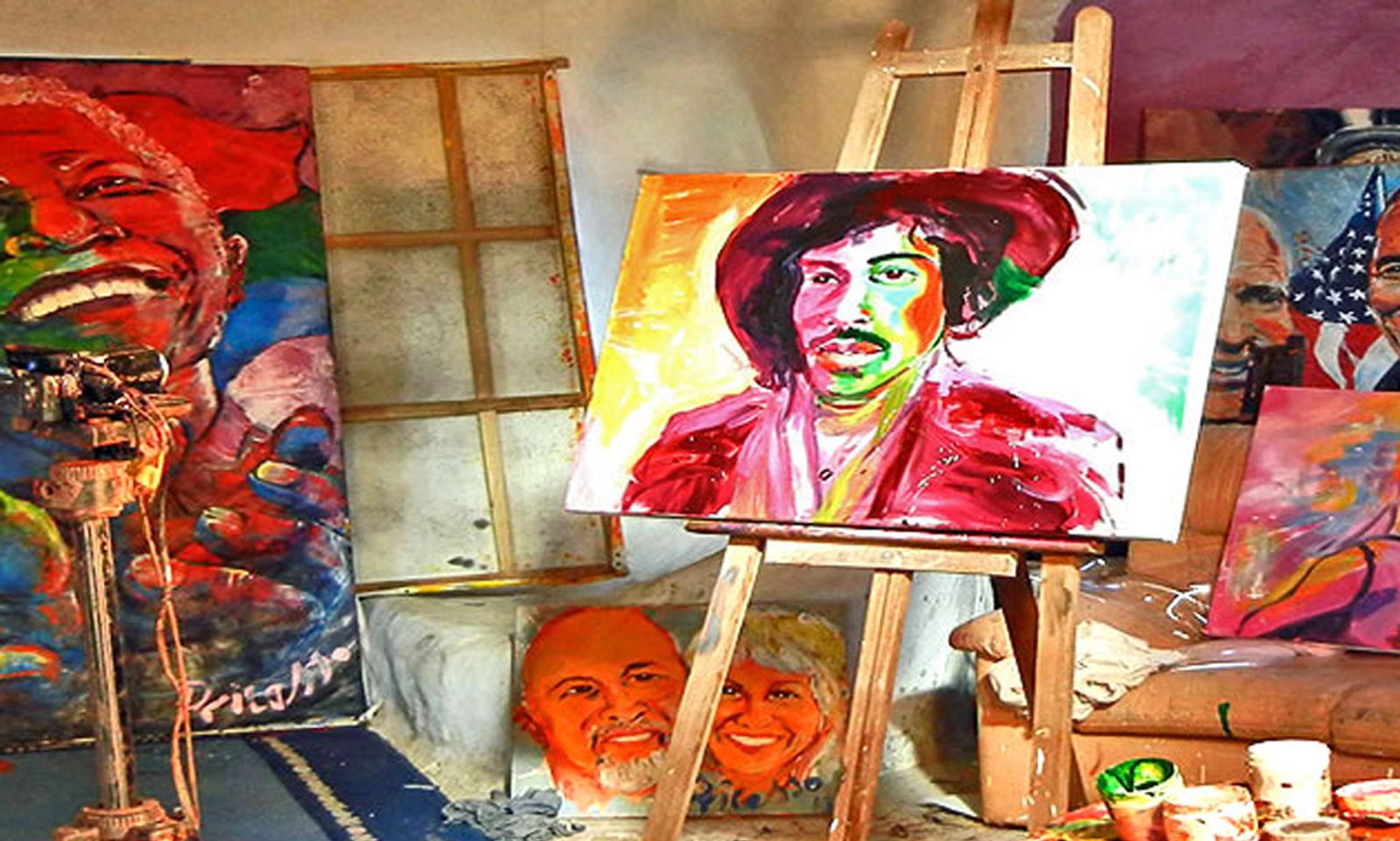 Tim Patch, also known as "Pricasso," makes his living painting people's portraits with his prick. A self-described performance artist, Pricasso does caricatures of people while they watch—using his "money makers," which include his wang, balls, butt and ass crack. A Brit living in Australia, his act has traveled across the globe; from adult entertainment conventions to swinger's clubs to bachelorette parties. We caught up with the hard-working artist.
What is your painting process?
I first grab my testicles and dip them into a paint container, covering them with skin-colored paint, which I apply to the middle of the canvass. I smooth it off evenly using my butt cheeks, slapping them against the canvas and throwing my genitals outwards as far as they will go. That usually gets a laugh. I then dip the head of my penis into terracotta-colored paint and draw the facial outline as accurately as possible, then fill in the teeth with white paint. I paint the lips and then the eyes, which are so important to get right. I then paint the edges of the canvas by sliding it up my bum crack, which I call "the credit card swipe." Then I sign it with a brush, which I firstly insert into the eye of my penis; this usually makes guys rather uncomfortable.
How did you get the idea to do this?
I first came up with the idea after watching Puppetry of the Penis. I set about the task of becoming a portrait painter using my penis as a brush. I realized anyone could just dip their penis into paint and create art, but to actually be able to capture a face perfectly in 15 minutes was my goal. It took a few years, as it is not easy.
Where did you first start doing it?
I have been painting like this, practicing in private, since 2003. I progressed to painting at the Club Libertine Bondage Club in Brisbane, Australia, in 2004 and then to Sexpo in London in 2006 and every show since. I have traveled to many countries painting at adult shows in Mexico, Brazil, China, Africa, Taiwan and Europe. I also paint at swinger's clubs and I paint all night—maybe six or seven hours.
How do you keep it up for so long?
I take Viagra first. The ladies (or guys at the gay club) lube me up and wash my "brush," or suck it clean. I don't disappoint them.
Have you ever been to an AVN Expo?
No. Would love to. Not sure if I can be naked there, though. [Alas, no. —Editor] In most countries I get a special exemption from the nudity laws, as it is classified as art. Even in China, where I had to perform in front of a panel of communist leaders before I could actually do it at the Asian Adult Expo.
Does your schlong ever get sore from all those portraits?
Yes, my penis gets very sore after four days of painting 13 hours a day. Although I do use heaps of Vaseline. It was sore all the time before I made my own special slippery paint. But I still wear away a few layers of skin, and by Sunday night it is like painting on sandpaper. But I idolize doing it and making people laugh a little.
How much are your paintings?
$277 plus shipping. I do singles or doubles (couples.) People can order them at Pricasso.com.