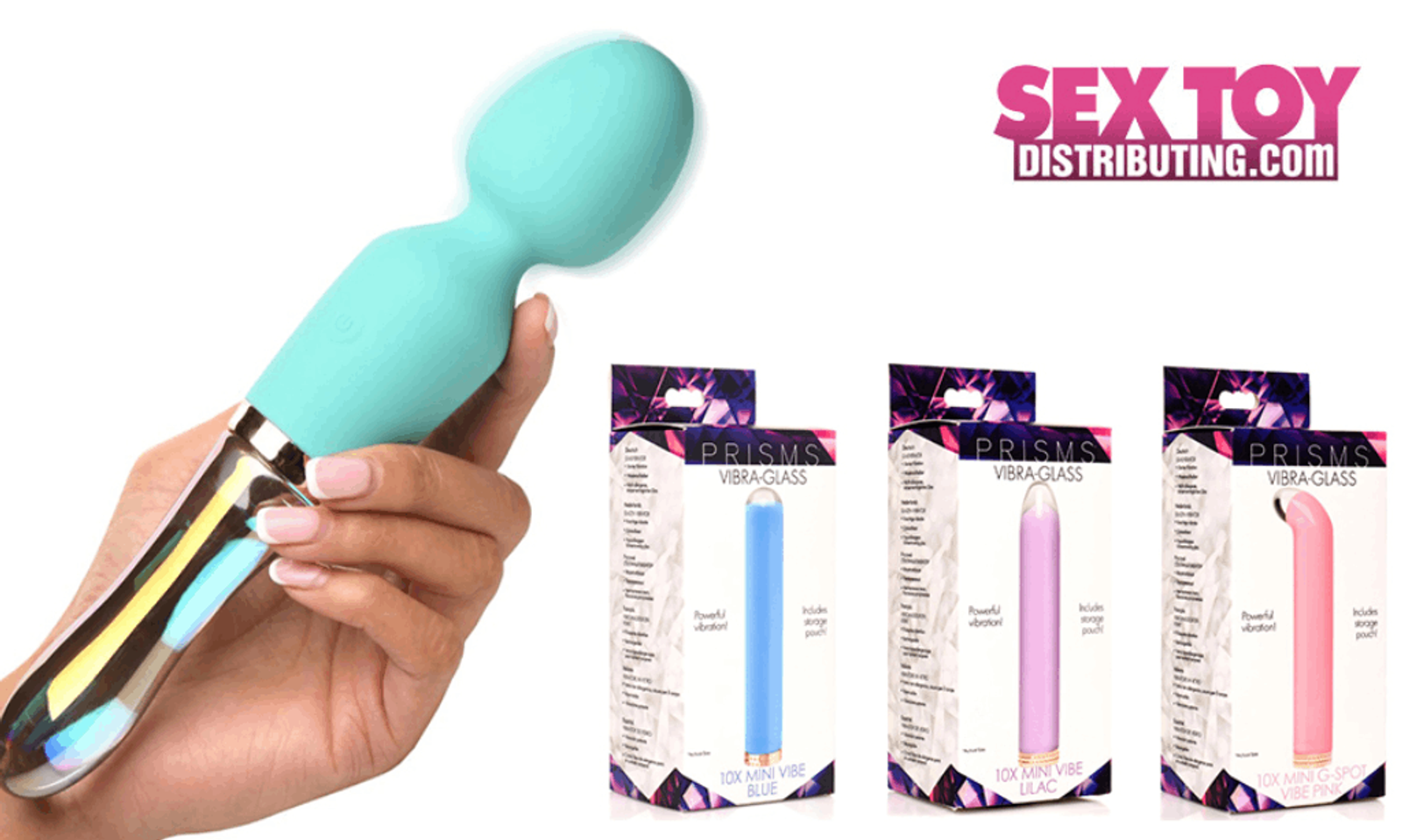 HUNTINGTON BEACH, Calif.—SexToyDistributing.com is now shipping four new vibrators from Prisms Erotic Glass. The line's additions include three bullet vibes and a dual-ended wand massager, each enhanced with borosilicate glass.
The new Prisms bullets are equipped with a rechargeable three-speed and seven-pattern motor encased in ABS plastic and surrounded by IPX5 splash-proof glass. Each has its own distinct shape and color: the 4.5-inch 10X Mini Vibe - Blue with a rounded tip, the 4.6-inch 10X Mini Vibe - Lilac with a pointed tip, and the 4.5-inch 10X Mini G-Spot Vibe - Pink with a curved tip ideal for G-spot stimulation. Each bullet features a decorative gold ring at the base and a silicone power button.
The IPX6 waterproof, rechargeable 10X Turquoise Dual Ended Silicone and Glass Wand features three speeds and seven vibrations. The device includes iridescent, semi-translucent borosilicate glass on one end and premium silicone on the other. Its semi-flexible neck makes it easier to reach certain angles and its firm glass on the other end provides internal pressure. When the vibrations are turned on, the wand is illuminated by a small LED light.  
"These new Prisms offerings bring the beauty of glass toys together with the functionality of vibrators," SexToyDistributing.com wholesale supervisor Brenda Reynoso said. "These glass vibrators have been performing well since we brought them in, and adding rechargeable bullets to the mix was a smart idea for beginners and budget-conscious shoppers. Creating a dual-ended massager with silicone on one side and glass on the other is something we haven't seen before, and we're excited for our customers to see it."
The new Prisms vibrators come complete with a velvet storage bag and are packaged in cardboard boxes suitable for both shelf and slatwall displays. 
To place an order or learn more about Prisms, contact a preferred representative or email [email protected]. 
For more information about SexToyDistributing.com, visit sextoydistributing.com.