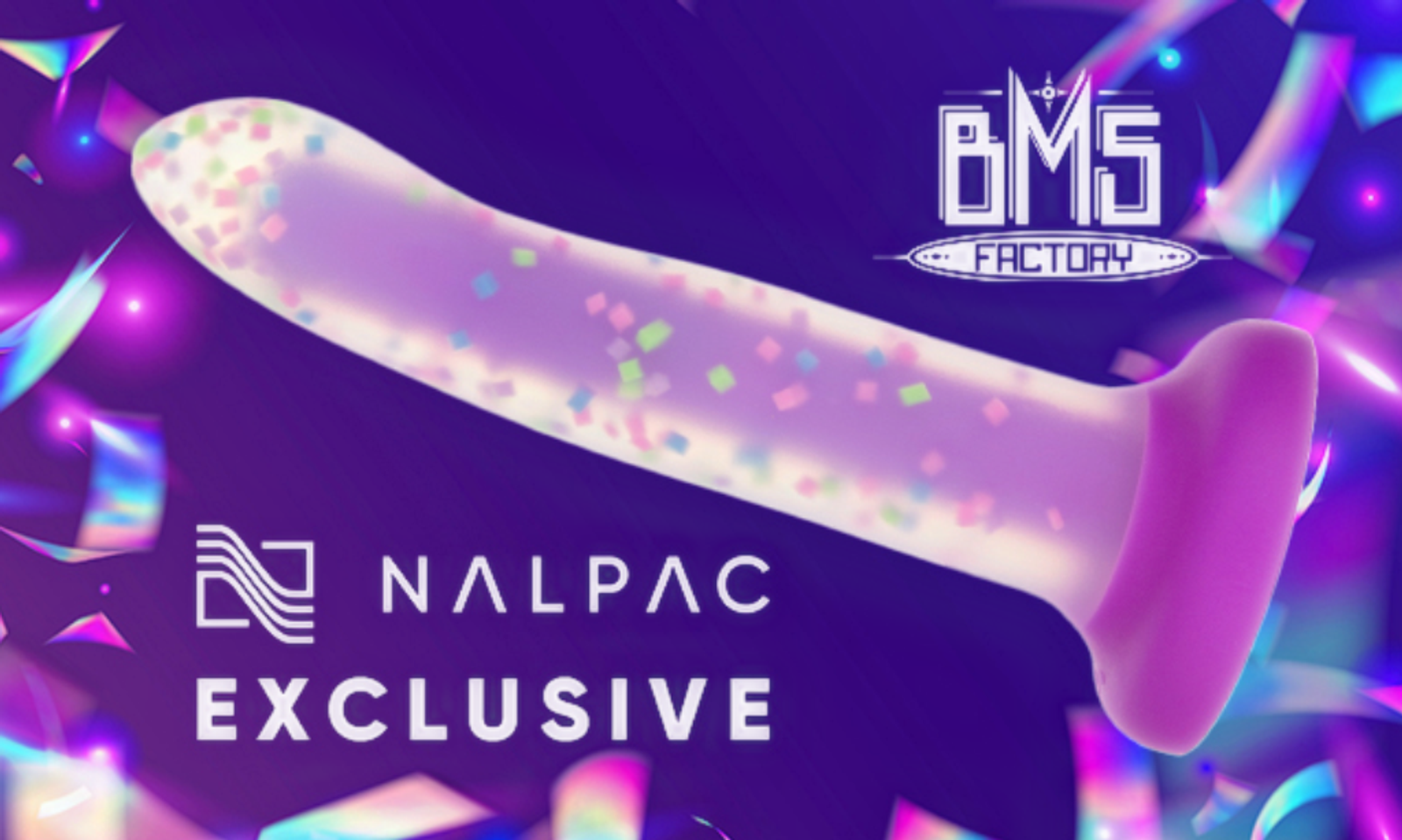 FERNDALE, Mich.—Adult distributor Nalpac announces that it is now exclusively distributing the GITD Rave from BMS Factory in the United States.

The GITD Rave by Addiction Collection is the newest dildo in the vibrant line of bendable offerings. The GITD Rave glows in the dark, offering each user a unique pattern of glow-in-the-dark confetti. Like the other Addiction Dongs, it is made with 100 percent premium silicone, is compatible with most harnesses, and has a suction base that will stick to almost all flat surfaces.

"The Addiction line is a great selling line of products. Combining these two popular elements, confetti and glow in the dark, was a no-brainer, and the gang at BMS pulled it off. I have been doing this for a long time, and this is a one-of-a-kind item. I think it could be the product of the year. You know nothing says Rave more than confetti and glow in the dark!" said Don Zerilli, senior buyer for Nalpac.

The GITD Rave has a purple core with a confetti overlay. The GITD Rave has the ability to bend in any position and stay in position with its tapered tip and its frosty confetti coating. Expose Rave to any source of light to activate its glowing feature.
 
"BMS Factory is proud to partner with Nalpac on an America-wide exclusive of the GITD Rave! The collaboration created the hot new spin-off of the harness-compatible Rave Dong, under the Addiction Brand, which now blends both confetti and silicone that glows in the dark. Inspired by consumer demand, we have creatively combined the best-selling features of prior Addiction releases into the Glow in the Dark Rave by Addiction. You won't be micro-dosing at this Rave—get addicted," said Gordon Bannister, director of sales and business development at BMS Factory.

Nalpac customers who wish to order the GITD Rave or learn more about BMS Factory products can contact their Nalpac sales representative, and new customers can email [email protected] to set up an account.
For more information on Nalpac, visit the company website at nalpac.com and follow on Twitter @NalpacWholesale, on Facebook at facebook.com/Nalpac, on Instagram @Nalpac and on the YouTube channel youtube.com/nalpac.