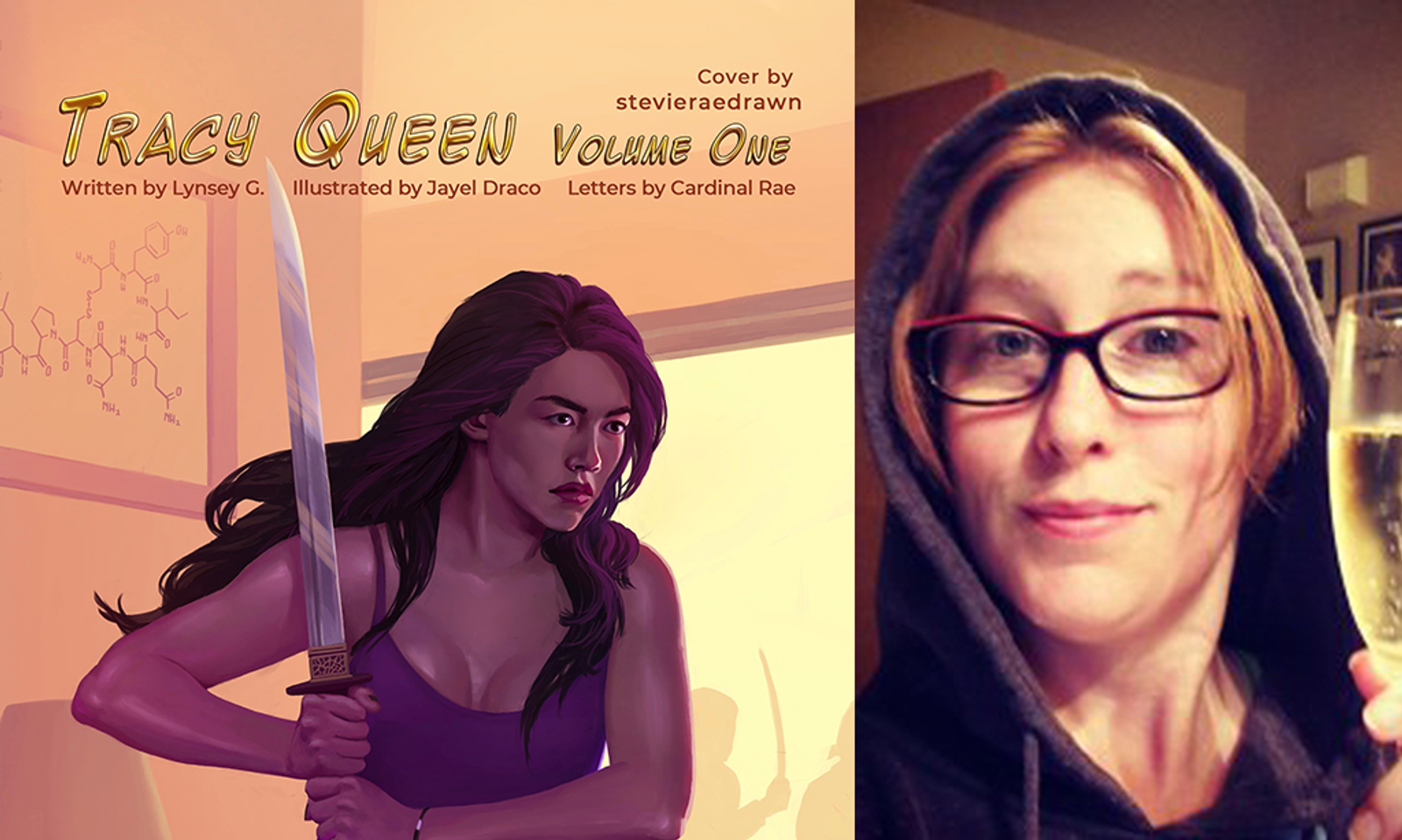 MISSOULA, MT—"A Killer Camgirl Fights for Freedom in New Sci-Fi Graphic Novel"—that's got to be a joke, right? But no; the graphic novel about a killer camgirl with a talking raccoon sidekick, a cyborg-clone army, and a single-minded mission to empower women is real, it has finally arrived, and it's on sale now. Missoula, Montana–based publisher Oneshi Press has announced the release of Tracy Queen, Volume 1, the first issue of an epic eight-part graphic novel about a love warrior with a checkered past whose journey to self-discovery takes her on a sci-fi adventure.
Written by award-winning author Lynsey G., Tracy Queen, Volume 1 begins the story of twenty-something Tracy, who's just been dumped by a boyfriend who disapproved of her role as an enforcer for her grandfather's organized crime syndicate. At the end of a very bad day, Tracy befriends a talking raccoon (shades of Guardians of the Galaxy!) who inspires her to get away from her grandfather's stifling control. She soon realizes she can make a living by webcamming—and discovers she actually enjoys the work, that it makes her feel empowered and self-sufficient. But that's when she realizes that women are too often repressed and punished for being sexual or doing sex work. Soon, she is fighting for her life against outside forces bent on victimizing and controlling her body and her career.
"It's time for a new kind of comic book hero: an empowered woman who is unafraid of being herself, even when that means choosing pleasure over violence," stated writer Lynsey G. "We need more stories about women who can be smart, successful, badass, and sexual, too."
Although the character Tracy Queen works in the adult entertainment industry, the graphic novel is not pornographic or sexual in nature.
"There is some skin in the book, and of course sexual situations, but this is a story about a person who owns her sexuality. It's about sex itself," Lynsey G. explained.
After seven years of development and a successful $9.5K Kickstarter to fund production and printing of the book, the 60-page, perfect-bound trade paperback of Tracy Queen, Volume 1 is now available exclusively at the Oneshi Press online store. With illustrations by noted visual artist Jayel Draco, lettering by comics-industry stalwart Cardinal Rae, cover art by digital visionary stevieraedrawn, and ten pages of guest art from fans of the series, Tracy Queen, Volume 1 is a full-color, gorgeous, immersive experience.
This first issue of the Tracy Queen is now available in limited-edition trade paperback exclusively at the Oneshi Press online store. For more information, or to request a printed copy of Tracy Queen, Volume 1 for review, please contact Lynsey G. at [email protected].