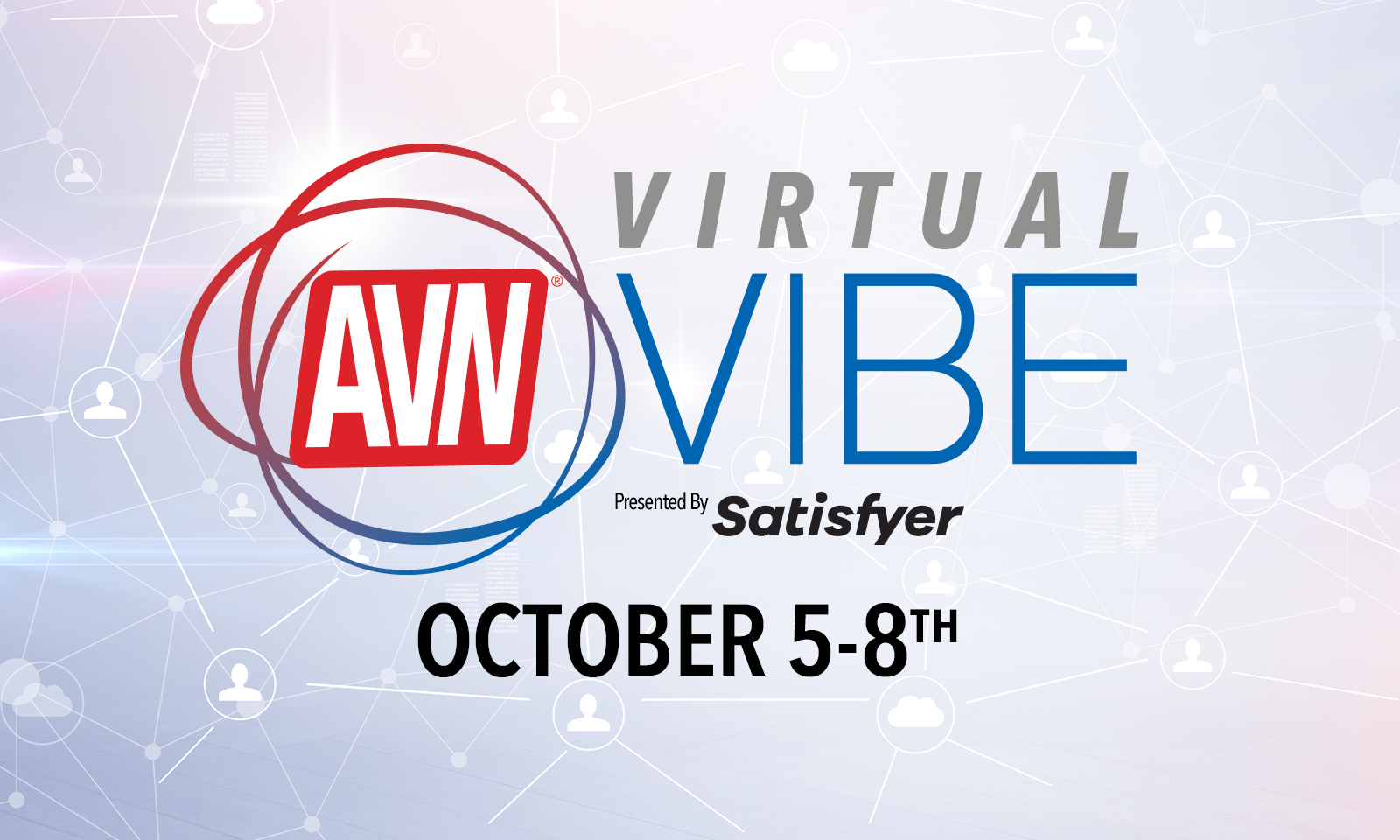 LOS ANGELES—AVN Media Network is pleased to announce the next Virtual VIBE event, presented by Satisfyer, is scheduled for October 5-8, 2020.
The event will be free to exhibitors participating in the 2021 VIBE Program in January—and also free for qualified buyers, including distributors, retailers, exporters, mail-order companies, large home-party organizers and other individuals and companies that handle large-volume purchases.
If you are a buyer, click here to RSVP; if you are interested in exhibiting, click here. 

"Based on the amazing feedback we received from retailers and manufacturers who participated in our first-ever Virtual VIBE event this past July we are going to produce a new edition with the same format this fall," said Tony Rios, CEO of AVN Media Network. "We're anticipating this event to be even bigger than the summer show, so we encourage you to reserve your spot now and maximize your opportunities to do business during the pandemic."
Both exhibitors and buyers alike said the summer edition of Virtual VIBE more than delivered.
NS Novelties remarked, "What a magnificent job that made so many of us leap out of our comfort zone and learn virtual communication... I'm so impressed and thrilled NS was a part of the program!" 
Screaming O agreed, saying, "It was really great—from so many angles! Not only was it well run with plenty of communication between AVN and the vendors, but also it was wonderful getting to 'see' everyone again and make a connection. I had some wonderful meetings and am looking forward to the next one!" 
A representative from VirtualMate.com added, "The AVN VIBE event far exceeded my expectations and I have attended a few virtual trade-shows in the past three months. This was by far the best. Well-organized, great meetings and nice to see some familiar faces again and meet some new people. VirtualMate was extremely well received and we are very excited to make our retail debut this fall."   
On the buyer's side, Peekay Distributors praised the efficiency of the July event.
"Attending the Virtual VIBE was the next best thing to meeting in person," said a Peekay exec. "Pivoting to a virtual event in such a short time was a heavy lift that was achieved with grace! We look forward to seeing the industry continue this path and having access to our vendors just a few clicks away!"
National/Universal Distribution echoed the sentiment.
"The Virtual VIBE event was truly an amazing experience," the company said. "It was extremely productive and AVN and its staff did an outstanding job at pulling this off. We are looking forward to this new format which truly provided a sense of being connected in the virtual business world of tomorrow."
The Pittsburgh-based Adult Empire also confirmed the summer show went well beyond their expectations.
"It was interesting to not have to walk from the booth for meetings, but rather have everything well organized right in front of you," Adult Empire said. "Props to AVN for that! 
"It was great to see familiar faces when we aren't able to travel as easily, and to meet new reps. Toy presentations came across nicely; screen-sharing with reps was a major pro; the Zoom chat made it easy to pass info back and forth while meetings were going on; and it was nice to hear that other people do the double-chin camera check before logging onto a meeting."
A buyer from Minx Sex Atelier found Virtual VIBE in July to be "outstanding."
"Sometimes travel expenses make it difficult at times to go to all the shows," said a Minx Sex Atelier rep. "But this was an extremely relaxed setting with vendors feeling very comfortable at home, as well for us buyers. At shows, it is at times impossible to get to talk to everyone you want to because everyone is busy. I truly enjoyed having the intimate connection."
To register as a buyer for Virtual VIBE, click here.