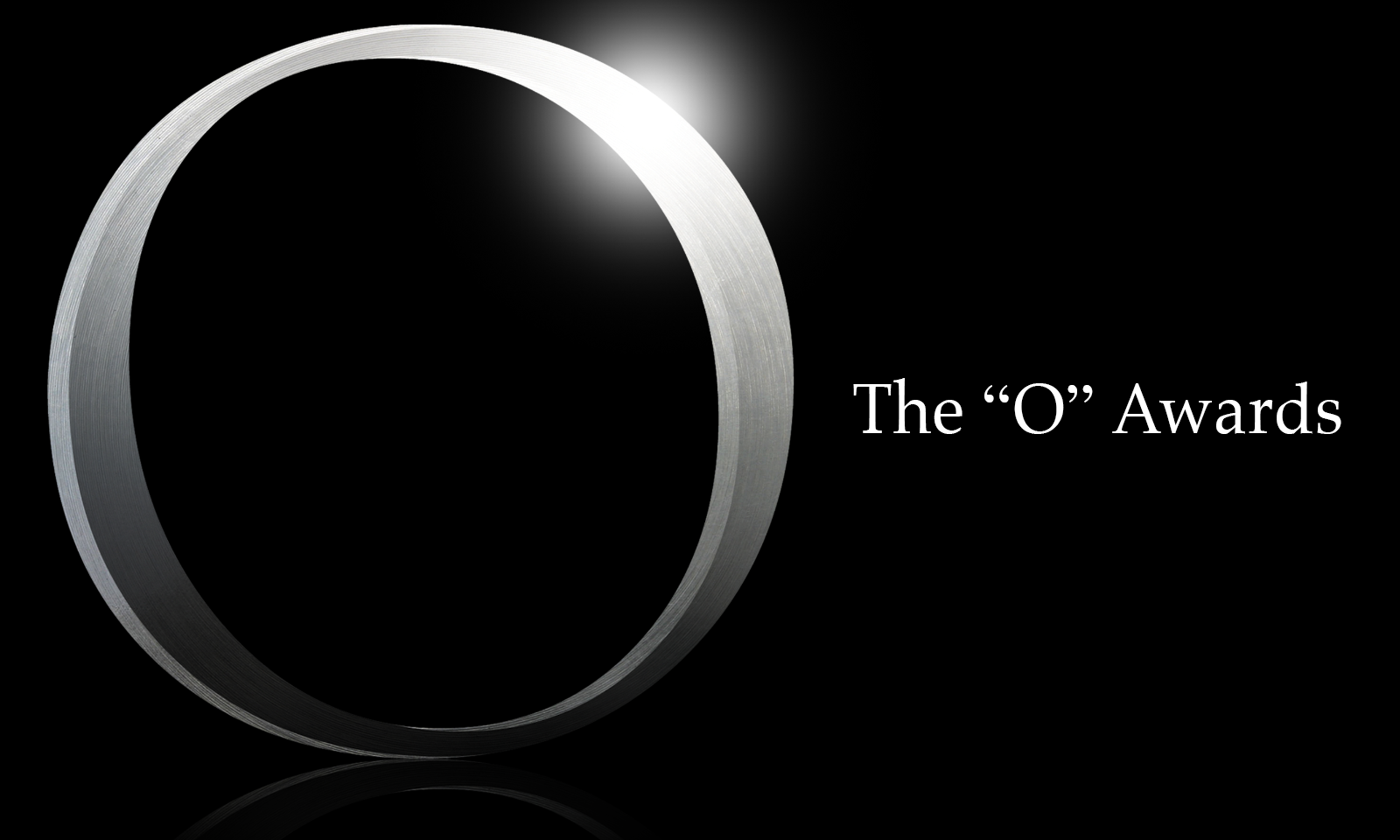 CHATSWORTH, Calif. — AVN Media Network has announced the nominees for the 2023 "O" Awards, recognizing outstanding achievements in pleasure products during the past year.
The 14th annual ceremony is scheduled Wednesday evening, Jan. 4 in Las Vegas as part of the 2023 AVN Novelty Expo (ANE).
ANE, presented by Satisfyer, from Jan. 4-6, and The "O" Awards are part of the all-digital 2023 AVN Show.
The 2023 "O" Awards nominees are:
Outstanding Accessory Product or Line

6 pc Velvet Bondage Set (Master Series)
Deluxe Bondage Kit (Ple-Sur)
Dungeon Master Forced Orgasm Belt (Motorbunny)
Gender Fluid T (Thank Me Now)
Lapdance Jewelry Collection (Xgen Products)
Offensive Office Stationery (Hott Products/Spencer & Fleetwood)
Peachy Keen Nipple Cream (Exsens)
Saffron Love Strap (Sportsheets)
Unicorn Rainbow Bondage Rope (Emojibator)
Wood Rocket Pins (Wood Rocket)
Outstanding Anal Product

ABSOLUTE (Odile Toys Inc.)
Anchor Kit - Clear and Teal (Viben)
Asstronaut Glow-in-the-Dark Butt-Play Set (b-Vibe)
Bellesa Anal Training Kit (Bellesa)
Kinetic Thumping 7X Swirled Anal Plug (XR Brands)
Pupa Liquid Silicone By 665 (665 Inc.)
Renegade Bomba (NS Novelties)
Secret Kisses Rosegasm Butt Bouquet Set (Xgen Products)
Sveinn (Bad Dragon Enterprises)
Syn V (Aneros)

Outstanding Body or Skin Care Line
Awaken with Botanicals (Foria)
Balm Bomb Arousal Balm (Lovability)
Big Flirt Pheromone-Infused Bubble Bath (Sensuva)
Body and Toy Cleaner (Swiss Navy)
Breast Oil (Foria)
Edible Massage Lotions (Earthly Body)
Heaven Aromatherapy Massage Oil (Intimate Earth)
Sensual Massage Oil (HighOnLove)
This Smells Like We're Gunna Have Sex Massage Candle (Kama Sutra)
V-Routine Intimate Hygiene Duo (Exsens)
Outstanding External Stimulator

Bone Head (CalExotics)
Jewel (NS Novelties)
Magic Wand Mini (Vibratex)
Power of Love Stand With Ukraine (Blush)
Remi (Maia Novelties)
Roll Vibrating Massager (Pepper)
Roller Touch (Cloud 9)
Secret Kisses Rosegasm Lingo Dual Ended Clitoral Vibe (Xgen Products)
Stoner Vibes Wacky Weed Wand (Global Novelties LLC)
Sultry Wand (Viben)
Outstanding Innovation

Autoblow AI+ (Autoblow)
Discovery (Odile Toys Inc.)
Elle Dual Flicker (CalExotics)
Enhancer Blow Job Teaser (Nasstoys)
Flick It (Evolved)
Her Ultimate Pleasure Pro (Pipedream Products)
Inscup 2 (OTouch)
Pack N Jack (Buck'D)
Premium Dual Vibe Remote & Egg (Screaming O)
Together With Remote (Together Vibes)
Outstanding Internal Stimulator

Colours Pleasures Smooth 7" Vibrating (NS Novelties)
Heat Wave (Satisfyer)
Pzazz (Viben)
Rabbit Company Come Hither G-Kiss Butterfly (Xgen Products)
Rechargeable Silicone Butterfly Kiss (CalExotics)
Rose Rabbit Thruster (ZALO)
Solar Ring (OEJ)
Tenuto 2 (Mystery Vibe)
The One Rabbit (The One Toys)
Together With Remote (Together Vibes)
Outstanding Lingerie Item or Collection
All Nighter Bodysuit With Open Back (Fantasy Lingerie)
Baci Gloves (Xgen Products)
Bella Collection - Full Compression Panty (ZHE by Karyn Elizabeth)
Double Take Cupless Bra & Cage Thong (Fantasy Lingerie)
Envy Locker Room Jock (Xgen Products)
GLOW Collection (Fantasy Lingerie)
Lust - Fetish Wear (Magic Silk)
Male Power - Leo Leather (Male Power)
Modern Romance By Exposed (Magic Silk)
Role Play B-Z Bunny (BodyZone)
Outstanding Lubricant Product or Line

Appletini Water-Based Lubricant (Exsens)
Bellesa Water-Based Lubricant (Bellesa)
CBD Water-Based Lubricant (HighOnLove)
Get Slippery Sex-on-the-Go Kit (Kama Sutra)
Natural Water-Based Personal Lubricant - Peach (Sensuva)
simply Aqua Special Edition (Wicked Sensual Care)
Slip 'N Slide - Premium Jelly Lubricant (Swiss Navy)
Sliquid Starr (Sliquid)
Tri-Me Triple Pack Neopolitan (Jo)
Ultra Thick Hybrid Personal Moisturizer-Blueberry Muffin (Sensuva)
Outstanding Marketing Campaign

Aneros Goes Blue (Aneros)
Buzz Bandit Remote Poster Campaign (Screaming O)
Glow & Blow Holiday Kit (Fun Factory)
Hello Mini - Magic Wand Mini (Vibratex)
Monthly Retail Superstar Spotlight (Wicked Sensual Care)
OEJ To Space Collection (Our Erotic Journey)
Operation Eggplant (Emojibator)
Swiss Navy Certified Expert (M.D. Science Lab)
The Vibe (Eldorado Trading Co.)
Trees for a Future (Svakom)
Outstanding Non-Powered Product

Archer Cut (Bad Dragon Enterprises)
Cosmo Bondage (NS Novelties)
Double Dip (Zero Tolerance)
Dual Penetration Thigh Strap On (Sportsheets)
Dungeon Master Forced Orgasm Belt (Motorbunny)
Mistress Emily Wet Look Juicy Masturbator (Curve Toys)
POP n' Play (Tantus Inc.)
Sea Serpent Scaly Blue Creature Cock (XR Brands)
Sport Fucker Tailslide 2.0 (665 Inc.)
Trans Girl Lena Moon (Doc Johnson)

Outstanding Packaging
Admiral Rechargeable Rock Hard Pump (CalExotics)
Eggplant Emojibator (Emojibator)
Matchmaker Red Diamond LGBTQ Pheromone Perfume Deluxe (Eye of Love)
UNION Condoms (UNION)
Jackpot (Maia Novelties)
Magic Wand Mini (Vibratex)
Naughty Bits - Wood Rocket (CalExotics)
Secret Kisses Rosegasm Collection (Xgen Products)
The Minis Pleasure Collection (HighOnLove)
ZALO Legend Series (ZALO)

Outstanding Powered Product
Bayek Vibrating Couples' Ring (Zalo)
Colours Vibrating (NS Novelties)
Inscup 2 (OTouch)
Magic Wand Mini (Vibratex)
Mini Halo (Thank Me Now)
Premium Dual Vibe Remote and Egg (Screaming O)
Secret Kisses Rosegasm Lingo Dual Ended Clitoral Vibe (Xgen Products)
Sugarotic (Rock Candy Toys)
The One Wand (The One Toys)
ZOLO Blow Gun (Xgen Products)
Outstanding Supplement or Enhancement
A Play Suppositories with CBD (Doc Johnson)
BangBites Female Aphrodisiac Gummies (BangBites)
Big Dick Energy (SOS Distribution)
Come Together (SOS Distribution)
Desire Gummies (Dame)
Intimacy Melts with CBD (Foria)
Matchmaker Red Diamond Pheromone Perfume - Deluxe (Eye of Love)
ON Arousal Gel-Spearmint (Sensuva)
Performance Enhancer (Elm & Rye)
She Spot Intimate Gel (Orgie)