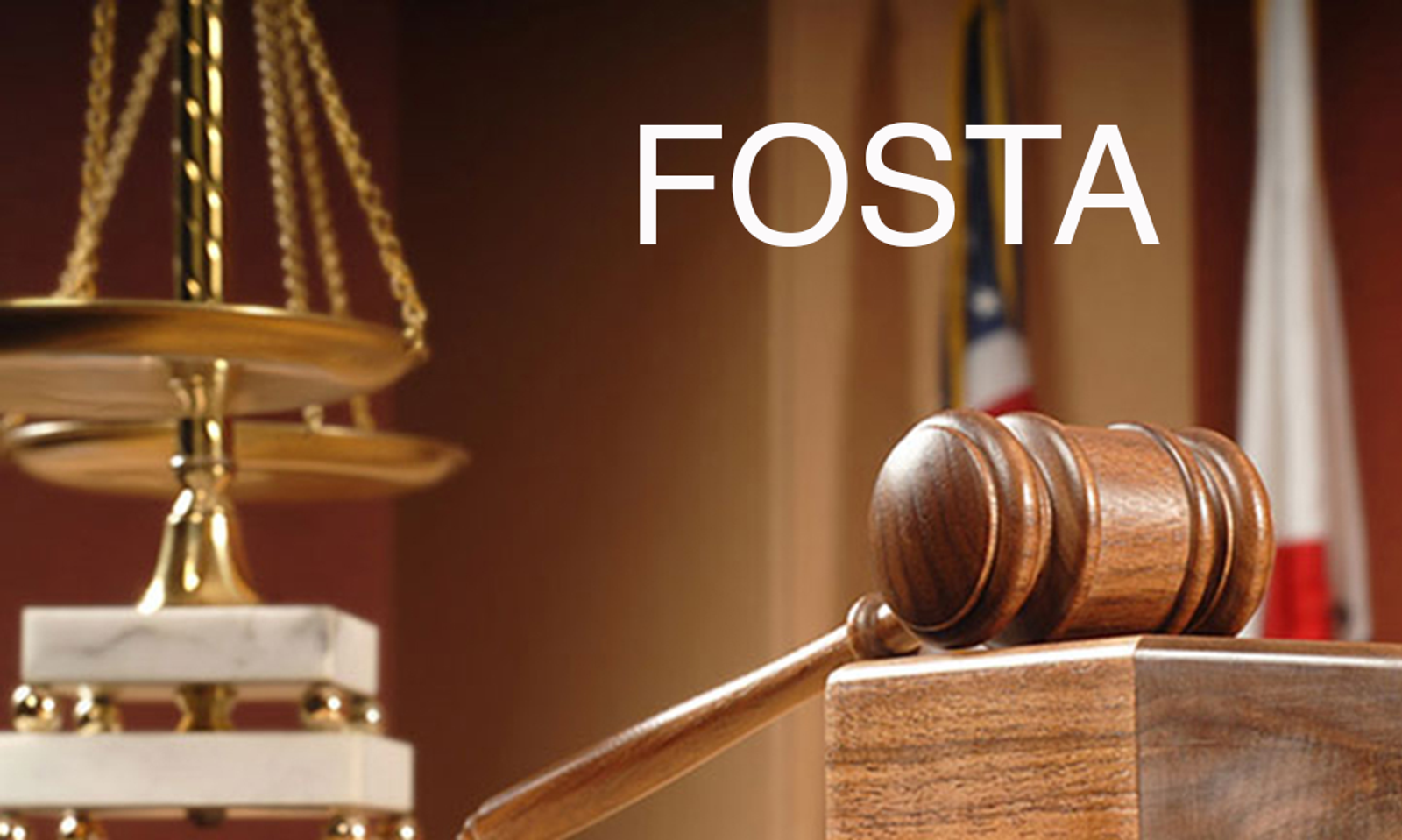 WASHINGTON, D.C.—Last night, the Woodhull Freedom Foundation and its co-plaintiffs in the lawsuit seeking to strike down the Allow States and Victims to Fight Online Sex Trafficking Act of 2017, better known as "FOSTA," filed their appeal with the U.S. Court of Appeals for the District of Columbia Circuit. The appeal seeks to overturn the ruling last September by U.S. District Judge Richard J. Leon which dismissed the action, making the ludicrous assertion that none of the plaintiffs in the suit had legal standing to bring the claim because, as the government claimed, "none of the Appellants were injured by FOSTA."
Those plaintiffs/appellants include, besides Woodhull, Human Rights Watch, individual plaintiffs Eric Koszyk and Jesse Maley (aka Alex Andrews), and The Internet Archive. The plaintiffs also expect at least a dozen other human rights and sex worker advocacy groups, including Free Speech Coalition, to file amicus briefs in support of Woodhull's position.
Describing FOSTA as "the furthest-reaching attempt to censor online speech since Congress first attempted to regulate the Internet through anti-indecency provisions in the Communications Decency Act," plaintiff/appellant attorneys Lawrence G. Walters, Robert Corn-Revere and Ronald G. London, as well as several other attorneys, note in their introduction to the appeal that, "FOSTA makes it easier for federal prosecutors, state law enforcement officials, and civil litigants to impose crushing liability on Internet speech using expansive but undefined terms regarding the 'promotion' or 'facilitation' of prostitution and/or the 'reckless disregard' of conduct that 'contributes to sex trafficking.' FOSTA's new, content-based criminal penalties and heavy civil liability for online publishers have already led to substantial diminution of online speech on these subjects, and on issues peripheral to them."
It is the very vagueness and overbreadth of the statute's wording that gives the plaintiffs/appellants their standing to bring the case in the first place, plus the fact that it allows the federal government and state and local law enforcement the ability to target speech that's already been published, in violation of the U.S. Constitution's prohibition of ex post facto ("after the fact") laws.
According to the Woodhull attorneys, Judge Leon used an improper standard in deciding whether any of the plaintiffs had been or were likely to be harmed by enforcement of FOSTA.
"Under the proper standard, when addressing pre-enforcement challenges to recently enacted statutes that facially restrict expressive activity, courts must assume a credible threat of prosecution in the absence of compelling contrary evidence," they argued. "Appellants need not await prosecution or face imminent civil liability before they may challenge a law regulating speech. Moreover, standing should have been adjudged according to the plaintiffs' interpretation of the statute, not that of the Government."
Indeed; it was this exact standard that allowed Free Speech Coalition to proceed with its lawsuit against the federal record-keeping and labeling law, 18 U.S.C. §2257, at a time when no one had yet been charged with violating it.
The appellate brief, which runs to 83 pages including exhibits, first notes that several terms used in the FOSTA statute—"promotes," "facilitates," "prostitution" or "contribute to sex trafficking"—are not anywhere defined, leaving such terms wide open to interpretation by law enforcement to the detriment of speakers like Woodhull, whose philosophy is pro-consensual sexual freedom; Human Rights Watch, which works internationally to challenge government abuses of its citizens' rights, including sexual rights; Alex Andrews, a long-time advocate for sex worker rights and founder of advocacy groups for sex worker health and safety; Eric Koszyk, a massage therapist; and The Internet Archive, an organization that "intentionally stores and displays a vast amount of both historical website data and third-party content, including content related to prostitution and trafficking, and has 'no practical ability to evaluate the legality of' such third-party material." Clearly, any of those entities could easily run afoul of FOSTA.
Worse, the law is so vague that one could easily unwittingly violate it.
"The law not only prohibits specific acts of traffickers, but reaches anyone who 'participates in a venture,' which requires only 'reckless disregard' to make out a violation, and which is broadly defined as including anyone who 'benefits' either financially, or by receiving 'anything of value' from their participation," the appellate brief states. "FOSTA further muddies the waters by newly defining '"participation in a venture' to mean 'knowingly assisting, supporting, or facilitating a violation of' Section 1591 (which incorporates the 'reckless disregard' standard). The House Report explained that under Section 1591 prior to its amendment by FOSTA, the 'knowledge standard [was] difficult to prove beyond a reasonable doubt,' and that the law needed to more broadly target promotion and facilitation. FOSTA thus broadens what acts are covered by the law through use of the verbs 'assisting or supporting, or facilitating' trafficking, and confusingly ties back into the 'reckless disregard'standard of mens rea... The result is that FOSTA appears to create liability whether or not the platform realized or suspected that a crime occurred or might occur, and online intermediaries must anticipate how law enforcement officials in every state might interpret these standards." [Citations removed here and below]
In sum, all of the above acts to chill internet speech by putting fear in the minds of webmasters and others that they may unwittingly violate FOSTA without meaning to do so, and suffer grave criminal penalties if found guilty of their "crime." Among the types of businesses already chilled are "websites that hosted personals ads, community forums devoted to discussions of sexuality and lawful adult sexual relationships, speech about non- sexual massage therapy and other non-sexual services, as well as dating sites."
The brief goes on to cite dozens of cases where pre-enforcement facial challenges have been allowed, with many eventually given the U.S. Supreme Court's stamp of approval. Or as the brief notes, "The District Court's standing analysis bypassed decades of First Amendment precedent."
The brief also takes Judge Leon to task for accepting the government's interpretation of the effects of FOSTA rather than the plaintiffs', as he was by law required to do. One of these flaws was the judge's acceptance of FOSTA as being analagous to the Travel Act, which prohibits outright pandering and prostitution, whereas FOSTA targets only speech rather than conduct.
Simply put, the appellate brief in this case is exhaustive in setting forth the errors in both the government's agruments in favor of maintaining FOSTA among the federal statutes and Judge Leon's errors in striking down the lawsuit. The brief also asks the appellate court to issue a preliminary injunction against FOSTA's enforcement, and anyone knowledgeable about the workings of the First Amendment can easily see the merits of the plaintiffs/appellants' case.
No date for oral argument has yet been scheduled in the case. Those interested in reading the appellants' brief may do so here.