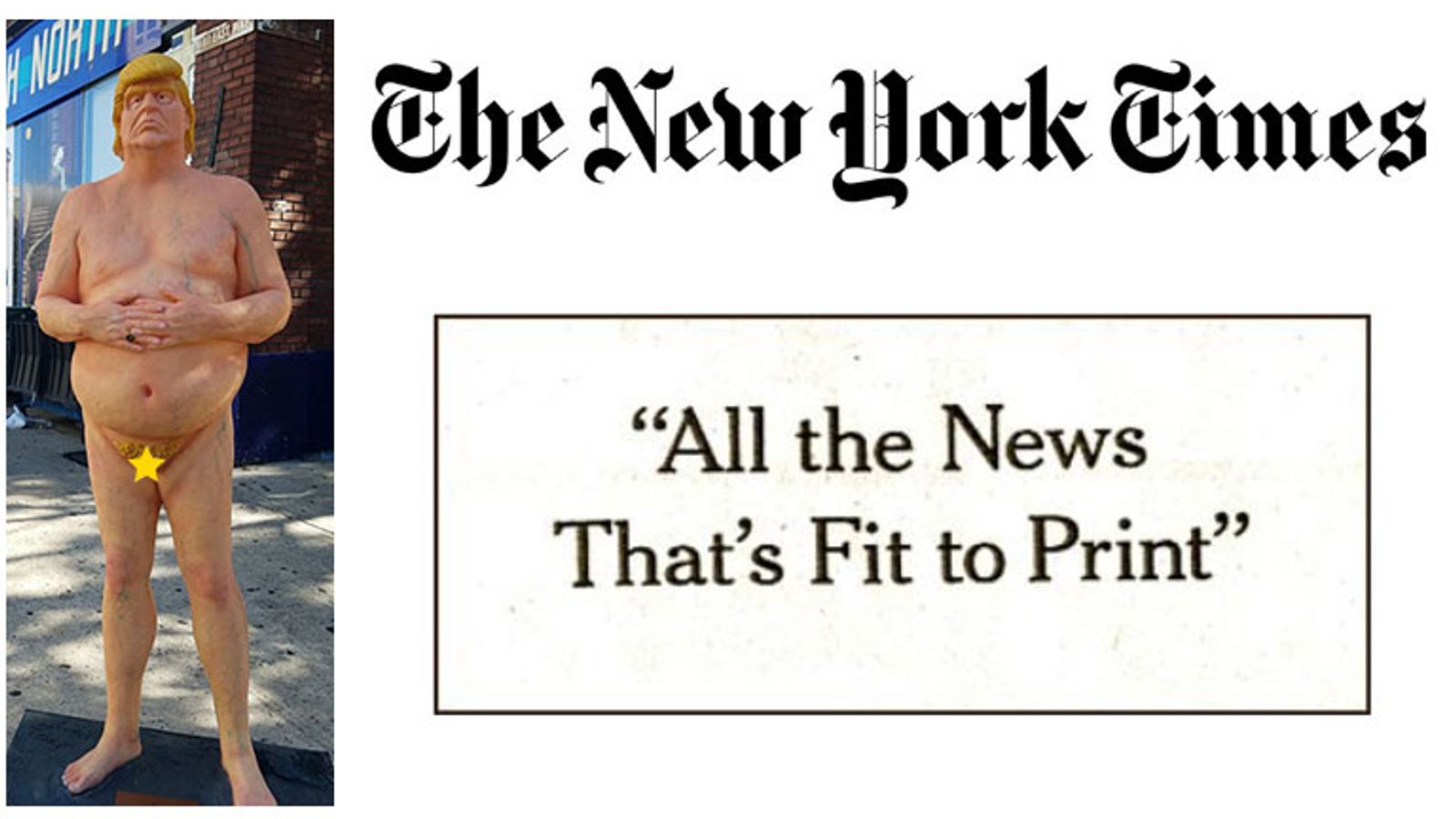 NEW YORK CITY—The motto of The New York Times, emblazoned on its front page every day, is "All The News That's Fit To Print"—but frankly, it's a puzzlement what that word "fit" means in practice. For The Times, a newspaper that, back in the '70s, had no problem running ads for XXX-rated movies like Deep Throat, it usually means using avoiding not only the "Seven Words You Can't Say On TV" but a bunch of others as well, not to mention avoiding photos of, for instance, the women, called "desnudas," who solicit money from Times Square tourists by body-painting their tits and dressing up as fictional characters. On the other hand, if the story involves classic paintings showing bare tits, such as those in the Metropolitan Museum or even the Museum of Modern Art, the sky's the limit.
Hence, it was refreshing to see a Times article, published Saturday, "Donald Trump Apology Caps Day of Outrage Over Lewd Tape," about the recently revealed videotape of Trump exiting an Access Hollywood celebrity bus in 2005 and discussing with host Billy Bush some things about his sex life and views on women. In it, reporters Alexander Burns, Maggie Haberman and Jonathan Martin managed to get published some of Trump's usually less-printable words, such as the notion that "because he was 'a star,'" Trump "could 'grab them by the pussy' whenever he wanted," and his admission concerning a woman named Nancy that, "I did try and fuck her. She was married," adding, "She's now got the big phony tits and everything."
Perhaps better still, the Times published a transcript of Trump's actual words spoken on the videotape, which includes such Trumpish thoughts as, "You know, I'm automatically attracted to beautiful—I just start kissing them. It's like a magnet. Just kiss. I don't even wait," and yet another use of the term "pussy" as an insult.
But apparently, enough of The Times' readers, perhaps less familiar with the First Amendment to the U.S. Constitution, wrote and called in so many complaints that Public Editor Liz Spayd felt that an explanation of the reporters' quoting Trump's "vulgarities" was necessary—but rather than take the high (aka "constitutional") road herself, she styled the pseudo-apology as an interview with Political Editor Carolyn Ryan.
After noting that "The public editor inbox is full of readers asking why The New York Times decided to use some of the most vile language spoken by Donald Trump in the audio released Friday," she asked Ryan, "Can you explain the thinking behind this decision?"
For her part, Ryan went right along with the program, beginning, "Yes, it is not a decision we made lightly. We had a spirited discussion among top editors about it, led by [executive editor] Dean Baquet." Yep, that's right: The Times reporters had a "spirited discussion" over whether to quote, accurately, something that someone actually said!
"Ultimately we decided that the words themselves were newsworthy," Ryan continued, "and that omitting them or merely describing them or slyly hinting at them would not have been forthright with our readers."—implying that there have been several other times when The Times had no problem not "be[ing] forthright with [its] readers." 
Ryan confirmed that with her next answer, to the question of whether The Times had "ever used such vulgar language in such a prominent position before, or in any manner?"
"It is very rare," Ryan said, "but we have done it in the past," with Spayd adding later, "Here's my view. It should be the extraordinary case when such words are used by The Times, but this is one of those cases." But considering how common the use of the word "fuck" is in Americans' conversations, and the fact that virtually every child over the age of 10 has heard it used frequently, Ryan's answer and Spayd's addition suggest that The Times has been less than "forthright" with its readers many, many times over the years.
"Trump is the Republican nominee for the president of the United States," Spayd continued. "He alleges to have sexually assaulted women, and the words used in this tape are propelling many members of his own party to abandon him, or at least to publicly condemn him. In all their vulgarity, these words could turn the election."
Ah; so The Times will only accurately quote the subjects of its stories on special occasions, such as when such words "could turn [an] election"? How sad—and how demeaning to itself that The Times has to explain the fact that it accurately quoted a famous personage.
Pictured: The NY Times masthead... and a newsworthy photo of a nude Donald Trump statue erected in Union Square to which The Times gave exactly one passing mention.