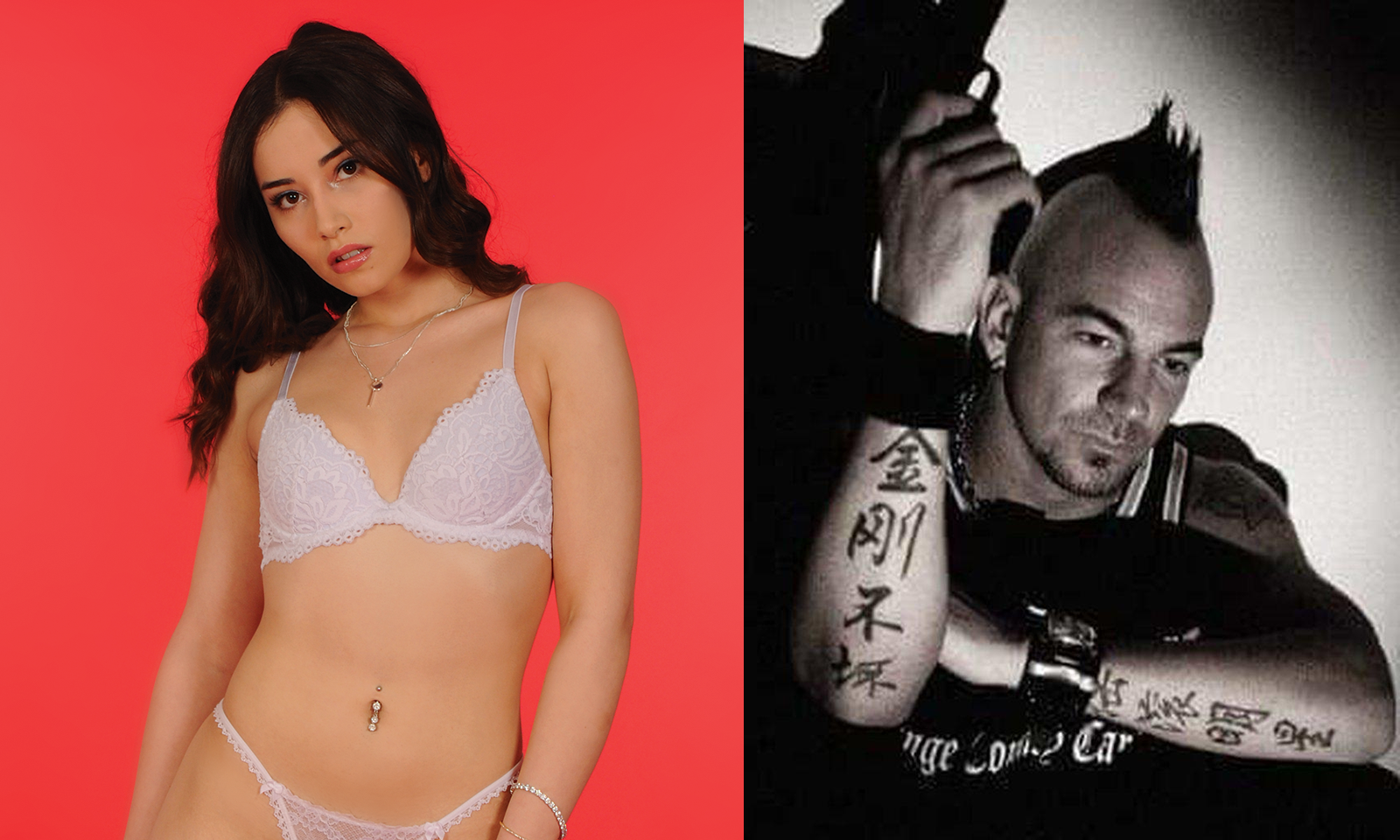 CHATSWORTH, Calif.—In a video posted to her Twitter page Friday, 2020 AVN Best New Starlet nominee Aria Lee leveled two allegations of sexual assault against Hall of Fame director Craven Moorehead, claiming the assaults occurred in October and December of last year.
The allegations were first brought to AVN's attention in late February by way of an anonymous letter and then confirmed by Lee during a meeting on March 2. However, as Lee explains in Friday's video after reading select passages, at the time, "I didn't want to go public about it."
She continued, "But now, I think I definitely should, because this guy should not be working, and I have been going through ... I have a therapist now that costed a lot of money because of him."
Moorehead had not responded to a request for comment at post time.
The first incident, Lee asserts, took place on October 11 while shooting a scene at a private residence for Gamma Films Group's Pure Taboo banner. In an interview with AVN Friday after posting her video statement on Twitter, Lee described that during a lunch break she asked Moorehead to show her to the bathroom.
"He was like, 'Of course, I'll walk you up there, this place is confusing.' He was being nice. I thought he was being a good director," Lee said Friday. "And he takes me to the bathroom, as I'm closing the door, he rushes in, pushes the door closed, pushes me down to my knees, takes his dick out and then makes me suck his dick. ... And he just walked out and acted like nothing happened."
The second encounter, she claims, occurred on December 8 when Moorehead arranged for her to serve as an extra in a mainstream horror movie directed by musician Glenn Danzig. 
Lee alleges that Moorehead insisted on driving her to the set, and during the car ride, "He took one hand off the steering wheel, unbuckled my seatbelt. I said, 'What are you doing?' He said, 'Oh, I'm not doing anything.' And I wish I would have recorded this, because then this would be actual evidence. But I said, 'What are you doing?' 
"He goes, 'Nothing,' unbuckles my seatbelt. I re-buckle my seatbelt, I look at him … I said, 'What are you doing?' And then he starts to take his dick out, and then he reached for my seatbelt again, and then he undid it again. And then he tried to force me to give him head, and I was like, 'No! No! No! No! No!' I screamed 'No' so many fucking times, to the point where he was like, 'Don't be a sore loser, come on. Don't be a sore loser, just get me off, just do this for me, come on, you know you want to.'
"And I literally sat there," she continued, "he forced my hand on his [penis], and he made me jerk it off, but I was so sad and angry, I didn't even move my arm. He literally did it for himself."
Asked why she would agree to ride in a car with Moorehead after what she claims happened on the Pure Taboo set two months earlier, Lee replied, "Because when I first started working for Craven, when I first joined porn in 2018, I thought that we were friends. Because on set we would play the same music, we'd vibe about the same things. You know, he's really into rock 'n roll, I'm really into rock 'n roll. I thought we were friends. 
"I think he took it as I liked him, and I never knew that, so I don't know. I just thought he was doing something nice for me. I'm only 19 ... I made a bad decision."
Lee contends that following the second incident she approached Gamma Films Group through her lawyer about the alleged on-set assault in October.
"At first they made it sound like they were going to fix it and help me," Lee said. "They said they were hiring a private investigator ... and he did a full investigation of the whole thing. I agreed to take a polygraph test, but Craven said he would not. And then Gamma just pretty much let it go."
Gamma Films Group addressed Lee's allegations in a statement that reads in full:
"In January 2020, Gamma Films was made aware of allegations of misconduct by one of our independent third-party producers that may violate our Code of Conduct. In accordance with our usual due process for such situations, we have performed an independent investigation into these allegations - the conclusion of that investigation was that it has been impossible to validate the veracity of the allegations in question.
"We never tolerate misconduct on the part of anyone involved with our production projects, as this violates our Code of Conduct. We always strive to provide an ethical and respectful work environment for anyone involved with our production projects and remain committed in supporting the performers, independent third-party producers, and business partners with whom we have an ongoing business relationship. We strongly encourage all parties to reach out should they ever experience a work environment that undermines their well-being and safety.
"We firmly reiterate that the best course of action for anyone that alleges having been a victim of any sort of misconduct which may qualify as a criminal offence is to immediately bring forward such issues with their local law enforcement service.
"Gamma Films Group"
As to what outcome Lee would like to see result from coming forward about both incidents, she said, "I want Craven to never work in the porn industry again. I want his wife to know what he did to me. I want the entire porn industry to know what he did to me. I am completely messed up in the head because of him. I don't have money to see a therapist, but I'm constantly seeing the therapist because I'm not OK. And I'm paying for that. Craven should be. Or at least Gamma, for letting him still work. 
"And I loved Gamma, I loved their companies, I love [chief creative officer] Bree Mills, I wanted to work with them. But they just blew me off like I was nothing."
Lee added, "I just really want other girls to come forward, too, I want to know if this has happened to anybody else. I want us to protect our industry."
Photo of Aria Lee by Keith Ryan