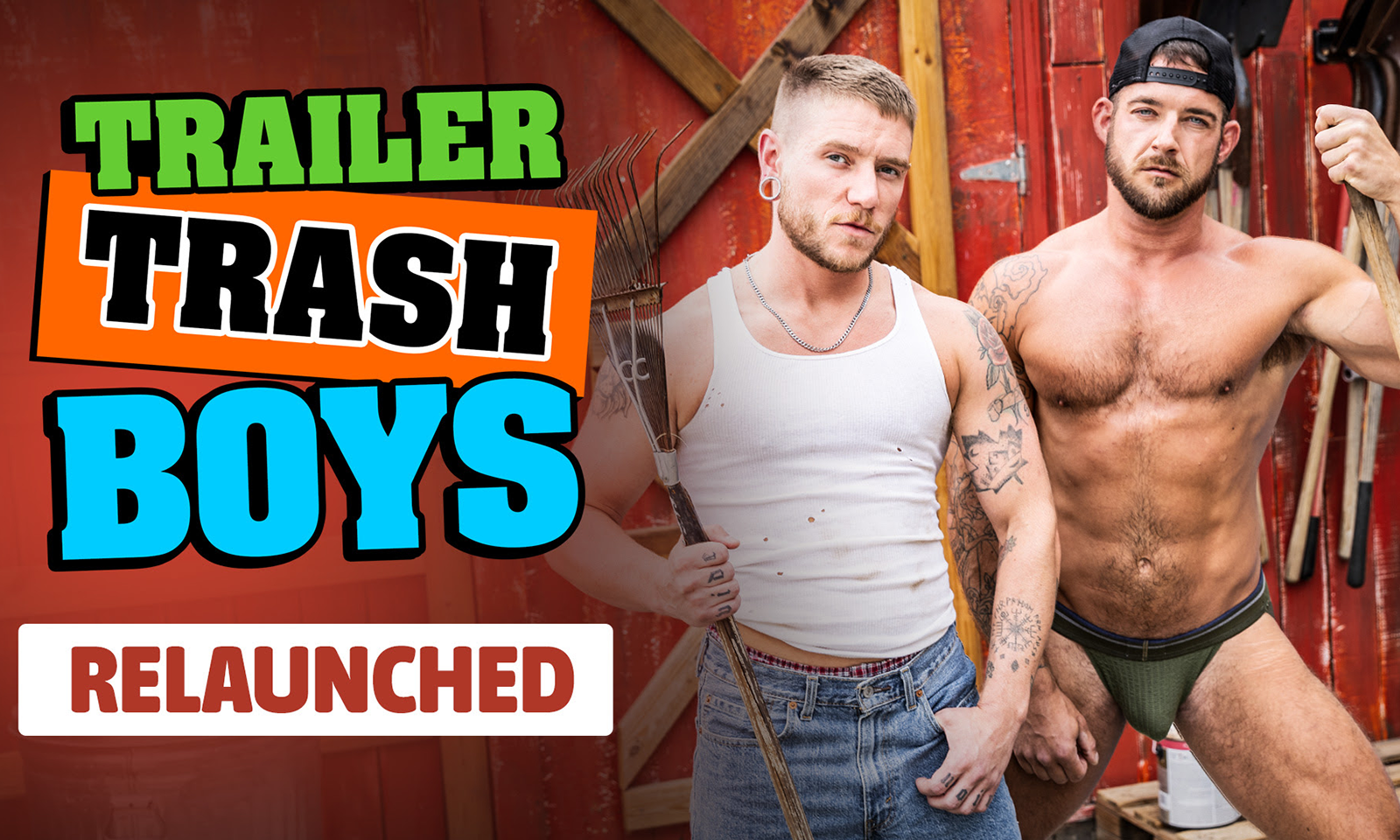 SAN FRANCISCO—Gay adult site TrailerTrashBoys.com has relaunched with new features and a dynamic user experience as part of the NakedSwordCash affiliate program. The brand's newest scene, starring Colt Spence, Tryp Bates and a pumpkin, debuts tomorrow (October 27, 2023) on the site.
Explain promo materials, "Taking place across Lot 45, a trailer park on the other side of the tracks, the original content from Trailer Trash Boys showcases all the country boys you've dreamed about, living together in one dick-hungry community. Some may think that these men are down and out, but they know they're living in an oasis of cousin-fuckers, hot loads, and all the country cock their holes can handle."
According to a company synopsis of the newest Trailer Trash Boys scene, "Colt Spence was missing his buddy Alpha, so the next best thing was to carve a pumpkin face and slide his dick inside it. Tryp Bates was there and decided to get in on the fun, seeing as how there were two dick holes cut in the gourd. The two boys got right on fucking the Jack-O-Lantern until Tryp smashed it by ramming it way too hard. So, Colt did the only thing he could think of—turn Tryp's muscly ass around and slide his dick all up in there. Colt fucked Tryp really good and hard until he blasted a big load of cum all over himself—until Colt pulled out and added more cum to that splatter."
"I am honored to be partnered with the most respected brand in the adult industry," said Trailer Trash Boys founder Trenton Ducati. "We are excited to provide our members with the best viewing experience possible. We work hard to earn our members, so giving them upgrades and new technology really makes this all worth it."
In addition to new original Trailer Trash Boys content dropping every week, members will be able to stream bonus content from Trenton Ducati and NakedSword.com. This includes hundreds of titles and multiple weekly updates from NakedSword Originals, scenes from NakedSword X Rhyheim, and NakedSword's Private Collection videos.

Affiliates who want to promote the relaunched TrailerTrashBoys.com and its weekly updates may contact [email protected] regarding special pricing on membership offers and for custom banner assets. New affiliates can sign up for an account with NakedSwordCash here.