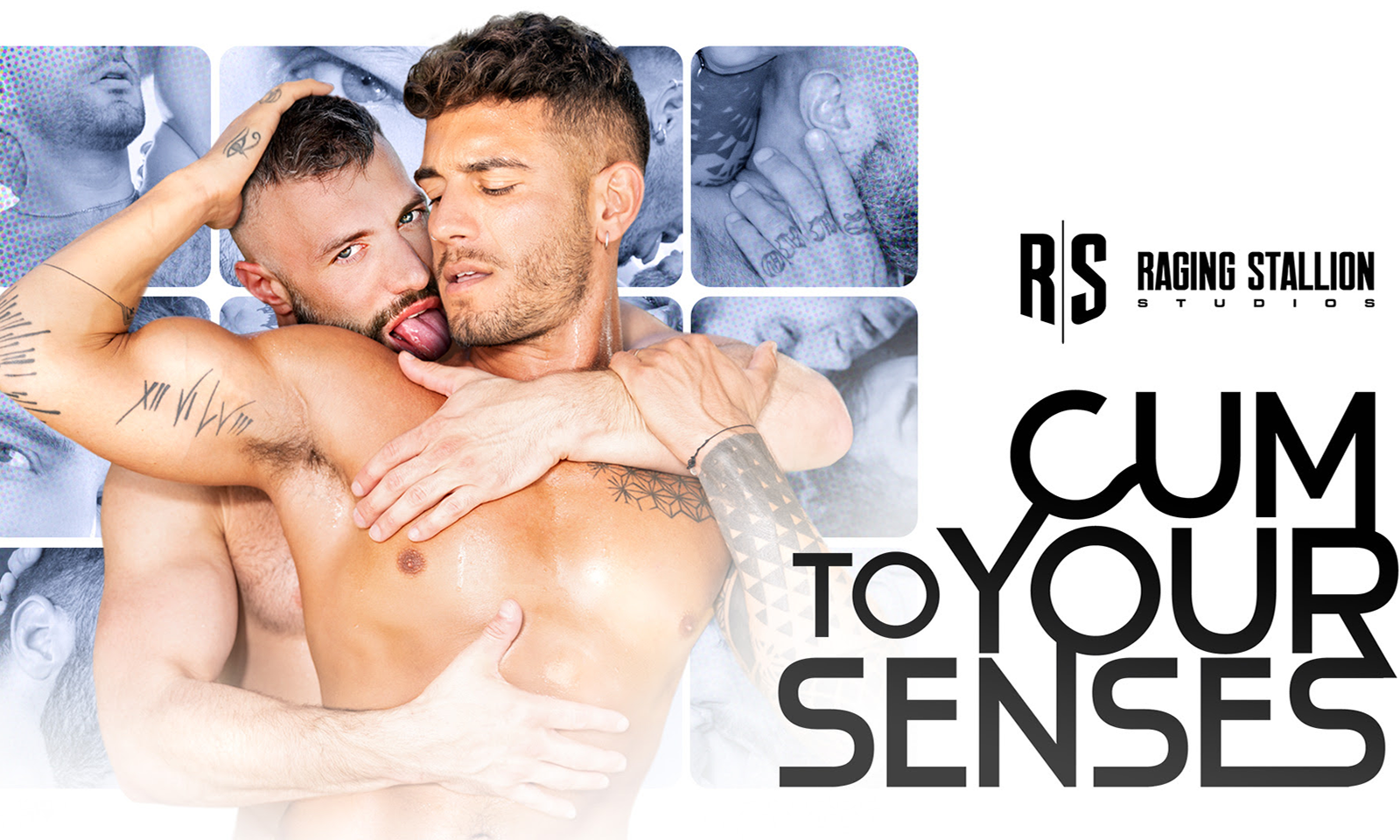 SAN FRANCISCO—Director Steve Cruz assembles a cast of rugged, hairy men for the latest offering from Raging Stallion Studios, Cum to Your Senses, out now on DVD and as a digital dowload at the Falcon|NakedSword store. Featuring Falcon|NakedSword exclusives Cole Connor and Drew Valentino, the all-sexer's first scene, starring Valentino and Alpha Wolfe, premieres on RagingStallion.com next Friday, September 15.
Describes a company synopsis, "When handsome stud Alpha Wolfe catches his roommate, Drew Valentino, secretly sniffing his used jockstrap, he knows the hirsute hottie will be open to a flip-fuck right in the middle of their living room. So begins a series of hookups that is certain to stimulate the 'holefactory' senses, including Adam Ramzi getting a good long whiff of a sweaty, worked-out Liam Hunt before fucking him with his big dick. Then, the always rough-and-ready Timothy Chance and horny reality star Lobo Carreira can't get enough of each other's scents during a scorching hot pool day, ultimately moving the versatile action indoors to their plush bedroom. Next, when Alpha Wolfe drops by the home of Cole Connor and Alex Ink, he finds the two boyfriends to be extremely welcoming—wide open, you might say, to an unexpected bareback three-way. After Alpha cums and runs, Cole Connor and Alex Ink connect with only each other in a down-and-dirty flip-fuck that leaves the room heavy with the glorious redolence of sex."
"The connection between sense and sensation is deeply linked. I wanted to explore that connection in Cum to Your Senses, in particular, the erotic trigger of masculine scent," director Cruz said. "Raging Stallion has long celebrated the natural male—sweaty pits, furry chests and asses, musky balls, and juicy cocks. Here, we dive right into fuck-play that puts olfactory eroticism center stage." 
All episodes of Cum to Your Senses are available for promotion through the Buddy Profits affiliate program. For more information, contact the affiliate manager at [email protected].

For DVD retail and wholesale purchasing, please contact John Gunderson at [email protected]. Contact Cameron Greer at [email protected] for any additional information.