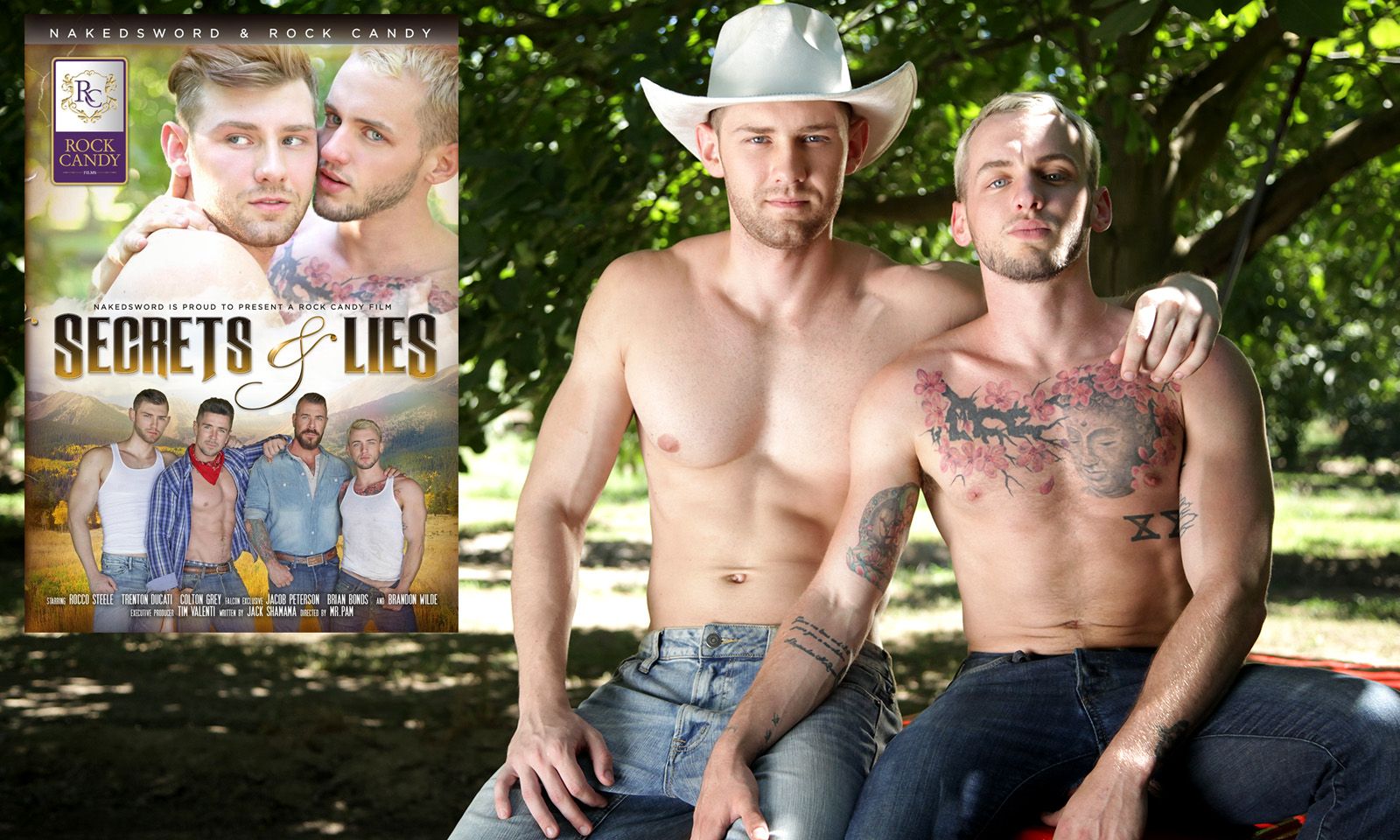 CYBERSPACE—It's been four years since AEBN released its first original gay erotic feature, His Mother's Lover, under its then newly minted Rock Candy line of gay porn directed by Nica Noelle. The boundary-pushing studio focused on an under-served taboo niche and quickly saw major success on the AEBN platform and beyond. Putting ordinary people in taboo situations coupled with emotional performances and rich cinematography proved successful in attracting a wider viewing audience for the studio's typically off-limits religious and forbidden attraction themed films. Perhaps for this reason Rock Candy captured the imagination of both gay and straight audiences though the content was 100 percent male-on-male erotica.
Now, four years later, the studio that identified and filled a gap in the marketplace returns with a new feature, Secrets and Lies. But now that the market has seen seemingly every taboo broken or being broken at breakneck speed, how does Rock Candy plan on distinguish itself within a niche that it helped make trend?
This time around AEBN is keeping it all in the family by joining forces with sister company NakedSword to produce its first new original feature in more than two years. Secrets and Lies is produced by NakedSword Originals, the original content arm of NakedSword, and helmed by acclaimed gay porn director mr. Pam. Tim Valenti, president of Falcon Studio Group and NakedSword, conceived and executive produced the film; Jack Shamama of NakedSword wrote the intricate script.
Not a conventional studio itself, NakedSword has successfully created original content and independent features that stretch the typical definition of gay porn and aim to engage audiences both physically and mentally with entertaining storylines—albeit, not taboo in nature like Rock Candy.
Paying homage to the studio's beginnings, Secrets in some ways picks up where Rock Candy left off by playing on forbidden family dynamics and taboo desires. According to the team at AEBN, the new Rock Candy feature is less dark and brooding, more modern and light, with a lightness that sets it apart from previous releases. Taking place on the Ridge Family Farm, Secrets and Lies is beautifully shot with bright, gorgeous cinematic moments both indoors and out and features cousins and uncles participating in very non-familial activities. NakedSword aims to do the Rock Candy line justice while at the same time moving the needle forward by adding an element of genuine light heartedness and chemistry that is sometimes missing from today's taboo-themed content.
"Rock Candy began as an experiment to try and fill in content gaps across our platforms," explained Matt Gleason, senior content manager for AEBN. "There was greater demand for this taboo content than was available at the time. We tried to use the data we had to more clearly understand what consumers were seeking. It aided in starting the line by helping with the selection of story lines, casting, and the sex acts that would be filmed. The hope at the time was to create filler content for the platform when we needed it but also to see if consumers found this content compelling. The experiment turned out to be very successful and launched well over a dozen successful films. It turns out that the numbers show consumers are still fascinated by this content so it only made since that we continue to produce."
When it came time to find a new director and production team it was a no-brainer to team up with sister company NakedSword, which has won over a dozen major industry awards since starting its original content division. But the creatie team says fans shouldn't expect Rock Candy to stick to the same themes that made it popular or to become another version of NakedSword Originals. Tim Valenti said, "Rock Candy will carry on by tackling controversial or taboo themes but moving forward in more varied and creative ways not seen before. Rock Candy will continue to be an experimental line while maintaining the highest level of quality production and standout performances by the industry's biggest and best performers." 
The value of working within the internal company structure can't be underestimated, Valenti explained. "Working with AEBN and using their internal data to assist in the script selection process and other aspects of the production process is probably the closest thing you can get to the kind of focus groups often used by Hollywood studios to determine what is likely to captivate and engage audiences the most. That is one example of the many ways that we are working together closely to keep Rock Candy a relevant and successful boundary-pushing line."
AEBN has been giving the same data to content partners so they can better understand how consumers are reacting to their content, which hopefully leads to the ability to create better content using market data from one of the most-watched adult platforms in the world, AEBN.
Rock Candy and NakedSword's Secrets and Lies debuted October 3 to huge numbers on AEBN. It is also streaming on NakedSword.com, with one episode being released every week.