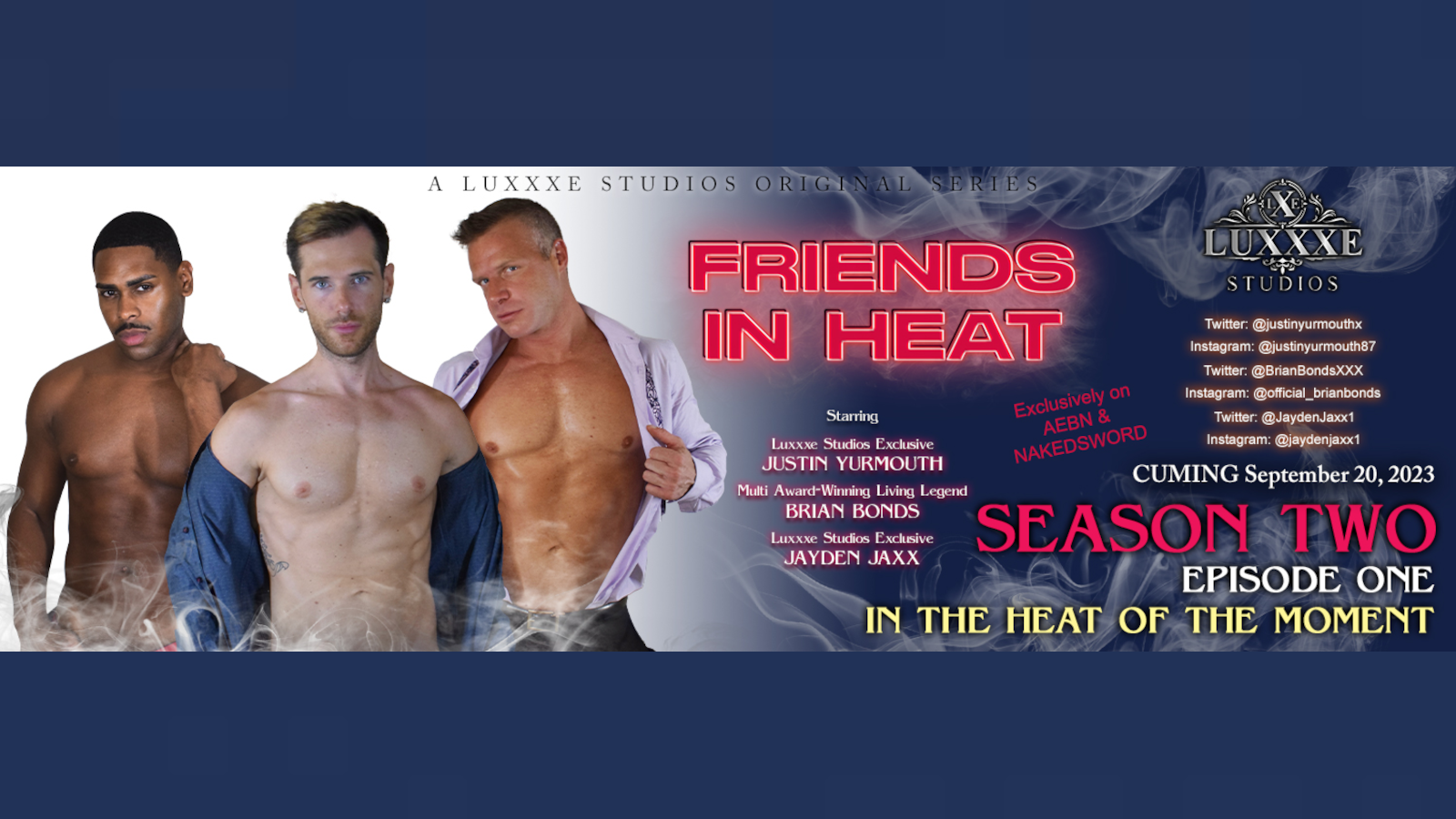 LOS ANGELES—Luxxxe Studios on Friday announced that the debut episode of Friends in Heat: Season Two would be unveiled on Sept. 20 on both AEBN.com and NakedSword.com.
Titled "In the Heat of the Moment," the episode features Luxxxe exclusive and executive brand ambassador, Justin Yurmouth, returning as Jake Carmichael along with award-winning performer Brian Bonds as Darryl McDaniels.
Picking up two years after the first season, this season finds the newly engaged couple trying to solve a family issue by talking with Judge Zach Ramsey, played by Luxxxe Studios exclusive Jayden Jaxx.
With Jake running late, it's up to Darryl to entertain Judge Ramsey by giving him something strong and hard. When Jake arrives, he turns a twosome into a threesome. He's relieved when the Judge says he'll help, but is it that simple?
Returning to the cast are GayVN award-winner Aaron Trainer as Todd Ramsey and newcomer Matteo Neveah as millionaire restaurateur, Jonas Donavan.
In addition, Archer Croft joins the cast as Allen Carmichael; Ryan Carter as Senator Jeffrey Kaninsky, Jason Collins (aka Masculine Jason) as Mayor Ethan Christiansen; and Luxxxe exclusive Luke London—in his first appearance for the studio—plays Brad Harrington.
JD Daniels, Luxxxe Studios founder and CEO, remarked, "My excitement for the premier of Season 2, Episode 1 'In the Heat of the Moment' is one I've been looking forward to since we ended Season 1.
"I had the joy of developing and co-writing the first episode with the wonderful, multi-talented Stephen Michaels. I am happy we were able to bring back so much of the original cast and crew along with bringing in new actors whose characters have interesting and dynamic story arcs that will make Season 2 more explosive and exciting than Season 1. I am grateful for everyone's hard work in ensuring Season 2 is as big of a success as Season 1."
Robby Lewis, the Luxxxe Studios insider, said, "'In the Heat of the Moment' had me hooked from the very beginning. I was happy to see so many of the original cast returning and Luxxxe Studios continue the Jake and Darryl storyline. I can't wait to see where the story goes with the introduction of the new intriguing characters. Stephen Michaels did a great job for his first gay adult film script."
This season was executive produced by Daniels, produced by Yurmouth and written by Michaels.
Jasun Mark returned to direct Season 2 with his director of photography Mark Hersh.
The first episode features a tease of "Smoke and Mirrors," the original song recorded for Season 2 by Dakota Payne and Trent Park. The song will premiere on all music streaming platforms in October 2023, following by a music video in November featuring the Friends in Heat lead actors, Justin Yurmouth and Brian Bonds.
This four-part series premieres on Sept. 20 with subsequent episodes unveiled every three weeks on Fridays. 
Episode List

October 13: "Guess Who's Cumming to Dinner"
Starring: Aaron Trainer, Jason Collins and Matteo Neveah
Cameo: Ryan Carter
November 3: "Revelations"
Starring: Brian Bonds, Jayden Jaxx and Luke London
Cameos:  Justin Yurmouth and Archer Croft
November 24 "The Heat is On" (Season Finale)
Starring: Archer Croft, Jason Collins and Ryan Carter
Cameos: Justin Yurmouth, Brian Bonds and Matteo Neveah