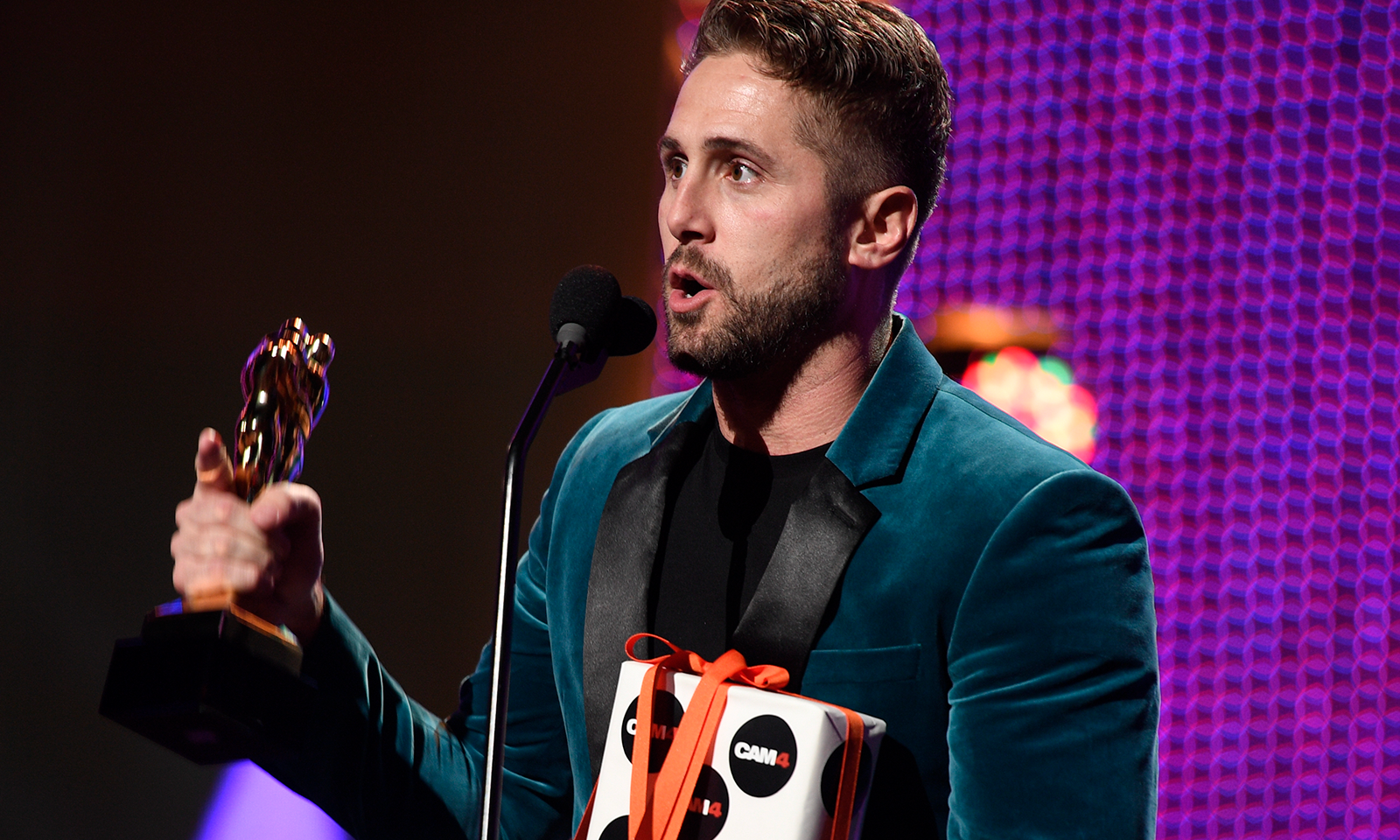 Above, Wesley Woods at the 2019 GayVN Awards Show, where he won awards both for Best Actor and Performer of the Year. Photo by Jeff Koga.
Nearly four years after he first entered the industry and made an instant impact, reigning GayVN Performer of the Year Wesley Woods has decided it's time to move on.
"I can't get out fast enough. My asshole hairs are burning," he laughs. "I love the industry; I love everyone in it. But definitely the past year, I have treated it much more like work. I show up when I need to and I live my life. I realized I had to start protecting my energy and myself—and sometimes that means backing away. When you're constantly surrounded on social media by dicks, assholes and bodies it can become toxic, and you have to know when to put your phone down and walk away."
Woods has arguably had the most successful four-year run of any performer in history. In addition to his Performer of the Year and Best Actor GayVN wins this year, he also won Best Webcam Performer, Clip Artist of the Year and Best Actor at other shows. He was also named Best Porn Star at last year's Cybersocket Web Awards, and was the 2017 Performer of the Year at the Grabby Awards.
But following an assault in August of 2018 in West Hollywood, Woods says that his outlook and priorities started to shift.
"I don't even really know how to explain it. I think after being assaulted a year ago, it kind of made me sit with life and what I'm doing—and where I am and where I want to go—differently. I just feel a calling to kind of push myself into a new direction," he says. "I don't know which direction, but obviously one with lots of love and inclusiveness. I gotta do something, because I don't ever want to be in the industry unhappy—and I can tell that if I don't do this now, I could easily start to become unhappy."
Woods entered the industry in November of 2015 and quickly rose to prominence, all the more impressive considering he never had an agent or signed as an exclusive with any one studio.
"I never got into porn with any idea of what I was going to do and you will never fully understand the industry until you are in it. I literally answered a Craigslist posting and the rest is history," he says, noting that directors Tony Dimarco and Chi Chi LaRue quickly became close friends and mentors.
"I didn't know what I was getting into in this industry. I don't think anyone ever does. I didn't know the popularity that I would have, I didn't know the type of travel and the time and energy it would require—and I didn't understand initially how to separate the persona and personal. I had no idea what I was doing, so I never really had an exit strategy, either. I don't necessarily know what the next steps are even now. My great-grandmother always said, 'If you want to make God laugh, tell him your plans.' I'm just trusting the process. I've surrendered to the experience."
The thoughts entered his mind over a year ago after that fateful day in Los Angeles.
"When that assault happened, I think I probably handled it really badly. I isolated a lot. I turned to drinking heavily and I threw myself into work and I was just throwing caution to the wind. I had lost myself and didn't care much about anything for a good six to seven months, and it was dark and it was lonely," Woods recalls, his voice quivering as he pauses to collect himself.
"I backed away from social media a bit. I just had to find myself. I had to clear my head, allow myself to sit in what I was feeling—and to also figure out how to come out of that and have a positive experience from it."
Woods shares that he started opening up to counselors and therapists, which helped him a lot. He also started doing more meditation and prayer, and more outdoor activities (like hiking) that he knew would get him back to who he was.
"And I leaned on my family a lot—they are always there for me. I became kind of reliant on my mom; I talked to her constantly. Living in L.A. and not getting to go home [to Texas] as frequently as I would like was really hard during that process because I was really having to become an adult; I had to figure it out. I needed to figure out why I was being gifted the opportunity to experience some of the loneliness and some of the lows," he shares, getting emotional again.
"And now, the past six months or so, it has been really heavy on my heart to exit. I just really didn't know how, when, where, why … I just kept praying, meditating on it. I kept talking to Mom about it every day, and I just feel like it's the right time. That's the gift I want to give myself on my four-year anniversary—the gift of allowing myself to kind of go into a new direction, do something different with my mouth," Woods laughs.
That includes rehearsals for Women Behind Bars, a play at the Montalbán in Los Angeles starting January 24. Woods will play "The Man" alongside a cast that includes Traci Lords, Mink Stole, Eureka O'Hara, Thorgy Thor, ChiChi Devany and CoCo Peru, among others. He starts rehearsals soon, but the commitment means he won't be able to attend the 2020 GayVN Awards.
"It's going to be a great show. I'm going to be playing three different characters and there will be nudity, so I guess I'm not completely getting away from showing my ding-a-ling," he laughs. "But that's all right. I'm really excited because I get to take on three different characters in a play, and I think and I hope that that shows some of my acting chops and diversity. I'm going to have fun with it."
Woods also recently signed a contract with FanCentro as a brand ambassador, noting that members can pay a monthly rate or have the option to purchase a one-time lifetime membership to his premium Snapchat profile.
"I'm really excited about it. I have the support of the company to really build my platform how I choose, and I'm also really excited to give fans an option to see and do all things with Wesley. I'll be doing fun things like weekly shows, giveaways and Q&As, and it's going to be a lot more personal. You really get to go into my life, and I'm going to be using my other social media platforms as commercials or infomercials into my life. You'll still get to see and interact with me if you don't want to pay for the premium channel to actually view 'The World of Wesley,' but I'm really excited to give back differently to those that choose to support me going forward."
Woods also will continue to do standup, and has some shows planned soon.
"I'm going to start going more into it. I got into porn because I wanted to create a fun little persona, and instead of sucking dick in front of a video camera, I'm going to talk about it on a microphone. I'm just going to roll with it. And I'm excited to be me again. I understand the persona is always going to be the persona, but I also want to kind of take my art and open up—be a little bit more vulnerable and try to show the person behind the persona, and really step into being me."
And despite his on-camera retirement, Woods notes he isn't fully stepping away from the adult industry.
"I have so much I want to say and do for sex workers, and continue the conversation on sex and sexuality, just for gay men in general. I have a very strong desire to do something with my platform. And I don't necessarily know what that is, and I think that's beautiful—the possibilities, it's exciting. I do know that I need to leave now, though—and go and figure out what it is that I'm supposed to do," he says.
"I don't know if I'll ever be able to fully break away from adult entertainment. I say that not in regards of physically, but my mouth will always be able to speak about it, talk about it, laugh about it. I don't want it to be viewed like 'he's breaking away.' I want to show that you can be an adult performer and also do whatever the hell else you want to do.
"I don't know which direction I'm going to go, but I promise you, just because I did porn it's not going to limit me, stop me or control where I go from here—and those opportunities that is does hinder weren't meant for me. As happy as I am to not be in front of a camera doing hardcore sex scenes anymore, I don't really view it as breaking away…I'm just stopping filming. Kinda 'been there, done that, got the trophies,' ya know?"
Woods isn't sure which scene will technically be his last released performance; he has a few more bookings left, including a shoot with LaRue for Icon Male. ("I would kind of hope that the last one would be with Chi Chi; me and Tony couldn't fit one in before I left, and that's sad.")
"I will be done filming at the end of October. I'm not going into the holiday season doing it. I want some family time. And you know, I gained so much of my freedom through my sexuality and doing porn, and I'm an extremist. My pendulum is starting to swing the opposite way. And after my last film, I'm also considering going celibate for four months … we will see how that goes. Life is going to change, and I'm excited," he laughs.
Performer of the Year Wesley Woods backstage at the 2019 GayVN Awards; photo by Rick Garcia.
"If I could walk around in a burka and it not be culturally inappropriate, I would. Because by putting myself out there that much, I've also recognized and understand the beauty of being covered. But I'm going to do it in other ways. I'm going to try and manipulate it and find a way that works for me, because that's where I've grown. I want to take some time and step back and gather my thoughts and breathe, and find intimacy on another level again. I feel called to do that right now."
Woods notes that might mean a relationship, but not necessarily.
"I don't know, and I'm not 'looking' for one, either. Of course, I'd love to have someone else in my life, but it'll happen—or not—when it's supposed to. I'm just being called to go a different way. I don't know how else to put it. I don't even know what it looks like right now. But it feels right, and I also want to have conversations differently. I want people to see the person behind the persona, and sometimes that's hard to do. People don't necessarily want you to be anything but just hung, tight-bodied or whatever, but there's so many more of us out there that want deeper conversations and connections, and those are the people I'm going to go after. That's what I want, too."
Woods recalls an odd mix of extreme emotions in January when he was racking up accolades—including his Performer of the Year and Best Actor (for Falcon's Zack & Jack Make a Porno) wins at the GayVN Awards in Las Vegas. That was five months after the assault, so at that point in time, Woods notes he wasn't fully "there" in Vegas.
"I was there, but was so not there. I went through some of the lowest lows and some of the highest highs in the months leading up to that and directly after, and I felt so alone. I didn't know how to be. It was a very weird place for me. I don't think that I ever really allowed myself to recognize what I did, the accomplishments I was achieving—everything was happening so fast. I was just kind of doing, if that makes sense. I was just trying to occupy time and space and just be. It was a really weird moment," he says, struggling for words.
"I know the level of a platform that being a GayVN winner gives you … those people are my family. I really look at AVN as family. I love the home offices, I love everyone there. They do so much for so many of us—and the platform and the voice that they give us—so I understood the magnitude of what was going on that night. It was a very beautiful moment, too, because during that time of feeling so alone and isolated—and no one really knowing what was going on inside of my head and my heart—I had people coming up backstage and laughing, congratulating and sharing a cry with. It was a beautiful reminder of just life and the beauty that I did have—and what was going on in my mind I knew required more work. It was a very bittersweet moment."
And despite his scheduling conflict in January, Woods hopes to still attend as many award shows as he can.
"The award shows are so much fun, and I hope to always have a seat at someone's table, because I still want to be there. I've gotten to travel because of porn, I've gotten to date and see people differently, I've gotten to experience sex and sexuality differently—the power of it, the conversations around it. I've lost a lot of my insecurities because of porn, too. I'm just grateful for it all—the good, the bad and the ugly," he says.
"I love this industry, I love the shock value—I love being that, I love doing that. And I do it not for myself, but for those who can't, whether physically, mentally, emotionally. I like living large and living loud, and I'm just excited to try and do something outside the box. I really feel the call to do this right now, and I'm just trusting it. I think if you sometimes put yourself in an uncomfortable situation, there's a lot of potential for growth and unknown possibilities that can come from it."
Wesley Woods; photo by Rick Garcia
Woods will continue to live in Los Angeles ("I can't get too far away from a camera," he laughs, "people need to see this!"), but will split his time between Dallas and L.A. to spend more time with his family.
"My family is the most important thing in my life. My nephews are 3 and 6, and they're not getting any younger. I can't get enough time with them. And they need crazy Uncle Bubba! I mean, who else is going to help them know that the world can be as crazy as you want it to be? I guess my mom … I'm actually out here right now, she's making some monkey bread for me," he shares.
"I just love it out here. It's where I'm from. It's always good to get out of L.A.—to literally come back to the ranch where I was born and raised, and connect. There's so much to do and see in life, and I never thought that porn was the end goal. Everything has a time, reason and a season. I'm really excited about the future."
And that immediate future includes a retirement party in L.A. where he can go out with a bang—with family and friends.
"Not everyone gets into porn, you know? And I like the hilarity of throwing a fucking porn retirement party at the age of 33, and I want a red carpet … come on, that's over-the-top Hollywood right there. I like too that people are going to be like, 'The ego on that one!'" he says, bursting out into a boisterous laugh.
"But it's all for fun, and I want to take the time to celebrate what I've done—and the support I've had doing it—with those I love. My mom is excited to fly out to L.A. and celebrate with me and my friends," he says excitedly. "I love all the guys. I might not like all of them, but I love 'em. There's a commonality, there's something we all share, and as frustrating as it is that we may not all get along because of our different personality traits—they're industry, they're family. And I'm trying to step back and step outside my ego and have more space for anyone and everyone. I want to be bigger, better and more capable to be a source of love for my community."
And for once in his life, Woods admits that he's at a loss for words.
"I never knew what I expected getting into it or out of it. I never knew that I would do what I've done. I not only have awards from the porn side of it, but I've crossed over and did a little bit of everything—winning Web Cam Performer of the Year and Clip Artist of the Year—and I'm proud of that. I came into the industry as a big ol' bottom, and why not go out on top?" he says, taking a long pause before bursting out laughing again.
But are you really sure, Wesley? We've seen porn stars announce their retirement only to be back in front of the camera quickly (not that fans would ever complain to see more of him…).
"You pay me $20,000 a scene, and I'll be there. I have no desire, and I've always been someone that when my mind is made up, it's made up. And I know that a lot of people will be sad to see me leave, and there will be a lot of people happy to see me leave—and there will be a lot of people hoping to see me fail. But you know what? They'll all be seeing me."