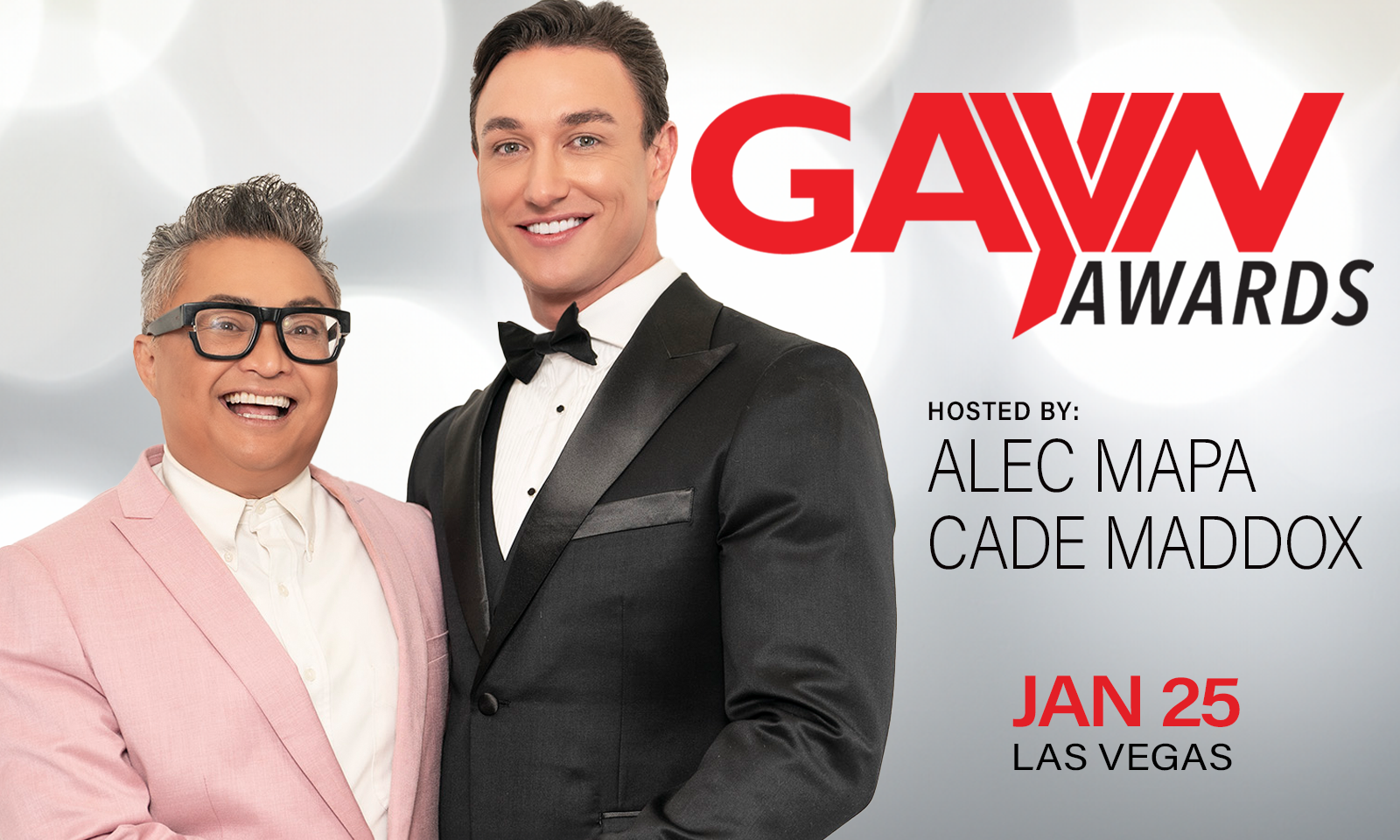 LOS ANGELES—AVN Media Network is pleased to announce adult superstar Cade Maddox and legendary entertainer Alec Mapa will co-host the 2024 GayVN Awards.
The decorated duo will preside over the biggest night in gay porn on Thursday, January 25 on the world famous Strip in Las Vegas. The show also will be live-streamed on GayVNAwards.com.
The highly anticipated red-carpet event will celebrate outstanding achievements in gay adult entertainment in 33 award categories—17 of which will be voted on by the fans.
"We're excited to announce Cade Maddox and Alec Mapa as our hosts for this year's GayVN Awards Show," said Tony Rios, CEO of AVN Media Network. "Together, they will bring a dynamic energy to the stage with their undeniable charisma and comic flair. We think they're the ideal duo to lead this celebration of our community.'
The dreamy Maddox, who hails from Mississippi, won the 2020 GayVN Performer of the Year award and hasn't looked back.
The 6-foot-1, 200-pound stud, who made his splashy porn debut in August 2017, also took home Fan-Voted GayVN trophies for Best Cock three consecutive times (2021-23); Best Body in 2022; and Favorite Porn Star Creator in January of this year.
"In the industry, we all refer to the GayVNs as 'The Oscars of Gay Porn,'" Maddox says. "It's the one awards show where everyone from everywhere shows up because of the prestige it has earned throughout the years. GayVN awards are probably the most coveted awards in the industry.
"To be asked to co-host a night like this and to share the stage with someone as accomplished as Alec Mapa is completely mind-blowing for someone like me—a small-town boy from Mississippi."

Maddox continues, "Alec's humor is the perfect fit for a night of celebrating dicks. I mean, after all, you have to be able to see the humor in that—and Alec definitely does. I am beyond honored to share the big stage with him and to be the first porn star to do so. I have a good feeling it will be a very fun and enjoyable evening!"
Speaking of Mapa, he's a man who needs no introduction.
Widely regarded as one of the greatest entertainers of his generation, Mapa has become the signature voice of the GayVNs. This year he will lead the ceremony for a record sixth straight time and eighth overall, having also hosted in 2009-10.

The versatile personality, whom Variety called "a freak and no one should be this talented," has built a track record around the world as a sublime live performer. Alec also is an accomplished actor and comedian whose magnetic stage presence knows no bounds.

Mapa made a name for himself on Broadway in the Tony Award-winning production of M. Butterfly and went on to guest star on more than 40 television series, including Alias, Friends, Roseanne, Seinfeld, and NYPD Blue.
His comedy special Alec Mapa: Baby Daddy premiered on Showtime in 2015.

"Hosting the GayVNs always feels like I'm throwing a big queer love fest where hate, shame and fear have all been denied entry," says Mapa, who also has been a prominent voice promoting equal rights for the LGBT community, receiving the prestigious Davidson Valentini GLAAD Award in 2005.

"This community puts people in touch with their sexuality around the globe, and that's something to be celebrated."
Alec adds, "Cade Maddox looks like every hottie I ever had a crush on but he's the sweetest, most approachable country boy I've ever met. He's now one of my favorite people."
Fans can purchase tickets here.
Image by @kogafoto