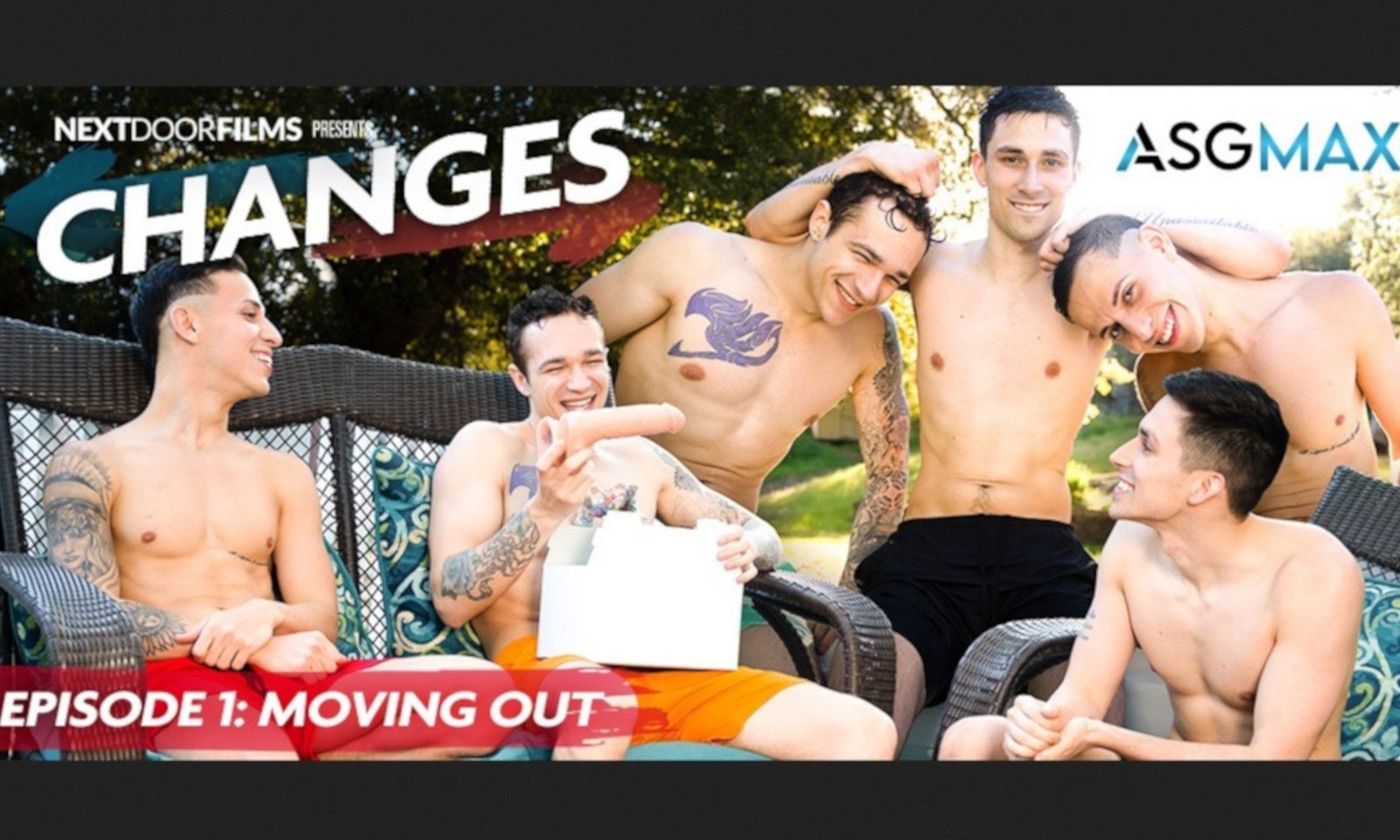 LOS ANGELES—Alpha Studio Group is set to premiere "Moving Out," the first episode of the three-part Next Door Films feature, Changes. The new release will be available Saturday on ASGmax.com.

"Moving Out" features ASG Exclusive Model Jayden Marcos as he navigates his life after an unexpected hookup alters his perspective. Add to that the sudden news that long-time roommates Des Irez and Kane Fox are moving in a week while Marcos is dealing with a lot of "Changes."
Changes director Jeremy Babcock had high praise for the cast and crew saying, "this project was huge, and everyone on the team really brought their A-game to make it all happen. Jayden, Kane, and Des are so much fun to work with, and brought these characters to life. The cinematography from Big Mike and Conrad Parker is gorgeous and the whole film is so fun to watch from start to finish. So excited for people to see this whole film!"
Marcos, who plays one of the leads, said he had "a great time filming with Des and Kane."
"The chemistry was unmatched! " Marcos said. "Next Door Studios always brings in such good energy, paired with an amazing team. Their ability to make incredible content like this while also making you feel like you're part of a family is unmatched in my eyes."
Fox echoed his co-star, saying, "I'm honored to be a part of a project that not only prioritizes presenting the best sex possible on-screen, but also grounds itself with wholesome relationships and believable emotions as its backdrop. Working with such amazing performers on a vision directed by such a talented crew, I knew the project would turn out amazing, and it's awesome to see that materialize on-screen. The performers and crew as a whole gave this project their full effort, and it resulted in incredibly hot sex with real and fulfilling context."
Irez, like his co-stars, said he was especially pleased with the positive energy on set. "Working on set for Changes with Jayden and Kane was truly one of the most fun experiences I had on set with Next Door," he said. "From filming in the hot tub to having fun filming the outdoor scenes, it was a blast! The team made the day go by very smoothly and my cast mates were great to work with, as they were both extremely professional and just overall great to be around with their amazing energy and, of course, they were both gorgeous! Love being part of these productions!"
Next Door Films is now part of ASGmax.com, which brings together Next Door Studios, Disruptive Films, Active Duty and other properties to one site.
For more information, visit ASGmax.com or follow the brand on Twitter.